If you are a lover of meat these Grilled Ribeye Steaks with Gorgonzola Herb Butter will definitely jump to the top of your list of favorite things with a quickness.
With melting Gorgonzola, butter, roasted garlic, and fresh herbs I always say it's sometimes the simple ingredients that make the most memorable and fancy feeling meals. It just takes your taste buds to the happiest of places.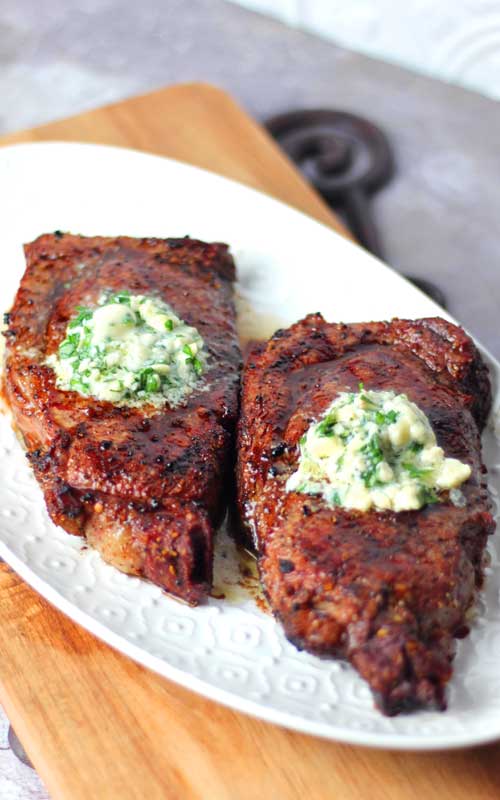 Give me a special occasion. Fathers Day, a birthday, or any random Tuesday. I don't care, I'll take these Grilled Ribeye Steaks with Gorgonzola Herb Butter for dinner over just about anything, any day. It is the must succulent, juicy, tender, flavorful, fancy thing of beauty.
Don't get me wrong, ribeye steaks are delicious on their own. But when you look at menus for some upscale restaurants, they tend to charge a small fortune, and you will see that they add a little something to make it a bit more special.
Well my frugal brain says we can make our own experience at home. It can be just as special as dropping those big big bucks. You will just need to plan ahead. Get all your ingredients together, make sure it is not going to rain. And definitely have some wine chilled and plan your evening.
Speaking of wine. When it comes to pairing one with grilled steak we love a good assertive red wine. A favorite in our house is "Egri Bikaver Bulls Blood", which is a very dry red blend from Hungary. Other wines that would pair very well would be a Bordeaux, Cabernet, or even some Malbecs. The main thing is to pick a wine that YOU love.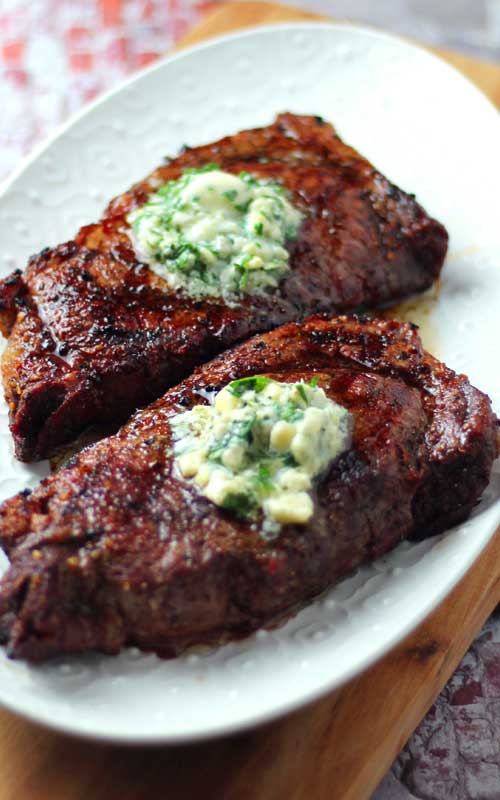 What is Gorgonzola:
Gorgonzola is a veined blue cheese, originally from Italy, made from unskimmed cow's milk. It can be buttery or firm. We chose the soft and crumbly kind for this recipe. You'll probably have some leftover you can toss it in salads, or add to a pizza or risotto.
If you're looking for a replacement for gorgonzola cheese with a pretty similar flavor, your best choices are Roquefort, Bleu d'Auvergne, Stilton cheese, Danish blue, and Fourme d'Ambert.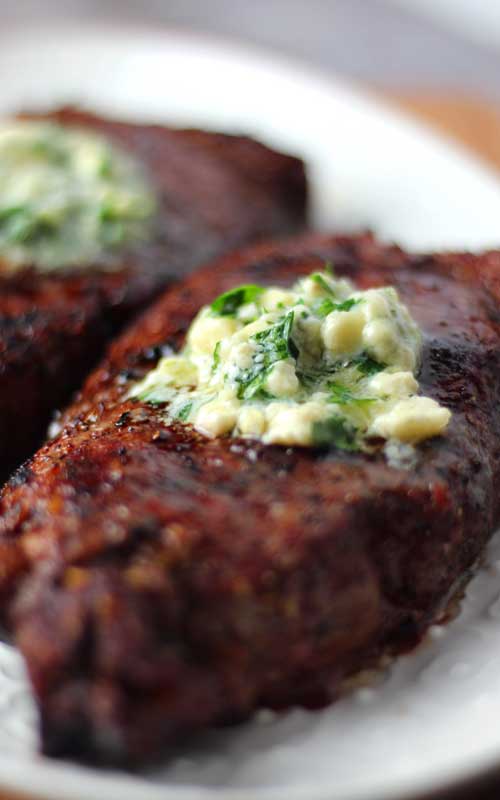 What can you serve with this Grilled Ribeye Steaks with Gorgonzola Herb Butter?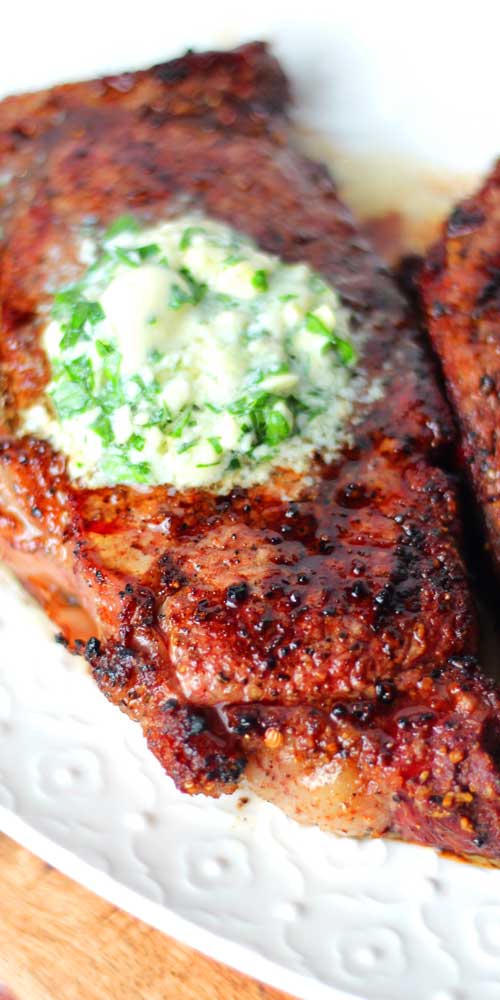 Some tips:
Oil the grate on your grill before lighting and let the smoke burn off before using. Do NOT oil grates over any heat source that is already burning, as this is VERY dangerous and WILL flare up and most likely burn you!
After lighting your charcoal, let the fire burn down some. White ash will form on the charcoal after about 15-20 minutes. This is when you want to knock the fire down.
If using a gas grill prepare for high, direct heat.
Some good tips to follow if your new to grilling can be found on this page: How to grill steak.
If you want the fancy grill marks that you get on your steaks from a restaurant here is a quick tip: Half-way through cooking each side (2-3 minutes), rotate (not flipping) the steak 45 degrees. For example, if the "point" end of the steak is at the 12 o'clock position when looking down at it, rotate the steak so the point is at about 2 o'clock. Flip the steak and repeat the process with the other side.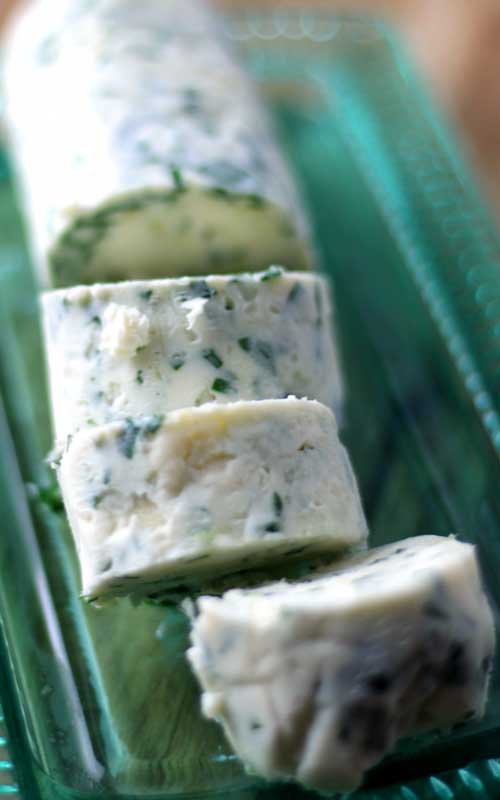 If you LOVE this Grilled Ribeye Steaks with Gorgonzola Herb Butter recipe, try this recipe for Grilled Ribeyes with Roasted Garlic Herb Butter OR these Italian Steak Kabobs!
Don't forget to follow along, so you don't miss out! Did you know you can get a notification on your phone now as soon something is published? People are loving this so much, more than the emails clogging up your inbox. If you happened to not accept the notification box earlier…now is a good time to click the small bell in the corner and get signed up!
FOLLOW Sparkles of Yum ON FACEBOOK | PINTEREST | INSTAGRAM | TWITTER FOR ALL OF THE LATEST CONTENT, RECIPES AND UPDATES.
Feel free to join the Sparkles of Yum Recipe Swap Facebook group! A fun place to find and share all of your favorite recipes.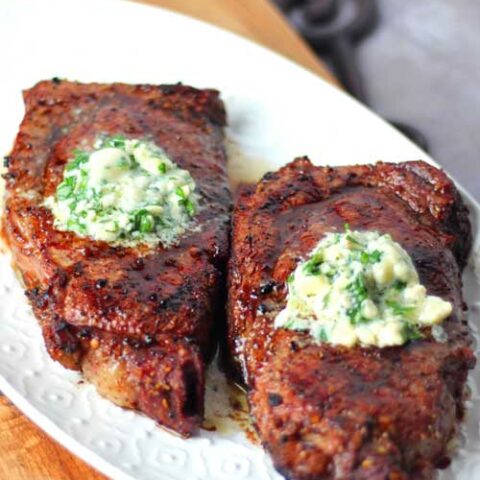 Grilled Ribeye Steaks with Gorgonzola Herb Butter
Yield: 2 Steaks

Prep Time: 15 minutes

Cook Time: 12 minutes

Additional Time: 1 hour 30 minutes

Total Time: 1 hour 57 minutes

If you are a lover of meat these Grilled Ribeye Steaks with Gorgonzola Herb Butter will definitely jump to the top of your list of favorite things with a quickness.
Ingredients
For the Gorgonzola Herb Butter:
3 Cloves Garlic*, minced
1 stick unsalted butter, softened
3 ounces Gorgonzola Cheese Crumbles
1/4 cup chopped parsley (remove stems)
salt and pepper
Instructions
For the Gorgonzola Butter
In a small bowl, mash roasted garlic with a fork until somewhat smooth.Add the butter, stir to combine.

Stir in the Gorgonzola, parsley, salt and black pepper.

Chill butter for 30 minutes, then roll into about a 2-inch thick log in wax paper or plastic wrap.

Place back in the refrigerator to chill completely.

Set out to soften a few minutes before slicing into rounds to serve.
Preparing your steaks:
Season the rib eye steaks all over with Montreal Steak Seasoning.
Let the meat stand at room temperature for 20 minutes.
Preheat a grill to high heat.
Transfer seasoned steaks to the hot grill, and cook for 4 to 6 minutes on each side for medium-rare, longer if desired.
Just before removing from the grill using a cut a good tablespoon size and place the Gorgonzola Herb Butter on each one to melt into the steaks.
Remove steaks and let rest for 5 to 10 minutes before serving.
Notes
Wrap garlic cloves in foil and roast on grill in the skins just until tender. Let cool, then mince to add to gorgonzola herb butter
Nutrition Information
Yield 2 Serving Size 1 steak with butter
Amount Per Serving Calories 711Total Fat 70gSaturated Fat 40gTrans Fat 0gUnsaturated Fat 24gCholesterol 197mgSodium 682mgCarbohydrates 3gFiber 0gSugar 0gProtein 19g

Nutrition data was provided and calculated by Nutritionix, and should only be used as a general guideline. This information is provided as a courtesy and there is no guarantee that the information will be completely accurate.

© 2023 Sparkles of Yum. All rights reserved. All images & content are copyright protected. Please do not use my images without prior permission. If you want to share this recipe, please provide a link back to this post for the original recipe.
Sparkles of Yum is a participant in the Amazon Services LLC Associates Program, an affiliate advertising program designed to provide a means for sites to earn advertising fees by advertising and linking to Amazon.com.