These Grilled Rib-Eye Steaks with Roasted Garlic Herb Butter are the most spectacular, melt in your mouth, grilled perfection you could ever ask for!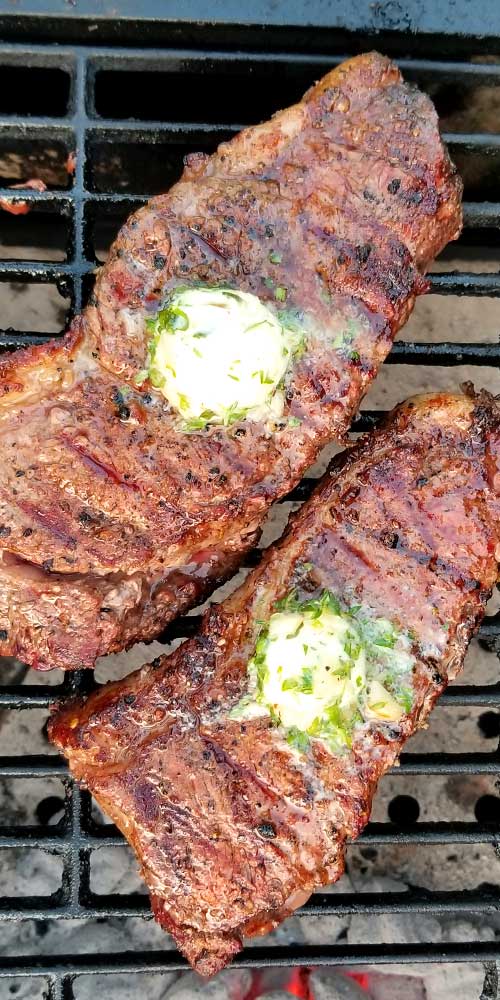 If this meal would be my last, I would be a happy soul.
We wait so long in the Midwest to have nice enough weather to be able to fire up the grill and get a good steak sizzling on it, we may as well go with the best. And in my humble opinion, the best is the Rib-Eye.
You just can't find anything else that is so juicy, flavorful, and practically cut it with a butter knife tender.
Do not skimp on quality you want nice thick steaks with good fat marbling throughout. We always have good luck finding nice steaks at Costco or a top notch butcher shop. Fresh never frozen is a must.
It's not something your going to eat everyday, so you might as well do it right when you can.
You just can't walk in any restaurant and expect this kind of quality without it costing a small fortune, and it's not hard to do at home. It only takes a small amount of planning and not much cooking time.
Rib-Eye steak is delicious on it's own, but adding the Roasted Garlic Herb Butter on top will take it to a whole new level. It will take longer to build the fire than it does to cook the steaks, that's if your doing right.
And it's going to have way more flavor on a charcoal grill than a gas grill (some people may say otherwise; but this is our opinion).
Roasting the garlic in the skins only takes a couple minutes till it gets nice and tender. It wakes up the garlic and brings out all of it's flavor. You can place the garlic on a piece of foil, just turn it with tongs a couple times. Then peel it and dice it after it's cooled a bit to add to the herb butter.
The smoke adds so much more flavor it's worth the extra effort to build a fire if it's at all possible.
So whether your having guests you want to impress or just really want to have the best steak possible for Fathers day or a special occasion. This my friends is the be all end all of Grilled Rib-Eye with Roasted Garlic Herb Butter you could ever dream of!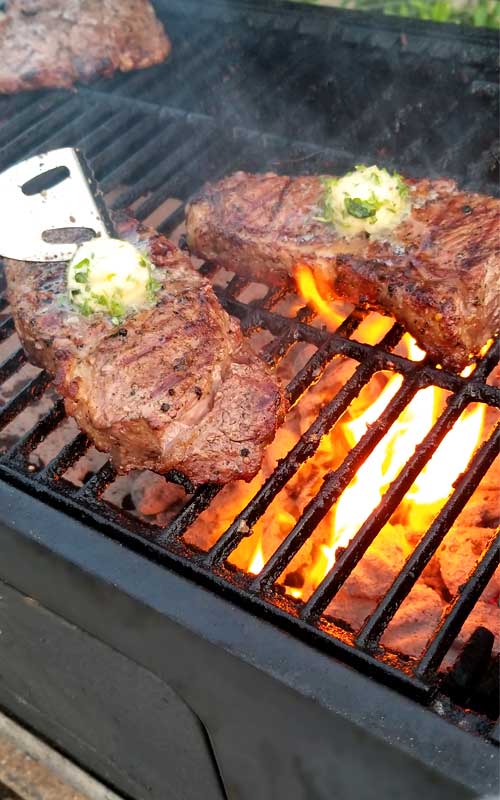 What can you serve with this Grilled Rib-Eye Steaks with Roasted Garlic Herb Butter?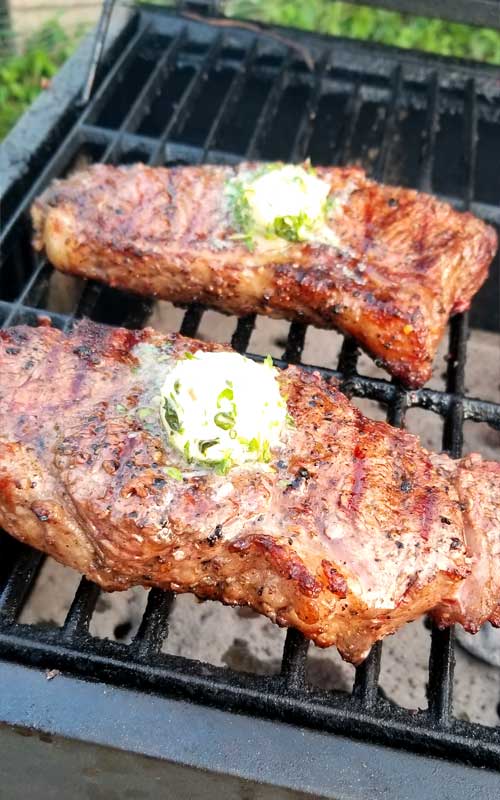 Some tips:
Oil the grate on your grill before lighting and let the smoke burn off before using. Do NOT oil grates over any heat source that is already burning, as this is VERY dangerous and WILL flare up and most likely burn you!
After lighting you charcoal, let the fire burn down some. White ash will form on the charcoal after about 15-20 minutes. This is when you want to knock the fire down.
If using a gas grill prepare for high, direct heat.
Some good tips to follow if your new to grilling can be found on this page: How to grill steak
Don't forget to follow along, so you don't miss out! Did you know you can get a notification on your phone now as soon something is published? People are loving this so much, more than the emails clogging up your inbox. If you happened to not accept the notification box earlier…now is a good time to click the small bell in the corner and get signed up!
FOLLOW Sparkles of Yum ON FACEBOOK | PINTEREST | INSTAGRAM | TWITTER FOR ALL OF THE LATEST CONTENT, RECIPES AND UPDATES.
Feel free to join the Sparkles of Yum Recipe Swap Facebook group! A fun place to find and share all of your favorite recipes.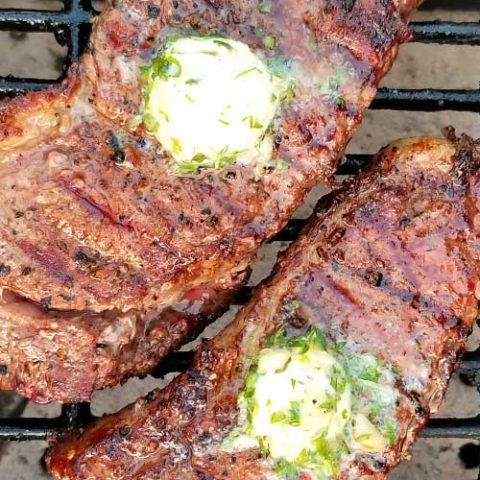 Grilled Rib-Eye Steaks with Roasted Garlic Herb Butter
Yield: 2 Servings

Prep Time: 5 minutes

Cook Time: 15 minutes

Additional Time: 30 minutes

Total Time: 50 minutes

These Grilled Rib-Eye Steaks with Roasted Garlic Herb Butter are the most spectacular, melt in your mouth, grilled perfection you could ever ask for!
Ingredients
For the Roasted Garlic Herb Butter:
4 Garlic cloves (roast on grill in the skins just till tender, let cool, then mince to add to herb butter)
6 tablespoons unsalted butter
2 tablespoons minced fresh basil
1 teaspoon fresh thyme (or 1/2 teaspoon dried thyme)
1 teaspoon fresh lemon juice
salt and pepper to taste
Instructions
Instructions for Roasted Garlic Herb Butter:
Combine all ingredients in a bowl and refrigerate, remove and let stand at room temperature for 15-20 minutes before using.
Preparing your steaks:
Season the rib eye steaks all over with Montreal Steak Seasoning.
Let the meat stand at room temperature for 20 minutes.
Preheat a grill to high heat.
Transfer seasoned steaks to the hot grill, and cook for 4 to 6 minutes on each side for medium-rare, longer if desired.
Just before removing from the grill using a cooking scoop or tablespoon place the roasted garlic herb butter on each one to melt into the steaks.
Remove steaks and let rest for 5 to 10 minutes before serving.
Notes
Roasting the garlic as a whole head makes for easier work. After roasting, remove the 4 cloves needed for this recipe. The rest of the garlic can be used in any other dish that calls for fresh garlic, and will bring an even deeper, more garlic-y flavor.



If you want the fancy grill marks that you get on your steaks from a restaurant here is a quick tip: Half-way through cooking each side (2-3 minutes), rotate (not flipping) the steak 45 degrees. For example, if the "point" end of the steak is at the 12 o'clock position when looking down at it, rotate the steak so the point is at about 2 o'clock. Flip the steak and repeat the process with the other side.
Nutrition Information
Yield 2 Serving Size 1
Amount Per Serving Calories 462Total Fat 47gSaturated Fat 25gTrans Fat 0gUnsaturated Fat 17gCholesterol 135mgSodium 189mgCarbohydrates 2gFiber 0gSugar 0gProtein 10g

Nutrition data was provided and calculated by Nutritionix, and should only be used as a general guideline. This information is provided as a courtesy and there is no guarantee that the information will be completely accurate.

© 2023 Sparkles of Yum. All rights reserved. All images & content are copyright protected. Please do not use my images without prior permission. If you want to share this recipe, please provide a link back to this post for the original recipe.
Sparkles of Yum is a participant in the Amazon Services LLC Associates Program, an affiliate advertising program designed to provide a means for sites to earn advertising fees by advertising and linking to Amazon.com.