A dish that is so creamy with seasonings that just wake up your taste buds. This Shrimp Etouffee recipe is not too spicy, it just blends all of it's parts together in perfect harmony. It is so delicious and so satisfying.
Oh my heavens! This Cajun Shrimp Etouffee is one of those dishes that is so good you are kind of taken away to another place in your mind when your eating it. Really, like time slows down.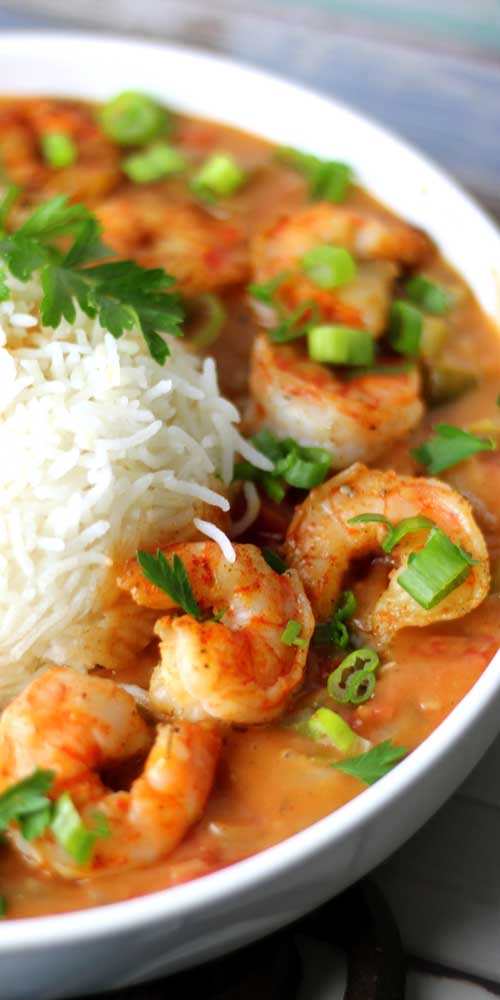 Of course, you do need to be a lover of shrimp to really appreciate this dish. Etouffee actually means means "smothered". With an easy to make rue that becomes almost silky smooth. The peppers, onions, and celery (also known as the trinity) marry in the pot with the rue.
It's almost a holy experience while eating it. I'm sure that's why it got the holy "trinity" name; with the beautiful colors it really becomes an eating experience to remember.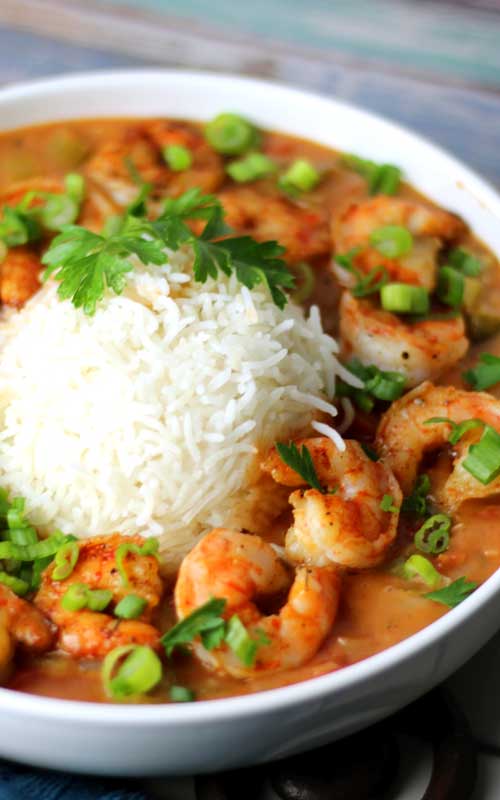 This dish proves how serious and passionate about food the people of New Orleans are. All Cajun and Creole food is a labor of love, the more love you add to the dish the better it tastes.
Actually some of the best and most well known chefs came right out of the heart of New Orleans. This recipe is based off of one of the most loved and famous chef Paul Prudhomme. It's so sexy it makes you appreciate being alive again.
Just in case you've fallen into a funk this dish will definitely make you sit up straight and get the attention of your loved ones they should be like; "oh honey you have out done yourself tonight.. A little more wine please!"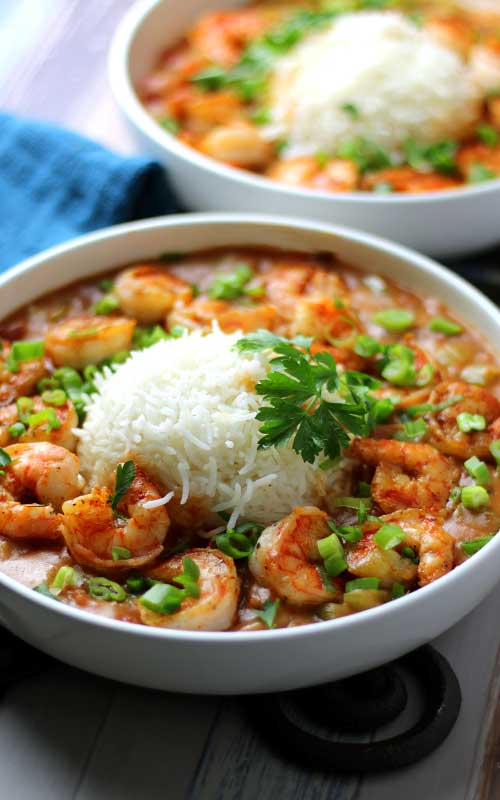 You probably think I'm exaggerating, I don't think I am. This is exactly how I remember feeling the first time we made this dish at home. But then again, I am personally moved by some dishes.
I feel it to my bones when I love something, and this is one of those things I do love. It just makes me happy and I hope it takes you on a mini vacation in your mind; to a little old timey place with laughter and music in the background just for an evening.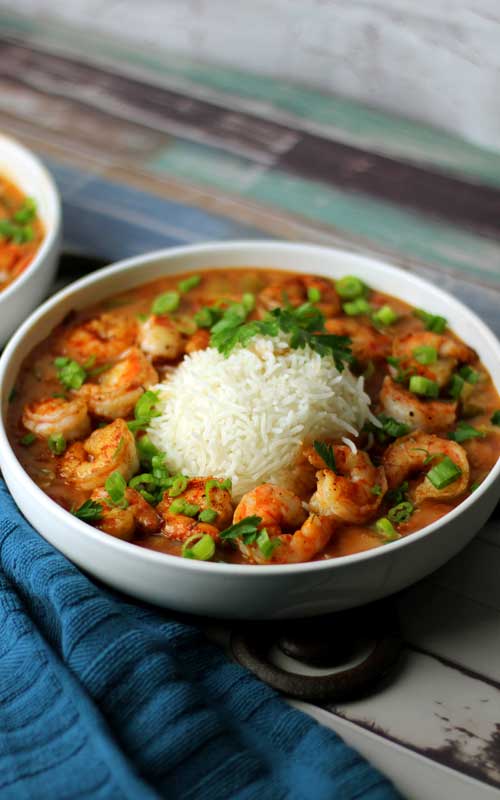 What can you serve with this Cajun Shrimp Etouffee?
Although it is almost a complete meal by itself, here is a selection of things that can bring your dinner to the next level.
Wine – A dry white will certainly pair the best, something along the lines of a Chardonnay or a Sauvignon blanc. Something else that is a favorite in our home is "fruity" wines; like cherry moscato, blackberry wine, or even a peach sangria. These are all great recommendations, but the most important thing is to pick one that you like!
Warm buttered rolls or a rustic baguette cut into pieces.
Salad – Think the side or house salad at most restaurants, and add all of your favorites to it!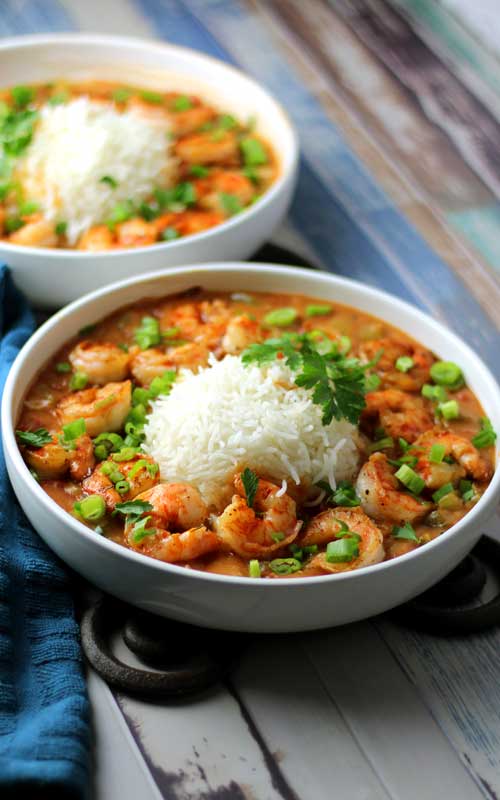 Some tips:
Does shrimp size matter? That link is a nice visual of the different sizes and count per pound. I think it's a matter of personal preference as long as your aware what to look for when the shrimp is done. It will turn pinkish and curl to tighten up. Feel free to use fresh shrimp or frozen and safely thawed. Thawing instructions below)
How many shrimp to serve person: Allow about 4 ounces for each adult and about 2 ounces for small children. Shrimp Servings By the Numbers

Medium and below, about 9 to 11 shrimp per person
Large to jumbo, about 5 to 7 shrimp per person
Extra jumbo and above, about 3 to 5 per person

Best method for thawing shrimp according to the Food and Drug Administration FDA: Thaw frozen seafood gradually by placing it in the refrigerator overnight. Use a bowl never trust just a baggie or butcher paper to not leak over other items in the refrigerator. If you have to thaw seafood quickly, either seal it in a plastic bag and immerse it in cold water, or — if the food will be cooked immediately thereafter — microwave it on the "defrost" setting and stop the defrost cycle while the fish is still icy but pliable.
Plan ahead when we are shopping for seafood: We keep an ice pack in the freezer to grab and and insulated bag so if your shopping at multiple stores your food is staying at a safe temperature.
Shrimp stock:
If you want to make your own Shrimp Stock: Add a couple teaspoons of butter a saucepan. Then throw in the shrimp shells that you peeled, a couple tablespoons of onion, a clove of garlic, a celery stalk that has been diced, a bay leaf, and pinch dried thyme.

Sauté for about 5-7 minutes, keep stirring. Add about 2 cups of water to it.

Remove from heat and strain using a sieve.
If you LOVE this Cajun Shrimp Etouffee recipe, try this Authentic New Orleans Cajun Gumbo OR this New Orleans Barbeque Shrimp!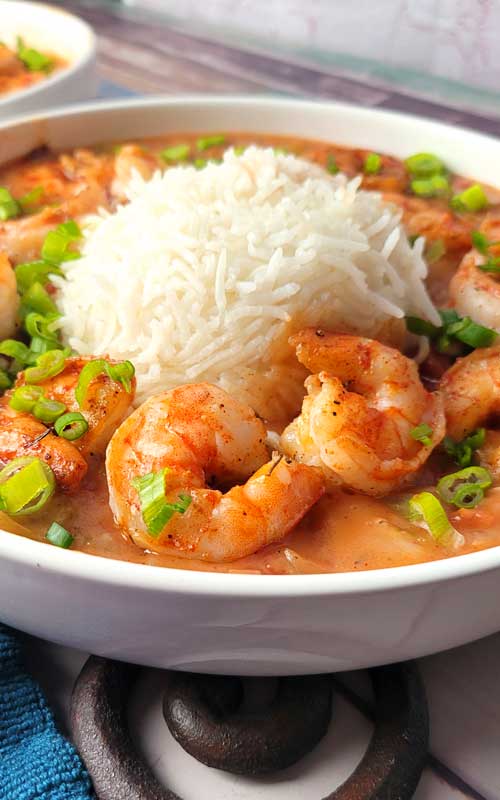 Don't forget to follow along, so you don't miss out! Did you know you can get a notification on your phone now as soon something is published? People are loving this so much, more than the emails clogging up your inbox. If you happened to not accept the notification box earlier…now is a good time to click the small bell in the corner and get signed up!
FOLLOW Sparkles of Yum ON FACEBOOK | PINTEREST | INSTAGRAM | TWITTER FOR ALL OF THE LATEST CONTENT, RECIPES AND UPDATES.
Feel free to join the Sparkles of Yum Recipe Swap Facebook group! A fun place to find and share all of your favorite recipes.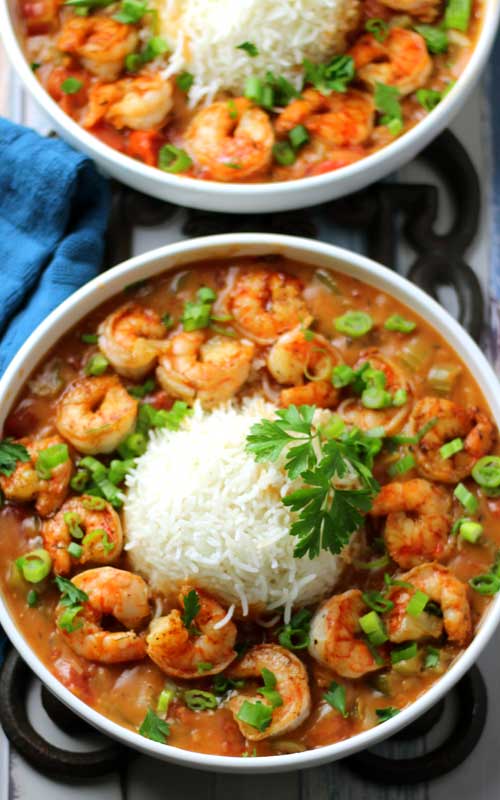 Cajun Shrimp Etouffee
Yield: About 4 entree sized bowls

Prep Time: 15 minutes

Cook Time: 1 hour 15 minutes

Total Time: 1 hour 30 minutes

This Shrimp Etouffee recipe is not too spicy, it just blends all of it's parts together in perfect harmony. It is so delicious and so satisfying.
Ingredients
1 pound Jumbo shrimp - 16/20 count per pound peeled, deveined shrimp, (fresh or frozen and thawed)
1 Tablespoon Olive Oil
4 Tablespoons Unsalted Butter (not margarine)
4 Tablespoons Flour
1 1/2 Tablespoons Creole Seasoning
1 1/2 Cup Onion, Finely Chopped
1/4 Cup Celery, Finely Chopped
1/2 Cup Bell Pepper, Finely Chopped
1 1/2 to 2 Cups Chicken Broth or Shrimp Stock
1 Bay Leaf
1 Cup fresh Tomatoes, diced
2 Tablespoons Garlic, minced
1 Teaspoon Dried Thyme
2 Teaspoons Worcestershire Sauce
1 Tablespoon Hot Sauce (I used Crystals)
2 Green Onions, sliced
1 Tablespoon Italian Parsley, chopped
Salt & Fresh Ground Pepper to taste
1 Tablespoon fresh Lemon Juice
filé powder (optional thickening powder)
Steamed white rice, for serving
Instructions
Season shrimp with 1/2 tablespoon Cajun seasoning. Heat olive oil over medium-high heat and add the seasoned shrimp. Cook until shrimp just start to turn pink, about 2-3 minutes. Remove from pan and set aside.
Melt the butter in a large Dutch oven or heavy-bottomed saucepan set over medium heat. Add the flour and stir continuously to make a roux. Stir the roux over medium heat until the color changes slightly golden or blonde roux, 5 to 7 minutes.
Add the onions, bell peppers, celery, and garlic to the roux, and saute until onions are translucent.
Whisk in a little stock. Stir well to form a paste, add the remaining stock gradually, whisking constantly.
Add the tomatoes to the pot and season with the bay leaves, cayenne, and 1 tablespoon of the Creole Seasoning. Bring to a boil for 2 to 3 minutes and, then reduce to a simmer. You may need a little more stock, but the end result should be the consistency of a gravy, not too thick, not too thin.
Add Thyme, Worcestershire, lemon juice, and hot sauce and simmer the etouffee, stirring occasionally, about 45 minutes.
Add shrimp, gently stir, and cook until shrimp are heated back up. Do not overcook the shrimp, as they will become rubbery in texture.
Serve immediately with steamed white rice and garnish with sliced green onion and Italian Parsley.
Notes
Canned diced tomatoes can be used, just measure it out to be 1 cup (about 7 oz.)

We recommend about 1/2 cup prepared rice per serving. This is about 1/4 cup of uncooked rice per serving.
Nutrition Information
Yield 4 Serving Size 1 large bowl
Amount Per Serving Calories 554Total Fat 17gSaturated Fat 9gTrans Fat 0gUnsaturated Fat 7gCholesterol 517mgSodium 4348mgCarbohydrates 39gFiber 3gSugar 8gProtein 59g

Nutrition data was provided and calculated by Nutritionix, and should only be used as a general guideline. This information is provided as a courtesy and there is no guarantee that the information will be completely accurate.

© 2023 Sparkles of Yum. All rights reserved. All images & content are copyright protected. Please do not use my images without prior permission. If you want to share this recipe, please provide a link back to this post for the original recipe.
Sparkles of Yum is a participant in the Amazon Services LLC Associates Program, an affiliate advertising program designed to provide a means for sites to earn advertising fees by advertising and linking to Amazon.com.