True comfort food at it's best, this Cheddar Bay Biscuit Chicken Pot Pie is perfect for these chilly fall and winter nights.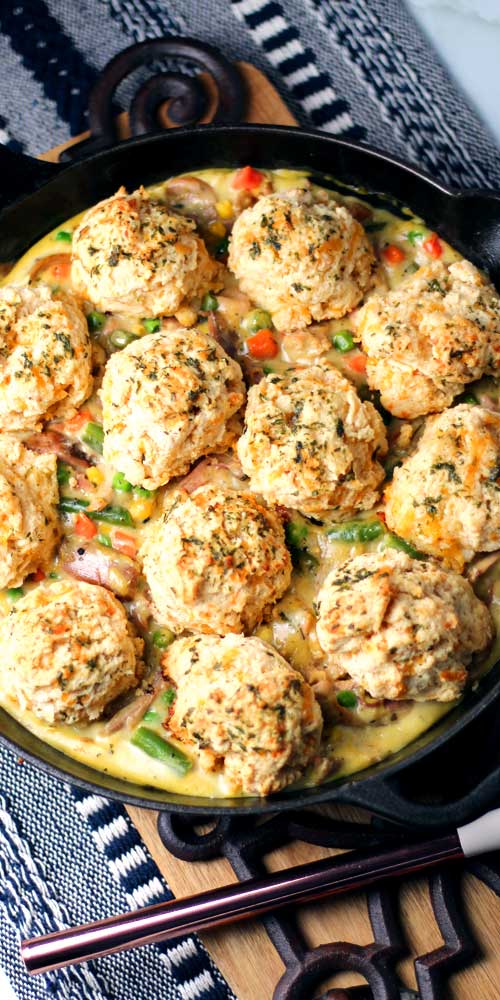 This Cheddar Bay Biscuit Chicken Pot Pie is especially good after one those days with a cold rain or bone chilling wind, it gives you all the warm and cozy feelings after a rough day having to shovel snow.
You know winter is coming and this dinner can be you secret weapon to make it a better day!
You need to be prepared for those days and everything in this recipe you can make sure you have on hand, it's all shelf stable and freezer friendly. We have this at least once a month through out the fall and winter and everyone loves it.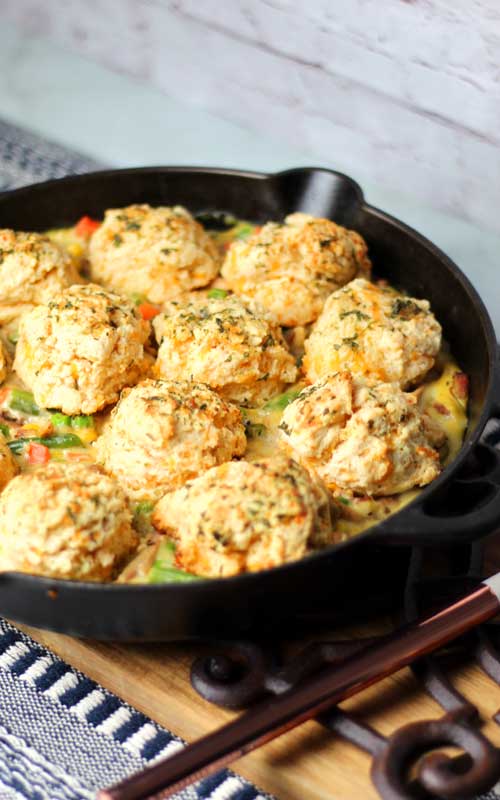 Now I've tried making this before by dropping the biscuit dough on top, and they never seem to fully cook. I don't want dough-y biscuits so I let them bake and then place them on top at the end.
The biscuits come out perfectly done and are ready to sop up all that creamy, savory goodness from the pot pie. The part that is so full flavor you'll want to every last bite.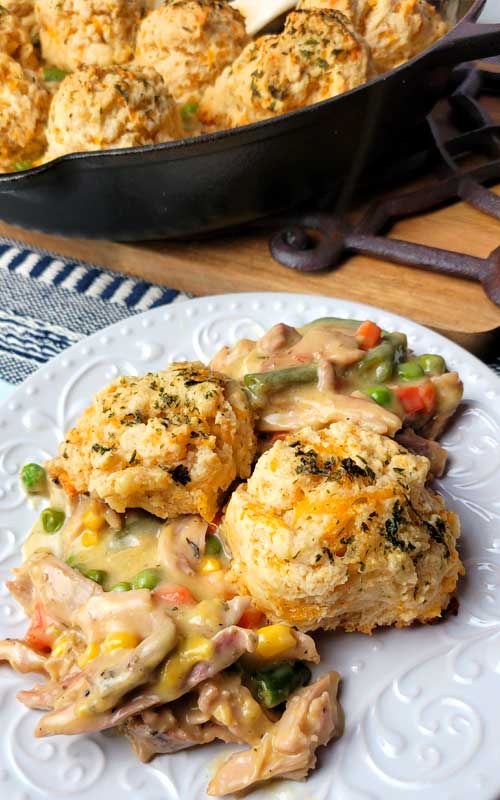 If you're not familiar with poultry seasoning, it's an awesome spice blend I've been using for years. I like McCormick brand with sage, nutmeg, thyme, marjoram, rosemary, and black pepper. Herbs will kick up your flavor profile every time and did you know herbs are healthy antioxidants?
Sage can Improve Brain Function and Memory.
Thyme is packed with vitamin C and is also a good source of vitamin A.
Recently found a fun fact about rosemary. If you've ever seen anyone wearing it in their hair, there's a reason for that. The smell of rosemary can actually stimulate your memory, improve your mood, and make you more alert and accurate. Rosemary also helps improve concentration, digestion, and brain aging.
Dang I think I need to start doing that myself, instead of stick a feather in your hat stick a sprig of rosemary, it'll probably be a trend.. the more you know, right!
Some tips:
If you'd rather make your Cheddar Bay Biscuits homemade, I'd recommend this recipe from Anna at Crunchy Creamy Sweet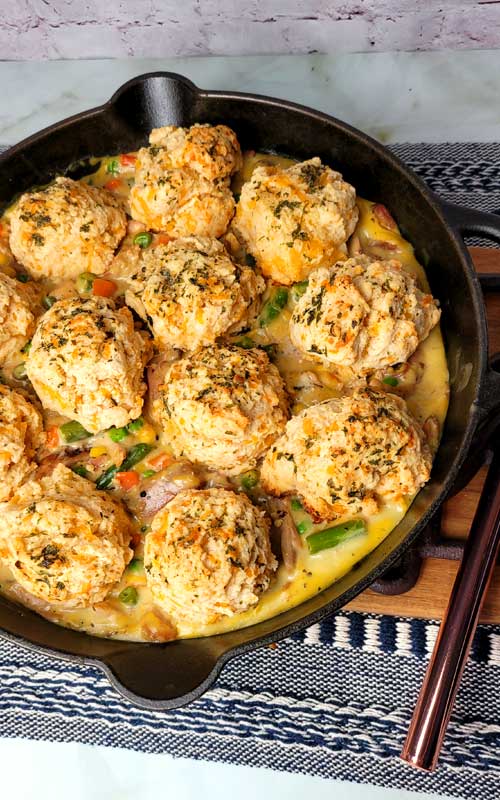 Don't forget to follow along, so you don't miss out! Did you know you can get a notification on your phone now as soon something is published? People are loving this so much, more than the emails clogging up your inbox. If you happened to not accept the notification box earlier…now is a good time to click the small bell in the corner and get signed up!
FOLLOW Sparkles of Yum ON FACEBOOK | PINTEREST | INSTAGRAM | TWITTER FOR ALL OF THE LATEST CONTENT, RECIPES AND UPDATES.
Feel free to join the Sparkles of Yum Recipe Swap Facebook group! A fun place to find and share all of your favorite recipes.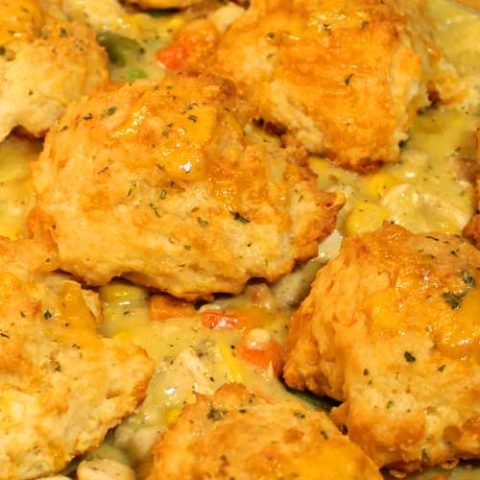 Cheddar Bay Biscuit Chicken Pot Pie
Yield: 4 Servings

Prep Time: 15 minutes

Cook Time: 40 minutes

Total Time: 55 minutes

True comfort food at it's best, this Cheddar Bay Biscuit Chicken Pot Pie is perfect for these chilly fall and winter nights.
Ingredients
1 lb chicken breast, chopped into bite size chunks (or you can use leftover Rotisserie Chicken)
2 tablespoons olive oil
1 lb bag frozen mixed vegetables
2 cans cream of chicken soup (I used Cream of Chicken with Herbs)
1 teaspoon poultry seasoning
1/2 teaspoon dried thyme
1/2 teaspoon dried Parsley
For the Biscuits, you will need:
1 box Red Lobster Cheddar Bay Biscuit Mix or homemade
1/2 cup shredded sharp cheddar cheese, plus a little for the tops
1/3 cup butter
3/4 cup cold water
sprinkle of dried parsley for the top
Instructions
Preheat oven to 425.
Bake biscuits as directed on package.
In large skillet add about 2 Tbs olive oil and season with salt and pepper and poultry seasoning then add your chicken and heat on medium-high for a few minutes until they begin to get tender.
Add your frozen vegetables and reduce heat to medium and heat for a few minutes minutes or until they becomes tender, stir in your soup, water, thyme and parsley and heat for a couple minutes.
Poor entire mixture into sprayed (with non-stick cooking spray) 9 x 13 baking dish, and bake at 425 for 10-15 minutes or until bubbly and top with biscuits.
Nutrition Information
Yield 4 Serving Size 1
Amount Per Serving Calories 780Total Fat 47gSaturated Fat 21gTrans Fat 1gUnsaturated Fat 20gCholesterol 197mgSodium 1643mgCarbohydrates 31gFiber 5gSugar 4gProtein 56g

Nutrition data was provided and calculated by Nutritionix, and should only be used as a general guideline. This information is provided as a courtesy and there is no guarantee that the information will be completely accurate.

© 2023 Sparkles of Yum. All rights reserved. All images & content are copyright protected. Please do not use my images without prior permission. If you want to share this recipe, please provide a link back to this post for the original recipe.
Sparkles of Yum is a participant in the Amazon Services LLC Associates Program, an affiliate advertising program designed to provide a means for sites to earn advertising fees by advertising and linking to Amazon.com.