This Trisha Yearwood's Crock Pot Pork Tenderloin is so tender and SO tasty! What set this recipe above the others was the gravy!!! It is over the moon good!
Trisha Yearwood's Crock Pot Pork Tenderloin is great with mashed potatoes, on a sandwich. And it is spoon tender making it just deelish for finger pickin'!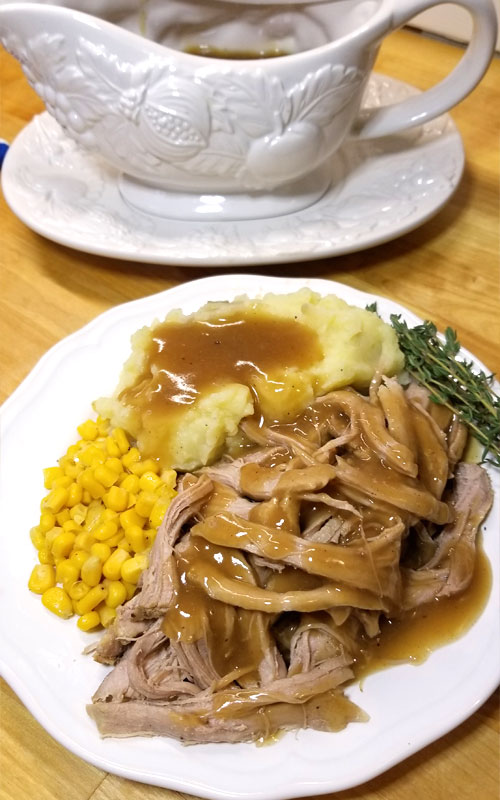 Trisha Yearwood's Crock Pot Pork Tenderloin is great with mashed potatoes, on a sandwich, and just deelish for finger pickin'! Spoon tender and SO tasty!
But what set this recipe above the others was the gravy!!! It is over the moon good! This recipe is a definite keeper.
The bonus is pork is often on special, so this is great eats on the cheap! You can use pork loin or tenderloin, it is now a family favorite and so easy.
Finally made it through the holidays, time for things to get back to normal. Well, normal for the dead of winter and bitter cold outside, that is. We just had the coldest New Years Eve in a 100 years!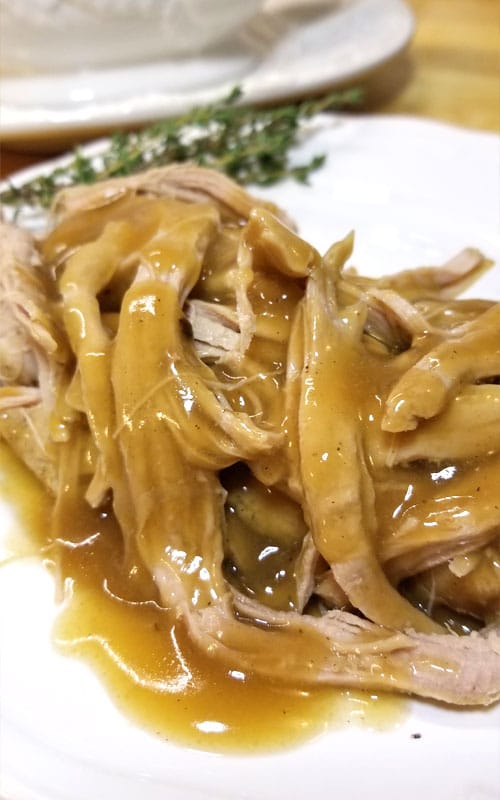 Now we're dealing with water main breaks all around us. Water has been bubbling up out of our street for over two days now, as the temps keep dipping below zero. It's turning into a serious ice pond.
We're lucky our house is on a slight hill, but still no one has shown up from the water company to even bother to shut it off. Because they are so understaffed tending to so many main breaks on the major roads.
I guess these old neighborhoods don't get any attention when it comes to maintaining things underground until they break. Hopefully they show up tomorrow. Right across the river, in Illinois, they have a boil order because of all their water main breaks, so I guess things could always be worse.
What makes everything better is comfort food. And this is at the top of the list when it comes to comfort. This will warm your soul all the way to your toes and put a big fat smile on your face!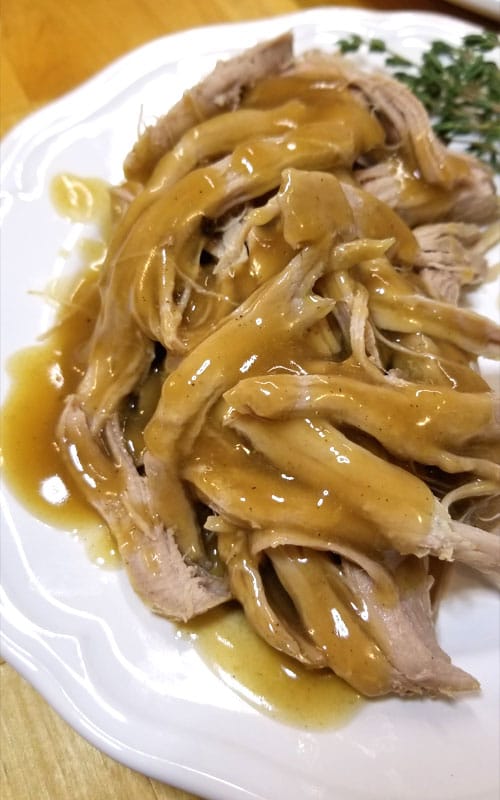 What can you serve with this [page_title]?
Mashed potatoes are almost a must have! The gravy goes oh so good with them!
Any vegetables that your family enjoys would help to round out this [page_title]. Corn and green beans are always a favorite in our home.
Want to keep the Southern theme going? This recipe for Sweet Creamed Corn Casserole is always a hit!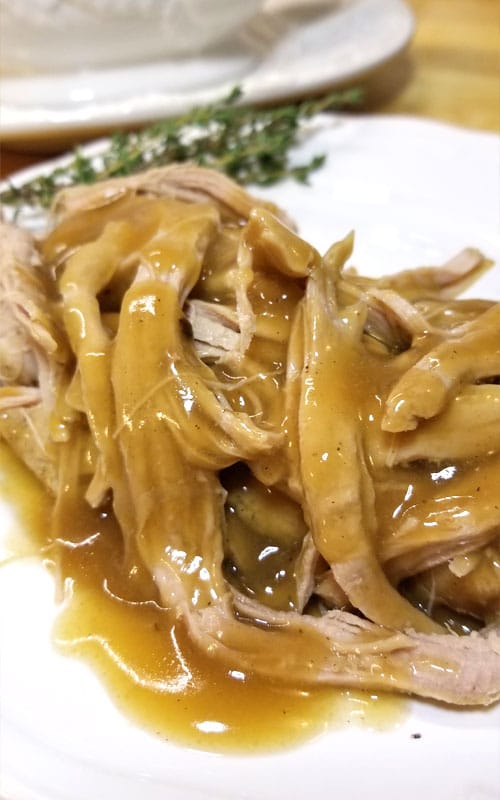 Some tips:
This recipe works well with pork tenderloin or a pork loin. Get whichever one is on sale.
Browning the meat before placing it in the slow cooker adds extra flavor by caramelizing the natural sugars in it.
In a hurry? You can cook this [page_title] in the Instant Pot. Just set to "Meat" setting (High Temp/High Pressure) for 45 minutes and a 15 minute release.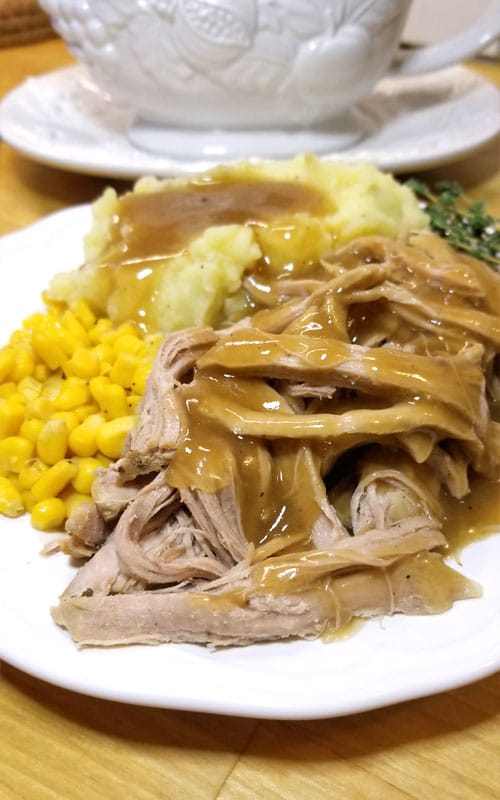 Don't forget to follow along, so you don't miss out! Did you know you can get a notification on your phone now as soon something is published? People are loving this so much, more than the emails clogging up your inbox. If you happened to not accept the notification box earlier…now is a good time to click the small bell in the corner and get signed up!
FOLLOW Sparkles of Yum ON FACEBOOK | PINTEREST | INSTAGRAM | TWITTER FOR ALL OF THE LATEST CONTENT, RECIPES AND UPDATES.Feel free to join the Sparkles of Yum Recipe Swap Facebook group! A fun place to find and share all of your favorite recipes.
Trisha Yearwood's Crock Pot Pork Tenderloin
Total Time:
4 hours
15 minutes
Spoon tender and SO tasty! Perfect with mashed potatoes, on a sandwich, and just deelish for finger pickin'! But what set this recipe above the others was the gravy!!! It is over the moon good!
Ingredients
2 & 1/2 to 3 lb pork tenderloin, trimmed of all visible fat (you can also use a pork loin, and get the same results)
1 teaspoon granulated garlic powder
1/4 teaspoon ground ginger
1/2 teaspoon dried thyme
1/2 teaspoon black pepper
1 tablespoon vegetable oil
2 cups chicken broth
2 tablespoons lemon juice
1 tablespoon soy sauce
3 tablespoons cornstarch
salt and pepper, to taste
Instructions
Season the pork loin lightly with salt. In a small bowl combine the garlic powder, ginger, dried thyme, and black pepper. Rub the seasoning over the surface of the pork loin.
In a skillet heat the oil and brown the pork loin on all sides. Transfer the pork to the crock pot. Combine the chicken broth, lemon juice, and soy sauce; pour over the pork loin.
Cover and cook on low heat for 8 to 10 hours, or on high for 4 to 5. (Instapot cook on Meat setting for 45 minutes, with a 15 minute release)
After cooking, transfer the roast to a platter and cover with foil to keep warm.
To make the gravy, pour the liquid from the crock pot into a measuring cup. Skim off the fat. Measure two cups of the liquid, adding water if needed. Transfer to a sauce pan reserving 1/2 cup of the liquid.
Stir the cornstarch into the reserved liquid, then stir into the liquid in the sauce pan. Heat, stirring frequently, until the gravy is thick and bubbly. Taste and season with salt and pepper, if needed. Serve the roast with the gravy.
Nutrition Information
Yield

10
Serving Size

1
Amount Per Serving
Calories

159
Total Fat

5g
Saturated Fat

1g
Trans Fat

0g
Unsaturated Fat

3g
Cholesterol

63mg
Sodium

427mg
Carbohydrates

4g
Fiber

0g
Sugar

0g
Protein

23g
© 2022 Sparkles of Yum. All rights reserved. All images & content are copyright protected. Please do not use my images without prior permission. If you want to share this recipe, please provide a link back to this post for the original recipe.
Sparkles of Yum is a participant in the Amazon Services LLC Associates Program, an affiliate advertising program designed to provide a means for sites to earn advertising fees by advertising and linking to Amazon.com.