If you like greens, you're gonna LOVE this recipe for Jamaican Style Greens. Absolutely delicious, and will definitely be a staple in our household!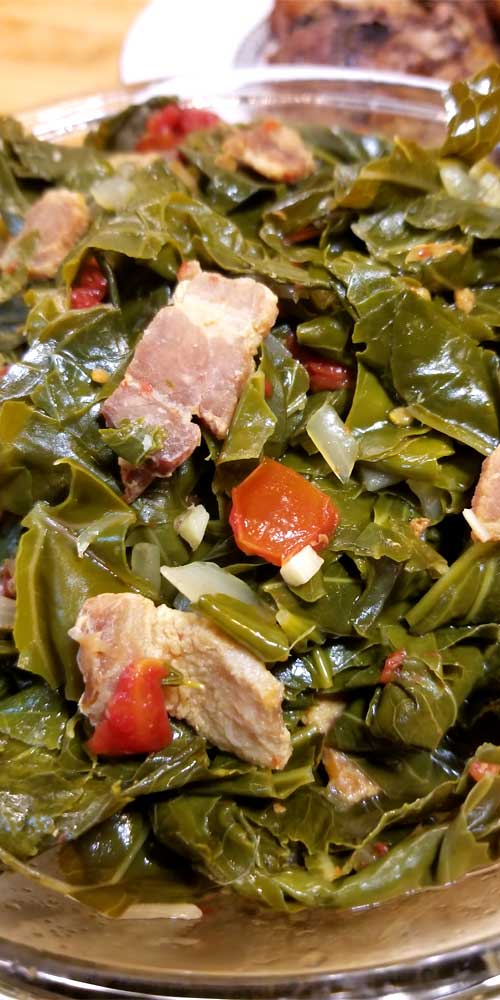 I wanted to make Callaloo to go with our Jamaican theme dinner. We had Ziggy Marley's Jerk Chicken, with these Jamaican Style Greens, and some sweet fried plantains. Yes, that's Bob Marley's son giving out his family recipes, cool mon! It was awesome.
I love doing dinners from around the world. Here's another one we did last year that turned out so good, Jamaican Pork Tenderloin with Mango Habanero Salsa. Of course, you've got to like a little zip of spice to enjoy Jamaican food and we love it.
Here in the midwest I really have no idea where I'd be able to find the proper greens for the Callaloo. So I have a boat full of greens in the backyard (pictured below). So we're making traditional greens, Jamaican style.
Dark leafy greens are so healthy, I'm always hearing from my doctor and my eye doctor to eat plenty of dark leafy greens to prevent Macular Degeneration, because they can already see the beginnings of that in one eye. It's not something to take lightly. So we have a huge harvest to use before the bugs chow them down. I don't mind sharing so I planted a lot.
We know the greens are super healthy, however the bacon is not, but the flavor it adds is amazing. We use that because it tastes so good, but if you can't have bacon you can use a good flavorful olive oil instead, probably at least 1/4 cup in place of the bacon.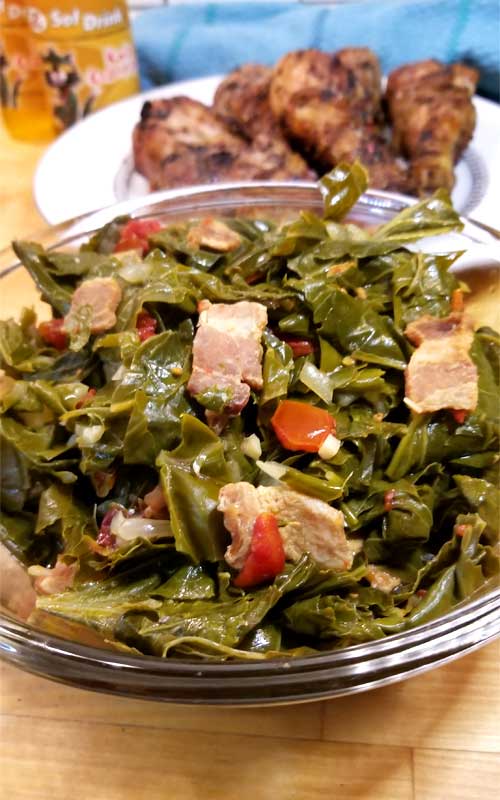 What can you serve with this Jamaican Style Greens?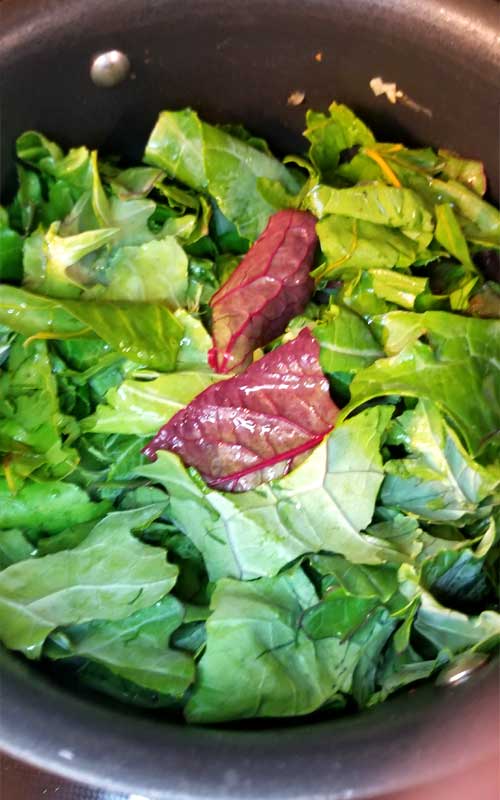 Some tips:
The center stems of most greens are very tough, and nearly impossible to eat. Just pull or cut them out before cooking your greens.
If you LOVE this Jamaican Style Greens recipe, try this Jamaican Pork Tenderloin with Mango Habanero Salsa
Don't forget to follow along, so you don't miss out! Did you know you can get a notification on your phone now as soon something is published? People are loving this so much, more than the emails clogging up your inbox. If you happened to not accept the notification box earlier…now is a good time to click the small bell in the corner and get signed up!
FOLLOW Sparkles of Yum ON FACEBOOK | PINTEREST | INSTAGRAM | TWITTER FOR ALL OF THE LATEST CONTENT, RECIPES AND UPDATES.
Feel free to join the Sparkles of Yum Recipe Swap Facebook group! A fun place to find and share all of your favorite recipes.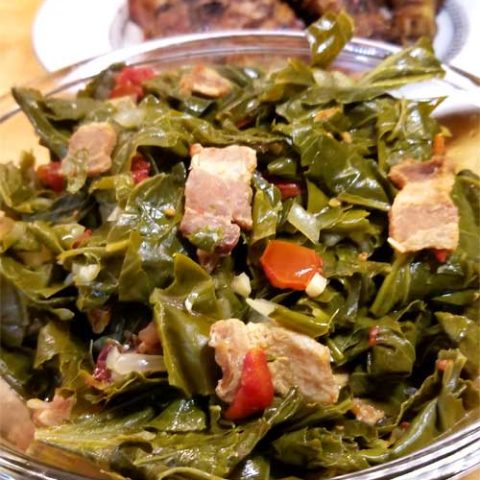 Jamaican Style Greens
Yield: 6 servings

Prep Time: 30 minutes

Cook Time: 1 hour 20 minutes

Total Time: 1 hour 50 minutes

If you like greens, you're gonna LOVE this recipe for Jamaican Style Greens. Absolutely delicious, and will definitely be a staple in our household!
Ingredients
1 1/2 lb Greens (We used Collards, Kale & Swiss Chard)
4 thick slices of bacon
3-4 garlic cloves (minced)
1 onion (diced)
1 sprig fresh thyme
1 Tablespoon brown sugar
1 tomato (diced)
1 can chicken broth (low sodium)
Pinch of pepper flakes or 1/4 scotch bonnet (minced)
Salt and pepper to taste
Instructions
Wash the greens thoroughly. Remove the stems that run down the center by holding the leaf in your left hand and stripping the leaf down with your right hand. The tender young stems don't need to be stripped. Stack the leaves, roll and cut or just tear into pieces.
Cut bacon into 1/2 pieces and cook over medium high heat, add onion, garlic, thyme and tomato. Add greens, chicken broth, brown sugar and pepper flakes or scotch bonnet pepper and let simmer for about an hour stirring occasionally. When done taste and adjust seasoning if needed.
Nutrition Information
Yield 6 Serving Size 4 oz. Greens (Precooked)
Amount Per Serving Calories 97Total Fat 4gSaturated Fat 1gTrans Fat 0gUnsaturated Fat 2gCholesterol 8mgSodium 352mgCarbohydrates 12gFiber 5gSugar 4gProtein 7g


© 2023 Sparkles of Yum. All rights reserved. All images & content are copyright protected. Please do not use my images without prior permission. If you want to share this recipe, please provide a link back to this post for the original recipe.
Sparkles of Yum is a participant in the Amazon Services LLC Associates Program, an affiliate advertising program designed to provide a means for sites to earn advertising fees by advertising and linking to Amazon.com.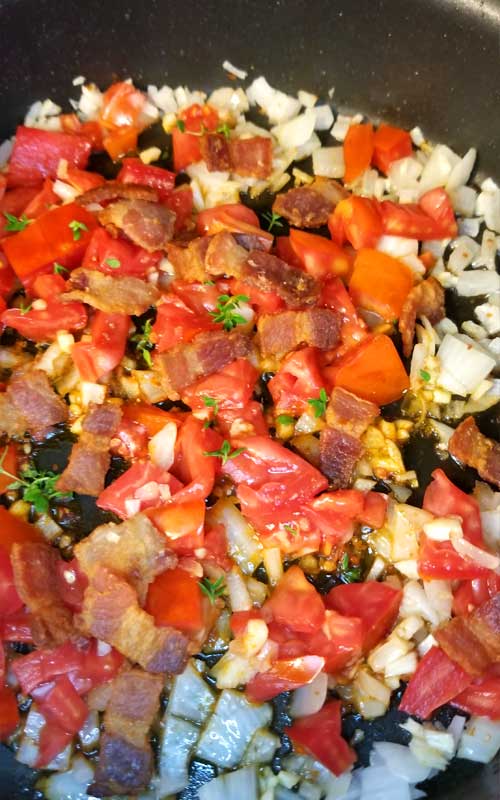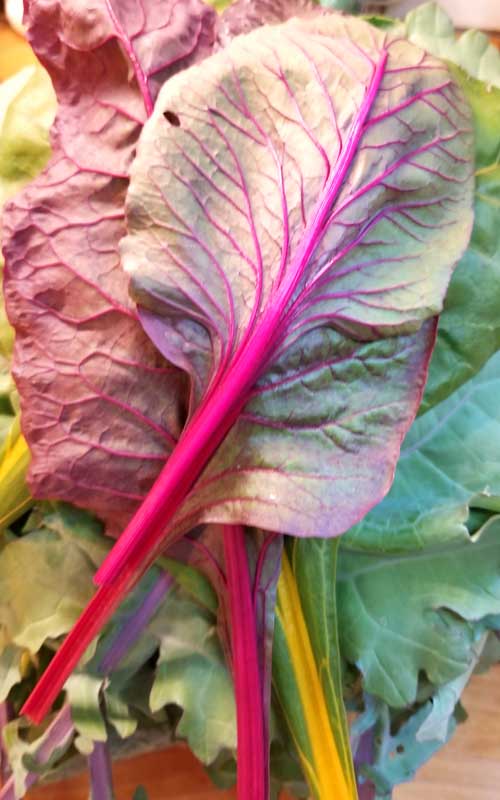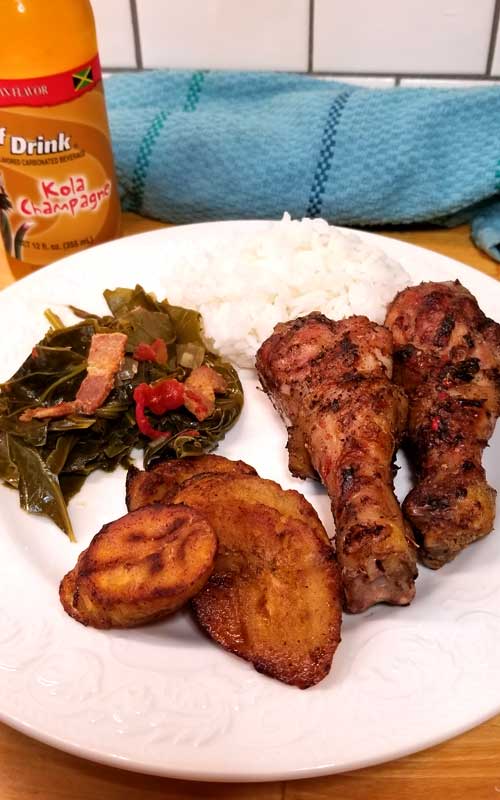 Fried Sweet Plantains
Jamaican Style Greens
Ziggy Marley's Jerk Chicken