Looking to add some Mediterranean flair to your next grilling session? These Italian Steak Kabobs with Roasted Garlic Basting Sauce will take your taste buds on a flavor-packed journey!
These Italian Steak Kabobs are not only a crowd-pleaser but also an excellent option for a weeknight dinner or weekend get-togethers. Prepare to impress your guests and savor the essence of the Mediterranean with every juicy bite!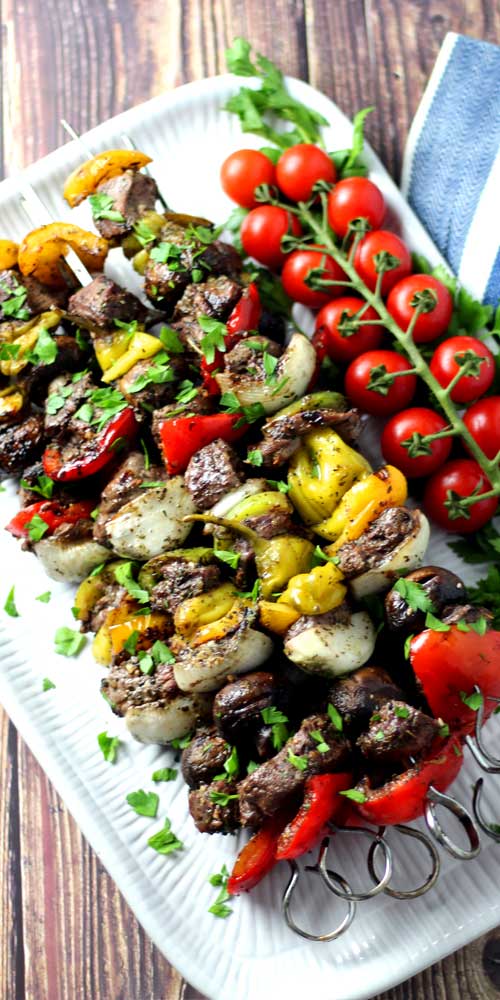 The key to these kabobs is the roasted garlic basting sauce. Roasting the garlic brings out its sweetness and mellows its flavor, making it the perfect complement to the grilled steak. The sauce also adds a touch of smokiness, which is amplified by the grill.
Grilling magically makes almost everything taste even better. You get the smoky flavor and slightly charred little bits to the point of caramelization for the steaks, onions, and bell peppers. Adding mushrooms and pepperoncini peppers ramps things up to a whole other depth of flavor.
Those little flavor bomb tomatoes on the side were the perfect addition to our salad, but they were so beautiful they were screaming "take my picture too!".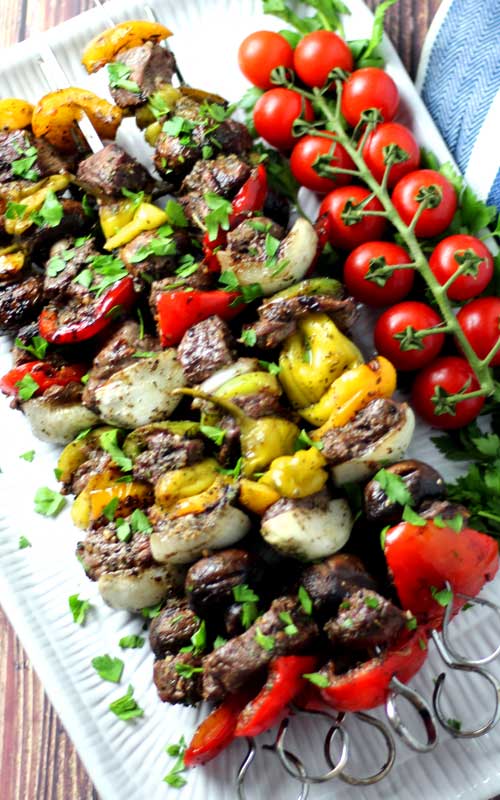 This recipe is inspired by our love of the Italian restaurants we have in our area. What many people do not know is that "The Hill" is not just the largest Italian neighborhood is St. Louis. It is probably the largest true Italian neighborhood in the country!
In fact there is a new documentary called "Americas Last Little Italy". It is a movie that explores the deep historic roots of the Hill, St. Louis' iconic Italian neighborhood.
We love our Italian around here and it's a tradition to have a little special dipping oil for Italian bread, that was my inspiration for this recipe, that dipping oil with roasted garlic and some herbs for for the marinade and basting sauce and let me tell you that knocks these little Italian Steak kabobs right out of the ball park, it's a home run! It's a winner folks! Go Crazy! Hey Joe Buck is from here too, so his father Jack Buck was the Cardinal Hall of Fame announcer for many many years.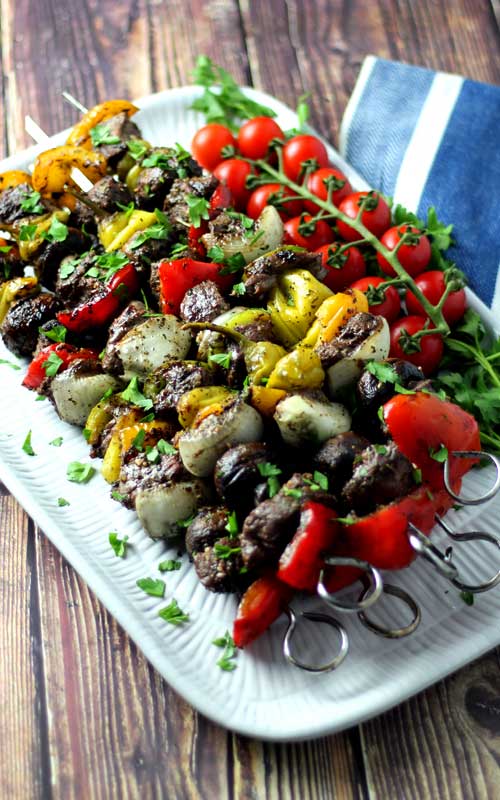 What can you serve with these Italian Steak Kabobs with Roasted Garlic Basting Sauce?
All you need is a salad and maybe some garlic bread.
A nice bottle of red wine and you've got the perfect summer evening dinner!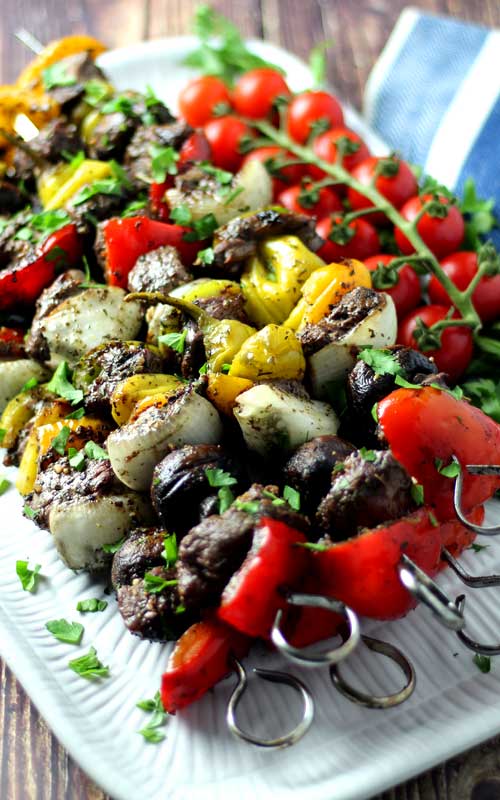 Here are some tips for making the best Italian Steak Kabobs:
Use a good quality steak. A flank steak or skirt steak would be a good choice.
Don't overcrowd the grill. If you crowd the grill, the kabobs will not cook evenly.
Baste the kabobs frequently. This will help them stay moist and flavorful.
Don't overcook the steak. Overcooked steak will be tough and dry.
What kind of Beef works for Steak Kabobs
This is debatable. We tend to watch the ads for sales. You will find that Top Sirloin usually has a better price and works great for kabobs, since there is enough muscle to hold up to the marinating process.
If you are wanting the most tender (but also expensive) filet mignon from beef tenderloin, porterhouse, or ribeye will all work. However, I prefer just to have all of those as steaks personally.
Stew meat would not be a good choice, as it has too much connective tissue. It needs to cook slowly for some time in order to tenderize it.
Skewers:
We prefer these metal skewers. If you do use wooden skewers, be sure to soak them in water for at least 30 minutes before using them.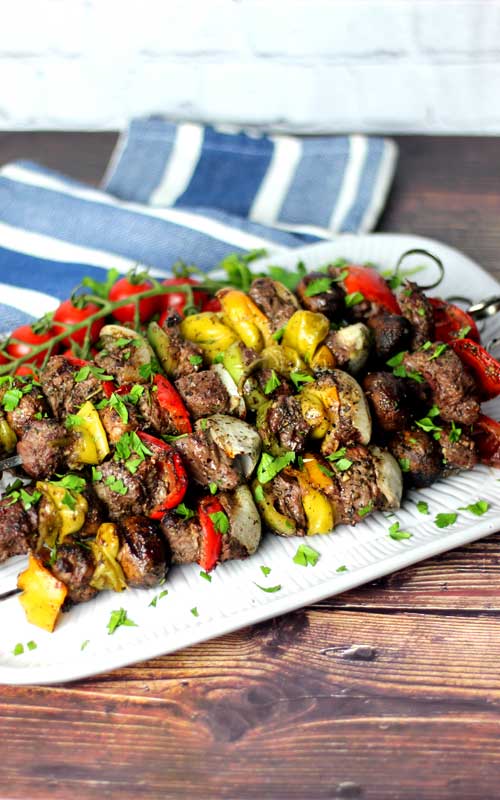 Some tips for Roasted Garlic: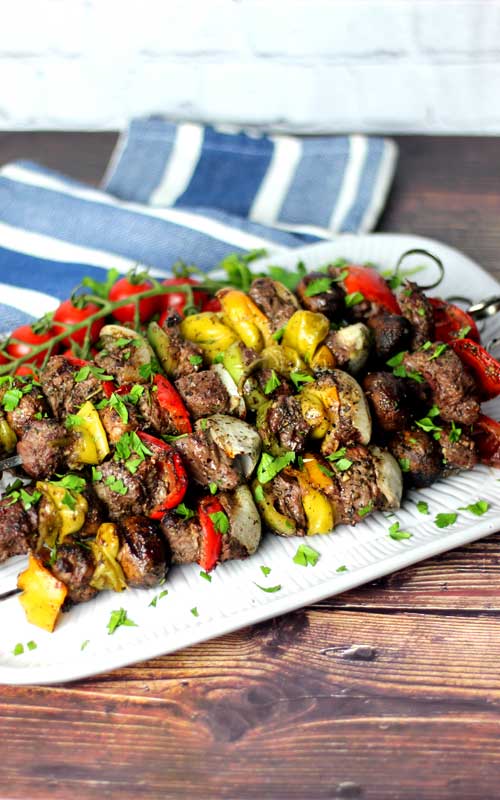 What's the difference between charred and burnt?
Char is all about balance, your creating a complexity of flavor, but burnt food goes past caramelization. Becoming too bitter and not so yummy. It takes some practice and patience to learn how to grill properly and know how to control your fire.
Here are some variations on the recipe:
For a more intense garlic flavor, add more roasted garlic to the basting sauce.
For a spicier kabobs, add a pinch of red pepper flakes to the basting sauce.
For a vegetarian option, omit the steak and use vegetables such as zucchini, squash, or mushrooms.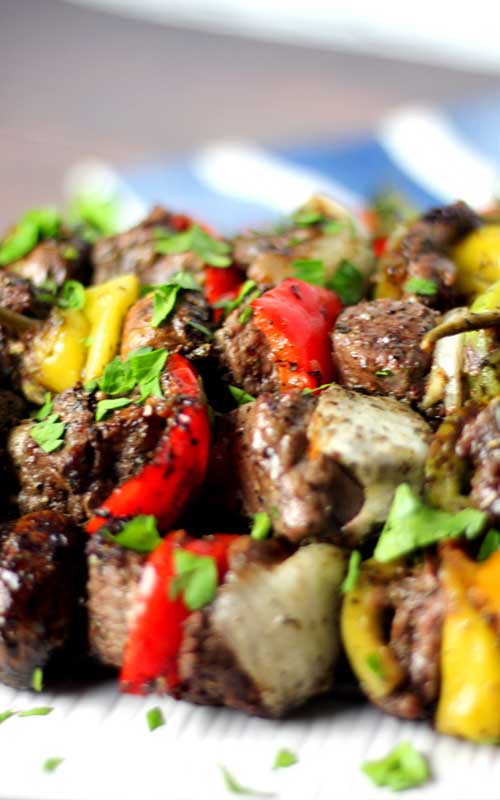 Fire up the grill and get ready to impress your family and friends with these kabobs that are not only visually appealing but also bursting with savory goodness. Follow this simple recipe and let the Mediterranean aromas fill the air!
Don't forget to follow along, so you don't miss out! Did you know you can get a notification on your phone now as soon something is published? People are loving this so much, more than the emails clogging up your inbox. If you happened to not accept the notification box earlier…now is a good time to click the small bell in the corner and get signed up!
FOLLOW Sparkles of Yum ON FACEBOOK | PINTEREST | INSTAGRAM | TWITTER FOR ALL OF THE LATEST CONTENT, RECIPES AND UPDATES.
Feel free to join the Sparkles of Yum Recipe Swap Facebook group! A fun place to find and share all of your favorite recipes.
Italian Steak Kabobs with Roasted Garlic Basting Sauce
Yield: 8 skewers

Prep Time: 10 minutes

Cook Time: 1 hour

Additional Time: 1 hour

Total Time: 2 hours 10 minutes

Looking to make something that is beyond flavorful, juicy, and tender? These Italian Steak Kabobs with Roasted Garlic Basting Sauce is the recipe you need!
Ingredients
Roasted Garlic Marinade and Basting Sauce:
1 cup Italian salad dressing
1/2 cup extra virgin olive oil
1 teaspoon Italian seasoning
4-5 garlic cloves (roasted, crushed and minced)
salt and fresh cracked pepper to taste
Kabobs:
1 1/2 lbs top sirloin cut into 1-inch pieces
Red, yellow & green bell peppers (about 1/2 each cut into 1″pieces)
1 medium onion (cut into 1″ pieces)
12 Baby Bella Mushrooms
2 tablespoons fresh Italian parsley
Instructions
For the Marinade and Basting Sauce:
Cut the top off the garlic bulbs.
Drizzle with a little olive oil and wrap loosely with foil
Place either in an oven that has been preheated to 400 degrees, or on the grill over indirect heat. Roast for about 30-40 minutes or until golden and tender.
Once done, allow to cool, then mash with a fork and mince.
Combine the Olive oil, and Italian seasoning in a medium bowl. Add the roasted minced garlic, then add 1 cup Zesty Italian Salad Dressing. Whisk to combine.
Pour half into a small bowl, reserving for basting later. Pour other half into larger bowl or zip top bag.
Add the sirloin to the larger bowl or zip top bag and toss to coat. Place in refrigerator about an hour or two, until ready to build kabobs.
For the Kabobs:
If using wooden skewers soak them for 30 minutes in water.
Chop bell peppers, onions and rinse mushrooms and set out the 12 pepperoncini peppers to get ready to assemble skewers.
Place the sirloin on some of the skewers. Toss the vegetables in the remaining marinade or rub with olive oil. Alternating bell peppers, steak, mushroom, onion and pepperoncini.
Grill or broil, turning once and brushing frequently with the basting sauce, until the beef is cooked to the desired doneness and the vegetables are tender, 10 to 12 minutes.
Nutrition Information
Yield 8 Serving Size 1 skewer
Amount Per Serving Calories 415Total Fat 32gSaturated Fat 8gTrans Fat 0gUnsaturated Fat 22gCholesterol 78mgSodium 414mgCarbohydrates 8gFiber 1gSugar 5gProtein 24g

Nutrition data was provided and calculated by Nutritionix, and should only be used as a general guideline. This information is provided as a courtesy and there is no guarantee that the information will be completely accurate.

© 2023 Sparkles of Yum. All rights reserved. All images & content are copyright protected. Please do not use my images without prior permission. If you want to share this recipe, please provide a link back to this post for the original recipe.
Sparkles of Yum is a participant in the Amazon Services LLC Associates Program, an affiliate advertising program designed to provide a means for sites to earn advertising fees by advertising and linking to Amazon.com.