So simple, fresh, and healthy. This Cucumber Tomato Salad is the perfect side dish for anything summer!
I know that this Cucumber Tomato Salad has been on my table through out the summer since I can remember, and has been a staple in many homes for generations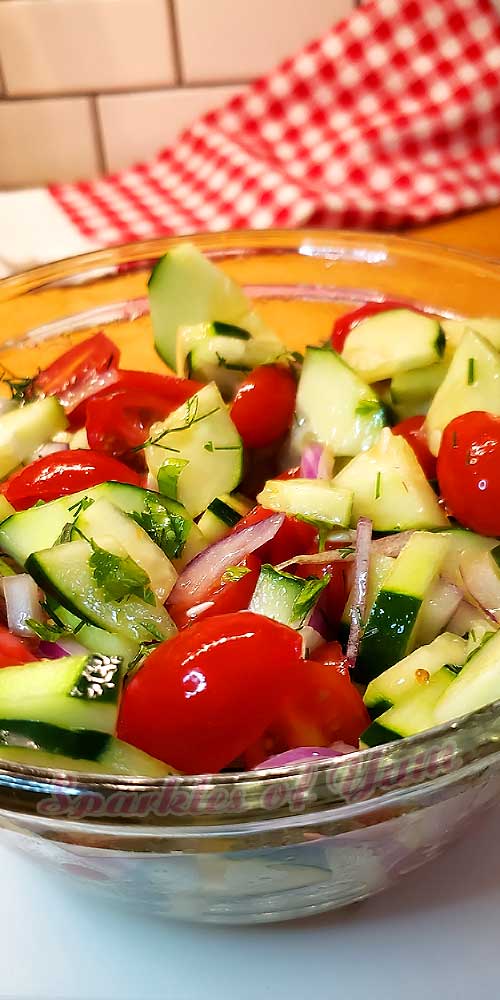 This salad is probably the number one reason I started gardening many years ago. We got our first cucumber already this year, but not enough tomatoes yet, had to buy those. But it won't be long…we'll have tomatoes getting ripe enough as well.
The cucumbers have never failed me yet. No problems ever, unless you want to count having 20 cucumbers ripe at the same time a problem.
Now, the tomatoes sometimes are picky with the hot weather and go dormant. I think last year it was almost fall before it cooled down enough to make them happy.
I've learned since then we can tent them to protect them from the hot sun, when we have a heat wave, but this year so far it's just been rain, rain and more rain. Well flooding all around actually.
That's St. Louis, MO.: the Mississippi gets full and backs up into all the smaller rivers and creeks around here. We've almost caught up with the great flood of 1993. It crested just shy of that this year, but with the flash floods it can always jump right back up there.
In fact they rescued a few cars today from around the corner from Grant's Farm, one of our top family attractions and it was home of August A. Busch.
Maybe you've heard of Anheuser Busch, or the famous Budweiser Clydesdales, they have a stable near there to visit as well.
Anyway lots of animals get to roam free on the grounds and it's a fun place to take the kids to visit, take a little train ride and you even get a free beer in the court yard. It's always a fun relaxing day and no I wasn't paid to say that, it's just what we do in the summertime just like making Cucumber Tomato Salad and BBQ in the back yard.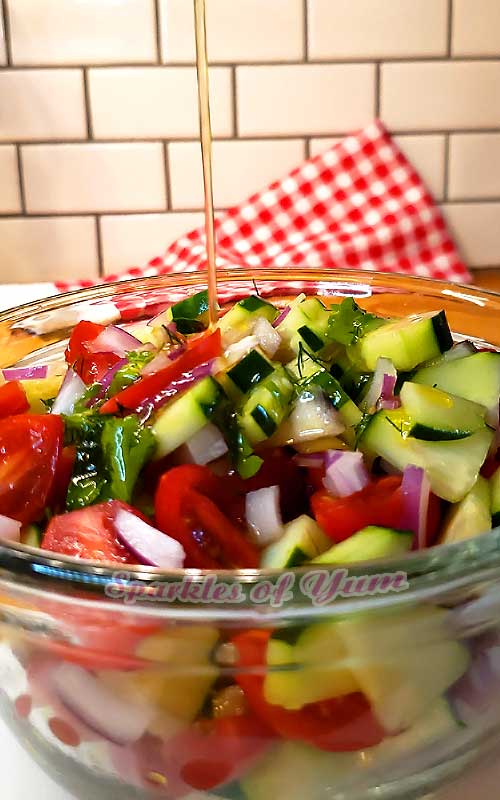 What can you serve with this Cucumber Tomato Salad?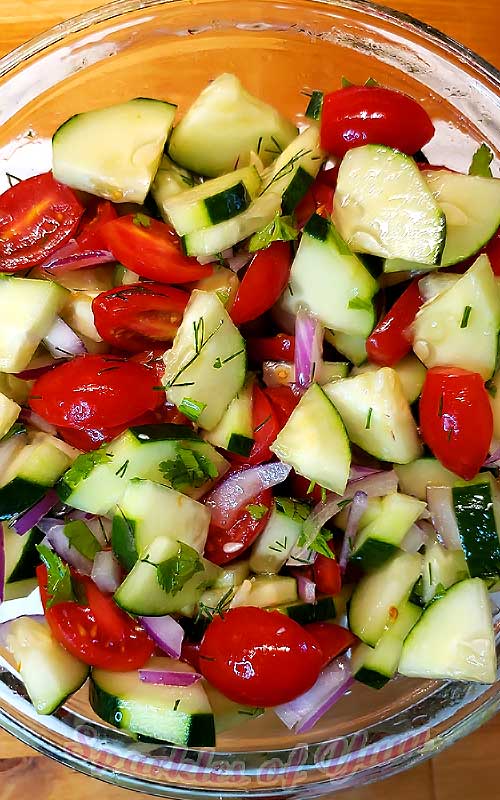 Some tips:
Store fresh tomatoes on the counter not the fridge.
If using dried herbs use half as much as the recipe calls for.
If you LOVE this Cucumber Tomato Salad recipe, try this Cucumber Tomato Appetizer Bites OR this Crunchy Watermelon Jicama & Cucumber Salad!
Don't forget to follow along, so you don't miss out! Did you know you can get a notification on your phone now as soon something is published? People are loving this so much, more than the emails clogging up your inbox. If you happened to not accept the notification box earlier…now is a good time to click the small bell in the corner and get signed up!
FOLLOW Sparkles of Yum ON FACEBOOK | PINTEREST | INSTAGRAM | TWITTER FOR ALL OF THE LATEST CONTENT, RECIPES AND UPDATES.
Feel free to join the Sparkles of Yum Recipe Swap Facebook group! A fun place to find and share all of your favorite recipes.
Cucumber Tomato Salad
Yield: About 6 servings

Prep Time: 15 minutes

Total Time: 15 minutes

So simple, fresh, and healthy. This Cucumber Tomato Salad is the perfect side dish for anything summer!
Ingredients
1 English cucumber (quartered and sliced) (I peeled stripes)
1 pint Cherry Tomatoes (sliced in half)
1/4 red onion (thin sliced)
1/4 cup Olive Oil
2 Tablespoons White Wine Vinegar (Apple Cider Vinegar or Red Wine Vinegar is also good)
1 Tablespoon fresh parsley
1 Tablespoon fresh dill
Salt and Pepper to taste
Instructions
In a small bowl whisk together olive oil and vinegar and set aside.
Peel stripes on cucumber, cut length wise in quarters, then slices. Cut tomatoes in half and slice onion in thin slices then chop slices in thirds. Add finely chopped parsley and dill, pour vinegar and oil and mix gently.
Serve immediately at room temperature or cover and chill for later.
Nutrition Information
Yield 6 Serving Size 1
Amount Per Serving Calories 97Total Fat 9gSaturated Fat 1gTrans Fat 0gUnsaturated Fat 8gCholesterol 0mgSodium 53mgCarbohydrates 4gFiber 1gSugar 2gProtein 1g

Nutrition data was provided and calculated by Nutritionix, and should only be used as a general guideline. This information is provided as a courtesy and there is no guarantee that the information will be completely accurate.

© 2023 Sparkles of Yum. All rights reserved. All images & content are copyright protected. Please do not use my images without prior permission. If you want to share this recipe, please provide a link back to this post for the original recipe.
Sparkles of Yum is a participant in the Amazon Services LLC Associates Program, an affiliate advertising program designed to provide a means for sites to earn advertising fees by advertising and linking to Amazon.com.