Talk about yum! This Sweet Hawaiian Crock Pot Pineapple Chicken hits all the taste buds just right. Sweet, tangy, juicy! Perfect for a hot summer day.
Get ready to indulge in the mouthwatering goodness of Sweet Hawaiian Crock-Pot Pineapple Chicken, a dish that will brighten up your dinner table and make your taste buds dance with joy.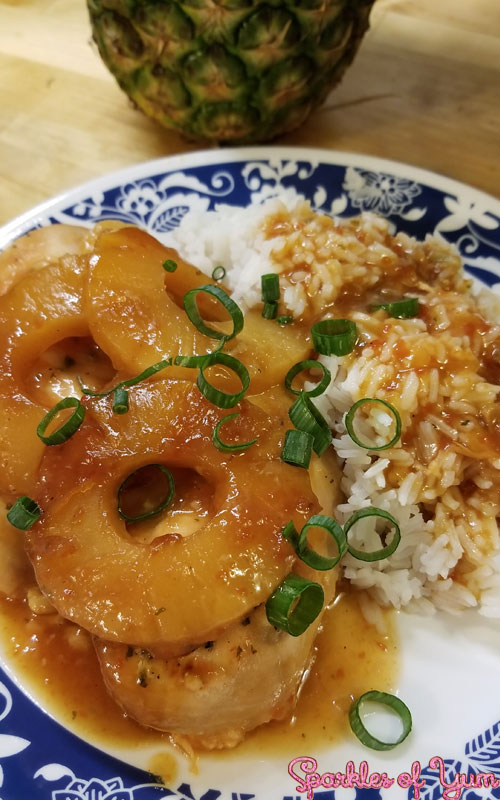 Aloha, fellow foodies! Are you ready to transport your taste buds to the beautiful islands of Hawaii? Look no further than our mouthwatering recipe for Sweet Hawaiian Crock Pot Pineapple Chicken. This delightful dish combines the sweetness of pineapple with tender chicken, resulting in a tropical explosion of flavors. Get ready to set your Crock Pot and embark on a culinary journey that will leave you craving more. Let's dive in and discover the secrets of this Hawaiian delight!
An easy meal was also in order just so we could rest up. Having house guests for a week, and being on the go every day, has a way of wearing a person out (even before you factor in the heat). Too bad you can't request spring weather for your summer vacation.
The heat can take it's toll pretty quick especially when taking in a day game at the ball park. Sitting in the sun to see our beloved Cardinals play.
I did find out you can take bottled water to a ball game, but not if it's been opened. Well, now I know, after they confiscated it at the gate, only a little embarrassing.
That's ok I forgot I had pepper spray in my purse as well, but they didn't notice that one. "Better safe than sorry" is what I say.. never had to use it, but you never know. It's not that I'm a paranoid person, but I do watch the news and stuff happens occasionally around our downtown area. But we'd rather focus on the positive and not worry about all the crazy.
With minimal effort and maximum taste, this recipe is perfect for busy days when you want a delicious meal waiting for you.
Unlocking the Tropical Flavors:
When it comes to creating a meal that truly captures the essence of Hawaii, pineapple is an ingredient that can't be overlooked. Its juicy sweetness adds a delightful touch to any dish, and in this recipe, it takes center stage. Combined with succulent chicken, aromatic spices, and a savory sauce, this Crock-Pot creation will bring a taste of the islands right into your home.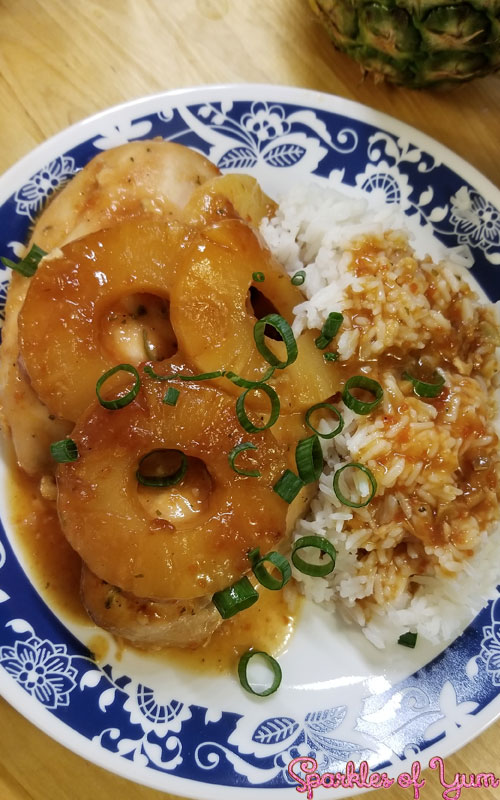 If you LOVE this Hawaiian Crock Pot Pineapple Chicken Recipe, try this Hawaiian Shrimp Kabobs recipe OR this Hawaiian Tuna Poke Bowl!
Don't forget to follow along, so you don't miss out! Did you know you can get a notification on your phone now as soon something is published? People are loving this so much, more than the emails clogging up your inbox. If you happened to not accept the notification box earlier…now is a good time to click the small bell in the corner and get signed up!
FOLLOW Sparkles of Yum ON FACEBOOK | PINTEREST | INSTAGRAM | TWITTER FOR ALL OF THE LATEST CONTENT, RECIPES AND UPDATES.
Feel free to join the Sparkles of Yum Recipe Swap Facebook group! A fun place to find and share all of your favorite recipes.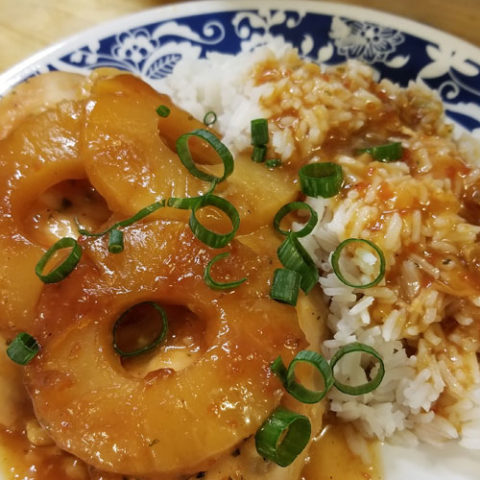 Sweet Hawaiian Crock Pot Pineapple Chicken
Total Time:
4 hours
10 minutes
Talk about yum! This Sweet Hawaiian Crock Pot Pineapple Chicken hits all the taste buds just right. Sweet, tangy, juicy! Perfect for a hot summer day.
Ingredients
4 boneless Chicken breasts
1/4 cup soy sauce (I used light sodium)
1/3 cup brown sugar
1/3 cup ketchup
20 oz can of pineapple rings (I used Dole slices with 100% juice, save juice)
4 garlic cloves (minced)
3 tablespoons cornstarch
1/2 teaspoon cilantro (optional)
couple dashes of pepper
green onions for garnish
Instructions
In a bowl pour in the pineapple juice and soy sauce plus your 3 tablespoons of cornstarch and mix well add brown sugar and ketchup and continue mixing.
Place chicken breast in the crock pot pour mixture over the top, toss in minced garlic, pepper, cilantro and top with pineapple slices. Spoon some of the mixture over the top of the pineapples, cover and set crock pot.
Cook on high for 3-4 hours, or low for 7-8 hours. When the chicken has an internal temperature of 165º it's done.
Notes
We had this with white rice with a little of the sauce poured over the top and a nice fresh salad from the garden on the side.
Nutrition Information
Yield

4
Serving Size

1
Amount Per Serving
Calories

383
Total Fat

5g
Saturated Fat

1g
Trans Fat

0g
Unsaturated Fat

3g
Cholesterol

102mg
Sodium

1151mg
Carbohydrates

46g
Fiber

2g
Sugar

33g
Protein

40g
There you have it – a taste of the Hawaiian islands right in the comfort of your own home. The Sweet Hawaiian Crock-Pot Pineapple Chicken will take your dinner experience to new heights, with its tender chicken infused with a delectable blend of pineapple, soy sauce, and aromatic spices. Each bite will transport you to the sandy shores and gentle breezes of paradise.
© 2023 Sparkles of Yum. All rights reserved. All images & content are copyright protected. Please do not use my images without prior permission. If you want to share this recipe, please provide a link back to this post for the original recipe.
Sparkles of Yum is a participant in the Amazon Services LLC Associates Program, an affiliate advertising program designed to provide a means for sites to earn advertising fees by advertising and linking to Amazon.com.