An absolutely divine Hawaiian Tuna Poke Bowl with fresh ahi tuna, bright crisp radish, cucumber, edamame, and sweet mango over wild rice with a drizzle of sweet chili aioli? Yes, please!
How refreshing and nutritious at the same time! This Hawaiian Tuna Poke Bowl is the perfect bowl of love and it is also oh so deliciously satisfying.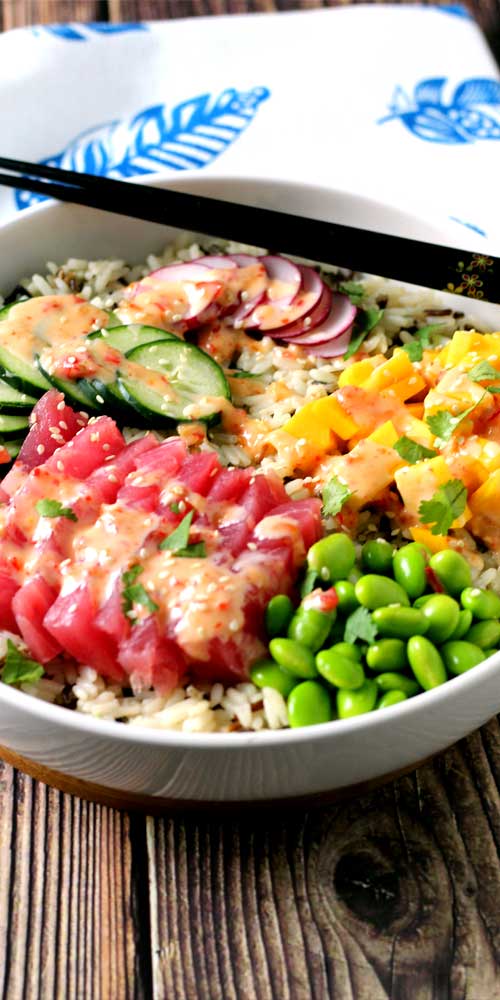 Seriously how many dinners can you think of that contain all the food groups in one bowl?
Plus you can get creative with your favorite toppings. I was going to use an avocado, but sadly it was past its prime. And if you're not a fan of mango, then maybe fresh strawberries. There's no end to the toppings, you can literally eat the rainbow.
Just be sure you find sashimi grade ahi tuna. What is sushi grade ahi tuna? You can generally ask at the counter. It is also known as yellow-fin tuna.
But hey, if you can't find sushi grade ahi tuna and you've got some salmon or tilapia, I would season that and cook it in a little olive oil. That would be perfect to make this dish. There's no Poke police checking on your Poke bowl to make sure that it is made a certain way.
Or maybe all you have is canned tuna, if that's what makes you happy…go for it! I think it would be good to try.
If you don't have sweet chili sauce and you've got sriracha, mix a little of that with some mayo. Sometimes we've all got to improvise and that's how new things are discovered, you never know, it could be the next big thing.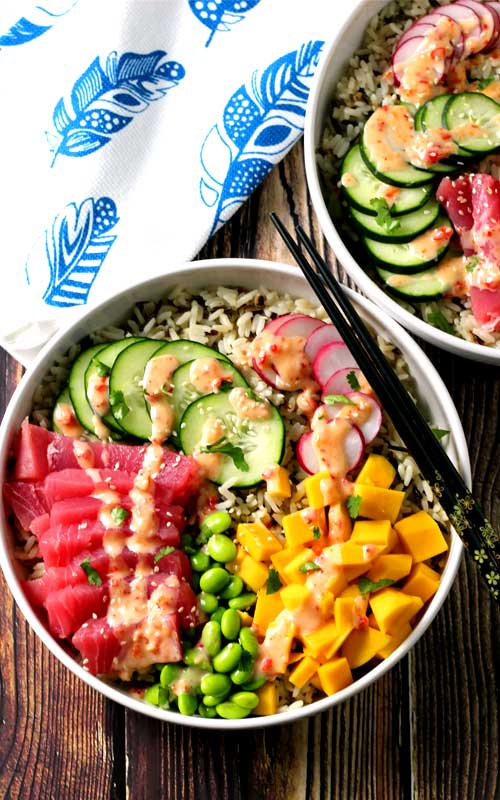 We've been on a comfort food kick for a few weeks lately being on lock down, and it was so rainy and gloomy. We really needed some sunshine and this was like sunshine in a bowl to lift our spirits and look forward to better days ahead.
Started some seeds to plant outside it's past our date for last frost, but we're still having nights too cold. Any day now it should be actual spring weather. It just seems like it's taking forever.
Of course we had one day it hit 90 and then dropped to 40 the next day. That's what living in the middle of the country is like. Whichever way the wind blows is how fast the weather changes around St. Louis.
If you've been thinking of starting a garden, cucumbers and radishes are really easy to grow. Cucumbers need lots of sun and something to climb up like a trellis or tall fence and each plant will give you about 40 cucumbers. Radishes are among the easiest and fastest vegetables to grow.
Maybe you've heard of Victory Gardens, "Sow the seeds of victory" in hard times, actually back then was war time, but they are historic as well as a proven natural stress relief and a good way to get the kids outside and we always have more than enough for us so we share with the neighbors and family.
I hear people say they have a brown thumb and can't grow anything, but it's not a matter of luck. It's just a matter of learning what certain plants need. Like some need more sun and good drainage is important to many as well. So all you need to do is a little research to learn a new skill.
It's really no different than learning to cook different things. Not everything needs the same amount of time or temperature. Just like the rice in this Hawaiian Tuna Poke Bowl. If your going to make wild rice, that takes a little more cook time than most variaties.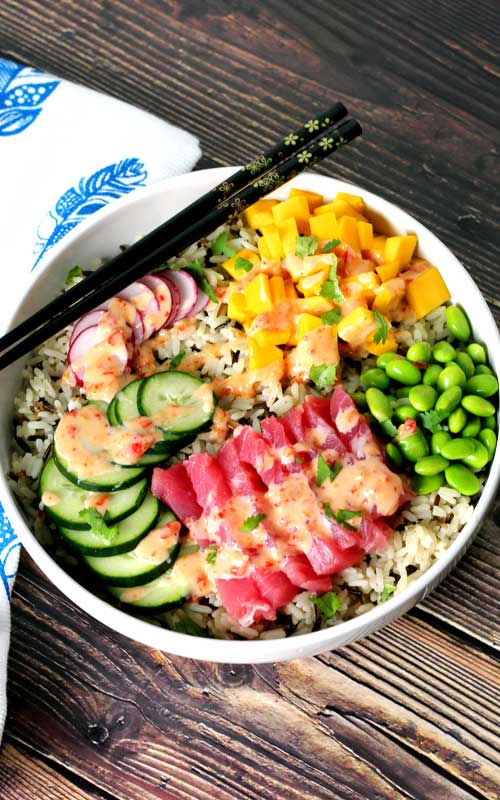 Some tips:
Poke (pronounced "poh-kay") means "to cut" in Hawaiian.
Look for fresh Sushi grade tuna
You can choose a different base, we used wild rice, but you can use sushi rice, brown rice, cauliflower rice, soba noodles or just leafy greens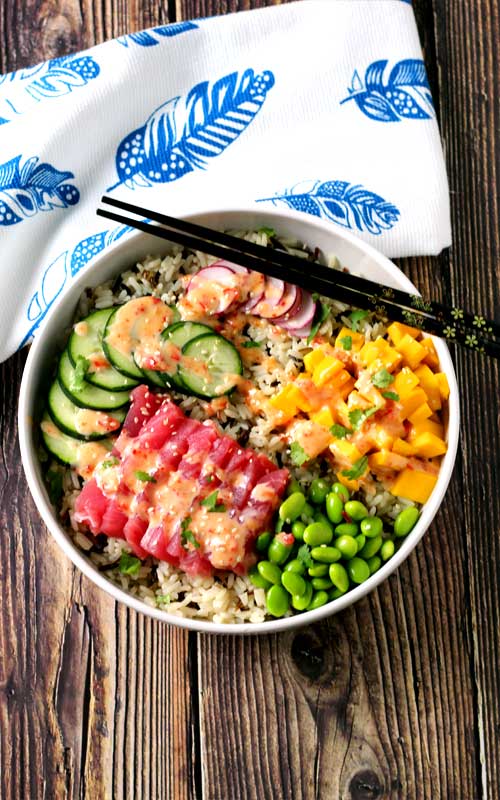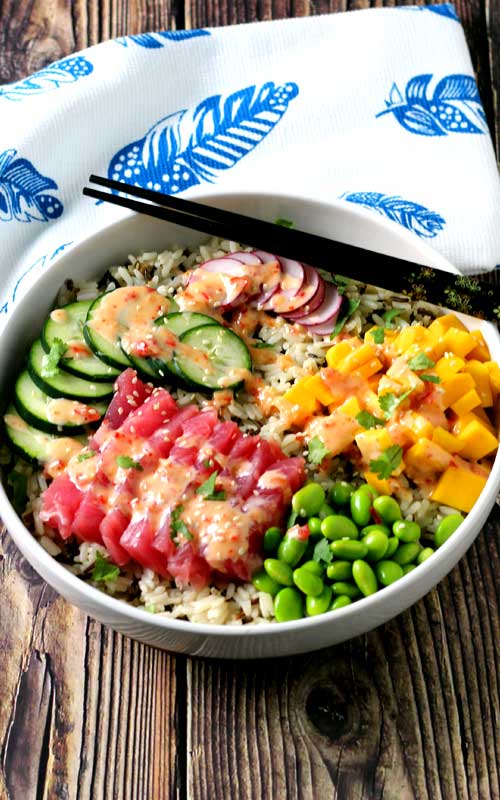 Don't forget to follow along, so you don't miss out! Did you know you can get a notification on your phone now as soon something is published? People are loving this so much, more than the emails clogging up your inbox. If you happened to not accept the notification box earlier…now is a good time to click the small bell in the corner and get signed up!
FOLLOW Sparkles of Yum ON FACEBOOK | PINTEREST | INSTAGRAM | TWITTER FOR ALL OF THE LATEST CONTENT, RECIPES AND UPDATES.
Feel free to join the Sparkles of Yum Recipe Swap Facebook group! A fun place to find and share all of your favorite recipes.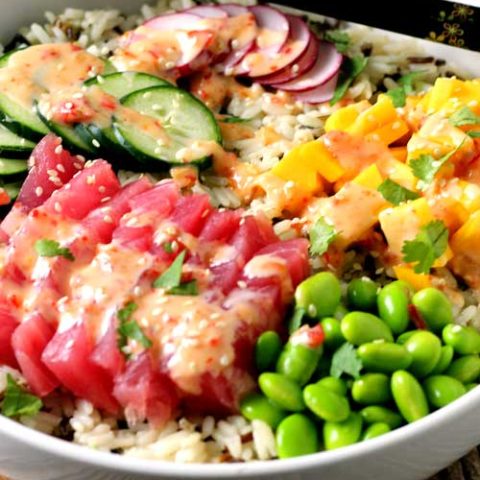 Hawaiian Tuna Poke Bowl
Yield: 2 Servings

Prep Time: 20 minutes

Cook Time: 30 minutes

Total Time: 50 minutes

An absolutely divine Hawaiian Tuna Poke Bowl with fresh ahi tuna, bright crisp radish, cucumber, edamame, and sweet mango over wild rice with a drizzle of sweet chili aioli? Yes, please!
Ingredients
2 Sashimi grade Ahi tuna steaks
1 1/2 cups wild rice
1 mango, diced
1 cucumber, sliced
4 radishes, thinly sliced
1/2 cup shelled edamame (found in the freezer aisle)
sesame seeds for garnish
cilantro for garnish
Ingredients for Sweet Chili Aioli:
2 tablespoons Thai-style Mae Ploy sweet chili sauce
1 teaspoon lime juice
4 tablespoons mayonnaise
Instructions
Cook rice according to package instructions. Everything else is slice and assemble to make it pretty and top with sesame seeds and cilantro for garnish. Keep fish cold and serve immediately.
For Sweet Chili Aioli:
Combine all the ingredients in a small bowl and stir together.
Nutrition Information
Yield 2 Serving Size 1
Amount Per Serving Calories 702Total Fat 32gSaturated Fat 5gTrans Fat 0gUnsaturated Fat 26gCholesterol 70mgSodium 274mgCarbohydrates 68gFiber 10gSugar 31gProtein 40g

Nutrition data was provided and calculated by Nutritionix, and should only be used as a general guideline. This information is provided as a courtesy and there is no guarantee that the information will be completely accurate.

© 2023 Sparkles of Yum. All rights reserved. All images & content are copyright protected. Please do not use my images without prior permission. If you want to share this recipe, please provide a link back to this post for the original recipe.
Sparkles of Yum is a participant in the Amazon Services LLC Associates Program, an affiliate advertising program designed to provide a means for sites to earn advertising fees by advertising and linking to Amazon.com.