Quick, easy, healthy and yummy! You can't go wrong with this sauteed spinach and mushrooms Asian-style.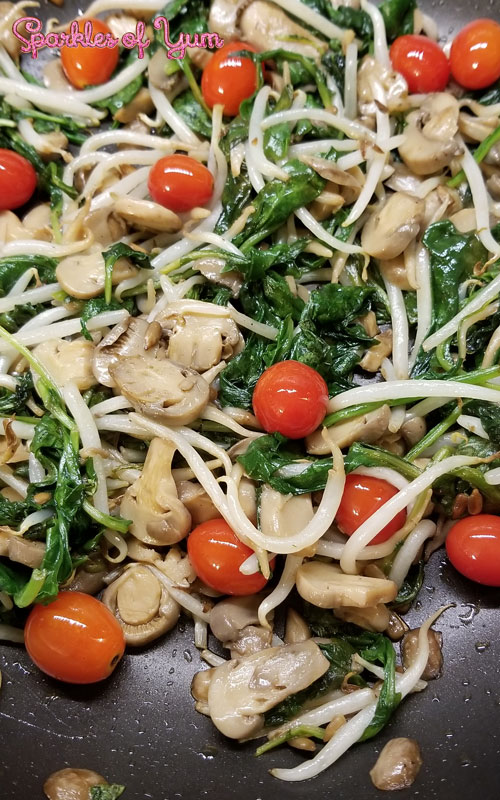 I made this as a side dish because I happened to have a few things in the fridge I needed to use before it was too late. It just looked so pretty and colorful there was no way that I could not take a pic. But it is also so healthy and yummy that I thought I should share it.
I remember hearing on the Today Show that you get more nutrition out of cooked spinach than raw, for some reason, so I thought I'd do a little search to see if there are any other vegetables that this is true with. Come to find out according to Treehugger, there are 6 vegetables that when cooked, the nutrients become more absorbable. Surprise, come to find out mushrooms and tomatoes are on that list as well! When you add bean sprouts to the equation, you get a bonus 7 healthy benefits. According to their article, bean sprouts improve the immune system, build strong bones, helps your brain function, and there is most likely more that they missed. Plus a little sprinkle of sunflower seeds which are an excellent source of many vital nutrients.
Now, I am nowhere near being a health food nut, but having someone who was just recovering from a major surgery I was looking into helping him get back to 100% as quickly as possible. He had to be on just liquids for 5 days after having his appendix burst which lead to an emergency surgery. Not exactly what we had planned for our Friday night. Who knew that could even still happen in this day and age, but it did, and it's pretty scary. Come to find out later that little appendix had a tumor in it. On a good note everything turned out good there's no cancer left behind.
So we're not always eating healthy, but this one is a keeper! We had this with salmon for dinner (here is a good recipe for grilled salmon that would be perfect with this), but I think it would go great with just about anything. It almost is the perfect quick, healthy side dish.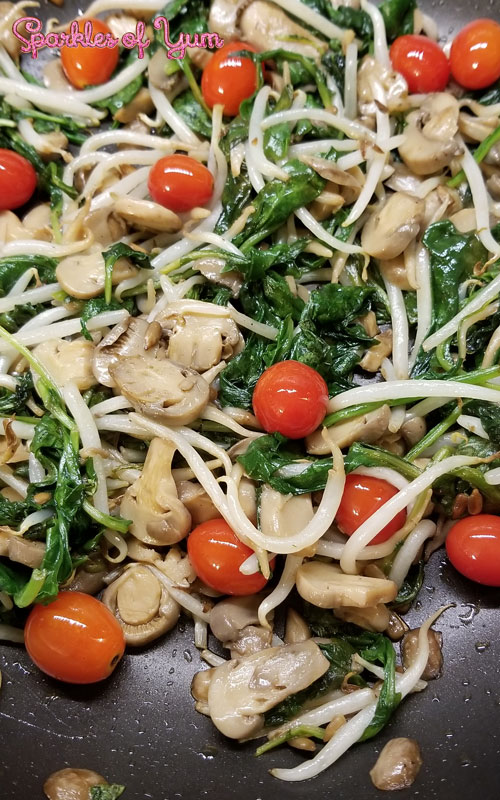 Don't forget to follow along, so you don't miss out! Did you know you can get a notification on your phone now as soon something is published? People are loving this so much, more than the emails clogging up your inbox. If you happened to not accept the notification box earlier…now is a good time to click the small bell in the corner and get signed up!
FOLLOW Sparkles of Yum ON FACEBOOK | PINTEREST | INSTAGRAM | TWITTER FOR ALL OF THE LATEST CONTENT, RECIPES AND UPDATES.
Feel free to join the Sparkles of Yum Recipe Swap Facebook group! A fun place to find and share all of your favorite recipes.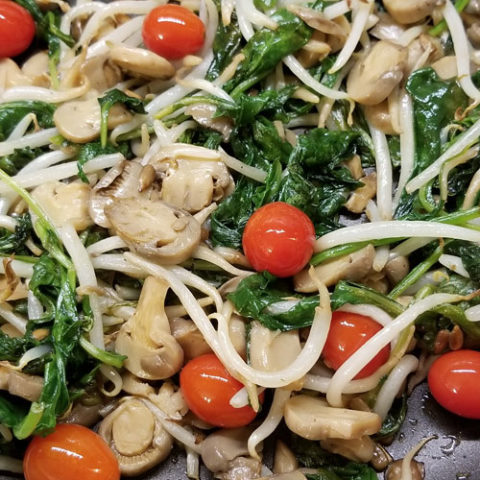 Sauteed Spinach and Mushrooms Asian-Style
Quick, easy, healthy and yummy! You can't go wrong with this sauteed spinach and mushrooms Asian-style.
Ingredients
1 1/2 cup mushrooms (sliced)
2 cups baby spinach
1 cup bean sprouts
1 cup cherry tomatoes
2 tablespoons sesame oil
1 tablespoon rice wine vinegar
2 tablespoons sunflower kernels ( I used roasted and salted from Aldi)
salt and pepper to taste
Instructions
Using a nice large non-stick skillet, heat up your sesame oil and add sliced mushrooms
Cook at medium-high stirring occasionally, until the mushrooms are cooked through and begin to become golden (about 8-10 minutes)
Add spinach, bean sprouts, tomatoes, rice wine vinegar and salt and pepper
Saute a couple minutes to heat through and toss in sunflower kernels.
© 2023 Sparkles of Yum. All rights reserved. All images & content are copyright protected. Please do not use my images without prior permission. If you want to share this recipe, please provide a link back to this post for the original recipe.
Sparkles of Yum is a participant in the Amazon Services LLC Associates Program, an affiliate advertising program designed to provide a means for sites to earn advertising fees by advertising and linking to Amazon.com.