Step up your pina colada game with this Lava Colada Boozy Shake recipe. A twist on the famous Lava Flow from Hawaii, transformed into a milkshake!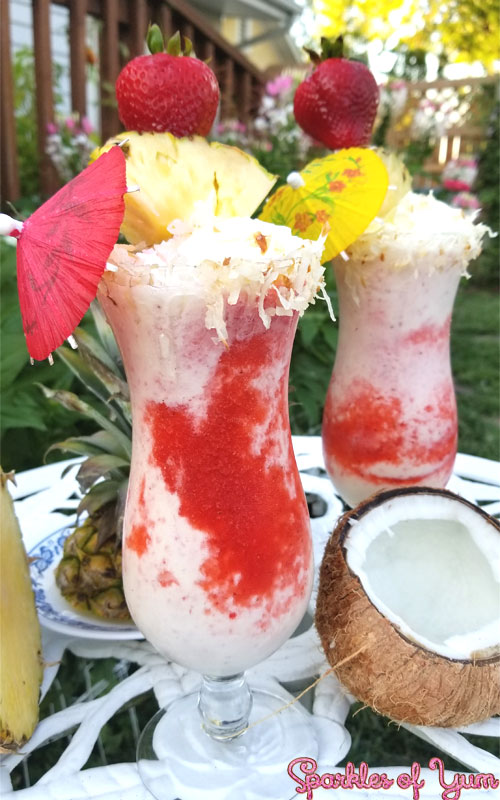 A twist on the famous Lava Flow from Hawaii, a colorful variation on the Pina Colada. They are just so pretty and I love Pina Coladas.
We did this little Pina Colada Whip last year, but this year I wanted to see if this method really comes out as good with adding ice cream to make it more of a boozy milkshake.
The freak shakes seem to be all the rage in Australia and spreading like wildfire, we even got to see one first hand at a new place in town called "Tin Roof" which is where the inspiration for this was born.
The milkshake at "Tin Roof" is very deserving of being called a freak shake. When this thing comes out, it is piled high with birthday cake, a cookie, and donuts. Great food I highly recommend if your ever in the area, they even have live music.
We were more interested in the idea of a boozy milkshake than making a mile high dessert for this particular Saturday evening. We were so excited to see if it really came out as pretty as what I had found on the Hawaiian Magazine site.
The good news is that this recipe is oh-so easy, it works like a charm. Even more importantly, it tastes so good you'll want to have a Luau party. Or maybe a Tiki party, pool party or whatever suits your fancy.
You will just be wanting to share this Lava Colada Boozy Shake with your friends and family.
Or just do what we do in our own little slice of "faux tropical paradise", and enjoy it in your own back yard. Did you hear the news article this week that couples who drink together are happier? Well, I am not a scientist, but I do believe that this is the case.
Don't forget to follow along, so you don't miss out! Did you know you can get a notification on your phone now as soon something is published? People are loving this so much, more than the emails clogging up your inbox. If you happened to not accept the notification box earlier…now is a good time to click the small bell in the corner and get signed up!
FOLLOW Sparkles of Yum ON FACEBOOK | PINTEREST | INSTAGRAM | TWITTER FOR ALL OF THE LATEST CONTENT, RECIPES AND UPDATES.
Feel free to join the Sparkles of Yum Recipe Swap Facebook group! A fun place to find and share all of your favorite recipes.
Lava Colada Boozy Shake
Step up your pina colada game with this Lava Colada Boozy Shake recipe. A twist on the famous Lava Flow from Hawaii, transformed into a milkshake!
Ingredients
12 oz coconut rum
4 oz pineapple rum
1 cup strawberry puree (+ 2 tablespoons sugar if using fresh strawberries)
15 oz cream of coconut (we used Coco Lopez)
1 quart vanilla ice cream (about 12 scoops)
Garnish
fresh pineapple wedges
fresh strawberries
wooden skewers
whipped cream
To rim glasses
corn syrup to rim the glasses
1 /2 cup toasted coconut
1 teaspoon butter (for toasting coconut)
Instructions
You can used frozen or fresh strawberries, I had fresh, so I cleaned and diced them first and added 2 tablespoons of sugar then tossed them in a blender to puree the strawberries and set aside in the fridge.
Next I added a teaspoon of butter to a nonstick skillet and toasted the coconut flakes, only takes a minute, just let the butter get hot and stir around coconut till it just starts to brown in the edges. Place in a little saucer that will be used to rim the glasses.
Another saucer will be used for the corn syrup first turn glass upside and coat well with the corn syrup hold there a few seconds to let drip or it will be running down the glass. Then go straight to the toasted coconut same thing hold glass upside down and turn it all around to rim the glass then set those aside.
Pour coconut rum, pineapple juice, cream of coconut and scoop ice cream in the blender to mix for a few seconds. Take the strawberry puree from the fridge and pour into the bottom of each glass and carefully pour mixture from the blender down the center of each glass. The blender was a full 64 oz so we had enough to fill 6 hurricane glasses. So depending on how many people your serving you may want more strawberry puree to keep on hand. That has to be kept separate to get the full effect of the Lava Flow.
Garnish
I just used a can of Redi Whip and tossed a few coconut flakes on the top then added the pineapple and strawberry on wooden skewers for garnish along with the little paper umbrellas.
Notes
For the pineapple rum, we just placed a small (2 oz.) bottle in each glass. If you don't have those bottles, or wish to use them, just add the pineapple rum into the blender when you add the coconut rum.

© 2023 Sparkles of Yum. All rights reserved. All images & content are copyright protected. Please do not use my images without prior permission. If you want to share this recipe, please provide a link back to this post for the original recipe.
Sparkles of Yum is a participant in the Amazon Services LLC Associates Program, an affiliate advertising program designed to provide a means for sites to earn advertising fees by advertising and linking to Amazon.com.