What makes this BBQ sauce so magical? It's not the moonshine, even though it helps. This spicy East Carolina mustard based BBQ sauce will make you forget all about those ketchup based BBQ sauces that everyone is so familiar with.
Not overly spicy, a bit creamy, and plenty of tangy. There is so many flavors going on with this sauce, that it is hard to put it in any one box. One thing is for certain though, this sauce is so good, that I may just end up putting it on everything that comes off the grill or out of the smoker.
Now, gather around my foodie friends and listen carefully. Because I'm about to blow your socks off when you hear the secret ingredient to this masterpiece.
I feel like I have to prepare your ears to take this information in…
Like you might need to be sitting down if you never heard of this. Over dramatic much, maybe.. but it is so good it needs a good build up.. ya'll!! If you think I'm gonna say the the secret ingredient is Moonshine – your wrong!
We search high and low to find awesome recipes. Low and behold, not too far from our house, there is a little shop that's selling whiskey and BBQ sauce. They happened to mention that one of their best sellers is a White Lightning Moonshine BBQ Sauce. Well that was all I needed to hear, we had to find an authentic recipe to try this magical sounding sauce.
So after doing a little searching, we came across one that piqued our interest. It was on the oddest of sites to find a BBQ sauce recipe, so we had to just open it up.
The site that had the recipe we were looking for was for the Minerva Dairy. So legend has it that they are America's oldest commercial dairy est. in the 1800's in Ohio. Let me just say the man or woman who came up with this recipe was a genius way ahead of their time.. (that was a hint for the secret ingredient- dairy!)
And there was one ingredient there that called out to us from the page.
Brace yourself…that secret ingredient is………
SMOKED BUTTER!!!
That is not a typo, I said smoked butter! Now, we know not everyone has access to this magical substance at their local grocer (we have never seen it ourselves), so we set out to make our own, and it only takes a few minutes, especially if you are going to be smoking the meat that this sauce is going to end up smothering.
All you need to do is melt a little butter into an oven-safe dish, and get your smoker churning out generous amounts of smoke. Place the dish with your butter in the smoker for 3-5 minutes, and voila! Smoked butter!
Now going back to things people may not have access to…we know not everyone has a smoker just lying around. You COULD make smoked butter by adding a few drops of liquid smoke to your melted butter. This will give you close to the same result.
As for the recipe that we used to make the pork tenderloin, we just went with our favorite, Perfect Pork Roast recipe. There is only a small change in the instructions. Keep the smoker at 170F the whole 9 hours (you can bump it up some if you want to speed up the process). It is done when the internal temperature hits 165F.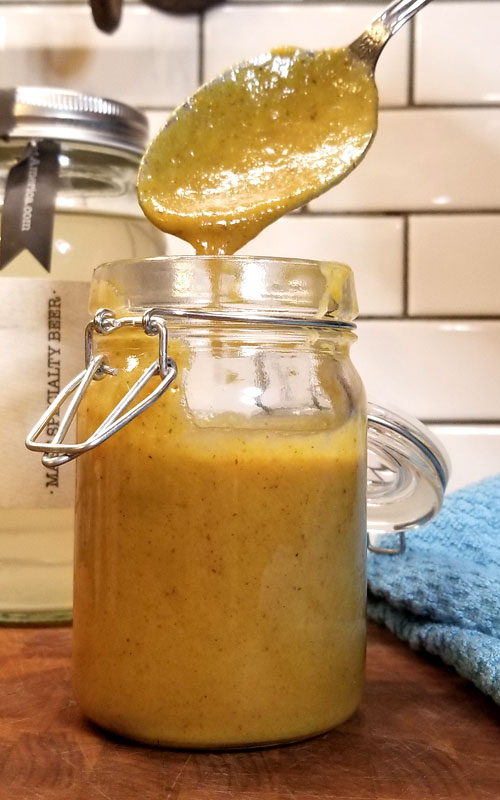 Don't forget to follow along, so you don't miss out! Did you know you can get a notification on your phone now as soon something is published? People are loving this so much, more than the emails clogging up your inbox. If you happened to not accept the notification box earlier…now is a good time to click the small bell in the corner and get signed up!
FOLLOW Sparkles of Yum ON FACEBOOK | PINTEREST | INSTAGRAM | TWITTER FOR ALL OF THE LATEST CONTENT, RECIPES AND UPDATES.
Feel free to join the Sparkles of Yum Recipe Swap Facebook group! A fun place to find and share all of your favorite recipes.
White Lightning Moonshine BBQ Sauce over Pork Tenderloin
What makes this BBQ sauce so magical? It's not the moonshine. This spicy East Carolina BBQ sauce will make you forget all about those ketchup based BBQ sauces.
Ingredients
1 1/2 cup Dijon mustard
1/2 lb. Smoked Butter
3/4 cup apple cider vinegar
3/4 cup beer (any blonde style beer works well)
1/2 cup packed brown sugar
1 Tbsp. chili powder
1 1/2 tsp. Worcestershire sauce
1 tsp. cracked black pepper
1 tsp. ground white pepper
1/2 tsp. cayenne pepper
1 1/2 oz. (shot) Moonshine
1 tsp. Louisiana-style hot sauce (optional)
Instructions
In a saucepan, stir together Dijon mustard, brown sugar, vinegar, and beer. Season with dry ingredients and bring to a simmer over medium-low heat.
Mix in Worcestershire sauce, Smoked Butter, and Moonshine (away from flame) and simmer for 15-20 more minutes. If more heat is desired, add hot sauce. Remove from heat and allow to cool.
Pour cooled sauce into a sealable jar. Store in the refrigerator over night to let the flavors blend.
Nutrition Information
Yield

8
Serving Size

1
Amount Per Serving
Calories

295
Total Fat

25g
Saturated Fat

15g
Trans Fat

1g
Unsaturated Fat

8g
Cholesterol

61mg
Sodium

1458mg
Carbohydrates

16g
Fiber

2g
Sugar

12g
Protein

2g
Nutrition data was provided and calculated by Nutritionix, and should only be used as a general guideline. This information is provided as a courtesy and there is no guarantee that the information will be completely accurate.
© 2023 Sparkles of Yum. All rights reserved. All images & content are copyright protected. Please do not use my images without prior permission. If you want to share this recipe, please provide a link back to this post for the original recipe.
Sparkles of Yum is a participant in the Amazon Services LLC Associates Program, an affiliate advertising program designed to provide a means for sites to earn advertising fees by advertising and linking to Amazon.com.