Need an elegant Holiday dinner that's simply delicious and easy? We have got just the dish for you, our recipe for Rosemary Chicken Over Cranberries & Carrots!
You get the sweetness of the carrots and the tartness from the cranberries, with the savory garlic herb butter and the festive rosemary. Making this the perfect dish for entertaining during the holidays.
There's so much entertaining to do heading into to the holidays and you still have to get ready for the big day with family. So you have a small get together with friends to exchange gifts the week before… this Rosemary Chicken Over Cranberries & Carrots would be the perfect dinner for that.
Let's say you have distant family that lives some distance and they are making a day trip near by for shopping, and they want to stop by for a visit. It's so tempting to say let's all go out to dinner. But everyone is spending so much money for presents. It would make more sense to have a plan to stay in and enjoy each others company; because let's face it, not everyone has unlimited funds. Chances are you could be picking up the bill and putting that on the charge card. As well as everything else you have to pull the card out for especially if your having drinks while your out.
So this Rosemary Chicken Over Cranberries & Carrots is all the way around budget friendly and takes very little planning. There's not even a marinade for this! So how do we get so much flavor into this simple dinner? You wake up the herbs by smashing them with a mortal and pestle, or you can use a bowl and back of a spoon then mix it in with butter.
Don't forget to follow along, so you don't miss out! Did you know you can get a notification on your phone now as soon something is published? People are loving this so much, more than the emails clogging up your inbox. If you happened to not accept the notification box earlier…now is a good time to click the small bell in the corner and get signed up!
FOLLOW Sparkles of Yum ON FACEBOOK | PINTEREST | INSTAGRAM | TWITTER FOR ALL OF THE LATEST CONTENT, RECIPES AND UPDATES.
Feel free to join the Sparkles of Yum Recipe Swap Facebook group! A fun place to find and share all of your favorite recipes.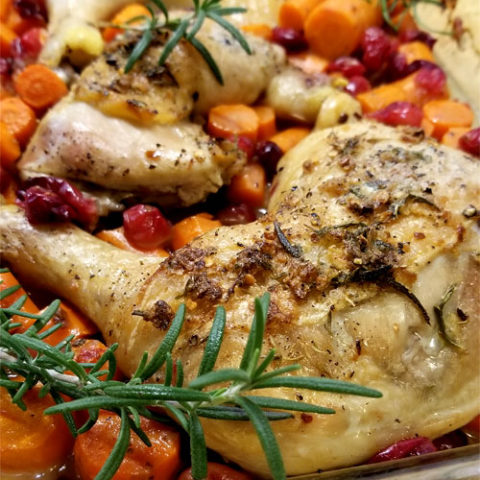 Rosemary Chicken Over Cranberries & Carrots
Yield: 6 servings

Prep Time: 10 minutes

Cook Time: 30 minutes

Total Time: 40 minutes

Need an elegant dinner that's simply delicious and easy? We have got just the dish for you, our recipe for Rosemary Chicken Over Cranberries & Carrots!
Ingredients
2 1/2 lbs chicken
6 carrots or bag of baby carrots
2 cups cranberries
For the herb butter:
4 cloves garlic (minced)
2 tablespoon rosemary (diced) plus more for garnish
1 teaspoon thyme
3/4 teaspoon red pepper flakes
2 tablespoons butter
3/4 teaspoon kosher salt
couple twists of fresh cracked pepper
Instructions
Preheat oven to 425.
Using a mortar and pestle (or a bowl and back of a spoon) crush the garlic, herbs, salt and all pepper together. Add butter and stir to combine well. Rub herb butter under the skin and over the chicken.
Place carrots, cranberries, and chicken pieces in oven-safe roasting dish. Bake at 425 degrees for 30 minutes, or until internal temperature is 165 and the juices run clear.
© 2023 Sparkles of Yum. All rights reserved. All images & content are copyright protected. Please do not use my images without prior permission. If you want to share this recipe, please provide a link back to this post for the original recipe.
Sparkles of Yum is a participant in the Amazon Services LLC Associates Program, an affiliate advertising program designed to provide a means for sites to earn advertising fees by advertising and linking to Amazon.com.