These Chocolate Peanut Butter Crispy Balls are absolutely delicious! They're so good, they are practically irresistible. The crispy texture is a wonderful addition that really compliments and enhances the peanut butter flavor.
This recipe for Chocolate Peanut Butter Crispy Balls is such an easy recipe that the kids will enjoy helping making these. I even read reviews that said 96 year old Grandmas are still making them. What a great Christmas tradition!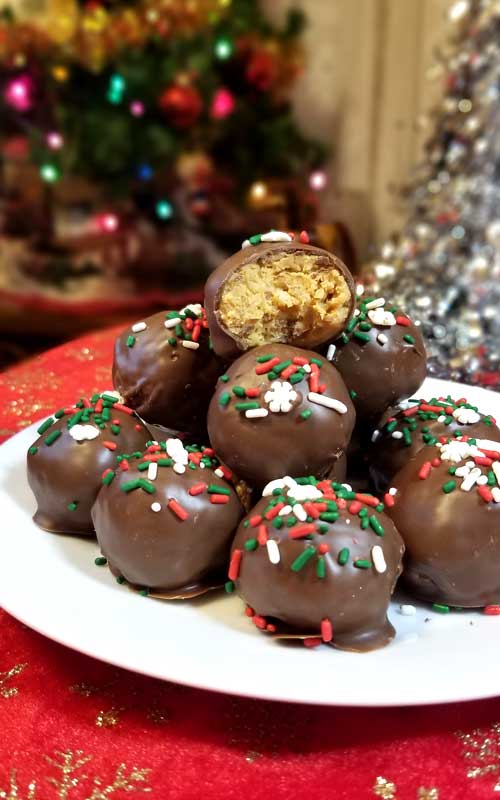 These are perfect to add to your holiday cookie trays, to help fill up those little gift tins, and it makes enough to fill up a large Christmas platter for guests or sit around in candy dishes.
I used to make cookies for days, these are so much easier because there's no baking. No shoving hot cookie sheets in the freezer to cool down quickly so the next batch doesn't burn!
YES, I'm sure my freezer wasn't happy with me, but I do remember doing that trying to get all the cookies done to take to work the next day. And then you must have enough for the kids to give to their teachers, the mail man.. neighbors, pretty much everyone! You know how crazy it gets.
Planning ahead wasn't one of my strong points when my kids were young and money was short.
These come together in very little time and you can make them ahead. These Chocolate Peanut Butter Crispy Balls also keep for days in the fridge, if you can hide them good enough that is.
Now if you have a handy dandy cookie scoop it's way less messy, you could also use 2 teaspoons and put a little butter on your hands to roll.
I found it helps to chill the mixture at least 30 minutes, before trying to roll the balls, then chill the balls 30 minutes to an hour before dipping in the chocolate. You'll also need a few toothpicks for dipping.
I used the double boil method with a sauce pan over boiling water to melt the chocolate and turn the burner down to low when your ready to dip. This way the chocolate stays warm and workable while your dipping.
Use a toothpick on the bottom and let the excess drip back into the pan. If you can, have someone else add the sprinkles while they're still warm, that will help them set into place.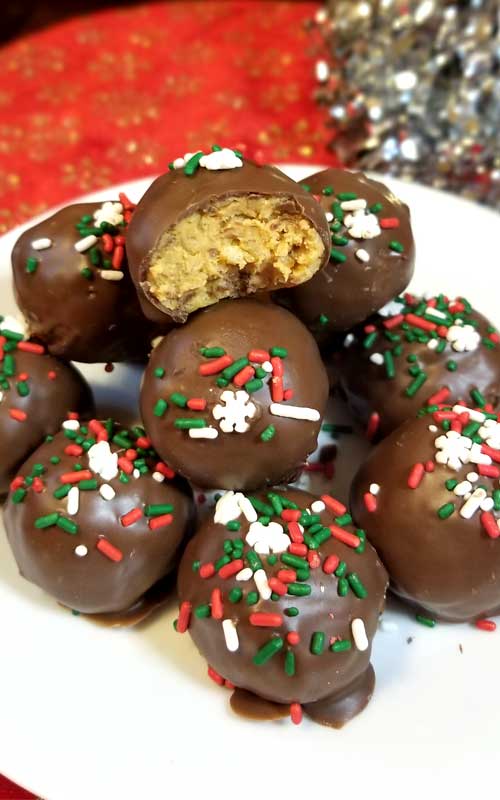 Don't forget to follow along, so you don't miss out! Did you know you can get a notification on your phone now as soon something is published? People are loving this so much, more than the emails clogging up your inbox. If you happened to not accept the notification box earlier…now is a good time to click the small bell in the corner and get signed up!
FOLLOW Sparkles of Yum ON FACEBOOK | PINTEREST | INSTAGRAM | TWITTER FOR ALL OF THE LATEST CONTENT, RECIPES AND UPDATES.
Feel free to join the Sparkles of Yum Recipe Swap Facebook group! A fun place to find and share all of your favorite recipes.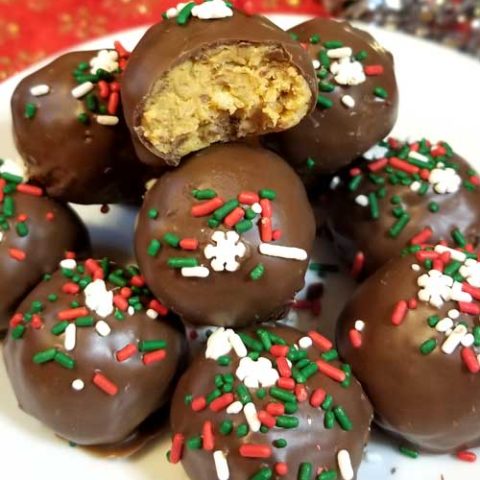 Chocolate Peanut Butter Crispy Balls
Yield: About 30 balls

Prep Time: 30 minutes

Cook Time: 2 minutes

Additional Time: 1 hour

Total Time: 1 hour 32 minutes

These Chocolate Peanut Butter Crispy Balls are absolutely delicious! They're so good, they are practically irresistible. The crispy texture is a wonderful addition that really compliments and enhances the peanut butter flavor.
Ingredients
2 cups Peanut Butter
1/2 cup butter
1 teaspoon vanilla
2 cups powdered sugar
3 cups Rice Krispies
Sprinkles
Chocolate Dip:
24 oz Chocolate Almond Bark
2 ounces paraffin wax or 2 ounces shorting
Instructions
Melt butter and while hot, stir in peanut butter.
Mix well and add vanilla, powdered sugar and Rice Krispies. Chill 30 minutes.
Use cookie scoop or 2 teaspoons to scoop and roll in with hands lightly until balls forms, not too much pressure or they'll start to come apart.
Place on wax paper on a cold cookie sheet and chill 30 minutes to an hour.
If using: paraffin shred on a box grater then add to the chocolate in a double boil and heat until melted and combined, (or you can melt in microwave safe bowl, 30 seconds at a time while stirring in between, being careful not to overheat).
Dip balls into melted chocolate mixture with toothpick.
Place on waxed paper and add sprinkles before they cool.
Nutrition Information
Yield 30 Serving Size 1
Amount Per Serving Calories 303Total Fat 23gSaturated Fat 7gTrans Fat 0gUnsaturated Fat 13gCholesterol 8mgSodium 124mgCarbohydrates 20gFiber 4gSugar 10gProtein 8g

Nutrition data was provided and calculated by Nutritionix, and should only be used as a general guideline. This information is provided as a courtesy and there is no guarantee that the information will be completely accurate.

© 2023 Sparkles of Yum. All rights reserved. All images & content are copyright protected. Please do not use my images without prior permission. If you want to share this recipe, please provide a link back to this post for the original recipe.
Sparkles of Yum is a participant in the Amazon Services LLC Associates Program, an affiliate advertising program designed to provide a means for sites to earn advertising fees by advertising and linking to Amazon.com.