This Tomato Pie recipe is just creamy, cheesy, tomato'y goodness in a pie crust. Bursting with all the flavors of home grown tomatoes. I would almost dare to call this a TRUE pizza pie.
Finally! After two years of barely having any tomatoes, we have a bunch. All getting ripe at the same time. We only put in four tomato plants, then we got this crazy long heat wave.
I think the heat wave lasted 22 days. Right when we had a bunch of green tomatoes. This makes it a little tricky to know what these plants want to stay happy.
If they get too hot they'll go dormant, which is what happened 2 years ago. Last year it was just too cool most of the summer, and we didn't get any good ripe tomatoes until almost October. So this is why I say finally got some good ones.
Now, I am not saying these tomatoes were really pretty on the outside though. They looked stressed from all the heat this year, but they are still tasty.
Not wanting any to go to waste I said jokingly, "I don't know what to do with all these tomatoes except make a tomato pie", not even knowing that was an actual thing.
After a little search online I soon discovered that tomato pie is a Southern thing. There's a couple different versions out there. The recipe that I liked the looks of the most, was this one from Saveur magazine when they did a feature on Chef & the Farmer restaurant.
It seems that Chef & the Farmer is more than a little popular because of it's tomato pie, making me want to try it even more.
I did however change it up a little, mainly because I had a lot of cheddar cheese and onions to use. So why not give it try? I'm pretty sure at least part of my bloodline comes from the Deep South.
One of my first kitchen memories from childhood was helping my Mom cut the dumplings for chicken and dumplings. Something that I of course had my kids do too when they were younger.
Hopefully the tradition continues, the little ones love to help. I think it also helps with getting children to try new things. Kids can do something with Mom or Dad in the kitchen, plus they are more likely to eat it, since they helped make it.
We really didn't know what to expect when making this. At first I thought this recipe sounded a little odd because it has mayo in the recipe. But when you put it all together you can't tell it's even in there.
It's just creamy, cheesy, tomato'y goodness in a pie crust. Bursting with all the flavors of those home grown tomatoes. I would almost dare to call this tomato pie a TRUE pizza pie, since pizza is exactly what it reminded me of.
We decided to have this as a side dish with some BBQ pork steaks, but for anyone who likes to have meatless Monday, I think this would be right down your alley too.
Don't forget to follow along, so you don't miss out! Did you know you can get a notification on your phone now as soon something is published? People are loving this so much, more than the emails clogging up your inbox. If you happened to not accept the notification box earlier…now is a good time to click the small bell in the corner and get signed up!
FOLLOW Sparkles of Yum ON FACEBOOK | PINTEREST | INSTAGRAM | TWITTER FOR ALL OF THE LATEST CONTENT, RECIPES AND UPDATES.
Feel free to join the Sparkles of Yum Recipe Swap Facebook group! A fun place to find and share all of your favorite recipes.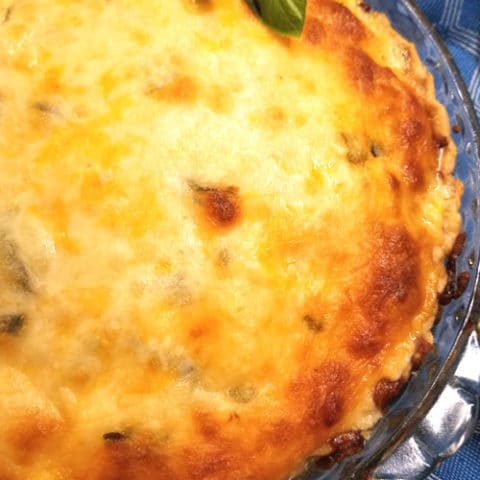 Tomato Pie
Yield: About 8 servings

Prep Time: 15 minutes

Cook Time: 45 minutes

Total Time: 1 hour

This Tomato Pie recipe is just creamy, cheesy, tomato'y goodness in a pie crust. I would almost dare to call this a TRUE pizza pie.
Ingredients
1 pie crust (I used frozen Pillsbury)
5 nice size tomatoes
1 large sweet onion
1 cup shredded mild cheddar cheese
1 cup shredded mozzarella
1 cup mayo
6 basil leaves torn and some for garnish
1 teaspoon Italian seasoning (dried)
salt and pepper
Instructions
Preheat oven to 350 degrees.
Slice onion and place a few slices around the bottom of the pie crust, Pre-bake pie crust and onions for 10 minutes.
Slice all the tomatoes and season both sides with salt and pepper, set aside.
Mix mayo with the cheddar cheese and add Italian seasoning.
Take the pie crust out of the oven and lay sliced tomatoes around pie crust. Spoon mayo and cheddar mixture over tomatoes and top with torn basil leaves and then top with shredded mozzarella.
Bake at 350 for 30-35 minutes, or until cheese is melted and golden brown.
Nutrition Information
Yield 8 Serving Size 1
Amount Per Serving Calories 407Total Fat 33gSaturated Fat 9gTrans Fat 0gUnsaturated Fat 23gCholesterol 34mgSodium 482mgCarbohydrates 19gFiber 2gSugar 5gProtein 9g

Nutrition data was provided and calculated by Nutritionix, and should only be used as a general guideline. This information is provided as a courtesy and there is no guarantee that the information will be completely accurate.

© 2023 Sparkles of Yum. All rights reserved. All images & content are copyright protected. Please do not use my images without prior permission. If you want to share this recipe, please provide a link back to this post for the original recipe.
Sparkles of Yum is a participant in the Amazon Services LLC Associates Program, an affiliate advertising program designed to provide a means for sites to earn advertising fees by advertising and linking to Amazon.com.