This Skillet Grilled Seafood Paella is making my mouth water again just thinking about how decadent and delicious it is!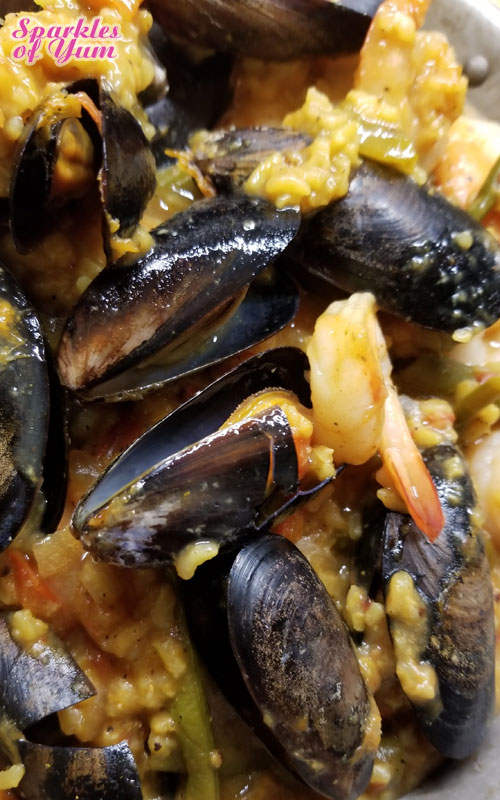 Rice and vegetables prepared in a bath of chicken stock, wine, and super-aromatic seasonings. Top that off with mussels and shrimp. One of the best recipes ever!
Where would the culinary world be without Alton Brown? I know he has taught us so much, and I really miss his "Great Eats" show that used to be on Food Network. The Cooking Channel does show reruns from time to time, but it is not the same as getting new episodes.
I remember the first time I ever heard of Paella. I was watching "Good Eats". It looked and sounded like a meal that but of us would just devour. We had no choice at all, other than to try it. After that first time, we started making paella at least a couple times a year.
This time though, is the first time we tried a Seafood Paella. It is way faster than making it with chicken, like what we would normally do (parboiling the rice also helps). Somehow, it always seemed to get dark outside before we got all the way done. Even though this seafood paella is a bit faster, both versions are worth the time effort of the prep time and washing all the bowls that you need.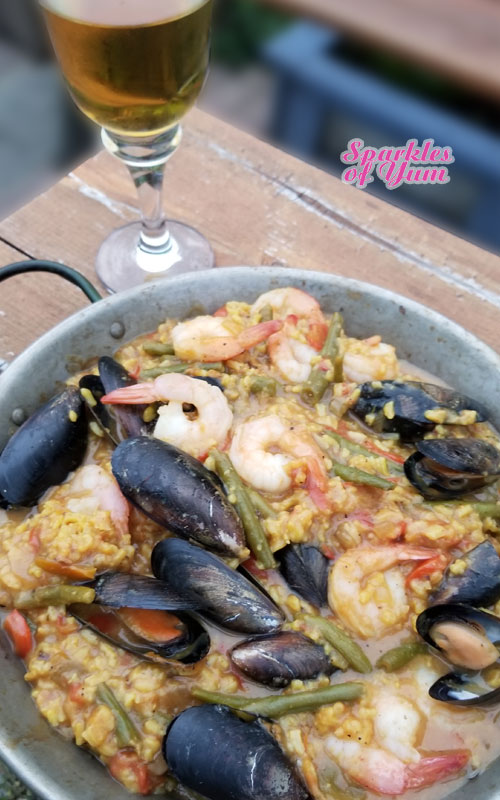 As far as I know this isn't something you can just order at a restaurant. At least not around our neck of the woods. But if you've got a passion for trying great dishes from around the world, I'm pretty sure this one is right up at top of the worlds best.
So if you can't travel to Spain, you can make it in your own back yard or kitchen if you don't have a grill. Just know the smoke from the grill adds flavor you can't get on the stove top. If you do not happen to own a grill, it would be worth begging someone that does have one to make this dish for you!
There are traditions that Alton Brown says they do in Spain. One is to make it in a Paella Pan. This is a special pan used only to make paella. The pan has little dimples on the bottom to cook it properly and that makes it get a little crust to form on the bottom.
We did purchase a Paella Pan, but didn't realize we got one much too small to actually make a decent amount in.
A small amount of improvising was in order. So we had to get out the good ole cast iron skillet, no problems there. It works beautifully. The other part of the tradition is that everyone eats out of the same Paella Pan.
When it's just the two of us, we enjoy using our pan for serving. And who needs to make more dishes?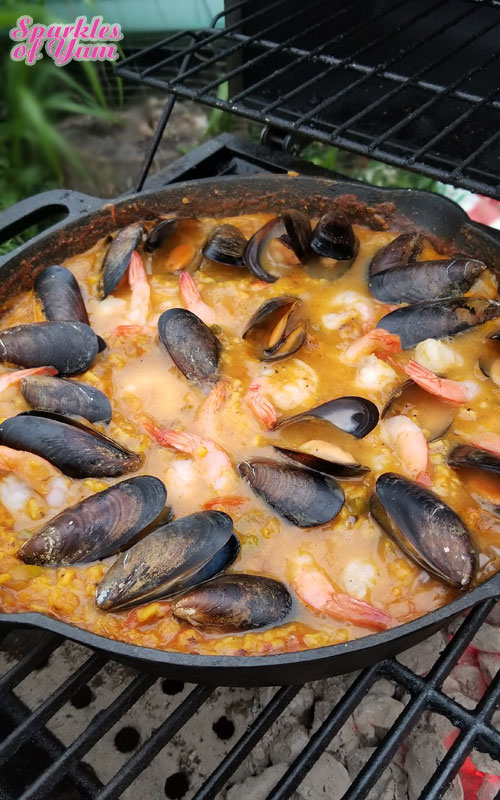 Don't forget to follow along, so you don't miss out! Did you know you can get a notification on your phone now as soon something is published? People are loving this so much, more than the emails clogging up your inbox. If you happened to not accept the notification box earlier…now is a good time to click the small bell in the corner and get signed up!
FOLLOW Sparkles of Yum ON FACEBOOK | PINTEREST | INSTAGRAM | TWITTER FOR ALL OF THE LATEST CONTENT, RECIPES AND UPDATES.
Feel free to join the Sparkles of Yum Recipe Swap Facebook group! A fun place to find and share all of your favorite recipes.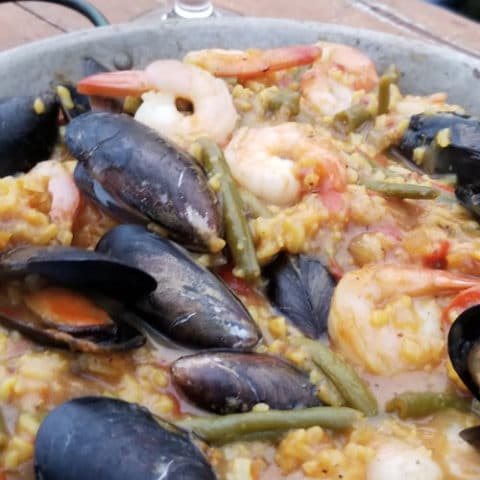 Skillet Grilled Seafood Paella
This Skillet Grilled Seafood Paella is making my mouth water again just thinking about how decadent and delicious it is! Rice and vegetables prepared in a bath of chicken stock, wine, and super-aromatic seasonings.
Ingredients
3 cups yellow saffron rice (Mahatma is the brand we used from the rice isle at Walmart)
6 cups chicken stock, divided
2 teaspoons Spanish Paprika
2 teaspoons dried thyme
1 teaspoon cumin
2 teaspoons granulated garlic
20-30 saffron threads (it's just a pinch)
salt and pepper
1 red onion
3 garlic cloves
1/2 red bell pepper
1/2 green bell pepper
2 cups diced fresh tomatoes (or 1 can)
1/2 - 3/4 lb of fresh green beans (wash, cut ends and snap in half); canned is too mushy for this
3 tablespoons olive oil
1 cup white wine
1 lb mussels
1/2 lb shrimp
Instructions
Start by prepping all the veggies. Clean, cut and dice onions, peppers, garlic and set aside in a bowl. Wash green beans, cut ends and snap in half in another bowl. In yet another bowl add all seasonings.
If using fresh tomatoes wash and dice those, saving the juice, or open a can (don't drain).
Bring 3 cups of chicken stock to a boil. Add rice, cover, and remove from heat. Set aside.
Get your grill ready for direct high heat. If using charcoal, let the coals turn slightly ashy then spread them out. If you are using gas or propane, set your burner to high.
Place a well-seasoned cast-iron skillet on your grill grate once your grill is very hot. Let the skillet heat up for a minute or 2.
Put olive oil in skillet and allow to heat up for no more than a minute. Add onions, peppers, and garlic to skillet. Saute for about 5 minutes (until onions are fragrant and translucent).
Add the green beans and your bowl of seasonings. Stir for 7 to 10 minutes.
Next the tomatoes with all the juice. Let that go until the juice is almost gone (right about 10 minutes, depending on how much juice you have), stirring occasionally. Add a splash of the wine to deglaze the pan.
Add rice and stir non stop for 2 minutes, making sure that all your vegetables are cover in rice. Add the rest of the wine, stir again until wine reduces by half.
Pour enough chicken stock to cover the contents of pan and give one more stir. (If you want a thicker crust on the bottom, do not stir past this point). As needed continue adding broth until rice is cooked through, stirring through everything once to get the stock into the rice (optional).
Once the rice is done place your mussels on top of the rice. The mussels are open when they are done. Discard any unopenend ones, then add shrimp, If you have any broth left add a splash (or a bit of wine if you would like). When the shrimp curls up, remove entire skillet from heat and cover with a tea towel for 15 minutes to let rest.
Enjoy with your favorite drink it's time to celebrate your accomplishment!
Notes
When you go to remove the skillet from your grill, make sure your using heavy duty pot holders or double or triple if you don't have super thick ones. The skillet is going to be extremely hot, and heavy. We do not want anyone getting burned.

© 2023 Sparkles of Yum. All rights reserved. All images & content are copyright protected. Please do not use my images without prior permission. If you want to share this recipe, please provide a link back to this post for the original recipe.
Sparkles of Yum is a participant in the Amazon Services LLC Associates Program, an affiliate advertising program designed to provide a means for sites to earn advertising fees by advertising and linking to Amazon.com.