Honey Vanilla Peach Cobbler Ice Cream, where have you been my whole life? Don't make this alone…you will eat all of it yourself!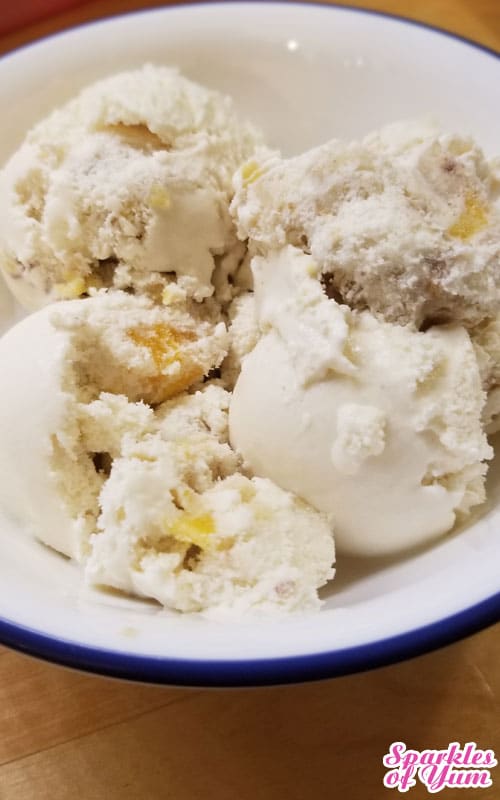 Disclosure: I did not receive any compensation for endorsing any products linked to in this post. Products mentioned were purchased on my own, and all opinions are my own as well.
Sorry. I would like to apologize ahead of time for this rich Honey Vanilla Peach Cobbler Ice Cream recipe. For those of you who have been swearing off real ice cream for "nice cream" these days, just know that pool season is almost over.
This one is well worth the extra calories. At one little taste I was saying, "Where have you been my whole life?!".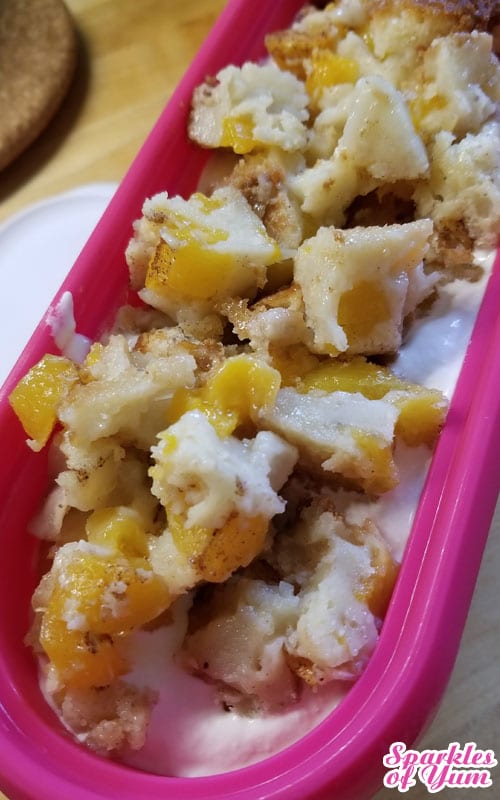 I crave peach cobbler ice cream every summer. I will watch for it at every store because it would only be on the shelf for a couple days and then it's gone. I'd have to call people if I saw it, or they would call me, just so we didn't miss it.
It was Prairie Farms Ice Cream, but they only made it for peach season. Well, if you missed out you had to wait a whole year.
Luckily, we finally broke down and bought an Ice Cream maker this year, and I finally got to make my own! I was very diligent at searching for just peach cobbler ice cream, but in the recipe book that came with the ice cream maker there was no peach cobbler ice cream recipe. I had to find a similar recipe to make the actual ice cream that I crave this time of year.
That is when I noticed a recipe for Honey Vanilla, and thought "Well that can't be bad. If you put honey vanilla with peach cobbler let's give it a try.". It is so good! I mean like you won't even want to hand the spatula to your kids. Instead you will find yourself wanting to hide around the corner to clean it off yourself. Combine this ice cream with the peach cobbler that I had just made, and I may just be able to fix my craving.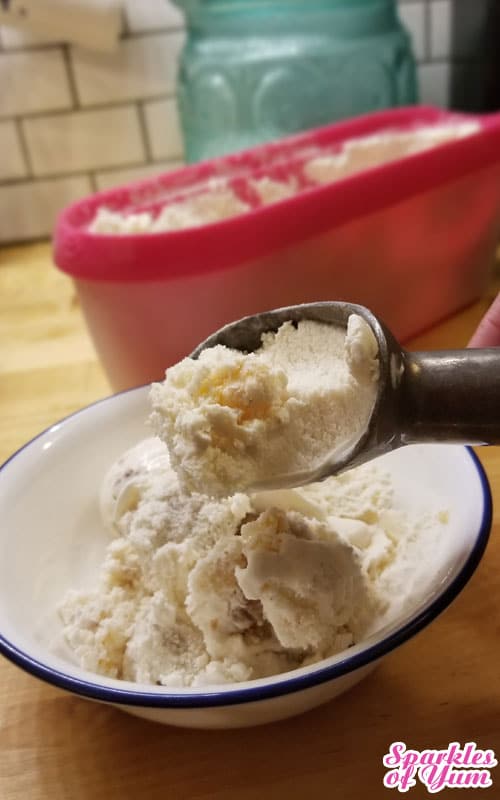 Now we've had this ice cream maker a few months, I've tried a few different types of recipes, and wasn't 100% happy with what happens once you put it in the freezer. If you didn't remember to take it out ahead of time to let thaw a bit, you couldn't get it out of the container very easy.
My grown son even busted right through the side of one container trying to get some out. The ice cream would just get so hard. I kept seeing recipes you have to cook first and I didn't want to, I didn't have the patience for that, but guess what.. that is the secret to making perfect ice cream as per Alton Brown who basically knows everything about cooking anything.
So that's what we do here for this wonderfully delicious treat and it came out just as he said a chemical reaction happens when the sugar is heated up to give us the right texture.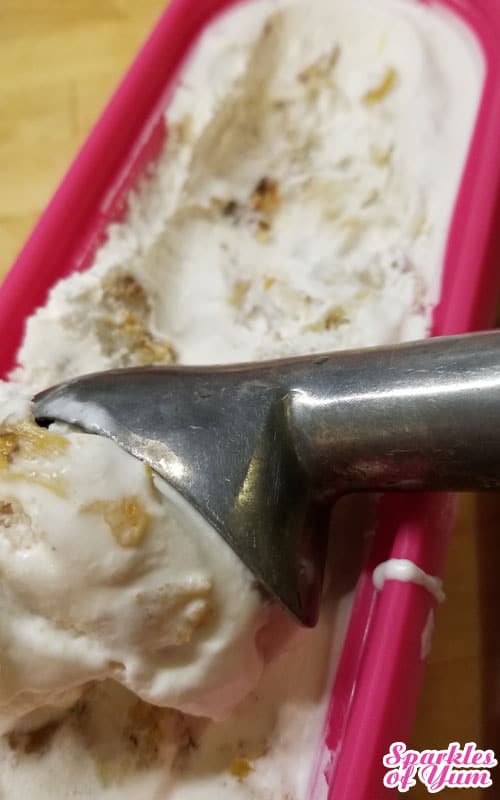 So I thought someone has to make a decent ice cream container by now just for homemade ice cream. Back to searching we went. And there it was on Amazon. This little gem right here (you can see the pink container in some of the pictures below). It's a double bowl that fits together with air pockets to keep it from getting too hard. It's genius and not at all too expensive. It works like a charm! And no more broken containers.
Don't forget to follow along, so you don't miss out! Did you know you can get a notification on your phone now as soon something is published? People are loving this so much, more than the emails clogging up your inbox. If you happened to not accept the notification box earlier…now is a good time to click the small bell in the corner and get signed up!
FOLLOW Sparkles of Yum ON FACEBOOK | PINTEREST | INSTAGRAM | TWITTER FOR ALL OF THE LATEST CONTENT, RECIPES AND UPDATES.
Feel free to join the Sparkles of Yum Recipe Swap Facebook group! A fun place to find and share all of your favorite recipes.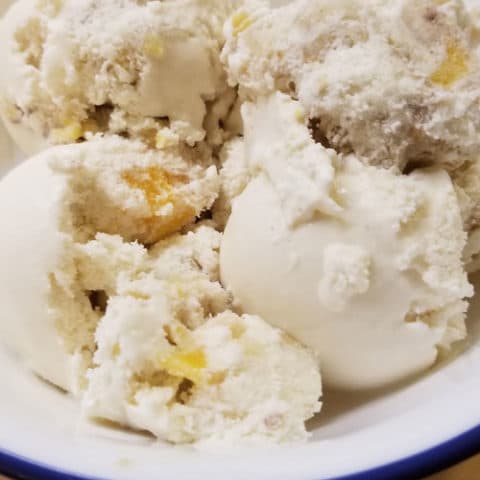 Honey Vanilla Peach Cobbler Ice Cream
Prep Time: 5 minutes

Cook Time: 10 minutes

Additional Time: 6 hours 40 minutes

Total Time: 6 hours 55 minutes

Honey Vanilla Peach Cobbler Ice Cream, where have you been my whole life? Don't make this alone...you will eat all of it yourself!
Ingredients
2 cups heavy cream
1 cup whole milk
1 tablespoon pure vanilla
1/4 cup sugar
1/4 teaspoon salt
1/4 cup honey
1 1/2 cup peach cobbler or more if it fits (Here is the recipe I used)
Instructions
Whisk cream, milk, vanilla, sugar and salt together and bring to a simmer in a pot to dissolve the sugar, important chemical reaction happens according to Alton Brown and it works. Let cool for a few moments and then transfer to a covered bowl and chill for 2 hours to overnight.
Turn on ice maker for 40 minutes and pour mixture into ice cream maker. When done churning transfer to freezer container. While churning chop cobbler into about 1 inch bite size chunks and push spoonfuls around in the soft ice cream and freeze for 4 to 6 hours.
© 2023 Sparkles of Yum. All rights reserved. All images & content are copyright protected. Please do not use my images without prior permission. If you want to share this recipe, please provide a link back to this post for the original recipe.
Sparkles of Yum is a participant in the Amazon Services LLC Associates Program, an affiliate advertising program designed to provide a means for sites to earn advertising fees by advertising and linking to Amazon.com.