So tender that it literally melts in your mouth. This Tasty Tender Slow Cooker Pot Roast could not be any easier to prepare, and is sure to be a family favorite!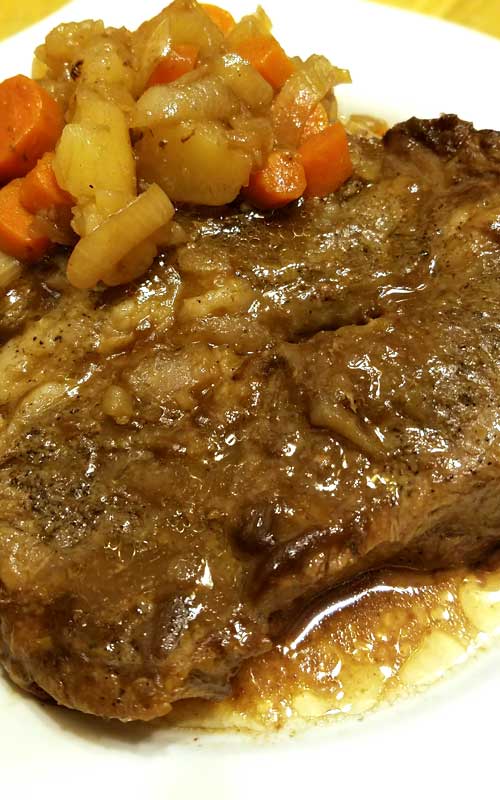 This was the best Sunday dinner when I was growing up. My mother never owned a crock pot, nor a microwave for that matter. These are dinners that stick with you though for some reason.
It's these aromas take you right back to childhood, when things were simple and you didn't have a care in the world.
You don't realize it until years later, how the little simple things in life have such an impact on you. In my case I lost my Dad at 21 and my Mom at 30, so these memories come rushing back when you least expect it. It's so different today.
I wonder what the little ones will carry with them for the rest of their lives. Things were so much slower back then. The stores were never even open on Sundays. Maybe a drugstore, and that's about it.
Sundays were family day, everyone got together for dinner. Aunts, uncles, and cousins would drive up from the country. In those days, a 45 minute drive was a long distance phone call. So they would all just show up, and everyone knew to use the back door.
I don't know what we we're saving the living room for, but everyone knew you didn't touch anything in there. Like the President might show up one day and it be would be ready for him. That's what it seemed like anyway.
That's not the world today. I know that very well.
But this dish does take me back to happy days. We still all get together on the 3 major holidays, so at least we have that for now.
Even though the stores are trying mess with our Thanksgiving. With Black Friday creeping up to Thursdays. This is not making me happy, but I'm pretty sure the almighty dollar will win that too.
In honor of the "good ole' days", I give you this recipe for Tasty Tender Slow Cooker Pot Roast.
Don't forget to follow along, so you don't miss out! Did you know you can get a notification on your phone now as soon something is published? People are loving this so much, more than the emails clogging up your inbox. If you happened to not accept the notification box earlier…now is a good time to click the small bell in the corner and get signed up!
FOLLOW Sparkles of Yum ON FACEBOOK | PINTEREST | INSTAGRAM | TWITTER FOR ALL OF THE LATEST CONTENT, RECIPES AND UPDATES.
Feel free to join the Sparkles of Yum Recipe Swap Facebook group! A fun place to find and share all of your favorite recipes.
Tasty Tender Slow Cooker Pot Roast
Yield: About 6 Servings

Prep Time: 10 minutes

Cook Time: 7 hours

Total Time: 7 hours 10 minutes

So tender that it literally melts in your mouth. This Tasty Tender Slow Cooker Pot Roast could not be any easier to prepare, and is sure to be a family favorite!
Ingredients
1 chuck roast (2-3 pounds)
6 Tablespoons brown gravy mix (I used McCormick same as 2 envelopes of dry gravy)
2 cups cold water
5-6 carrots, peeled and cut into large slices (or small bag of baby carrots)
5-6 russet potatoes, peeled and cut into large chunks
1 large onion, diced large
1 Tablespoon granulated garlic (not garlic salt) or 3 fresh cloves minced
1 Teaspoon onion powder (not onion salt)
Salt and fresh cracked pepper to taste
Instructions
Spray your crock pot with cooking spray
Season roast with salt pepper, garlic and onion powder on both sides
Place your roast in your crock pot
Put cut potatoes, carrots and onion around roast, and season them with salt and pepper
Mix together brown gravy thoroughly with 1 cup cold water
Pour over your roast and veggies
Cover and cook on low for 7-8 hours
Spoon juices over meat before serving, or if you can while it's simmering a couple times
Notes
I don't recommend cooking this on high. I don't think you'll get the same tender roast, let it go low and slow. My slow cooker can be set to go to warm after so many hours, so if yours has to go on low a little longer, I think it will still be fine.
Nutrition Information
Yield 6 Serving Size 1
Amount Per Serving Calories 376Total Fat 3gSaturated Fat 1gTrans Fat 0gUnsaturated Fat 2gCholesterol 12mgSodium 474mgCarbohydrates 75gFiber 9gSugar 6gProtein 13g

Nutrition data was provided and calculated by Nutritionix, and should only be used as a general guideline. This information is provided as a courtesy and there is no guarantee that the information will be completely accurate.

© 2023 Sparkles of Yum. All rights reserved. All images & content are copyright protected. Please do not use my images without prior permission. If you want to share this recipe, please provide a link back to this post for the original recipe.
Sparkles of Yum is a participant in the Amazon Services LLC Associates Program, an affiliate advertising program designed to provide a means for sites to earn advertising fees by advertising and linking to Amazon.com.