Crisp fall flavors compliment each other in this Autumn Hard Apple Cider Sangria
If your planning a fall festival this Autumn Hard Apple Cider Sangria would be an easy and tasty crowd pleaser.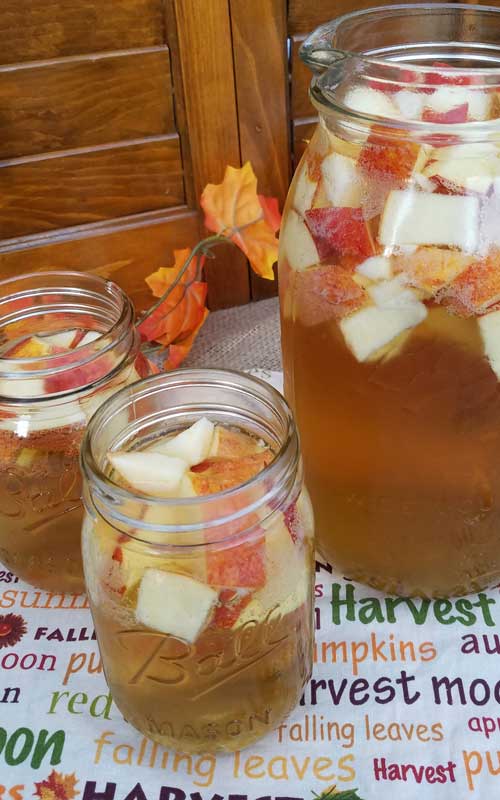 A chill in the air at last. We can start looking forward to the leaves turning all the beautiful colors of fall we love.
I saw a quote the other day and it made me think in a way I've never really thought before. That "Autumn teaches us to let go, just as the leaves will let go and blow in the wind". They will turn to compost to feed the new growth in the spring.
Everything in the garden is going to seed for next year. I love collecting seeds from the zinnias and other wild flowers around the yard. Saving them all up for spring.
I hear people say they much prefer fall over all the other seasons. I'm not one of them. I love when everything is in full bloom. It doesn't last long enough for me.
What I am happy about though is that the hottest days of the year are now behind us.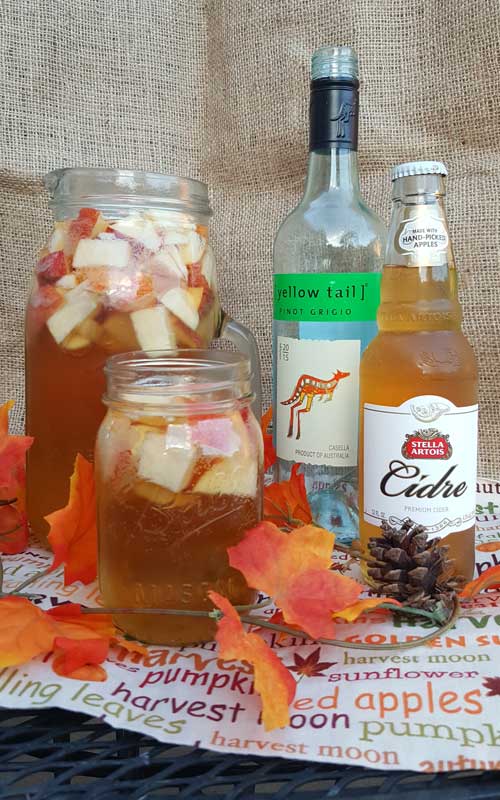 So we tried something new this year to celebrate our cooler evenings, this Autumn Hard Apple Cider Sangria. I didn't know if this would be good or not.
Hard apple cider mixed with wine didn't sound like it would go all that well together. Boy was I wrong.
The flavors compliment each other and we didn't have any trouble finishing off this pitcher with a quickness.
I think it really comes down to the choice of wine. Something like a moscato, most rieslings, or even the prosecco that we used in our Mango Berry Sangria; would have been way too sweet when mixed with everything else. But the pinot grigio, perfection.
I wish I would have picked up some marshmallows to roast with this. I think we'll have to make this again before it gets too cold and light a fire next time.
If your planning a fall festival this Autumn Hard Apple Cider Sangria would be an easy and tasty crowd pleaser.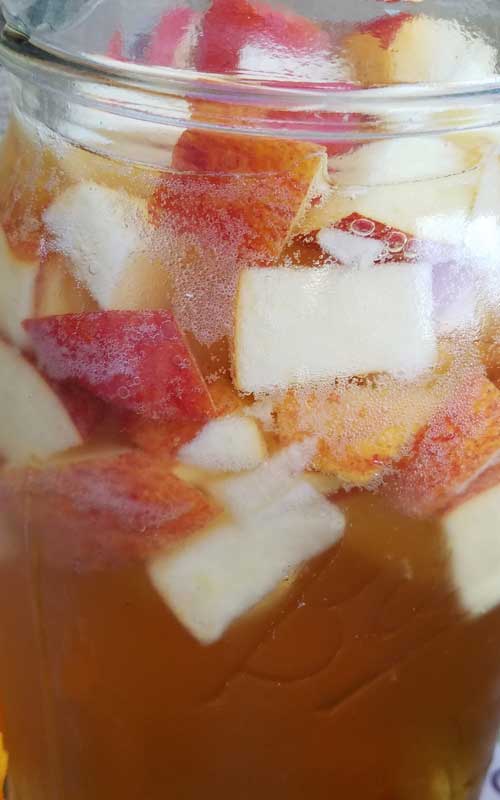 If you LOVE this Autumn Hard Apple Cider Sangria recipe, try this Caramel Apple Cider Mimosa OR this Sparkling Mango Berry Sangria!
Don't forget to follow along, so you don't miss out! Did you know you can get a notification on your phone now as soon something is published? People are loving this so much, more than the emails clogging up your inbox. If you happened to not accept the notification box earlier…now is a good time to click the small bell in the corner and get signed up!
FOLLOW Sparkles of Yum ON FACEBOOK | PINTEREST | INSTAGRAM | TWITTER FOR ALL OF THE LATEST CONTENT, RECIPES AND UPDATES.
Feel free to join the Sparkles of Yum Recipe Swap Facebook group! A fun place to find and share all of your favorite recipes.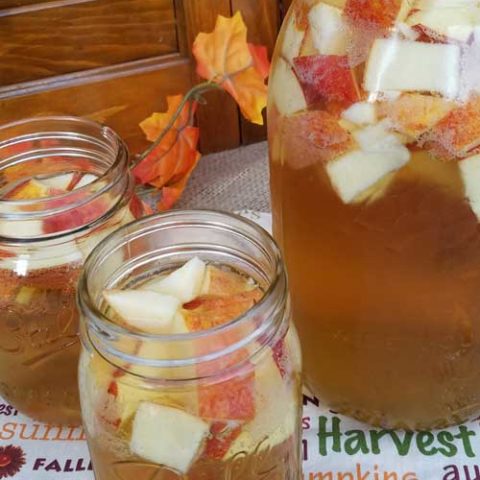 Autumn Hard Apple Cider Sangria
Yield: 1 Gallon (with fruit)

Prep Time: 5 minutes

Total Time: 5 minutes

Crisp fall flavors compliment each other in this Autumn Hard Apple Cider Sangria
Ingredients
3 apples
5 bottles hard apple cider (we used Stella Artois Cidre)
1 bottle (750ml) white wine (we used Pinot Grigio)
2 tablespoons maple syrup
cinnamon sticks for glasses
Instructions
Wash and chop your apples into cubes, and pour everything into your pitcher, stir in maple syrup you can add the cinnamon sticks to the pitcher if you like we just pushed the cinnamon stick into an apple cube so it would float, because they go straight to the bottom if you don't.
Notes
You could also add 1 teaspoon pumpkin pie spice to this or add some cranberries or pears if you'd like some varietion
Nutrition Information
Yield About 11 servings Serving Size 4 oz.
Amount Per Serving Calories 149Total Fat 0gSaturated Fat 0gTrans Fat 0gUnsaturated Fat 0gCholesterol 0mgSodium 8mgCarbohydrates 39gFiber 12gSugar 19gProtein 1g

© 2023 Sparkles of Yum. All rights reserved. All images & content are copyright protected. Please do not use my images without prior permission. If you want to share this recipe, please provide a link back to this post for the original recipe.
Sparkles of Yum is a participant in the Amazon Services LLC Associates Program, an affiliate advertising program designed to provide a means for sites to earn advertising fees by advertising and linking to Amazon.com.