Fresh tomato and basil come together with a few other ingredients to make a simple Cheesy Italian Pasta Salad with a huge depth of flavor.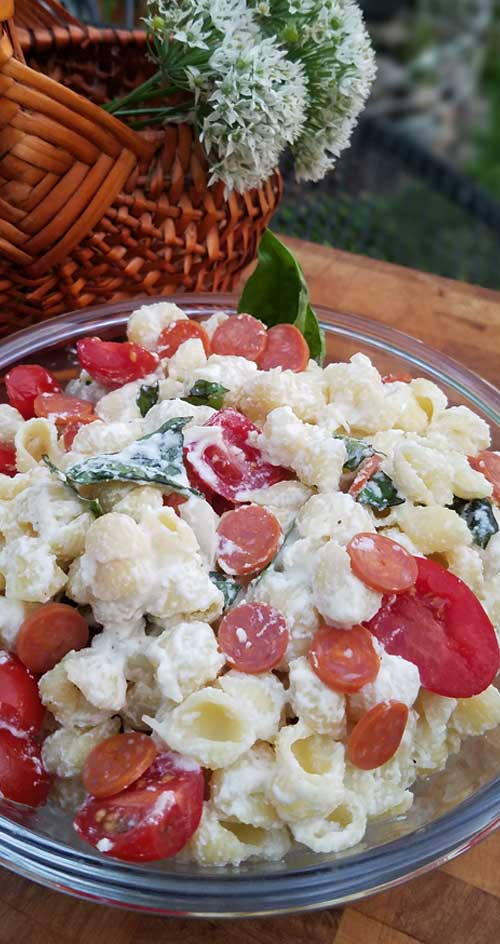 The last official weekend of summer is here and I wanted to make something different to go with our BBQ. By the end of summer we have all had more than our share of the normal potato salads and pasta salads. It was time that we tried something new, something that we never made before.
I did a lot of searching around, and wasn't able to find the exact recipe that I was wanting. Nothing really jumped out and said "THIS is what you need to make!".
Eventually I did find something that was close, from the New York Times but it called for 1/2 lb of zucchini which we used all ours on this Zucchini Pizza Lasagna so using this method worked perfect for what I had on hand to come up with a plan on how to make my new pasta salad even better.
The result is this recipe for Cheesy Italian Pasta Salad.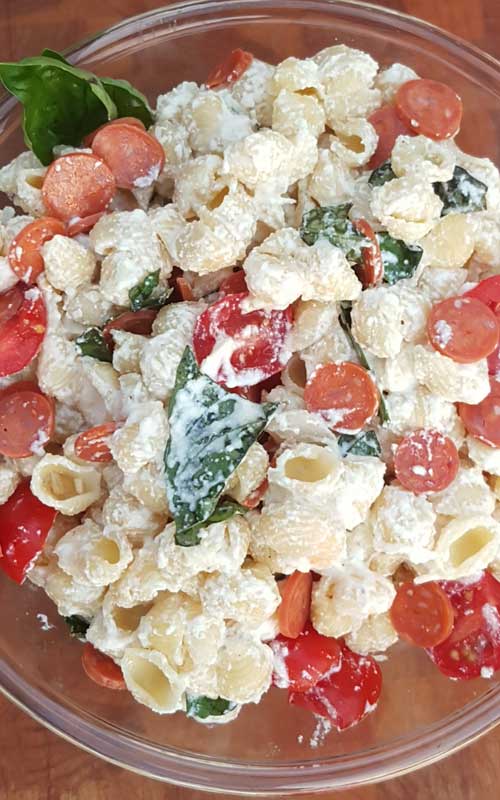 The end result was even better than what I expected. Not too many ingredients, super easy preparation, and it came together really quick. We will definitely be making this one again.
For a simple pasta salad it actually had a depth of flavors that just went together with the fresh from the garden tomatoes and basil.
I remember the first time going to a really fancy restaurant and being able to taste each individual ingredient. The balance of flavors just lets you know that whomever is in the kitchen really has an understanding, that they know what they are doing, they're a professional chef not just a cook.
There's a reason why we'll wait in long lines for a table at some restaurants. We all know of places that are worth the wait.
Then you have new restaurants popping up around town. We have to depend on what people are saying on review sites, or just try it out. Sometimes taking that chance can be a huge disappointment.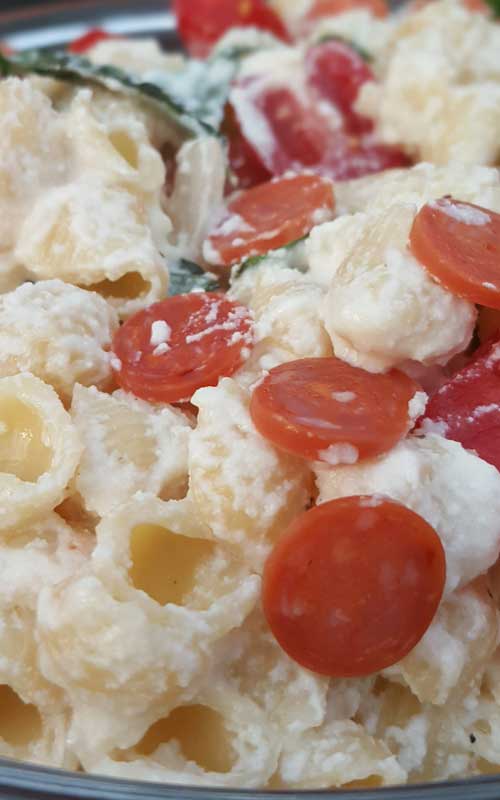 I just had that disappointing experience at a new place in town this week. I am not one to complain, so most of that dish landed in the trash, but be assured, I will not be going back.
It's just not worth my time to send something back to the kitchen, and then wait again (just to have it come out just as bad as the first time). I'm not a picky eater at all, but it does need to be not burnt to a crisp.
Not all these little hipster places are going to be around long, but when you find a good one there's so many great things to try you want to go back again and again.
For this dish you could add more to it if you want, I might try it again with some black olives and fresh Italian parsley, maybe a pinch of oregano would be good as well.
I served it with a little chill, the next day it might need another spoonful of mayo mixed in if you have any leftover that is. Hope you enjoy!!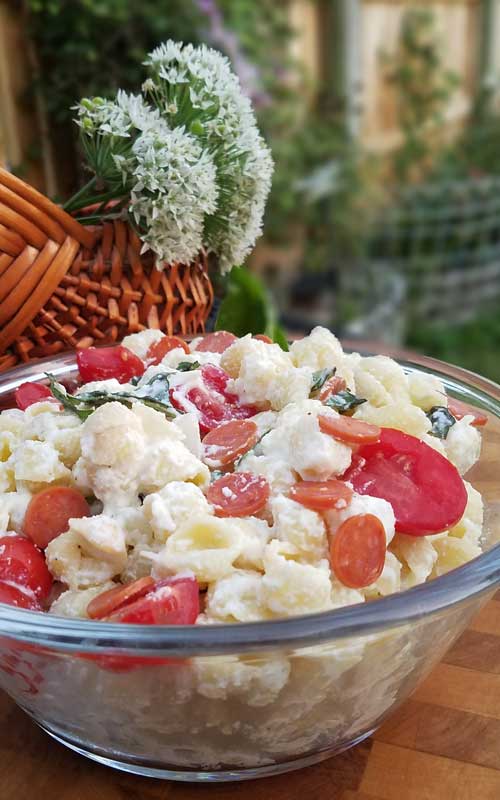 Don't forget to follow along, so you don't miss out! Did you know you can get a notification on your phone now as soon something is published? People are loving this so much, more than the emails clogging up your inbox. If you happened to not accept the notification box earlier…now is a good time to click the small bell in the corner and get signed up!
FOLLOW Sparkles of Yum ON FACEBOOK | PINTEREST | INSTAGRAM | TWITTER FOR ALL OF THE LATEST CONTENT, RECIPES AND UPDATES.
Feel free to join the Sparkles of Yum Recipe Swap Facebook group! A fun place to find and share all of your favorite recipes.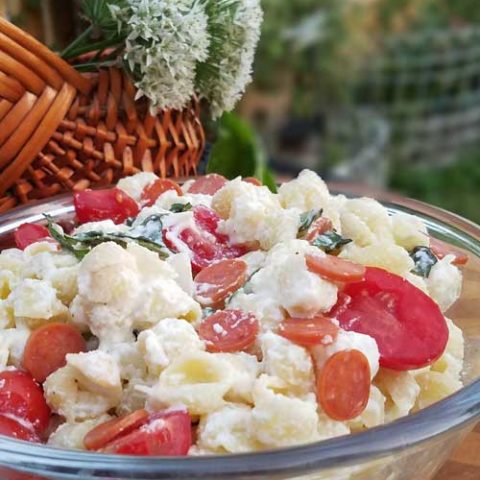 Cheesy Italian Pasta Salad
Yield: About 6 servings

Prep Time: 10 minutes

Cook Time: 10 minutes

Total Time: 20 minutes

Fresh tomato and basil come together with a few other ingredients to make a simple Cheesy Italian Pasta Salad with a huge depth of flavor.
Ingredients
2 cups small pasta shells
2 cloves garlic
1/4 cup onion (diced)
2 Tablespoons extra virgin olive oil
1/2 cup fresh basil (torn)
1/2 cup cherry tomatoes
1/4 cup pepperoni
1/2 cup ricotta (I used whole milk)
2 Tablespoons mayo
2 Tablespoons white wine vinegar
1/2 cup shredded Parmesan, Romano and Asiago Cheeses (I used Kraft)
1/2 Teaspoon sugar
Salt and fresh cracked pepper to taste
Instructions
Put a pot of water on to boil.
With a mortar and pestle grind the garlic, salt, pepper in the olive oil. This will infuse the flavors into the oil. If you don't have a mortar and pestle, just use the back of a spoon and a saucer. Add that with your diced onion in a small skillet just for a minute on medium heat to sweat, a little sizzle goes a long way, don't want to burn the garlic.
Boil pasta per package instructions, salt water generously, but make sure to keep pasta quite al dente. Drain pasta, reserving 1/4 cup of cooking water.
While pasta is boiling mix together ricotta, shredded cheese, white wine vinegar, sugar, and salt and fresh cracked pepper
After pasta is drained coat with the infused olive oil, garlic and onions, mix in cheese mixture and with pasta and toss in tomatoes, torn basil and pepperoni.
Notes
If your making this for a crowd just double the recipe, this makes enough for at least 8 portions.
Nutrition Information
Yield 6 Serving Size 1
Amount Per Serving Calories 288Total Fat 19gSaturated Fat 7gTrans Fat 0gUnsaturated Fat 11gCholesterol 31mgSodium 516mgCarbohydrates 17gFiber 1gSugar 2gProtein 13g

Nutrition data was provided and calculated by Nutritionix, and should only be used as a general guideline. This information is provided as a courtesy and there is no guarantee that the information will be completely accurate.

© 2023 Sparkles of Yum. All rights reserved. All images & content are copyright protected. Please do not use my images without prior permission. If you want to share this recipe, please provide a link back to this post for the original recipe.
Sparkles of Yum is a participant in the Amazon Services LLC Associates Program, an affiliate advertising program designed to provide a means for sites to earn advertising fees by advertising and linking to Amazon.com.