This Sweet Corn, Zucchini, & Sausage Casserole is so good! Loaded with fresh veggies, spicy sausage, and then topped off with toasty melty mozzarella. What's not to love about that?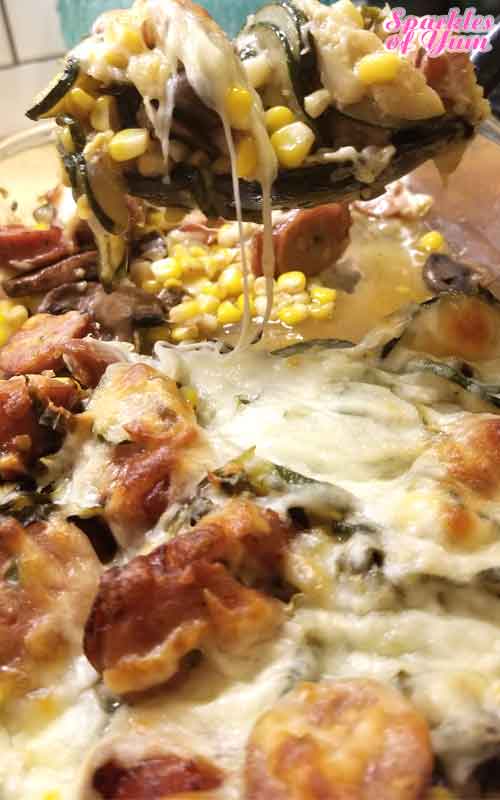 This is one of those recipes when you dish it on the plate you say "BAM!". You know, just like Emeril Lagasse. It's so good!
Loaded with fresh veggies, spicy sausage, and then topped off with toasty melty mozzarella. What's not to love about that? Straight from the garden zucchini, farmers market ears of corn, bella mushrooms, and we made this awesome jalapeno cheddar sausage (which I wish we had more of). Just love my KitchenAid Sausage Stuffer Attachment
and KitchenAid Meat Grinder Attachment
, really wish we would have started doing that years ago. (Full disclosure here: I do make a small amount of money from Amazon if you click either of those links and buy the attachments.)
I always try to build my meal plans around the weekly sales, so I watch like a hawk. When those whole pork butts go on sale again for 99 cents a pound, we're definitely making more of those jalapeno cheddar sausages.
You can see exactly how we did it on this post Homemade Jalapeno Cheddar Brats, careful who you tell though because everyone will want some.
We were lucky enough to grow a few zucchini this year before the damn squash bugs moved in and devoured our plant. Almost overnight the plant went limp and died, it was doing so good before that happened.
This is the second year it has happened, so I'm thinking we might just go back to buying zucchini at the farmers market and plant something else in it's place. We did spray neem oil, but those squash bugs are just ferocious, and the oil did not phase them.
I started gardening years ago, thinking I would save money through the summer months. I'm still not sure if we do or if it just balances itself out for what you spend on seeds, plants, fertilizer, etc..I will say it's worth it in the sheer joy of picking the fruits of your labor though.
They say to plant a garden is believing in the future and I'm sorry, but I've never bought a tomato at the store that can compare to the flavor of home grown.
And it is not just tomatoes. Fresh zucchini right from your garden blows away anything that you can buy from the store. Combine that with some homemade sausages, locally grown corn and mushrooms, and cheese…you have a dish to die for!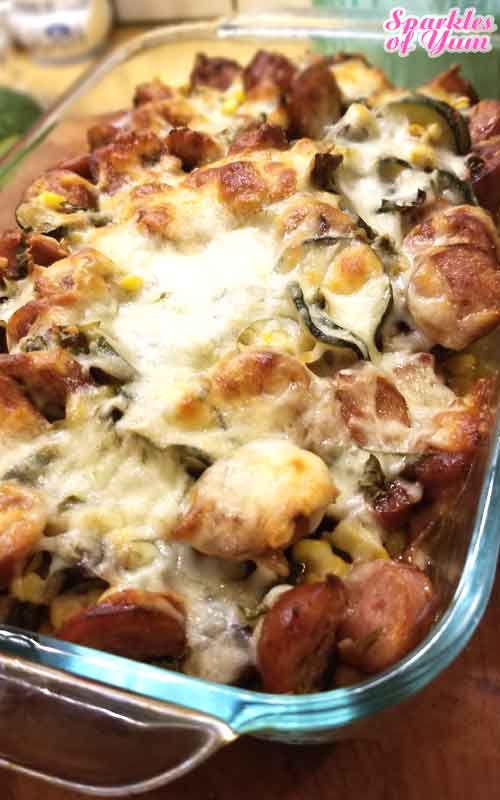 Don't forget to follow along, so you don't miss out! Did you know you can get a notification on your phone now as soon something is published? People are loving this so much, more than the emails clogging up your inbox. If you happened to not accept the notification box earlier…now is a good time to click the small bell in the corner and get signed up!
FOLLOW Sparkles of Yum ON FACEBOOK | PINTEREST | INSTAGRAM | TWITTER FOR ALL OF THE LATEST CONTENT, RECIPES AND UPDATES.
Feel free to join the Sparkles of Yum Recipe Swap Facebook group! A fun place to find and share all of your favorite recipes.
Sweet Corn, Zucchini, & Sausage Casserole
Yield: 8 Servings

Prep Time: 15 minutes

Cook Time: 35 minutes

Total Time: 50 minutes

This Sweet Corn, Zucchini, & Sausage Casserole is so good! Loaded with fresh veggies, spicy sausage, and then topped off with toasty melty mozzarella. What's not to love about that?
Ingredients
1 lb link sausage (I used jalapeno cheddar sausage)
4 tablespoons butter
1 small onion (diced)
3 ears sweet corn, kernels removed from the cob
3 medium zucchini (sliced)
1 pint or 8 oz bella mushrooms (sliced)
10 fresh basil leaves (or 1 tablespoon dried)
12 ounces shredded Mozzarella cheese
salt and pepper to taste
Instructions
Preheat oven to 400 degrees. Slice sausage into roughly 1/2 inch rounds and toss into large non stick skillet with 1 tablespoon butter, just to brown, then remove and set aside on a plate.
Add 3 tablespoon butter to the skillet you browned the sausage in. Toss in zucchini, give that a couple minutes to start getting a little tender then add your onions, mushrooms, corn, salt, and pepper. Give it a good stir every couple minutes until heated through.
Spray some non stick cooking spray into a 9x13 Pyrex or casserole dish. Pour all the cooked veggies in, add your cooked sausages, basil and top with Mozzarella cheese. Place in oven for about 10-15 minutes, just when the cheese gets melted and slightly toasted remove from oven, and let rest a couple minutes before serving.
Nutrition Information
Yield 8 Serving Size 1
Amount Per Serving Calories 417Total Fat 30gSaturated Fat 14gTrans Fat 1gUnsaturated Fat 14gCholesterol 92mgSodium 838mgCarbohydrates 15gFiber 2gSugar 5gProtein 23g

Nutrition data was provided and calculated by Nutritionix, and should only be used as a general guideline. This information is provided as a courtesy and there is no guarantee that the information will be completely accurate.

© 2023 Sparkles of Yum. All rights reserved. All images & content are copyright protected. Please do not use my images without prior permission. If you want to share this recipe, please provide a link back to this post for the original recipe.
Sparkles of Yum is a participant in the Amazon Services LLC Associates Program, an affiliate advertising program designed to provide a means for sites to earn advertising fees by advertising and linking to Amazon.com.