No matter what team your cheering for, these little Pulled Pork Nacho Bites will put a smile on everyone's face!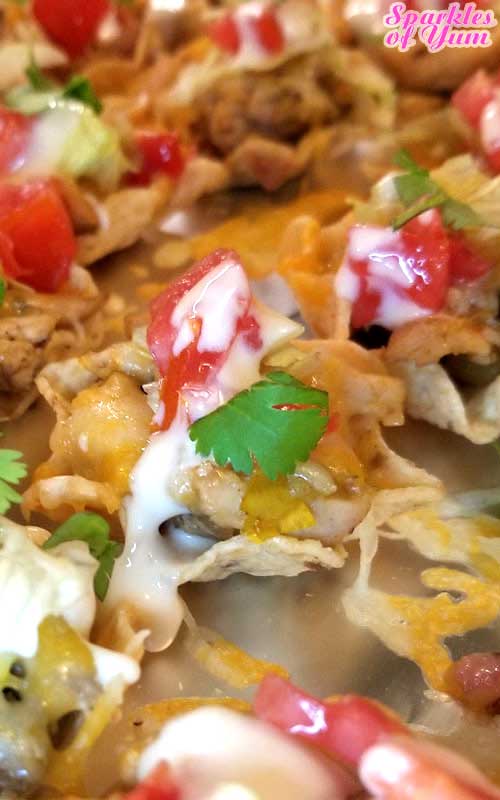 What's more appropriate for game day food than Pulled Pork Nacho Bites? I mean they are throwing around the ole pig skin.. right?!
Nachos are the perfect game day food, and these pulled pork nacho bites are so good they'll be gobbled up in no time. If you've got a crowd over you might want to make a doubled up batch.
These are way less messy to eat during the game than just throwing out a platter of nachos where everyone's digging in and stuff is falling all over the place. It takes a little more time, so if you can grab someone to help, it's bonding time before the game starts, of course.
Now game day around our neck of the woods, in St. Louis, has left our town feeling a bit mixed these days. Let's just say we're still in a bit of a healing process. We first had our Football Cardinals, who moved to Arizona. Then we got the Rams for a few years, along with a big Superbowl win from our beloved Kurt Warner (who was just inducted into the Football Hall of Fame…YAY!).
Kurt Warner will always be loved in St. Louis for what he has done and continues to do around our area. He still comes here to do big fundraisers and collect coats for the poor. His team though… I think I can honestly say no one around here is cheering for the Rams any longer, although we did go back to cheering on the Cardinals when Kurt played there.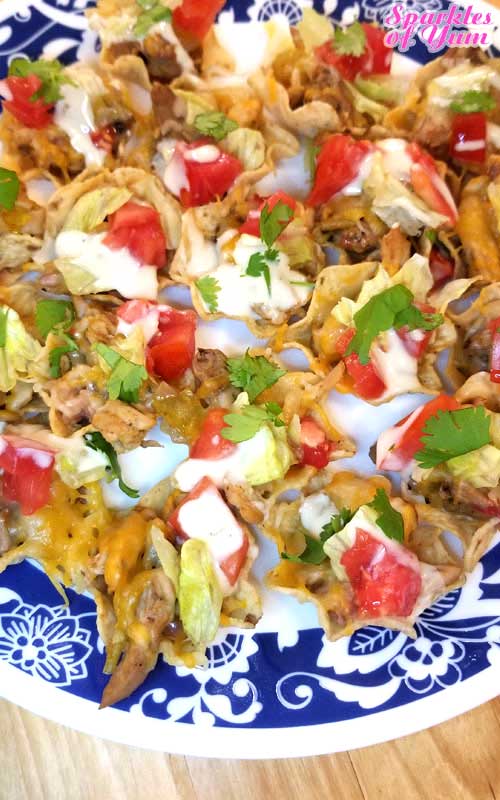 There's a lot of Kansas City Chiefs fans in the area, along with a huge following for the Saints too. I have both of them on my house during the holidays (well, I have a Saints fan at home every day)…and the one odd Panthers fan. Why has the NFL not called to offer me a commercial?
This is one of those recipes you can use what you like. If I would have had some black olives I would of used those too! Some sliced jalapenos would be good, or maybe you like green onion instead of red. Use whatever your little heart desires!
Now for the pork I used this recipe for a couple different dinners we first had the Perfect Pork Roast. We used a smoker, but you can also slow roast it in the oven or slow cooker.
It's enough for us to get a few good meals out of, another good one everyone loves is my Roast Pork and Garlic Sauce.
No matter what team your cheering for, these little Pulled Pork Nacho Bites will put a smile on everyone's face!
Don't forget to follow along, so you don't miss out! Did you know you can get a notification on your phone now as soon something is published? People are loving this so much, more than the emails clogging up your inbox. If you happened to not accept the notification box earlier…now is a good time to click the small bell in the corner and get signed up!
FOLLOW Sparkles of Yum ON FACEBOOK | PINTEREST | INSTAGRAM | TWITTER FOR ALL OF THE LATEST CONTENT, RECIPES AND UPDATES.
Feel free to join the Sparkles of Yum Recipe Swap Facebook group! A fun place to find and share all of your favorite recipes.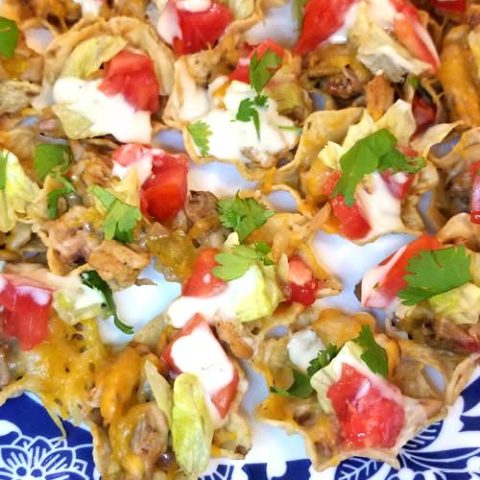 Pulled Pork Nacho Bites
Prep Time: 20 minutes

Cook Time: 10 minutes

Total Time: 30 minutes

No matter what team your cheering for, these little Pulled Pork Nacho Bites will put a smile on everyone's face!
Ingredients
1 bag of Scoops Tortilla Chips (used half a party size bag)
2 cups leftover pulled pork
2 tablespoons olive oil
1 red onion (diced)
1 can green chiles
1 tomato (diced)
1/2 cup lettuce (torn)
1/4 cup refried beans
1/2 cup shredded taco cheese
2 tablespoons taco seasoning
1 jar queso cheese
2-3 tbsp cilantro, torn into small pieces
Instructions
Using a large non stick skillet, heat olive oil and pulled pork, add taco seasoning, onion and green chiles.
Place scoops on a covered cookie sheet, add 1/2 teaspoon of refried beans to the bottom of each scoop chip.
Take your pulled pork mixture and transfer to a bowl. Place about 1/2 of spoonful in each scoop, then top with shredded cheese and place in preheated oven at 400 degrees for 8-10 minutes just until the cheese is melted.
Top with little bits of the lettuce and tomato, then drizzle the white queso over the top. Garnish with cilantro.
© 2023 Sparkles of Yum. All rights reserved. All images & content are copyright protected. Please do not use my images without prior permission. If you want to share this recipe, please provide a link back to this post for the original recipe.
Sparkles of Yum is a participant in the Amazon Services LLC Associates Program, an affiliate advertising program designed to provide a means for sites to earn advertising fees by advertising and linking to Amazon.com.