This Stove Top Chicken Spaghetti is the perfect quick, easy, and delish dinner for a weeknight when everyone is on the go.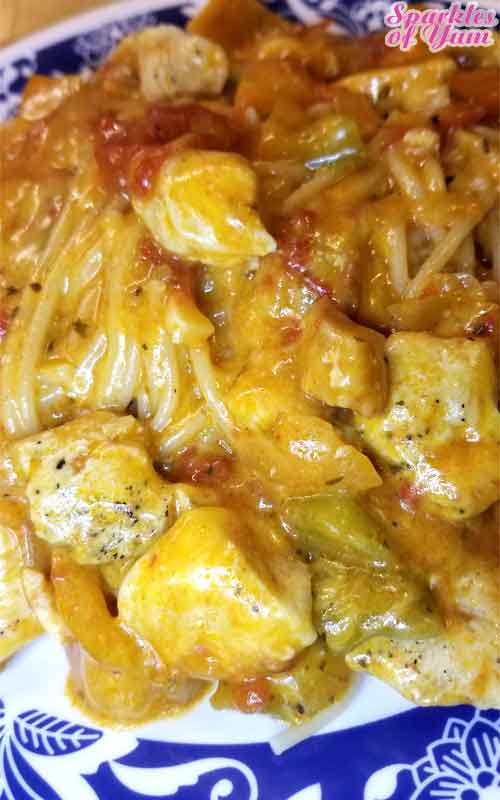 Here's a quick, easy, and delish dinner for a weeknight! Stove Top Chicken Spaghetti. You know those days. When things just don't go as planned.
Everyone is running in different directions, and your just trying to keep your head above water. Homework, running kids to practice or scouts, somebody let the dog out, "Joey it's not nice to…<insert something not nice here>". THOSE days!
Finally, the kids are back in school. But everyone has a whole new schedule. They're trying new things, and it's your job to make sure they get some nutrition in their little bodies.
You don't really know for sure what is going into their systems at lunch. So we walk that fine line of what will they want to eat and what you want them to eat.
I've heard, "All they want to eat is hotdogs. No matter what we have for dinner they only want hotdogs. In the microwave for 10 seconds.".
Hotdogs everyday? Really?? Then they say, "I don't know why my kid is always sick, they catch every germ that comes their way.". Well if your going to only feed them hotdogs, that's not giving their little bodies any tools to fight the germs off.
Here's an idea, don't always give them what they want, give them what they need. (Queue the Rolling Stones, "You Can't Always Get What You Want"). If they don't want to eat it, put it in the fridge for later. No cookies before bed, no ice cream. If they get hungry, heat up the dinner they didn't want to eat. Sorry no treats allowed if you don't eat dinner. THAT'S THE RULE! Oh yeah, if you tell them the rules, ahead of time and they get a rumble in their tummy they'll catch on real quick!
<end of rant />
Well, that's my 2 cents on that matter. That's how I raised my kids, and they survived just fine. Agree or disagree, I guess that's up for debate, but hey just letting the kids know that they aren't the boss of you, that YOU are the parent.
There are rules to follow in the world, if they don't learn rules from home, well they will learn the hard way… eventually… maybe… hopefully. If not, jails are full of people who prefer not to follow rules.
<end of rant for real this time />
Wow I just got down right serious for a minute. We are only supposed to be talking about good food here. OK, "jumping off my soapbox", and getting back to the reason you came here.
This yummy, Stove Top Chicken Spaghetti. That's right, no oven, cooked only on the stove top. Why turn the oven on if you don't have to? Save the energy, save the planet! That's what we are supposed to do right? OR, you can turn your oven on and make this Pumpkin Spice Caramel Banana Bread for the kiddos that eat without any problem.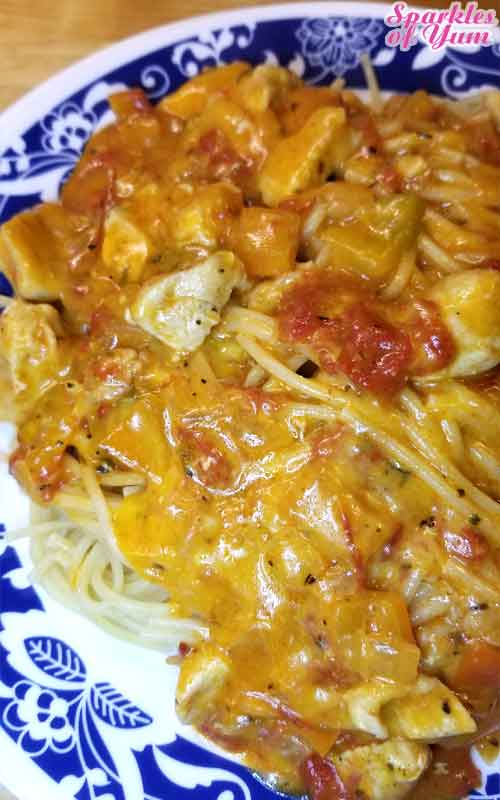 Don't forget to follow along, so you don't miss out! Did you know you can get a notification on your phone now as soon something is published? People are loving this so much, more than the emails clogging up your inbox. If you happened to not accept the notification box earlier…now is a good time to click the small bell in the corner and get signed up!
FOLLOW Sparkles of Yum ON FACEBOOK | PINTEREST | INSTAGRAM | TWITTER FOR ALL OF THE LATEST CONTENT, RECIPES AND UPDATES.
Feel free to join the Sparkles of Yum Recipe Swap Facebook group! A fun place to find and share all of your favorite recipes.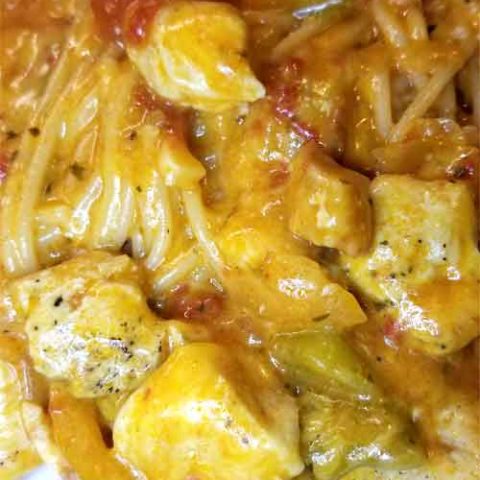 Stove Top Chicken Spaghetti
Yield: About 6 servings

Prep Time: 10 minutes

Cook Time: 30 minutes

Total Time: 40 minutes

Stove Top Chicken Spaghetti the perfect quick, easy, and delish dinner for a weeknight when everyone is on the go.
Ingredients
1 lb Chicken Breast
2 tablespoons olive oil
3 cups Dry Spaghetti, Broken Into thirds
1 can Cream Of Mushroom Soup
1 can Cream of Chicken Soup
2 cups Shredded Sharp Cheddar Cheese
1 Large Green Bell Pepper, diced
1 Medium Onion, diced
1 can diced tomatoes or 3 diced fresh tomatoes
1 teaspoon Italian seasoning
Salt And Pepper, to taste
Instructions
Cut chicken breast into bite size chunks, season with a little salt and pepper and cook in olive oil in a large non stick skillet until browned. Set aside in a bowl.
While the chicken is cooking go ahead and start the water for the spaghetti using package directions.
As the water is heating up, simmer the tomatoes, with juices, on medium heat, for a few minutes.
Add Italian seasoning, diced green bell pepper and onion. Toss those in with the tomatoes. Just as the tomatoes start to get tender add both cans of soup with a little water or milk, roughly one can full. (I divide this liquid in half between both cans to get that last bit of soup out of the cans).
Stir in the chicken and half the cheddar cheese. Let simmer while the spaghetti gets tender enough to bite with no crunch.
Add the other half of cheese on top and cover the skillet while you drain the spaghetti.
Serve the spaghetti on plates and cover with your cheesy chicken, veggie and soup mixture.
Nutrition Information
Yield 6 Serving Size 1
Amount Per Serving Calories 758Total Fat 39gSaturated Fat 18gTrans Fat 1gUnsaturated Fat 17gCholesterol 143mgSodium 1343mgCarbohydrates 49gFiber 4gSugar 6gProtein 51g

Nutrition data was provided and calculated by Nutritionix, and should only be used as a general guideline. This information is provided as a courtesy and there is no guarantee that the information will be completely accurate.

© 2023 Sparkles of Yum. All rights reserved. All images & content are copyright protected. Please do not use my images without prior permission. If you want to share this recipe, please provide a link back to this post for the original recipe.
Sparkles of Yum is a participant in the Amazon Services LLC Associates Program, an affiliate advertising program designed to provide a means for sites to earn advertising fees by advertising and linking to Amazon.com.