This Spinach and Artichoke Scalloped Potatoes recipe is absolutely delish! So extra creamy and cheesy, with little crispy bits on top. This takes plain old scalloped potatoes to a whole new level of love.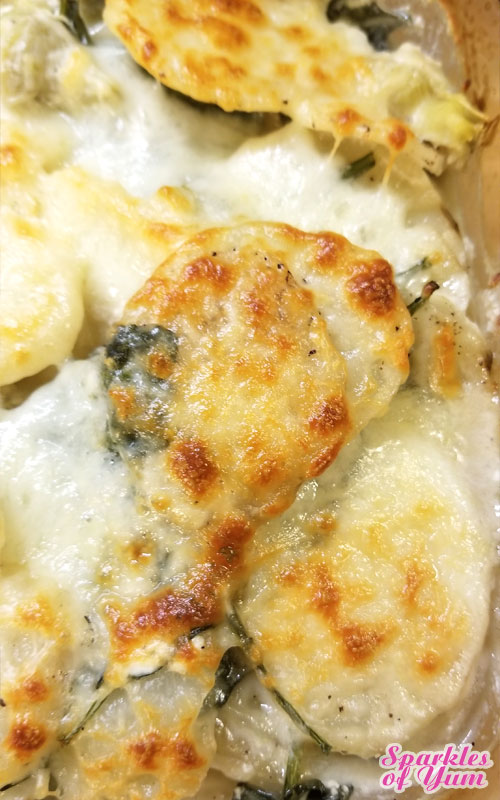 My mother always said, "If you have potatoes, you'll always have a meal." She lived through the Great Depression, so they had to come up with cheap meals for a long time. There's just so many different ways to make potatoes, and this one is new for me. I don't know why I never thought of making these before now.
We've loved spinach and artichoke dip for quite some time. But it never occurred to me until this week to put that idea with scalloped potatoes and let me tell you it was absolutely delish!
So creamy. Gobs of cheesy goodness. Topped with crispy bits, and a few more veggies for good measure.
This just took scalloped potatoes to a whole new level! I'll have a hard time making regular old scalloped potatoes again, after making this one.
I am so happy to finally be able to turn the oven on again without worrying about heating up the house! Living in the Midwest, our weather seems to be extra weird this year.
We are still having days reaching into the 90's. In October! The next is only high of 59. Then it's suppose to be 86 again in a couple days. It's hard to know what to tell your kids what they need to where to school. I'm sure they get confused around here, but if you have to stand outside and wait for a bus, you need to be ready for anything.
If you live in St. Louis it can change in a matter of a couple hours some days. That's why you always hear, "Don't like the weather, just wait an hour."
Having my new oven does help though. It is a double oven, so the top oven is half the size of a normal oven and the bottom is a big, full-size oven. Can't wait to try both out for holidays, but the top is perfect for casseroles and things like that.
I was still able to put my two Pyrex baking dishes in the little top oven for dinner, so the house doesn't get as hot. I also think it really saves on energy too, since it does not have to heat up as large of a space.
We really did a lot of research before choosing this one, and we're really happy with it. My old one was over 20 years old so this one has all the bells and whistles right down to a pot warmer and "Power Boost" burner than can get any sized pot boiling in minutes.
This Spinach and Artichoke Scallop Potatoes is easy to throw together. I would set out the cream cheese before you start peeling the potatoes. Just to give it time to get to room temperature, and add salt and pepper as you add the potatoes to the baking dish so they get seasoned nicely.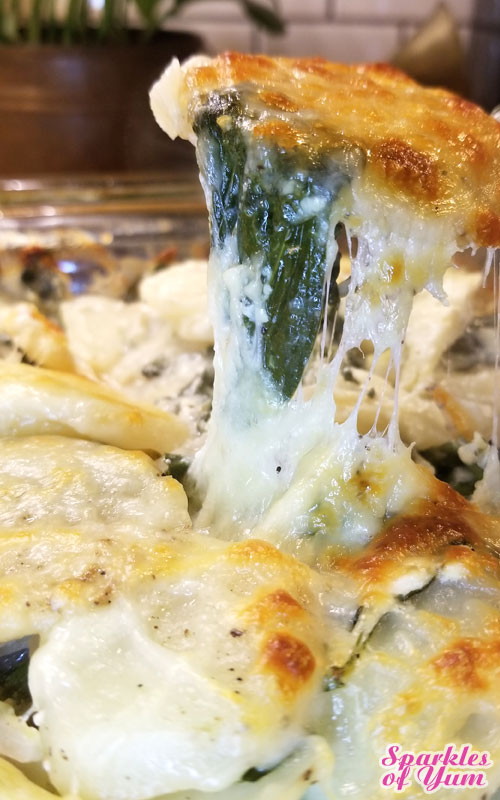 Don't forget to follow along, so you don't miss out! Did you know you can get a notification on your phone now as soon something is published? People are loving this so much, more than the emails clogging up your inbox. If you happened to not accept the notification box earlier…now is a good time to click the small bell in the corner and get signed up!
FOLLOW Sparkles of Yum ON FACEBOOK | PINTEREST | INSTAGRAM | TWITTER FOR ALL OF THE LATEST CONTENT, RECIPES AND UPDATES.
Feel free to join the Sparkles of Yum Recipe Swap Facebook group! A fun place to find and share all of your favorite recipes.
Spinach and Artichoke Scalloped Potatoes
Yield: 4 Servings

Prep Time: 10 minutes

Cook Time: 1 hour

Total Time: 1 hour 10 minutes

This Spinach and Artichoke Scalloped Potatoes recipe is absolutely delish! So creamy and cheesy. This takes scalloped potatoes to a whole new level.
Ingredients
1-1 1/2 lbs potatoes (I used russet)
1 cups milk
1/4 cup shredded Parmesan cheese
1 teaspoon garlic powder
4 oz cream cheese (chopped in small cubes)
1 small jar marinated artichoke hearts, drained and chopped
2 cups baby spinach
1 cup shredded Italian blend cheese or Mozzarella
salt and pepper
Instructions
Preheat oven to 425°F and coat an 8x8 inch square baking dish with nonstick cooking spray.
Wash and peel potatoes, slice very thinly. Place in a large strainer or bowl and set aside.
Heat milk on medium low, garlic powder, Parmesan, cream cheese in a medium saucepan until cheeses are melted.
Stir in spinach and artichoke hearts just until spinach is wilted. Spread a thin layer of the creamy spinach-artichoke mixture over each layer of potatoes in prepared baking dish. Salt and pepper potatoes as you layer.
Cover loosely with foil and and bake for 45 minutes or until potatoes are tender when pierced with a fork. Remove foil and reduce temperature to 400°F; cover with shredded cheese to let get toasted.
Nutrition Information
Yield 4 Serving Size 1
Amount Per Serving Calories 463Total Fat 25gSaturated Fat 14gTrans Fat 0gUnsaturated Fat 8gCholesterol 73mgSodium 574mgCarbohydrates 43gFiber 4gSugar 3gProtein 19g

Nutrition data was provided and calculated by Nutritionix, and should only be used as a general guideline. This information is provided as a courtesy and there is no guarantee that the information will be completely accurate.

© 2023 Sparkles of Yum. All rights reserved. All images & content are copyright protected. Please do not use my images without prior permission. If you want to share this recipe, please provide a link back to this post for the original recipe.
Sparkles of Yum is a participant in the Amazon Services LLC Associates Program, an affiliate advertising program designed to provide a means for sites to earn advertising fees by advertising and linking to Amazon.com.