Fabulous taste with a scrumptious pan sauce. This Chicken with Herb Roasted Tomatoes Over Ravioli looks pretty fancy as well, but it couldn't be easier!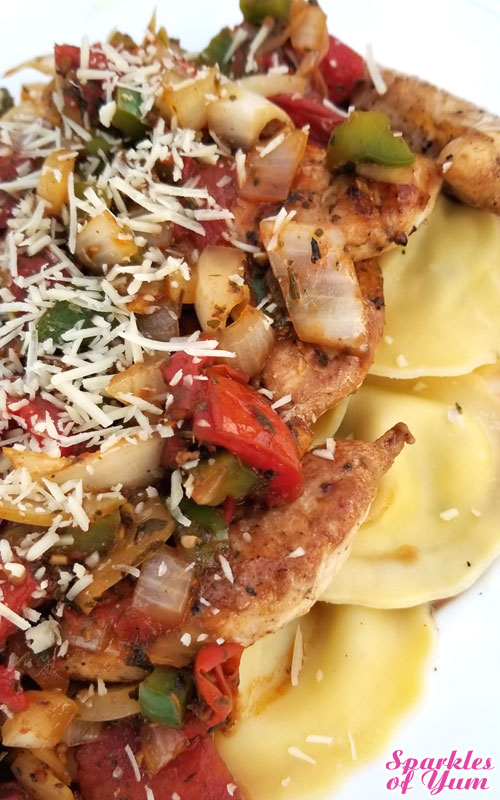 Here I am, still trying to come up with new ways to use all my home grown tomatoes, which I love by the way. Do a quick search on "how to use a lot of tomatoes". You get all of the same ideas. Make salsa, can them, make marinara. Been there, done that. I wanted something different.
Luckily we still have plenty of nice days outside to fire up the grill. And that is exactly what we did, and used our trusty cast iron skillet to throw this together pretty quick. The days are getting shorter, but we love cooking out in the fresh air.
It came out tasting fabulous, with a scrumptious pan sauce. It looks pretty fancy as well, but it couldn't be easier. This is also one of those recipes that you can cook inside on the stove top as well, if the weather is not being of any help.
I don't know too many people that are super organized. I am sure they are out there. You know the one's. They always have a meal plan for every day of the week. They make the perfect shopping list, because they already know what they are having every day of the week.
Around here, some weeks go better than others when it comes to having a schedule. But there's always those days, for me anyway, that plans can just change on a dime and it's good to have a back up plan. Just so you're not thrown into a total frenzy!
That's why there's pizza delivery, well now days just about anything can be delivered to your door.
I guess I'm old fashioned, maybe even a bit frugal, in that way. I don't want to pay extra for something I can do myself. A little planning ahead can go a long way. I like having a well stocked kitchen.
For this dish, I happened to have some frozen cheese ravioli in the freezer. I didn't have a plan for it, must have been on sale when I bought it. Then the plan was set in motion.
I decided we were having this yummy Chicken with Herb Roasted Tomatoes. I didn't know what I was going to put with it. It could have been rice or just noodles of some sort, or cheese tortellini would be good as well.
This is the type of dinner that we make together. It is always handy when you have a helper. One person to get the fire ready and deal with the grill. One person chopping, dicing, and getting a pot of water on the stove for the ravioli. Doing it like this, it all comes together so quick and easy.
Just some food for thought… If your new to cooking, nearly every recipe can be adjusted to your liking. I mean unless your baking, but that is a whole other discussion.
I am talking about putting dinner on the table, without making yourself crazy, or spending an arm and a leg when you don't have to. Having some good dried herbs always comes in handy.
For this dish we used an Italian herb blend, but if you prefer you could easily change it out and use Herbes de Provence, which is a French herb blend.
Don't forget to follow along, so you don't miss out! Did you know you can get a notification on your phone now as soon something is published? People are loving this so much, more than the emails clogging up your inbox. If you happened to not accept the notification box earlier…now is a good time to click the small bell in the corner and get signed up!
FOLLOW Sparkles of Yum ON FACEBOOK | PINTEREST | INSTAGRAM | TWITTER FOR ALL OF THE LATEST CONTENT, RECIPES AND UPDATES.
Feel free to join the Sparkles of Yum Recipe Swap Facebook group! A fun place to find and share all of your favorite recipes.
Chicken with Herb Roasted Tomatoes Over Ravioli
This Chicken with Herb Roasted Tomatoes Over Ravioli came out tasting fabulous, with a scrumptious pan sauce. It looks fancy, but really couldn't be easier
Ingredients
1 1/2 pounds small tomatoes on the vine or cherry tomatoes
6 tablespoons olive oil, divided
1 1/2 tablespoon Italian Herb blend
1 tablespoon parsley flakes or 3 tablespoons fresh parsley
3 cloves garlic, minced
1 tablespoon Worcestershire sauce
1 pound skinless, boneless chicken tenders or boneless breast
1 small onion, diced
1 green bell pepper
1/4 cup white wine, divided
Salt and Freshly ground black pepper (we used smoked sea salt)
Parmesan Cheese
1 package frozen cheese ravioli (prepared as directions)
Instructions
Prepare your grill to cook at medium-high direct heat. Preheat a cast iron skillet, once the grill is ready.

Combine tomatoes, garlic, 2 tablespoons oil, and Italian herb blend and parsley in a large bowl. Season with salt and pepper; toss to coat.

Heat 1 tablespoon oil in a large heavy cast iron skillet until oil shimmers. Carefully add tomatoes to pan. Stirring until tomatoes burst and give up some of their juices, about 5-7 minutes. Transfer to a medium bowl and drizzle with Worcestershire sauce.

Add bell peppers and onions to the same skillet. Cook till onions are translucent, remove to another bowl. Deglaze the skillet with half of the white wine.

Meanwhile, season chicken all over with salt and pepper. Heat 2 tablespoons oil in the same skillet over medium-high heat. Sear chicken on both sides until golden brown, 6-8 minutes, till juices run clear or internal temp of 165F.

Deglaze the pan with the remainder of the wine and add remaining 1 tablespoon oil to same skillet; scraping up browned bits from bottom of pan. Add tomatoes and their juices with the bell peppers and onions back to skillet to simmer until sauce is just beginning to thicken, about 1 minute. Taste to see if you need to season the sauce with salt and pepper.

Spoon tomatoes and sauce over chicken and ravioli; garnish with Parmesan.
Nutrition Information
Yield

8 servings
Serving Size

1
Amount Per Serving
Calories

337
Total Fat

21g
Saturated Fat

4g
Trans Fat

0g
Unsaturated Fat

16g
Cholesterol

72mg
Sodium

226mg
Carbohydrates

11g
Fiber

2g
Sugar

5g
Protein

25g
© 2023 Sparkles of Yum. All rights reserved. All images & content are copyright protected. Please do not use my images without prior permission. If you want to share this recipe, please provide a link back to this post for the original recipe.
Sparkles of Yum is a participant in the Amazon Services LLC Associates Program, an affiliate advertising program designed to provide a means for sites to earn advertising fees by advertising and linking to Amazon.com.