This Oven Roasted Asparagus recipe may just be the perfect healthy side dish. Super tender, simple, and delicious!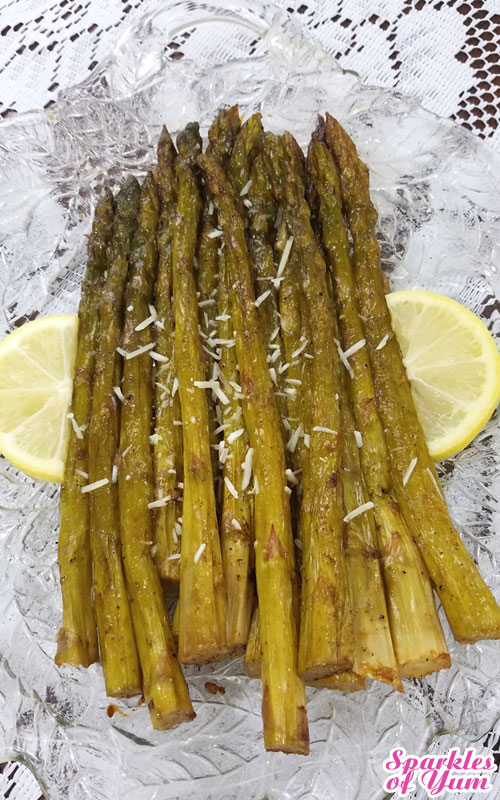 Succulent and tender, asparagus has been a renowned delicacy since ancient times. It is often used for medicinal purposes, since it is jam-packed with nutrients and health benefits.
Named the "Food of Kings" in ancient times from King Louis XIV. It also helps you absorb more calcium, and you can thereby prevent osteoporosis and bone fractures since it's 180% vitamin K plus folate, vitamin C, and 20 other vitamins and minerals.
Antioxidants are amazing. They neutralize the free radicals in our body and prevent a range of harmful effects, including inflammation. Asparagus helps fight against such problems as type 2 diabetes, cancer, and heart diseases, and the antioxidant glutathione in asparagus slows down aging. What? did I read that right? Why am I just now hearing this for the first time? All the infomercials for staying young and Dr. Oz shows I've heard, and not once did any of them take the time to tell me all of this information.
I just decided to do a little Google search since I have this awesome recipe for some really tasty tender Oven Roasted Asparagus. Based on everything I am reading, should asparagus be the new kale? Sorry, got a little excited for a minute there.
I like a good healthy meal once in while, but if you follow my recipes that's not a priority everyday. There are a few healthy dinners that this awesome side dish would go great with, like Grilled Salmon with Sweet Chili Glaze or Slow Cooker Pork Tenderloin with Plum Jalapeno Chutney which are both packed with tons of flavor as well as being healthy!
Now just in case you haven't heard about the DNA aspect of Asparagus; not everyone has the gene that causes your pee to smell like asparagus. If you do though, you know it within a couple hours of eating it. If you haven't gotten your DNA tested yet, we had ours done at 23andme (any purchases made from that link will make me a few dollars), and it tells you more information then you ever thought possible. Things like if you are more likely than not to have super taste buds or if your more likely to have perfect pitch. Could be a good for a Christmas present!
Now we better get back to how this super tender simple and delicious Oven Roasted Asparagus gets all it's flavor, aside from the roasting that brings out the natural sweetness of asparagus. Something else that I just learned. Thanks, Google.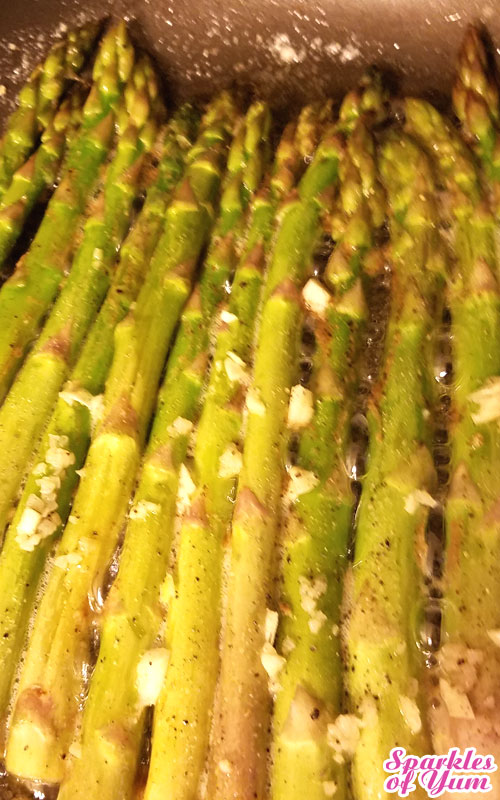 Don't forget to follow along, so you don't miss out! Did you know you can get a notification on your phone now as soon something is published? People are loving this so much, more than the emails clogging up your inbox. If you happened to not accept the notification box earlier…now is a good time to click the small bell in the corner and get signed up!
FOLLOW Sparkles of Yum ON FACEBOOK | PINTEREST | INSTAGRAM | TWITTER FOR ALL OF THE LATEST CONTENT, RECIPES AND UPDATES.
Feel free to join the Sparkles of Yum Recipe Swap Facebook group! A fun place to find and share all of your favorite recipes.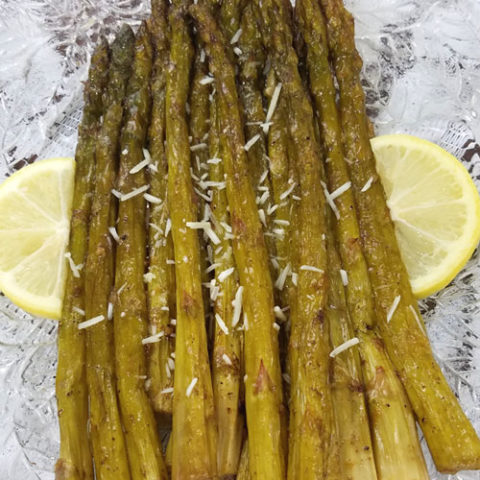 Oven Roasted Asparagus
Yield: About 4 servings

Prep Time: 5 minutes

Cook Time: 20 minutes

Total Time: 25 minutes

This Oven Roasted Asparagus recipe may just be the perfect healthy side dish. Super tender, simple, and delicious!
Ingredients
1 bunch fresh Asparagus
2 tablespoons extra virgin olive oil
2 cloves garlic (minced)
1 tablespoon grated Parmesan
1 lemon
Coarse sea salt and freshly ground black pepper
Instructions
Preheat the oven to 400 degrees F.
Rinse asparagus thoroughly. Chop off the tough ends. Place the asparagus on a baking sheet, drizzle with olive oil, then toss to coat the asparagus completely.
Spread the asparagus in a single layer and sprinkle liberally with minced garlic, salt and pepper.
Roast the asparagus until lightly browned and just tender, 18-20 minutes.
Squeeze of fresh lemon and garnish with lemon slices and sprinkle grated Parmesan.
Nutrition Information
Yield 4 Serving Size 1
Amount Per Serving Calories 75Total Fat 7gSaturated Fat 1gTrans Fat 0gUnsaturated Fat 6gCholesterol 1mgSodium 101mgCarbohydrates 3gFiber 1gSugar 1gProtein 1g

Nutrition data was provided and calculated by Nutritionix, and should only be used as a general guideline. This information is provided as a courtesy and there is no guarantee that the information will be completely accurate.

© 2023 Sparkles of Yum. All rights reserved. All images & content are copyright protected. Please do not use my images without prior permission. If you want to share this recipe, please provide a link back to this post for the original recipe.
Sparkles of Yum is a participant in the Amazon Services LLC Associates Program, an affiliate advertising program designed to provide a means for sites to earn advertising fees by advertising and linking to Amazon.com.