The perfect solution for when you have a craving for sushi and just can't fork out the big bucks? The Spicy Tuna Sushi Stack! Some are called sushi towers, but I think ours are more stack size, but do not let their small stature fool you, they are still plenty filling.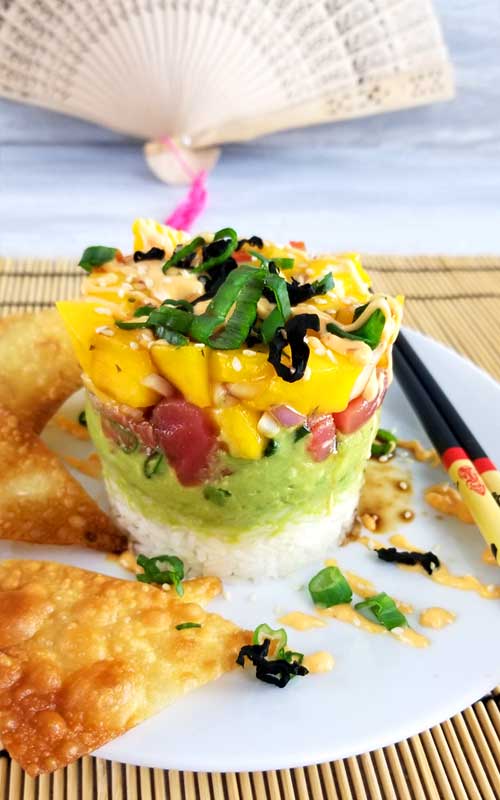 We love going out for Sushi, but it's just so expensive. We just don't get to go as often as we'd like, but when we do, we go all out. We never get out of there for under $100.00, and of course that includes a couple glasses of my favorite Plum Wine.
If you've never tried plum wine, definitely give it a try. I've never seen a sushi restaurant that didn't have it and it's sooo good.
Occasionally we'll make sushi at home, I don't have the best rolling skills but it's still fun. It just gets a little messy and we normally buy too much. We try making it like when we go out; with the miso soup and a variety of rolls.
We wind up spending almost as much as if we went out, and we have leftovers that you can't keep for long because… well it's seafood and you've got to be extra careful. It just doesn't stay fresh for long at all.
This Spicy Tuna Sushi Stack with Wonton Crisps is so good and not very complicated to make. We've made these a few different ways in the past; steamed edamame instead of avocado, topped them with strawberries, and I am sure there has been other variations that we have tried out.
This time we already had a pretty mango and decided to marinate the ahi tuna like a spicy tuna roll. Top it all off with Asian Yum Yum Sauce, it turned out awesome! You don't even have to use the chopsticks if you don't want to, you can use the wonton crisps to scoop it up.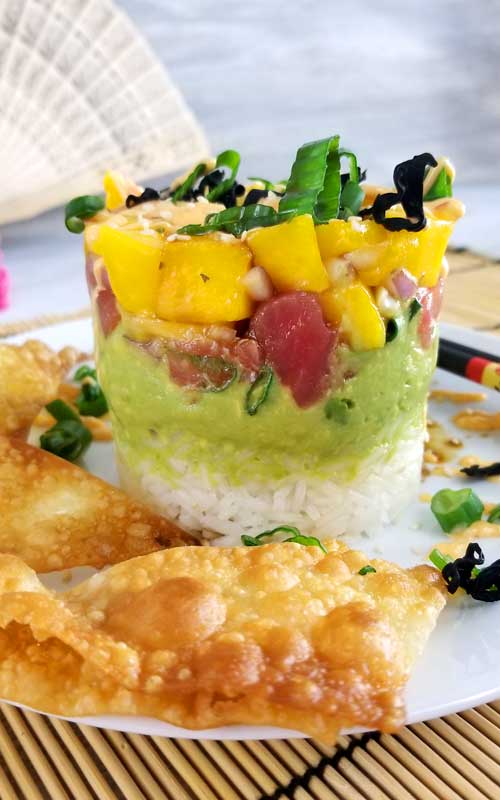 So if your a sushi lover like we are, save that money and get yourself a light healthy meal at the same time – you can't go wrong with making this Spicy Ahi Tuna Stack with Mango Salsa, Yum Yum Sauce and a Soy Wasabi Drizzle!
Well that name was just entirely too long, but that's what it is, most of all it's DELICIOUSNESS or as they say on Food Network it's Umami!!
Now where do you find ahi tuna? We found 12 ounce package of ahi tuna in the freezer section of Aldi, you may be able to find it at your local grocer as well. They also sell it fresh at some stores like Fresh Thyme.
This recipe may look a little intimidating, but it's really just a few small steps. It's a fun dinner to make together for a romantic night at home.
Have some wine while your preparing and building, look for the Plum Wine it should be by the sake in the Asian section wherever you buy liquor.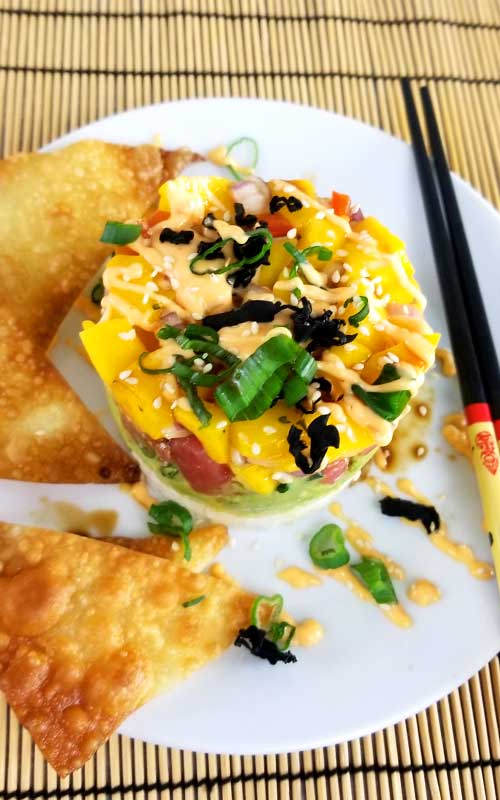 Don't forget to follow along, so you don't miss out! Did you know you can get a notification on your phone now as soon something is published? People are loving this so much, more than the emails clogging up your inbox. If you happened to not accept the notification box earlier…now is a good time to click the small bell in the corner and get signed up!
FOLLOW Sparkles of Yum ON FACEBOOK | PINTEREST | INSTAGRAM | TWITTER FOR ALL OF THE LATEST CONTENT, RECIPES AND UPDATES.
Feel free to join the Sparkles of Yum Recipe Swap Facebook group! A fun place to find and share all of your favorite recipes.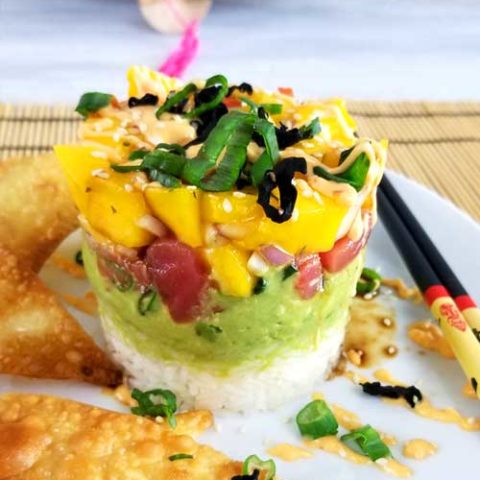 Spicy Tuna Sushi Stack with Wonton Crisps
This Spicy Tuna Sushi Stack with Wonton Crisps is so good and not very complicated to make. The perfect solution for when you have a craving for sushi and just can't fork out the big bucks.
Ingredients
12 oz Ahi Tuna (cut into 1/2 inch pieces)
Marinade for Tuna:
1 tablespoon soy sauce (I used low sodium)
1/2 teaspoon toasted sesame oil
1/2 teaspoon Red Chili Hot Oil (or 1 teas Sriracha sauce)
2 tablespoons green onions (just the greens sliced)
For the Sushi Rice:
1 cup rice
1 cup water
1 tablespoon rice vinegar
1/2 tablespoon sugar
1/2 tablespoon kosher salt
For Avocado layer:
1 Avocado (smashed or diced)
1-2 teaspoons lime juice
pinch of sea salt
pinch of red pepper flakes (or cayenne pepper)
For the Mango Salsa:
1 mango (diced into 1/4 -1/2 inch pieces)
1/4 teaspoon cayenne pepper
2-3 tablespoons diced red onion
1 tablespoon diced cilantro
1 tablespoon lime juice
pinch of sea salt
For the Yum Yum Sauce:
1/2 cup Mayo
2 teaspoons sriracha
2 teaspoons sweet chile sauce
pinch of sea salt
For the Soy Wasabi Drizzle
3 tablespoons soy sauce
1/2 inch - 1 inch squirt from tube of prepared Wasabi (about 1/2 to 1 tsp)
Garnish:
1-2 tablespoons Toasted Sesame seeds
1 sheet Nori cut into small strips or Wakame (dried seaweed)
sliced green onions
For the Wontons Crisps
1 package Wontons
1/4 oil for frying
Instructions
For the Tuna:
In a bowl combine all ingredients for marinade. Cut Tuna into 1/2 inch square pieces and place in bowl with marinade. Gently toss to coat and place in fridge for around 20 minutes.
For the Sushi Rice:
Place the rice and 1 cup of water into a medium saucepan and place over high heat. Bring to a boil, uncovered. Once it begins to boil, reduce the heat to the lowest setting and cover. Cook for 15 minutes. Remove from the heat and let stand, covered, for 10 minutes.
Combine the rice vinegar, sugar and salt in a small bowl and heat in the microwave on high for 30 to 45 seconds. Transfer the rice into a large wooden or glass mixing bowl and add the vinegar mixture. Fold thoroughly to combine and coat each grain of rice with the mixture. Allow to cool to room temperature before using to make stack.
For the Avocado:
Either smash or dice and combine with lime juice, salt and pepper. Cover and set aside.
For the Mango layer:
Dice mango and combine all ingredients and set aside.
For the Yum Yum Sauce:
Combine all ingredients, stir really well until all is combined and set aside
For the Soy Wasabi Drizzle:
Combine and mix really well and drizzle lightly
For the Wontons:
I only used half the pack, just cut in half and using a large skillet on medium heat warm up about 3 tablespoons oil just to a sizzle toasting both sides. Don't over crowd, do small batches. Using tongs to turn over and set on paper towels to cool. Sprinkle lightly with sea salt after setting on paper towels.
For building stack:
If you have an adjustable measuring cup or measure all cup this works great, or a tuna can with both ends cut out. a ramekin, or metal measuring cup with cooking spray will work just flip and tap real good to build your stack.
Start with the rice at the bottom, avocado mixture, then the tuna, and top with mango salsa. Then drizzle with Yum Yum sauce, soy wasabi and garnish with toasted sesame seeds, nori, and green onions.
© 2023 Sparkles of Yum. All rights reserved. All images & content are copyright protected. Please do not use my images without prior permission. If you want to share this recipe, please provide a link back to this post for the original recipe.
Sparkles of Yum is a participant in the Amazon Services LLC Associates Program, an affiliate advertising program designed to provide a means for sites to earn advertising fees by advertising and linking to Amazon.com.