Need a fun and simple treat for St. Patrick's Day, a birthday party, or a cute snack for any occasion that's not gonna cost a small fortune to make? I've got you covered with a minty, yummy Lucky Charms Minty Rainbow Bark.
This literally only takes a few minutes to make, plus an hour or so in the fridge, and your all set to go. All you need is a few simply ingredients and a microwave.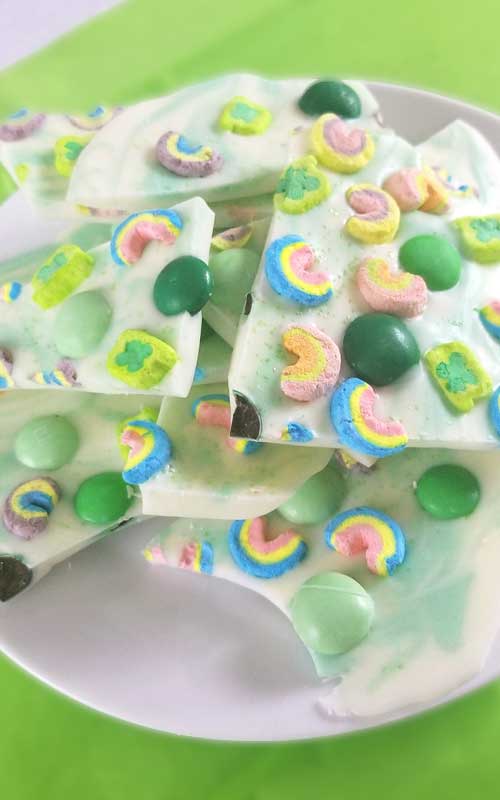 So what if you want to make this and you don't have any gel food coloring, because they say you can't use water based food coloring because it will seize up.
Well there is a way to make it work. That's what we used here and it could not be any easier to do. All you need to do is mix the food coloring in a tiny bit of canola oil. It works just fine. I know everyone recommends using gel, I bought a package and couldn't find it for a minute, but I still had a box of water based. So it will work if you just follow that simple tip.
Mr Yum's over-explained scientific reasoning as to why this works:
Water (or most liquids for that matter) will cause the melted chocolate to seize up when they come into contact with one another. By mixing the food coloring with oil, you cause the water droplets to be suspended in the oil, making an oil-based shell around the coloring. By doing this, the actual water never comes into contact with the chocolate, thus avoiding disaster.
When you first start mixing the food coloring and oil together you will see rather large splotches of coloring. Keep on stirring, the droplets will keep getting smaller. After about 20-30 seconds of mixing, you should be good to go.
I personally do not care about any of that. I just know it worked, and for that I am happy.
Of course after we made this, we found the new box of gel food coloring, go figure. Generations have survived on using the water based colorings. So if it comes down to it; your broke at the moment and can't afford expensive candy melts or the "healthy" organic food coloring, you can still make cute treats!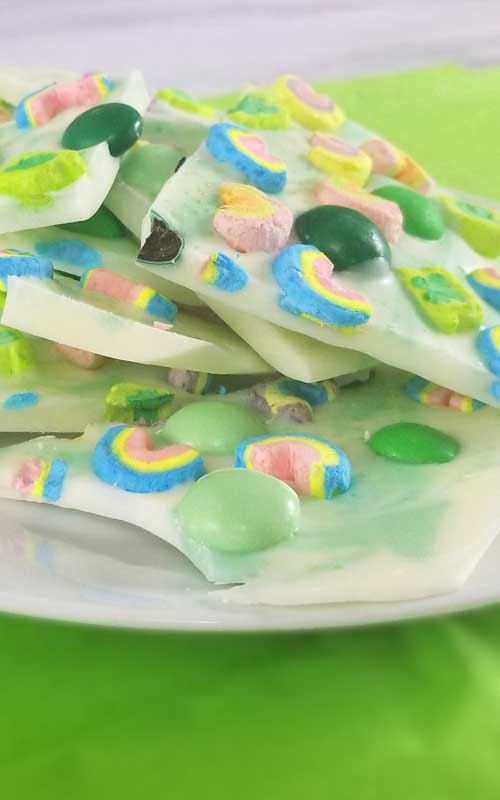 Don't forget to follow along, so you don't miss out! Did you know you can get a notification on your phone now as soon something is published? People are loving this so much, more than the emails clogging up your inbox. If you happened to not accept the notification box earlier…now is a good time to click the small bell in the corner and get signed up!
FOLLOW Sparkles of Yum ON FACEBOOK | PINTEREST | INSTAGRAM | TWITTER FOR ALL OF THE LATEST CONTENT, RECIPES AND UPDATES.
Feel free to join the Sparkles of Yum Recipe Swap Facebook group! A fun place to find and share all of your favorite recipes.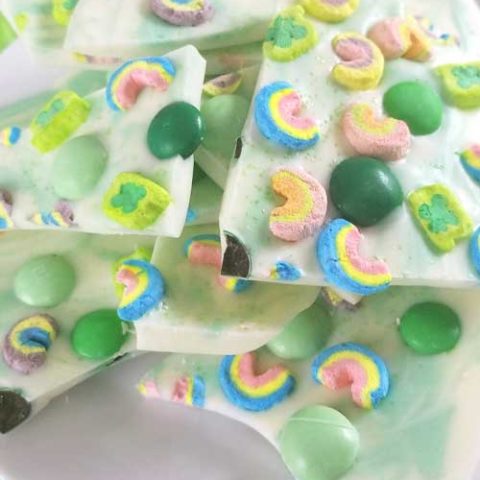 Lucky Charms Minty Rainbow Bark
In need of a fun and simple treat? One that's not gonna cost a small fortune to make? My Lucky Charms Minty Rainbow Bark has you covered. This literally only takes a few minutes to make
Ingredients
1/2 pack Almond Bark (12 oz) / or / White Chocolate (you can do as much or little as you want)
1/4 - 1/2 cup marshmallows from 1 box Lucky Charms (pull out your favorite marshmallows)
1/4 cup Dark Chocolate Mint M&M's
Optional items
1/2 teaspoon green colored sugar
1/4 teaspoon mint extract
2 drops Gel Food coloring or (if using water based food coloring it's 1/2 teaspoon canola oil to less than 1/4 teaspoon food coloring) per 1/4 cup melted chocolate - use more if you want brighter colors, but start light and work from there
Utensils:
Microwave-safe bowl
Cookie Sheet
Parchment paper or wax paper
spatula for spreading
metal spoon for stirring
skewer or pointed knife to spread the color
Instructions
First separate the marshmallows from the cereal. Then cover a cookie sheet with parchment paper.
Using a microwave safe bowl, melt Almond Bark for 1 minute on High in microwave. Stir the outside to the inside and melt another minute, stir for maybe 30 more seconds more, and it should be ready to spread on cooking sheet.
Just add by spoonfuls on top of parchment paper, reserving about 1/4 cup in your bowl.
Using a spatula spread to about 1/4" thick.
If you're just adding one color, you can add the food coloring and mint extract to what's left in the bottom of that bowl and stir well. If you want more colors, divide reserved chocolate into separate bowls then color. Just a dollop here and there on top of what you already placed on parchment paper. Drag skewer or knife through the colored chocolate, not too much - just enough to get the swirl of colors.
Before the bark starts to set up sprinkle the sugar, add the rainbow charms, and add M&M's or whatever else you want. Just give it a little tap to set in place.
Then refrigerate for at least an hour before breaking apart. Just touch in the center to make sure it's firm, then you know it's set up and ready to go.
© 2023 Sparkles of Yum. All rights reserved. All images & content are copyright protected. Please do not use my images without prior permission. If you want to share this recipe, please provide a link back to this post for the original recipe.
Sparkles of Yum is a participant in the Amazon Services LLC Associates Program, an affiliate advertising program designed to provide a means for sites to earn advertising fees by advertising and linking to Amazon.com.