It only looks like we're getting fancy around here with these Pork Chops in Creamy Wine Sauce, but this dish is so quick and easy that anyone can make this incredibly delicious dinner in no time at all!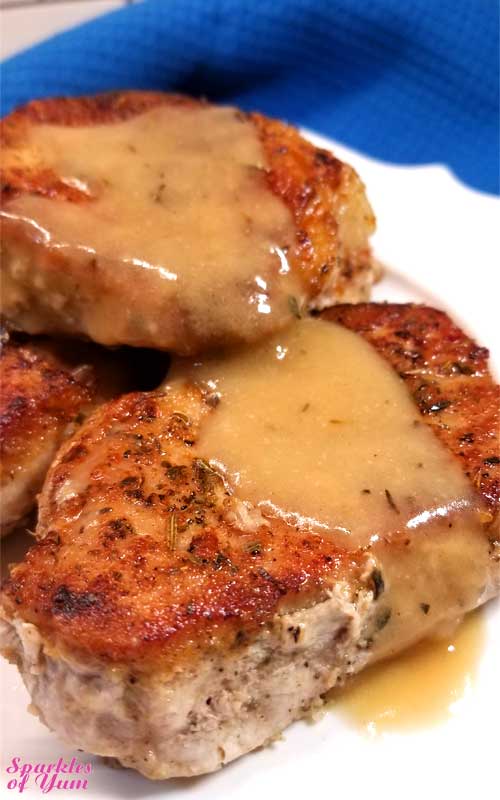 Normally I have bone-in pork chops, but all I had on hand at the moment was a big piece of pork loin.
We get a whole big one from Costco, around 8-10 pounds, and divide it up in the freezer to use for some great slow cooker meals; like one of my favorites Trisha Yearwood Crock Pot Pork Tenderloin. But I had a taste for pork chops, sorry slow cooker.
We like to keep changing things up, so I thought why not cut up one of these big tenderloin pieces into some really nice and thick pork chops. Something that you can really sink your teeth into.
Well let me tell you, I didn't miss having the bone-in pork chops for these bad boys, but you could definitely use bone-in if that's what you've got on hand.
Either way you can't go wrong with this recipe, because it's packed with flavor, and you don't need many ingredients to make it happen.
Another bonus is that when cooking with wine, you can pretend you're Julia Child. Go ahead and tip that bottle in to your glass as your cooking, that always makes for a bit more fun!
We had a one of her chicken dinners a while back that turned out way better than I even expected. It was Coq Au Vin, which is just chicken in red wine with mushrooms, onions and bacon.
Like these Pork Chops in Creamy Wine Sauce, it's something good for entertaining or for date night at home. Even if it's for the whole family, you don't have to worry because the alcohol cooks out of it.
Do you have any secret recipes that you use for a date night at home? I would love to hear what you have made up in the comments.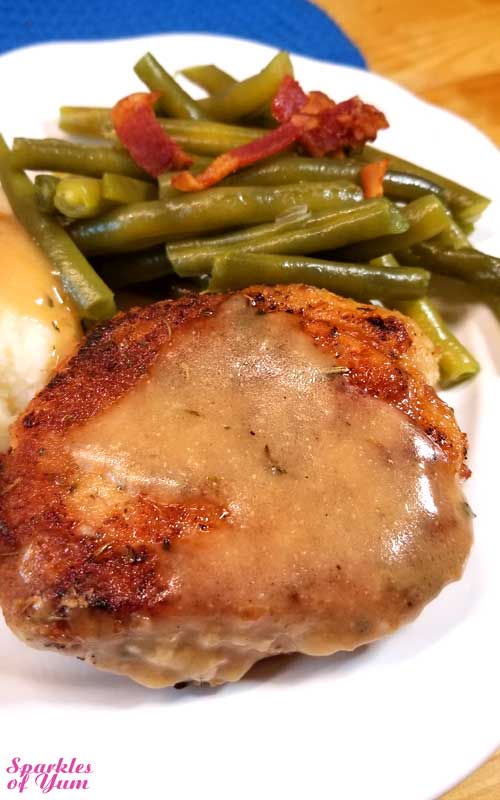 Don't forget to follow along, so you don't miss out! Did you know you can get a notification on your phone now as soon something is published? People are loving this so much, more than the emails clogging up your inbox. If you happened to not accept the notification box earlier…now is a good time to click the small bell in the corner and get signed up!
FOLLOW Sparkles of Yum ON FACEBOOK | PINTEREST | INSTAGRAM | TWITTER FOR ALL OF THE LATEST CONTENT, RECIPES AND UPDATES.
Feel free to join the Sparkles of Yum Recipe Swap Facebook group! A fun place to find and share all of your favorite recipes.
Pork Chops in Creamy Wine Sauce
Yield: 4 servings

Prep Time: 10 minutes

Cook Time: 20 minutes

Total Time: 30 minutes

It only looks like we're getting fancy around here with these Pork Chops in Creamy Wine Sauce, but this dish is so quick and easy that anyone can make this incredibly delicious dinner in no time at all!
Ingredients
4 boneless pork chops (or bone-in)
2 tablespoons butter
1/4 cup flour
1 teaspoon garlic powder
1 teaspoon onion powder
1 teaspoon Italian seasoning
Salt and freshly ground pepper to taste
Creamy Sauce:
2 tablespoons butter
2 cloves garlic minced
1 tbsp flour
1/2 cup dry white wine
1/2 lemon (juice of fresh lemon)
1/2 cup chicken or beef broth
1/2 cup heavy cream or milk
1 teaspoon Italian seasoning
Instructions
Heat a heavy skillet over medium-high heat. Add 2 tbs. butter and let it melt.
Mix the flour, salt, pepper and ½ tsp garlic powder ½ tsp onion powder in a shallow bowl or large plate.
In a separate bowl combine: salt, pepper and ½ tsp garlic powder ½ tsp onion powder; this is our seasoning mix. Season the pork chops with this mix first.
Dredge pork chops in seasoned flour mixture, shake off excess flour.
Brown pork chops well on both sides, about 7-8 minutes per side. Reduce the heat to medium and let simmer while you gather ingredients for the sauce. When internal temp is 165 or no pink juices, remove from pan and set aside.
In the same pan you browned the chops, return skillet to heat, add 2 tablespoons butter and minced garlic and cook for 1-2 minutes on low medium heat. Add flour to the butter mixture and start pouring in wine on medium heat - about 1 minute.
Next squeeze lemon into the pan, add broth, Italian seasoning and heavy cream or milk. Taste and season with salt and pepper if necessary. Let simmer a couple minutes to thicken, if it gets to thick add a tiny bit more broth or cream.
Plate up your chops, and pour the sauce over them.
Nutrition Information
Yield 4 Serving Size 1
Amount Per Serving Calories 660Total Fat 45gSaturated Fat 22gTrans Fat 1gUnsaturated Fat 20gCholesterol 188mgSodium 561mgCarbohydrates 15gFiber 1gSugar 2gProtein 46g

Nutrition data was provided and calculated by Nutritionix, and should only be used as a general guideline. This information is provided as a courtesy and there is no guarantee that the information will be completely accurate.

© 2023 Sparkles of Yum. All rights reserved. All images & content are copyright protected. Please do not use my images without prior permission. If you want to share this recipe, please provide a link back to this post for the original recipe.
Sparkles of Yum is a participant in the Amazon Services LLC Associates Program, an affiliate advertising program designed to provide a means for sites to earn advertising fees by advertising and linking to Amazon.com.