The flavors are amazing in this Slow Cooker Pork Tenderloin with Plum Jalapeno Chutney. Lightly spicy peppers, sweetly tart plums, and ginger combined with fall apart,juicy, tender pork makes your taste buds dance with joy!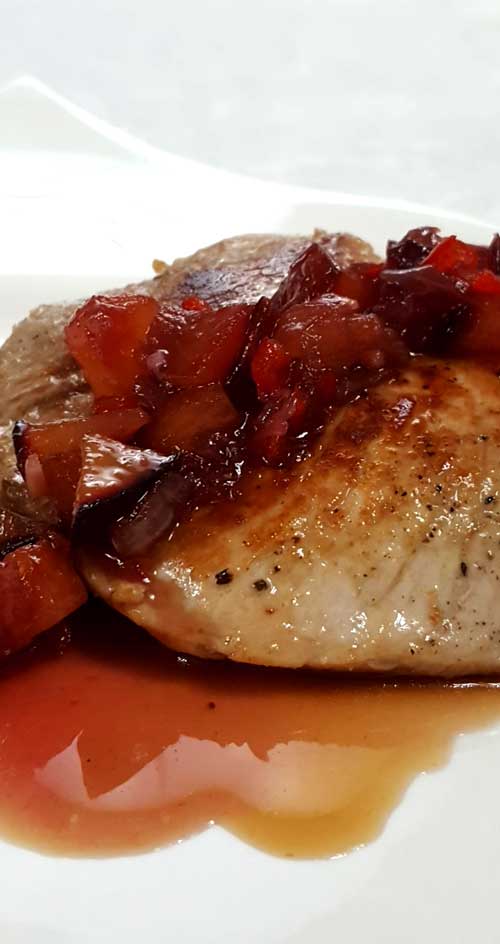 We made a trip to the local Farmer's Market on Saturday, I love that place. We are so lucky in St. Louis that we have the Soulard Market. The same Soulard Market has been around here since 1779! America is barely older than our Soulard Market! How is that for crazy?
This market has everything. Every vegetable or fruit you could want. A whole spice and herb shop, bread stands, artisan sausages, and pastas. Right on down to turtle meat if that's your thing (there is no judgement here).
Not to mention if you want live chickens or bunnies they're here too. With a whole wing for a flea market and homemade soaps, oils, etc. I'm sure I left out a lot, but you get the picture.
It's an adventure. With people shoulder to shoulder and vendors shouting from every direction to give the best deals.
Anyway these huge plums were so pretty all stacked to perfection, I had to find a something special to do with them. Other than just biting into one, although that thought did cross my mind more than a few times.
Then my inspiration struck.
I saw this William Sonoma Chicken with Plum Relish, THIS was the special dish I was looking for. The flavors of this are amazing. Lightly spicy peppers , sweetly tart plums, and ginger. All served atop fall apart, juicy, tender pork makes your taste buds dance with joy!
This is definitely worth opening a bottle of wine for dinner. We had a bottle of Shiraz, but I'm sure a Chardonnay or Riesling would work well with this too (or your own favorite…again…no judgement).
For sides we had a quick creamy alfredo pasta and steamed seasoned broccoli. Really just baked potato and a salad would probably do just fine next time, because I know I'll be making this one again and again. It was that good.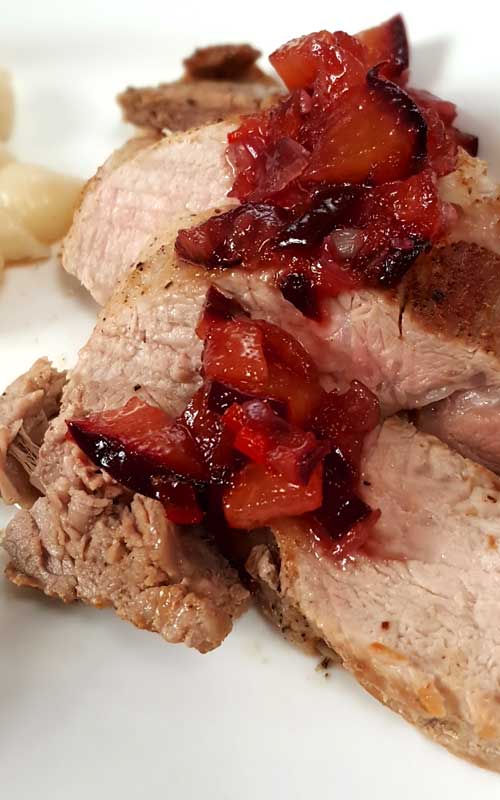 Don't forget to follow along, so you don't miss out! Did you know you can get a notification on your phone now as soon something is published? People are loving this so much, more than the emails clogging up your inbox. If you happened to not accept the notification box earlier…now is a good time to click the small bell in the corner and get signed up!
FOLLOW Sparkles of Yum ON FACEBOOK | PINTEREST | INSTAGRAM | TWITTER FOR ALL OF THE LATEST CONTENT, RECIPES AND UPDATES.
Feel free to join the Sparkles of Yum Recipe Swap Facebook group! A fun place to find and share all of your favorite recipes.
Slow Cooker Pork Tenderloin with Plum Jalapeno Chutney
Yield: 4-6 servings

Prep Time: 30 minutes

Cook Time: 5 hours

Total Time: 5 hours 30 minutes

Lightly spicy peppers, sweetly tart plums, and ginger combined with fall apart,juicy, tender pork makes your taste buds dance with joy!
Ingredients
For the Pork
1-2 pound pork tenderloin
1 Teaspoon ground coriander
1 teaspoon onion powder
2 cloves garlic, minced
1/4 cup chicken broth
Salt and pepper to taste
For the Plum Chutney:
2 large plums, about 3/4 lb. total, halved, pitted and cut into 1-inch
pieces
1/2 cup finely chopped yellow onion
1-inch piece fresh ginger, peeled and minced or 1 teaspoon ginger powder
1 jalapeño chile, seeded and minced
1 garlic clove, minced
1/3 cup firmly packed light brown sugar
1 1/2 Teaspoon salt
1/2 Teaspoon fresh ground pepper
1 Tablespoon Extra Virgin Olive Oil
Instructions
First you'll want to spray a non stick cooking spray in your crock pot. Pour broth over roast. Season tenderloin with a generous amount of salt and pepper. Add ground coriander, onion powder, and garlic.
Cover and cook on low for 4-5 hours.
During the last hour of cooking, in a saucepan over medium heat, add the olive oil and combine half of the plums with the onion, ginger, jalapeño, garlic and brown sugar. Bring to a boil, stirring often. Reduce the heat to medium-low, cover and cook, stirring occasionally, until the plums have broken down into a sauce, about 15 minutes. Stir in the remaining plums and cook just until they are heated through, about 3 minutes. Set aside to cool.
Slice the tenderloin into 1 inch thick slices and arrange on plate and add your plum chutney
Nutrition Information
Yield 6 Serving Size 1
Amount Per Serving Calories 491Total Fat 10gSaturated Fat 3gTrans Fat 0gUnsaturated Fat 6gCholesterol 111mgSodium 974mgCarbohydrates 59gFiber 6gSugar 23gProtein 45g

Nutrition data was provided and calculated by Nutritionix, and should only be used as a general guideline. This information is provided as a courtesy and there is no guarantee that the information will be completely accurate.

© 2023 Sparkles of Yum. All rights reserved. All images & content are copyright protected. Please do not use my images without prior permission. If you want to share this recipe, please provide a link back to this post for the original recipe.
Sparkles of Yum is a participant in the Amazon Services LLC Associates Program, an affiliate advertising program designed to provide a means for sites to earn advertising fees by advertising and linking to Amazon.com.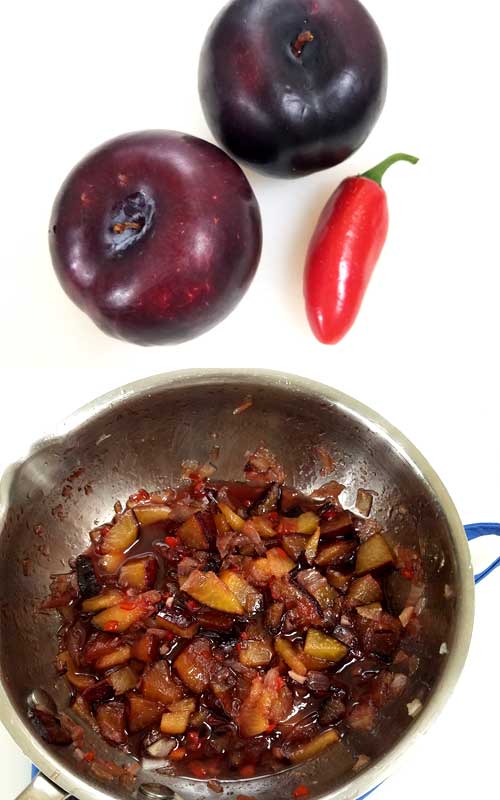 Photo of Soulard Market: Nick Normal