Slow wood smoked brisket on a cheesy garlic bread. You are going to fall in love with this Mangia Bene – a Smoked Brisket on Cheesy Garlic Bread sandwich.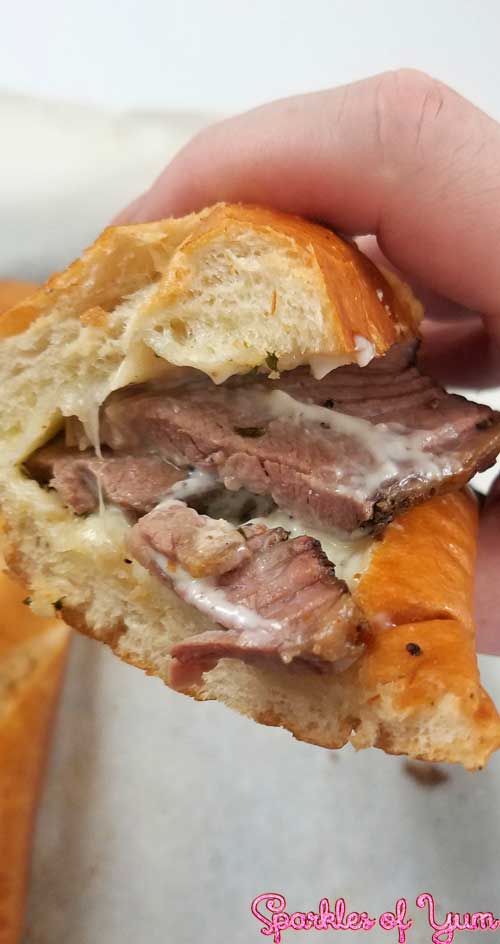 This is a copycat recipe from a pretty new place in town called Smokee Mo's. The owner is Frank Imo. If you've ever heard of St. Louis style pizza, that would be the exact same IMO's. And now we have a Guy Fieri moment…
I know what your thinking. A barbecue joint run by a family that makes pizza. You know I had to check it out. So I jumped in the '67 and here we are…THIS is Smokee Mo's. Cue the Triple D music.
But seriously. With that sort of lineage, we just had to check this place out, and it was an eating experience!
You are going to fall in love with this sandwich. Slow wood smoked brisket on a cheesy garlic bread. The whole idea of this sandwich was born quite by accident.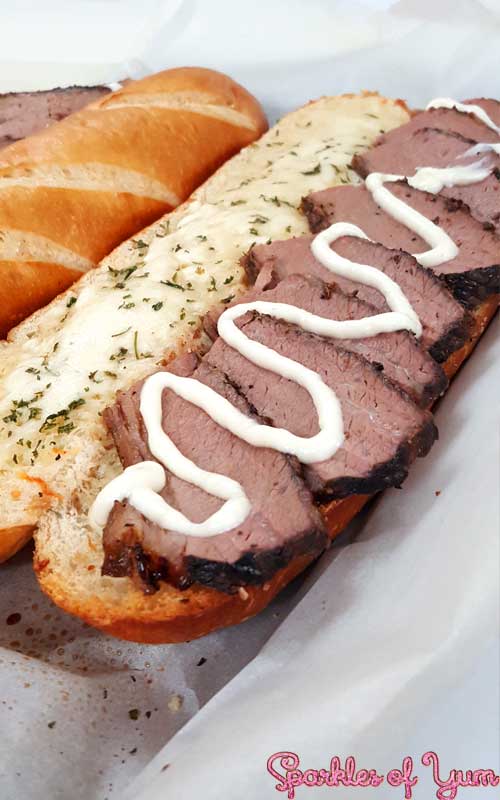 Mangia Bene (mon-ja ben-aye) was on the board meaning "Good Eats" (a show I miss dearly) in Italian. It was just written there as decoration. Someone had attempted to order it.
Everyone working at the restaurant tried telling the guy that it wasn't something on the menu. Well he persisted to ask for a Mangia Bene and they grabbed what they had on hand, and made a new sandwich was born.
Now the Mangia Bene is the star of the restaurant. Every time anyone orders it now, everyone shouts "Mangia Bennneeeeeee!". They almost make you feel famous just for ordering it. Now when you taste it you know why it's special, just the aromatics makes your mouth water so your ready for the first bite.
It is melt in your mouth juicy, with all the melty cheese. Then you have crunchy on the outside, soft on the inside garlic bread. The final touch is a simple horseradish cream sauce…the perfect condiment for a perfect sandwich.
I am almost certain that this would be just about as good with some roast beef; for any one who may not have a smoker, think it's too hot to use the oven for that long, and/or don't want to buy a whole brisket.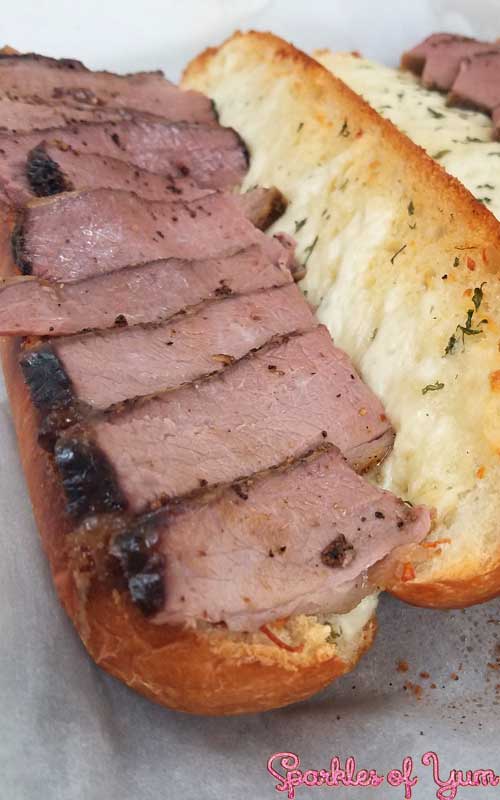 Don't forget to follow along, so you don't miss out! Did you know you can get a notification on your phone now as soon something is published? People are loving this so much, more than the emails clogging up your inbox. If you happened to not accept the notification box earlier…now is a good time to click the small bell in the corner and get signed up!
FOLLOW Sparkles of Yum ON FACEBOOK | PINTEREST | INSTAGRAM | TWITTER FOR ALL OF THE LATEST CONTENT, RECIPES AND UPDATES.Feel free to join the Sparkles of Yum Recipe Swap Facebook group! A fun place to find and share all of your favorite recipes.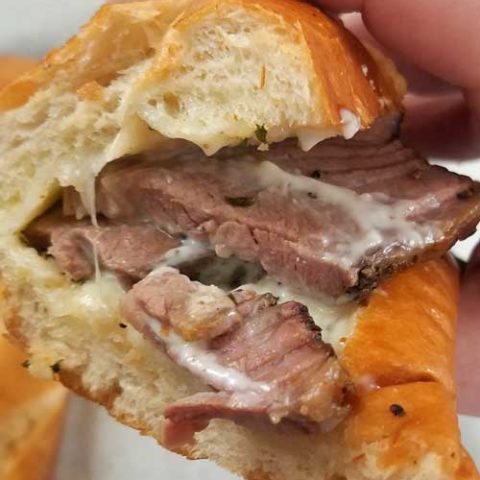 Mangia Bene – Smoked Brisket on Cheesy Garlic Bread
Yield:
4 Large Sandwiches
Additional Time:
15 minutes
Total Time:
9 hours
30 minutes
Slow wood smoked brisket on a cheesy garlic bread. You are going to fall in love with this Mangia Bene - a Smoked Brisket on Cheesy Garlic Bread sandwich.
Ingredients
For the brisket
5 pounds of beef brisket
2-3 tbsp mesquite seasoning (see below)
2 tbsp Kosher salt
For each sandwich
1 small loaf French bread
butter
garlic powder
shredded Provel cheese (you can use Provolone if you are outside the St. Louis area)
cooked and sliced brisket
Horseradish sauce (see below)
Instructions
For the brisket
Place brisket fat side up, and season with salt and mesquite seasoning.
Place your brisket in a smoker or oven that is set to 200F. Let it cook for at least 9 hours (if you can let it go longer, it will be even more tender)
Once done, remove brisket, and let it rest for at least 15 minutes.
Slice the brisket into you desired sized pieces
For the sandwiches
If your bread is not cut, cut it open lengthwise
Butter both halves of the bread, and sprinkle on garlic powder
Cover each half of the bread with your cheese
Bake in the oven until bread is toasted on the edges, and all of the cheese has melted
Top with brisket and horseradish sauce
Enjoy!
Notes
We bought a premade mix from a spice shop. To make your own mesquite seasoning, just combine the following:

1 tablespoon paprika

1 teaspoon cumin

½ teaspoon garlic powder

½ teaspoon onion powder

½ teaspoon dried rosemary

½ teaspoon dried sage

¼ teaspoon black pepper

½ teaspoon dry mustard

1 teaspoon brown sugar

⅛ teaspoon cayenne pepper

1 teaspoon dried onion flakes

1 teaspoon salt

We used a store bought horseradish sauce. You could make your own by mixing up some mayo and horseradish, making it as strong as you want.
© 2022 Sparkles of Yum. All rights reserved. All images & content are copyright protected. Please do not use my images without prior permission. If you want to share this recipe, please provide a link back to this post for the original recipe.
Sparkles of Yum is a participant in the Amazon Services LLC Associates Program, an affiliate advertising program designed to provide a means for sites to earn advertising fees by advertising and linking to Amazon.com.