This Easy Cheesy Crock Pot Ravioli is what we call a stick to your ribs dinner, no one will walk away hungry. Especially when it tastes so darn good that you don't want to stop eating.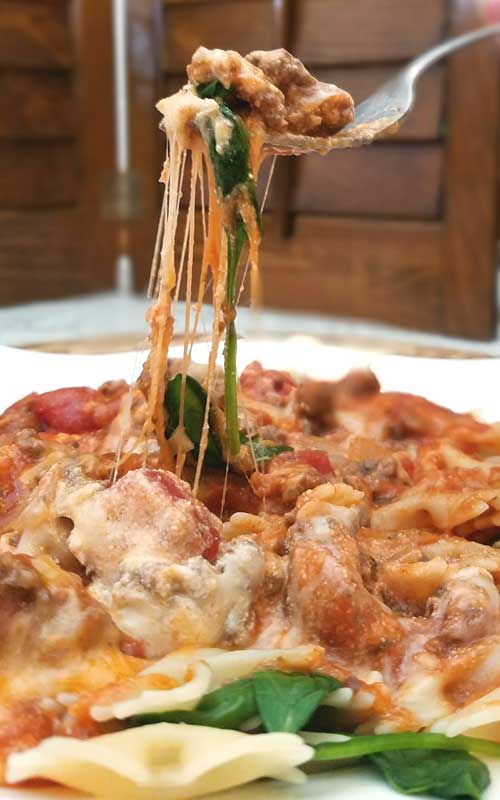 So many things to do around town this weekend. We set out early to hit up a huge tailgate sale. I'm a sucker for a good tailgate sale, and it's much easier than driving all over for yard sales. I have grown tired of hunting them down, only to find out you can find some of these things brand new for not much more than what some of these people are trying to charge for some of this stuff. I guess I love the experience of the hunt.
But it's fall now, and we're still having highs in the 90's around here. I keep hearing only a couple more days and the heat is suppose to break. It makes me want to yell, "Thanks for that but it's almost October! It is NOT supposed to still be in the 90's!".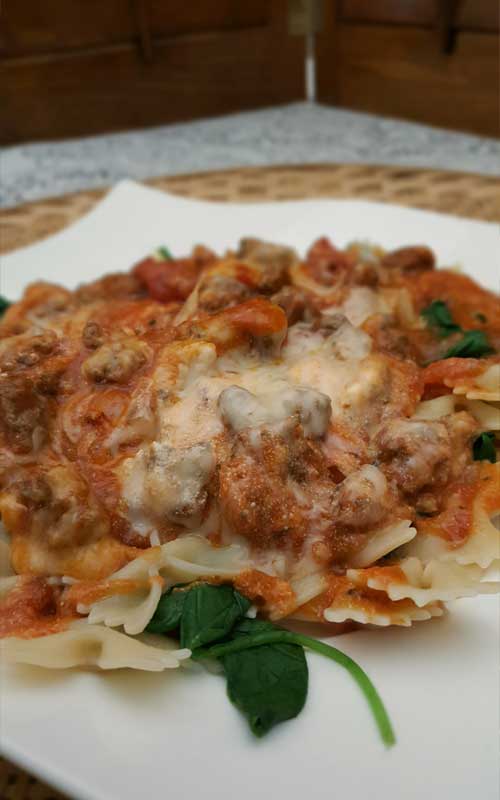 We were going to go to do so many different things today. There was "Que in the Lou" this weekend. The Strange Folk Festival. sounded right down our alley. Then there is the weather. The heat did us in early, so we went to our nicely air-conditioned Costco, then headed back home after that.
So this recipe was inspired by this Crock-pot Ravioli Casserole, which is not exactly a ravioli; but it does have all the ingredients that make for a good ravioli. All without the hassle of making them. This just makes life so much easier on those days you have to get something on the table that everyone will love, without stressing out the cook in the process. Oh…and that can of tomato soup might sound confusing to some, but it does the trick when it comes to making the sauce stick to the noodles. My little pet peeve, I love a thick sauce and that tomato soup does just the trick!
Don't forget to follow along, so you don't miss out! Did you know you can get a notification on your phone now as soon something is published? People are loving this so much, more than the emails clogging up your inbox. If you happened to not accept the notification box earlier…now is a good time to click the small bell in the corner and get signed up!
FOLLOW Sparkles of Yum ON FACEBOOK | PINTEREST | INSTAGRAM | TWITTER FOR ALL OF THE LATEST CONTENT, RECIPES AND UPDATES.
Feel free to join the Sparkles of Yum Recipe Swap Facebook group! A fun place to find and share all of your favorite recipes.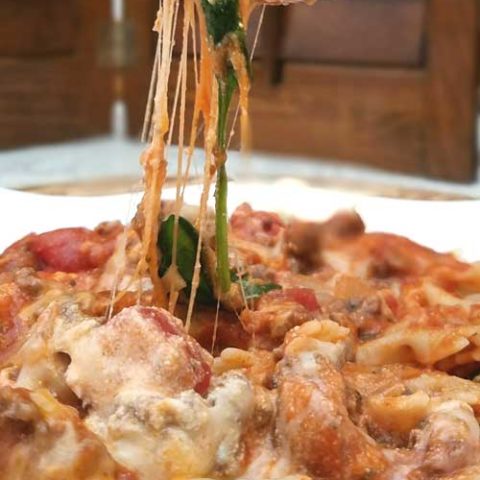 Easy Cheesy Crock Pot Ravioli
Yield: About 8 servings

Prep Time: 10 minutes

Cook Time: 8 hours

Total Time: 8 hours 10 minutes

This is what we call a stick to your ribs dinner, no one will walk away hungry. Especially when it tastes so darn good that you don't want to stop eating.
Ingredients
1 1/2 lbs. lean ground beef
1/2 large onion, chopped or 1 medium
3 cloves garlic, minced
1 16 oz can tomato sauce
1 can tomato soup
1 can diced tomatoes
1 tsp. oregano
1 tsp. Italian seasoning
salt & pepper to taste
12 oz. bowtie pasta, cooked
2 cups fresh spinach or 1 box frozen - thawed
1/2 cup parmesan cheese, shredded
3/4 ricotta cheese
1 1/2 cup mozzarella, shredded
Instructions
Brown ground beef with onion and garlic. Put in crock-pot and add sauce, soup, tomatoes and seasonings. Cook for 6-7 hours on low.
Follow directions for cooking pasta on the box during last 30 minutes
Add the last 4 ingredients during the last 30 minutes of cooking and turn crock-pot to high. I added the fresh spinach to the finished pasta, the steam from the pasta will cook it perfectly.
Then add parmesan, 1 cup of the mozzarella and dollops of ricotta and mix it all up really well.
Then I added the last 1/2 cup of mozzarella to melt on the top. Serve over pasta.
Nutrition Information
Yield 8 Serving Size 1
Amount Per Serving Calories 396Total Fat 17gSaturated Fat 7gTrans Fat 0gUnsaturated Fat 7gCholesterol 93mgSodium 755mgCarbohydrates 25gFiber 3gSugar 6gProtein 35g

Nutrition data was provided and calculated by Nutritionix, and should only be used as a general guideline. This information is provided as a courtesy and there is no guarantee that the information will be completely accurate.

© 2023 Sparkles of Yum. All rights reserved. All images & content are copyright protected. Please do not use my images without prior permission. If you want to share this recipe, please provide a link back to this post for the original recipe.
Sparkles of Yum is a participant in the Amazon Services LLC Associates Program, an affiliate advertising program designed to provide a means for sites to earn advertising fees by advertising and linking to Amazon.com.