Hey there, taco lovers! Are you craving a quick and easy meal that's bursting with flavor? This recipe for easy weeknight mouthwatering Shrimp Street Tacos is what you have been searching for.
These shrimp street tacos are packed with flavor, thanks to the zesty lime juice and spicy chili powder. They're also a great source of protein and healthy fats from the shrimp and avocado. Give this recipe a try for a tasty and healthy meal that's perfect for any day of the week!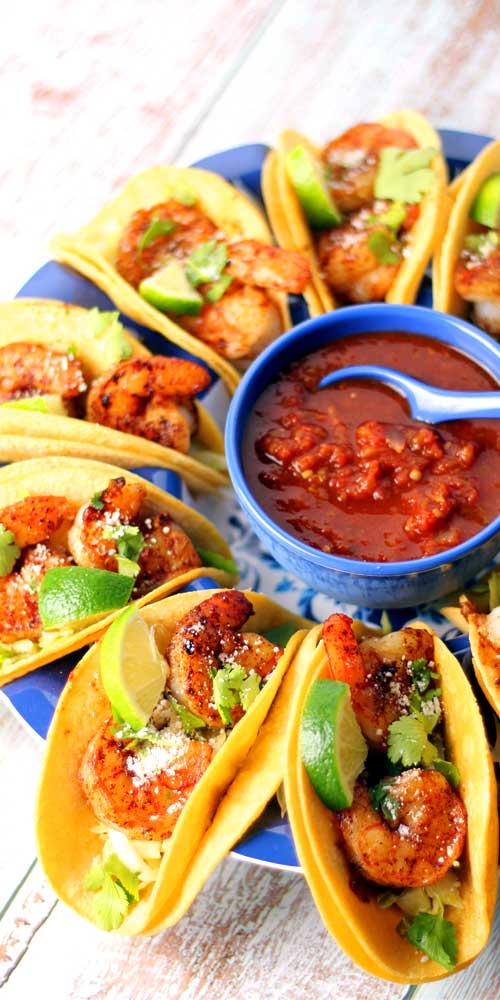 First things first, let's talk about the star of the show: the shrimp. I like to use fresh, wild-caught shrimp for these tacos, but you can certainly use frozen if that's what you have on hand. Just make sure to thaw them completely before cooking.
To cook the shrimp, simply heat up a skillet over medium-high heat and add a tablespoon of olive oil. Once the oil is hot, add your shrimp and season them with salt, pepper, chili powder and a pinch of cumin. Cook the shrimp for 2-3 minutes on each side, until they're pink and slightly crispy around the edges.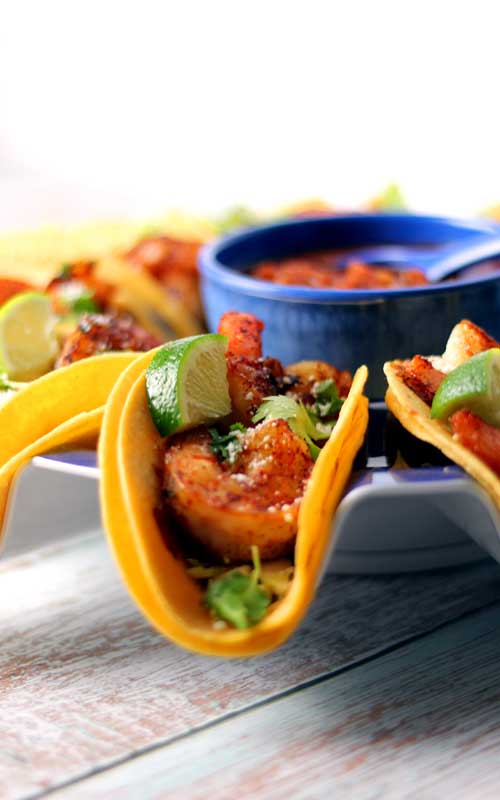 While the shrimp are cooking, it's time to prep the rest of the taco ingredients. I like to use soft corn tortillas for my tacos, but you can certainly use flour tortillas if that's your preference. Warm up the tortillas in the microwave or lightly toast in a skillet, with a little oil then set them aside. We like to double up the corn tortillas.
Next, chop up some fresh cilantro, slice up some avocado, and crumble up some cotija cheese or queso fresco cheese. You can also add some shredded cabbage or diced onions if you like.
Once the shrimp are done cooking, it's time to assemble your tacos. Start by adding a few shrimp to each tortilla, then top with your desired toppings. I like to add a squeeze of lime juice and a drizzle of salsa to finish things off.
And that's it! These easy weeknight shrimp tacos are the perfect meal for when you're short on time but still want something tasty and satisfying. They're also a great way to mix up your Taco Tuesday routine. Give them a try and let me know what you think!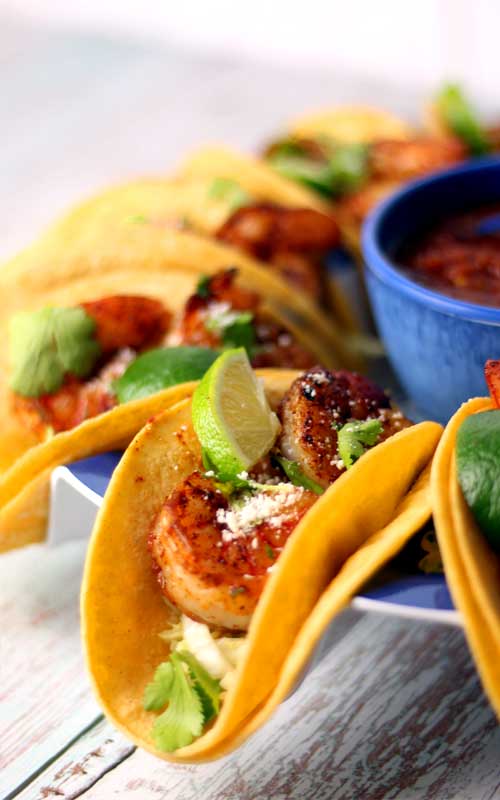 What can you serve with these Shrimp Street Tacos?
Add some grilled vegetables to your tacos for a more hearty meal.
Top your tacos with a fried egg for a breakfast taco.
Serve your tacos with a side of rice and beans for a complete meal.
Shrimp tacos are a delicious and satisfying meal on their own, but if you're looking to add some extra flavor and variety to your meal, there are plenty of side dishes that pair well with shrimp tacos. Here are a few ideas:
Mexican-style rice: A classic side dish for any Mexican-inspired meal, Mexican-style rice is a flavorful and filling option that's easy to prepare.
Black beans: Another classic side dish, black beans are a great source of protein and fiber and add a hearty texture to your meal.
Grilled corn: Grilled corn on the cob is a delicious and colorful addition to any meal. Brush with butter and sprinkle with chili powder and lime juice for a Mexican-inspired twist.
Guacamole: A fresh and creamy guacamole is the perfect complement to shrimp tacos. Serve with tortilla chips or use as a topping for your tacos.
Salsa: A bright and zesty salsa is a great way to add some extra flavor and spice to your meal. Make your own or choose a store-bought option.
Coleslaw: A tangy and refreshing coleslaw is a great way to balance out the heat of your shrimp tacos.
Margaritas: For a fun and festive drink to go with your meal, whip up a batch of margaritas! Whether frozen or on the rocks, a margarita is the perfect way to cool down and relax after a spicy meal.
These are just a few ideas for side dishes to serve with shrimp tacos. Feel free to mix and match and get creative with your menu!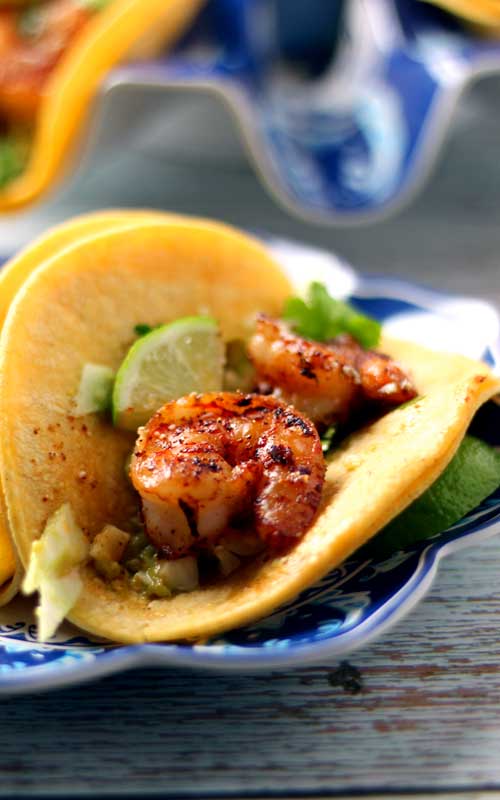 Some tips:
Does shrimp size matter? That link is a nice visual of the different sizes and count per pound. I think it's a matter of personal preference as long as your aware what to look for when the shrimp is done. It will turn pinkish and curl to tighten up. Feel free to use fresh shrimp or frozen and safely thawed. Thawing instructions below)
How many shrimp to serve person: Allow about 4 ounces for each adult and about 2 ounces for small children. Shrimp Servings By the Numbers

Medium and below, about 9 to 11 shrimp per person
Large to jumbo, about 5 to 7 shrimp per person
Extra jumbo and above, about 3 to 5 per person

Best method for thawing shrimp according to the Food and Drug Administration FDA: Thaw frozen seafood gradually by placing it in the refrigerator overnight. Use a bowl never trust just a baggie or butcher paper to not leak over other items in the refrigerator. If you have to thaw seafood quickly, either seal it in a plastic bag and immerse it in cold water, or — if the food will be cooked immediately thereafter — microwave it on the "defrost" setting and stop the defrost cycle while the fish is still icy but pliable.
Plan ahead when we are shopping for seafood: We keep an ice pack in the freezer to grab and and insulated bag so if your shopping at multiple stores your food is staying at a safe temperature.
If you LOVE this Shrimp Street Tacos recipe, try this recipe for Grilled Lemongrass Chicken Skewers OR these Hawaiian Shrimp Kabobs!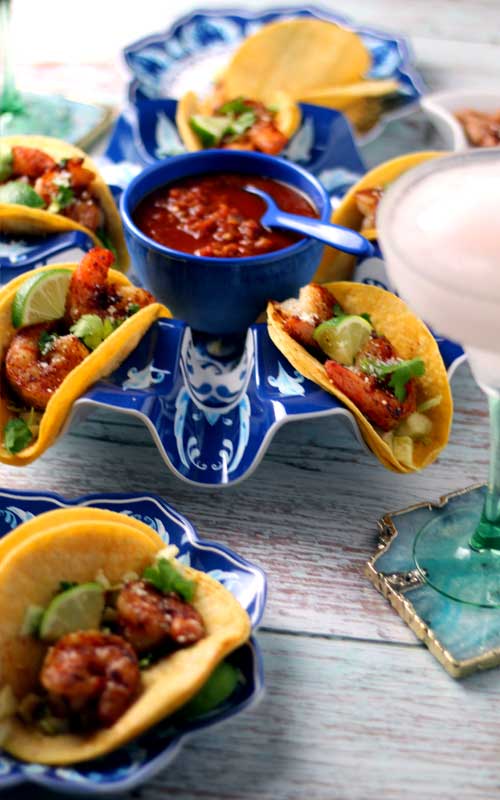 Don't forget to follow along, so you don't miss out! Did you know you can get a notification on your phone now as soon something is published? People are loving this so much, more than the emails clogging up your inbox. If you happened to not accept the notification box earlier…now is a good time to click the small bell in the corner and get signed up!
FOLLOW Sparkles of Yum ON FACEBOOK | PINTEREST | INSTAGRAM | TWITTER FOR ALL OF THE LATEST CONTENT, RECIPES AND UPDATES.
Feel free to join the Sparkles of Yum Recipe Swap Facebook group! A fun place to find and share all of your favorite recipes.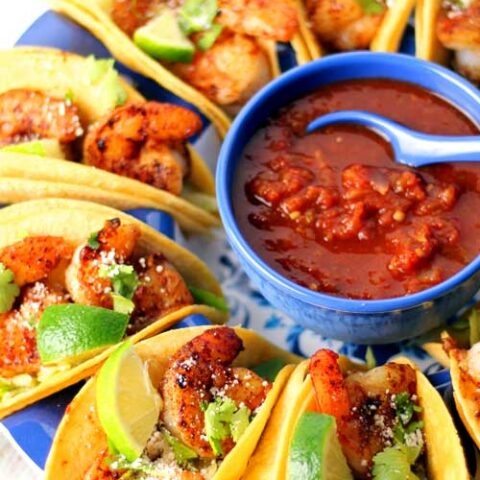 Shrimp Street Tacos
Additional Time:
15 minutes
Are you craving a quick and easy meal that's bursting with flavor? This recipe for easy weeknight mouthwatering Shrimp Street Tacos is what you have been searching for.
Ingredients
1 lb large shrimp, peeled and deveined
1 tablespoon olive oil
1 teaspoon chili powder
1/2 teaspoon cumin
1/4 teaspoon garlic powder
1/4 teaspoon onion powder
Juice of 1 lime plus extra for lime wedges
Salt and pepper, to taste
8 small corn tortillas (we doubled stacked them, using 16)
Optional toppings: sliced avocado, cilantro, crumbled cojita cheese, diced green chilies, shredded cabbage, salsa
Instructions
In a large bowl, mix together the olive oil, chili powder, cumin, garlic powder, onion powder, lime juice, salt, and pepper. Add the shrimp and toss to coat. Let the shrimp marinate for 10-15 minutes.
Heat a large skillet over medium-high heat. Add the shrimp and cook for 2-3 minutes on each side, until they are pink and cooked through.
Warm the tortillas in the microwave or on a skillet.
Assemble the tacos by adding a few shrimp to each tortilla. Top with sliced avocado, chopped cilantro, crumbled cojito cheese or queso fresco cheese, diced tomatoes, and hot sauce, if desired.
Serve immediately and enjoy your delicious shrimp tacos with chili and lime!
Nutrition Information
Yield

4
Serving Size

2 tacos
Amount Per Serving
Calories

401
Total Fat

17g
Saturated Fat

4g
Trans Fat

0g
Unsaturated Fat

12g
Cholesterol

246mg
Sodium

1306mg
Carbohydrates

34g
Fiber

8g
Sugar

3g
Protein

32g
Nutrition data was provided and calculated by Nutritionix, and should only be used as a general guideline. This information is provided as a courtesy and there is no guarantee that the information will be completely accurate.
© 2023 Sparkles of Yum. All rights reserved. All images & content are copyright protected. Please do not use my images without prior permission. If you want to share this recipe, please provide a link back to this post for the original recipe.
Sparkles of Yum is a participant in the Amazon Services LLC Associates Program, an affiliate advertising program designed to provide a means for sites to earn advertising fees by advertising and linking to Amazon.com.