Today, we're diving into the world of Hot Honey and Garlic Pork Tenderloin – a mesmerizing fusion of sweet and spicy flavors that will leave you craving for more.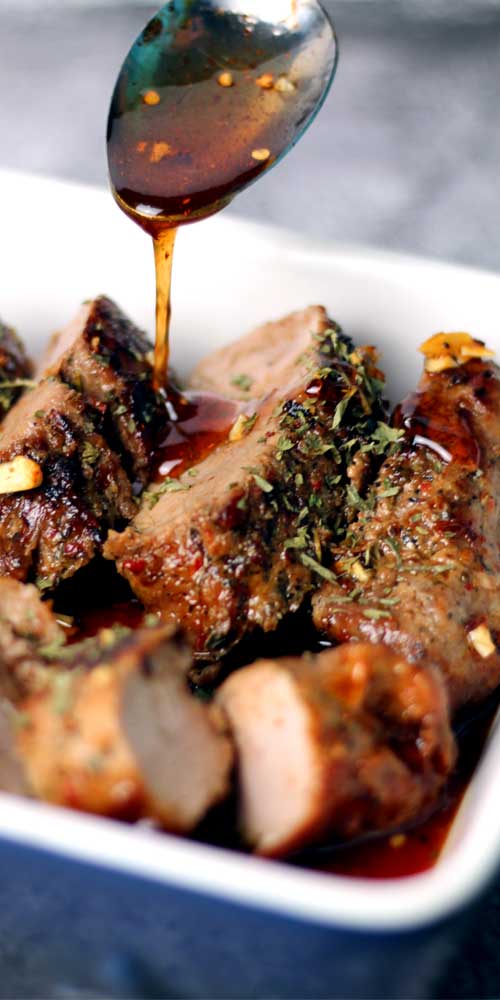 Prepare to embark on a culinary journey that transcends the ordinary – the Hot Honey and Garlic Pork Tenderloin extravaganza is nothing short of a masterpiece that will delight your senses and leave your family wanting more. Imagine the joy of slicing through succulent pork and revealing a symphony of flavors that dance on your palate.
Why Hot Honey and Garlic?
The combination of hot honey and garlic creates a magical alchemy, where the sweet and spicy notes playfully mingle, creating an explosion of yum that is nothing short of extraordinary. Each bite is a celebration of culinary craftsmanship, a burst of savory richness and a gentle hum of heat, leaving a trail of happiness in its wake.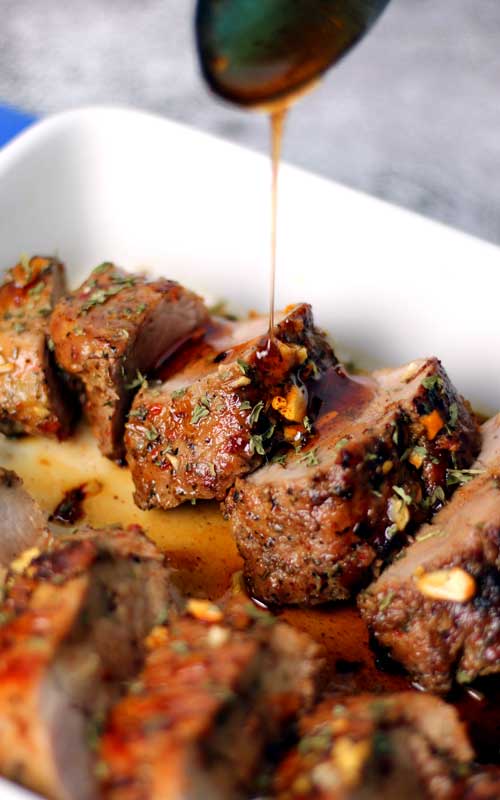 As the aroma of this culinary masterpiece wafts through your kitchen, it sets the stage for a family gathering that promises smiles and contented sighs. Picture the faces around your table lighting up as they take the first savory bite, savoring the perfect balance of sweet and heat, the tenderness of the pork, and the depth of garlic flavor.
The joy doesn't stop with the first bite – it lingers, creating a moment of shared happiness. It's not just a meal; it's a culinary adventure that transforms a simple dinner into a cherished memory. The Hot Honey and Garlic Pork Tenderloin is more than a dish; it's an experience that brings people together, creating a tapestry of smiles and satisfaction around your dining table.
So, gather your loved ones, set the table with care, and let the Hot Honey and Garlic Pork Tenderloin take center stage. The delight it brings is not just in the flavors but in the shared moments of joy, laughter, and the simple pleasure of savoring something truly extraordinary. Your family will thank you, not just for a delicious meal, but for the memories you've created around a table filled with love and culinary magic. Here's to happy hearts and full bellies!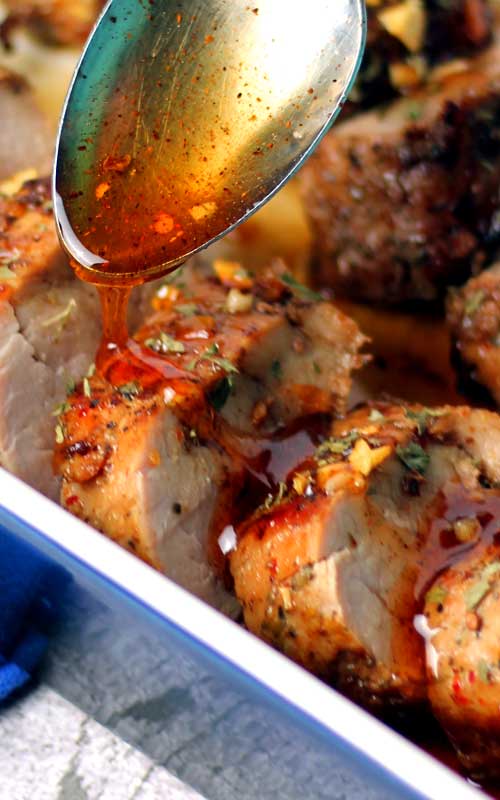 What can you serve with this Hot Honey and Garlic Pork Tenderloin?
Serving Suggestions for Sides:
Mashed Sweet Potatoes: The natural sweetness of mashed sweet potatoes complements the spiciness of the hot honey and balances the dish.
Roasted Brussels Sprouts: The caramelized edges of roasted Brussels sprouts add a delightful crunch and a touch of bitterness that contrasts with the sweetness of the pork.
Garlic Butter Green Beans: Lightly sautéed green beans in garlic butter provide a crisp and flavorful side that harmonizes well with the savory and garlicky notes of the pork.
Wild Rice Pilaf: The nutty flavor and chewy texture of wild rice make it an excellent pairing, adding depth to the meal.
Honey Glazed Carrots: Glazed carrots with a hint of honey echo the sweetness in the pork, creating a cohesive and well-rounded flavor profile.
Quinoa Salad: A refreshing quinoa salad with diced vegetables and a zesty vinaigrette adds a light and nutritious element to the plate.
Wine Pairing Recommendations:
Riesling: A slightly sweet Riesling complements the heat of the hot honey while balancing the overall sweetness of the dish.
Pinot Noir: The fruity and earthy notes of a Pinot Noir pair well with the pork, adding a layer of complexity without overpowering the flavors.
Chardonnay: A buttery Chardonnay can complement the richness of the pork and enhance the garlic and honey undertones.
Syrah/Shiraz: For those who enjoy red wines, a Syrah or Shiraz with its bold and peppery characteristics can stand up to the robust flavors of the dish.
Gewürztraminer: This aromatic white wine with floral and spicy notes can accentuate the sweetness of the honey and the aromatic aspects of the garlic.
Remember, personal preferences play a significant role in wine pairings, so feel free to explore and find the combination that best suits your taste. Whether you prefer red or white, the key is to enhance the dining experience and elevate the flavors of your Hot Honey and Garlic Pork Tenderloin. Cheers to a delectable meal!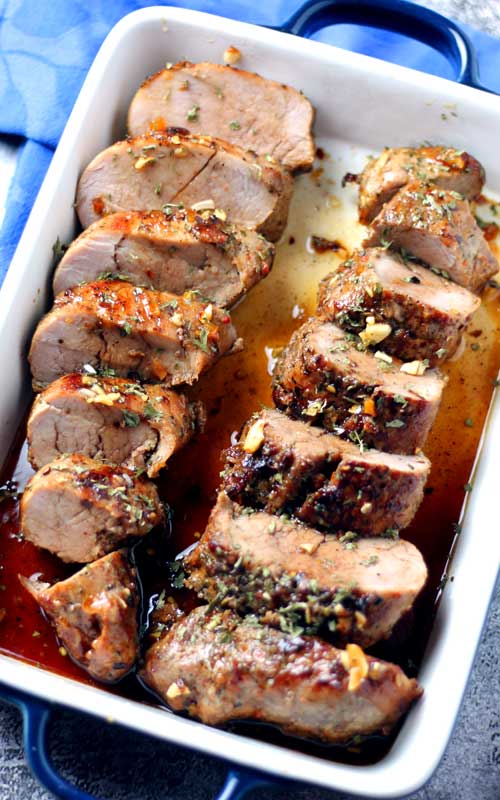 Notes and Tips:
Quality Matters: Choose a high-quality pork tenderloin for the best results. Look for meat that is fresh, well-marbled, and free from excessive fat.
Marinating Time: While a minimum of 30 minutes is sufficient for marinating, allowing the pork to marinate overnight enhances the flavors and ensures a more tender result.
Temperature Accuracy: Invest in a meat thermometer to accurately gauge the internal temperature of the pork. Cooking it to 145°F (63°C) ensures both safety and optimal juiciness.
Searing Technique: Achieve a beautiful crust by patting the pork dry before searing. This helps in caramelizing the surface and locking in the flavors.
Resting Period: The resting time after cooking is crucial. It allows the juices to redistribute, preventing them from escaping when you slice the meat, keeping it moist and flavorful.
Basting Magic: Basting the pork with the marinade during cooking not only enhances the flavor but also adds a glossy finish to the exterior.
Garnish Creatively: Elevate the visual appeal of your dish by garnishing with fresh herbs like thyme, rosemary, or parsley. This adds a burst of color and freshness.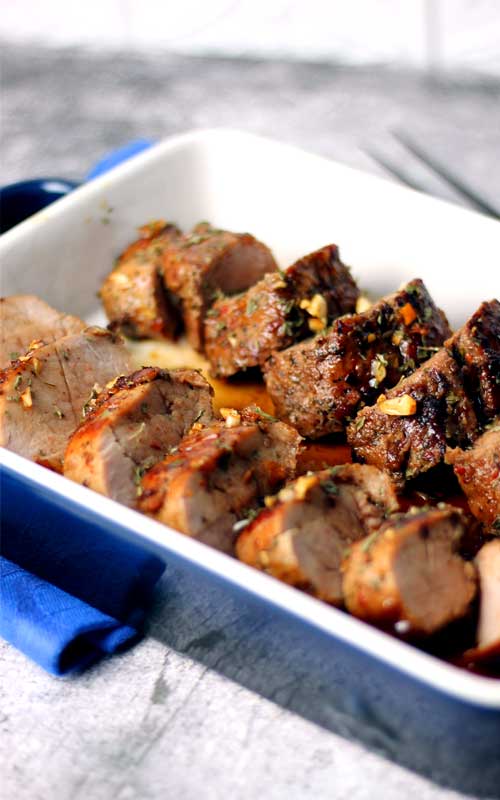 Perfect Storing for Hot Honey and Garlic Pork Tenderloin:
Refrigeration: Store any leftover pork in an airtight container in the refrigerator. Consume within 3-4 days for optimal freshness.
Freezing: If you have a surplus, consider freezing the cooked pork. Wrap it tightly in plastic wrap or aluminum foil and place it in a freezer bag. Label with the date and use within 2-3 months.
Reheating: To retain moisture, reheat the pork gently in the oven at a low temperature. Cover it with foil to prevent drying.
Repurposing Leftovers: Transform leftovers into sandwiches, wraps, or salads for quick and delicious meals. The flavors often intensify, making the dish even more enjoyable the next day.
By keeping these notes, tips, and storing recommendations in mind, you ensure that your Hot Honey and Garlic Pork Tenderloin experience remains delightful from preparation to the last delectable bite. Enjoy the culinary journey!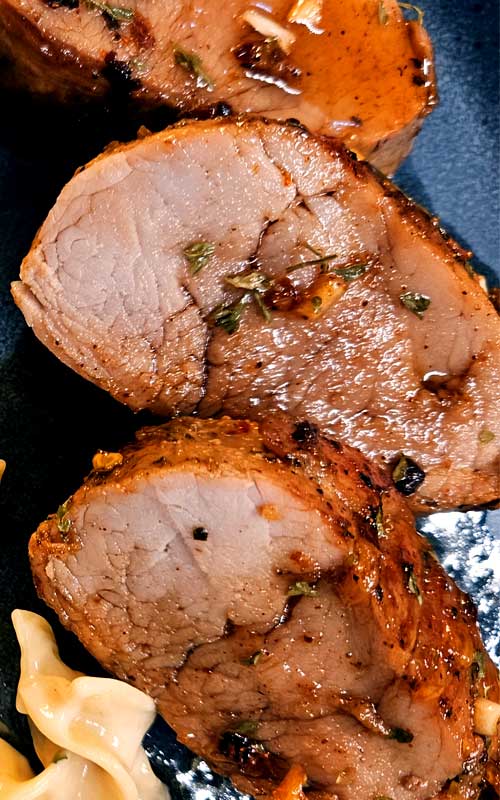 If you LOVE this Hot Honey and Garlic Pork Tenderloin recipe, try this Trisha Yearwood's Crock Pot Pork Tenderloin OR this Instant Pot Pork Loin with a Sweet Balsamic Mushroom Sauce!
Don't forget to follow along, so you don't miss out! Did you know you can get a notification on your phone now as soon something is published? People are loving this so much, more than the emails clogging up your inbox. If you happened to not accept the notification box earlier…now is a good time to click the small bell in the corner and get signed up!
FOLLOW Sparkles of Yum ON FACEBOOK | PINTEREST | INSTAGRAM | TWITTER FOR ALL OF THE LATEST CONTENT, RECIPES AND UPDATES.
Feel free to join the Sparkles of Yum Recipe Swap Facebook group! A fun place to find and share all of your favorite recipes.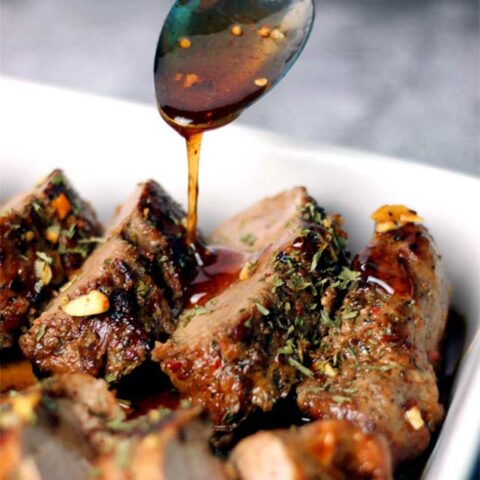 Hot Honey and Garlic Pork Tenderloin
Yield: 4 servings

Prep Time: 10 minutes

Cook Time: 35 minutes

Additional Time: 40 minutes

Total Time: 1 hour 25 minutes

Today, we're diving into the world of Hot Honey and Garlic Pork Tenderloin – a mesmerizing fusion of sweet and spicy flavors that will leave you craving for more.
Ingredients
Pork Tenderloin (1.5 to 2 pounds)
6 cloves garlic, minced
2 tablespoons soy sauce
1 tablespoon olive oil
1 teaspoon smoked paprika
1 teaspoon dried thyme
Salt and pepper to taste
For the Hot Honey:
1/2 cup honey
1/4 Hot Sauce (I use Crystals Louisiana Hot Sauce)
1 Teaspoon Chili Powder
1/4 Teaspoon Chili Flakes
Instructions
Instructions for Hot Honey:
Mix all ingredients well and set aside.
Marinate the Pork:
Begin by patting the pork tenderloin dry with paper towels.
In a bowl, 2 tablespoons of the hot honey, minced garlic, soy sauce, olive oil, smoked paprika, dried thyme, salt, and pepper to create a mouthwatering marinade.
Place the pork in a zip-top bag or shallow dish and pour the marinade over it, ensuring the meat is fully coated.
Seal the bag or cover the dish and let it marinate in the refrigerator for at least 30 minutes (overnight for an even richer flavor).
Preheat and Sear:
Preheat your oven to 375°F (190°C).
Heat a cast-iron skillet or oven-safe pan over medium-high heat.
Remove the pork from the marinade, allowing excess to drip off, and sear it on all sides until a golden-brown crust forms.
Roast to Perfection:
Transfer the skillet to the preheated oven and roast the pork for about 20-25 minutes or until the internal temperature reaches 145°F (63°C).
Baste the pork with the remaining marinade halfway through the cooking process for an extra burst of flavor.
Rest and Slice:
Once cooked, allow the pork to rest for 5-10 minutes before slicing. This ensures the juices redistribute, keeping the meat moist and succulent.
Arrange the slices on a serving platter, drizzle any remaining hot honey over the top, and garnish with fresh herbs for a touch of freshness.
Nutrition Information
Yield 4 Serving Size 4 oz. (Precooked)
Amount Per Serving Calories 508Total Fat 13gSaturated Fat 4gTrans Fat 0gUnsaturated Fat 8gCholesterol 166mgSodium 664mgCarbohydrates 38gFiber 1gSugar 35gProtein 60g

Nutrition data was provided and calculated by Nutritionix, and should only be used as a general guideline. This information is provided as a courtesy and there is no guarantee that the information will be completely accurate.

© 2023 Sparkles of Yum. All rights reserved. All images & content are copyright protected. Please do not use my images without prior permission. If you want to share this recipe, please provide a link back to this post for the original recipe.
Sparkles of Yum is a participant in the Amazon Services LLC Associates Program, an affiliate advertising program designed to provide a means for sites to earn advertising fees by advertising and linking to Amazon.com.