When shrimp, crab, clams, and mushrooms come together in a luscious creamy, cheesy garlic sauce over fresh pasta, you get this delectable Seafood Alfredo Fettuccine!
Topped with buttery toasted bread crumbs and fresh parsley this Seafood Alfredo Fettuccine is a restaurant quality dish you can make in your own kitchen!
Maybe you've never heard of Seafood Alfredo Fettuccine, or Tutto Mare (which means "All Sea"). But it's pretty famous in restaurants all over town here in St. Louis, especially in our version of Little Italy, called The Hill.
It's often one of my go to orders, and I love every version I've ever tried. I actually thought this was something that was common in Italian restaurants around the country, but when I decided I wanted to make my own at home, I discovered it's not normally called Tutto Mare in other parts of the country.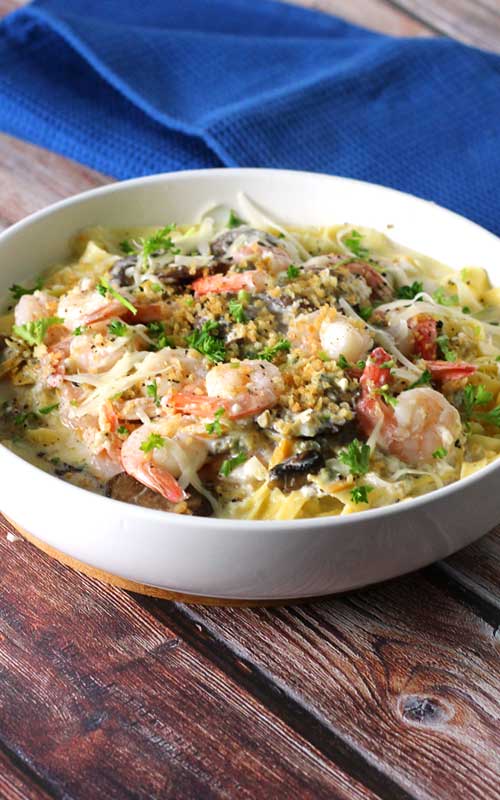 So maybe you're more familiar with Seafood Alfredo from Olive Garden, which when you make it at home you can have as much seafood as you'd like to have, because sometimes those larger places can be a little skimpy on the actual seafood, because they know they can win you over with the all you can eat breadsticks.
Not trying to talk bad about them. We go there on occasion just out of convenience. Because sometimes they have good deals and it's not far. But, we just prefer tracking down a good local restaurant that makes it their life mission to serve good food and has great service. So, if you ever find yourself traveling through St. Louis, be sure to check out some of the awesome Italian cuisine on "The Hill".
We have so many great Italian restaurants around here. They're so good they are normally ridiculously busy, especially on the weekends. There's something so satisfying about fresh homemade pasta and authentic Italian food on "The Hill" or New York's "Little Italy".
They have secret family recipes that have been passed down through generations and take all day to cook. However, this Tutto Mare comes together really quickly.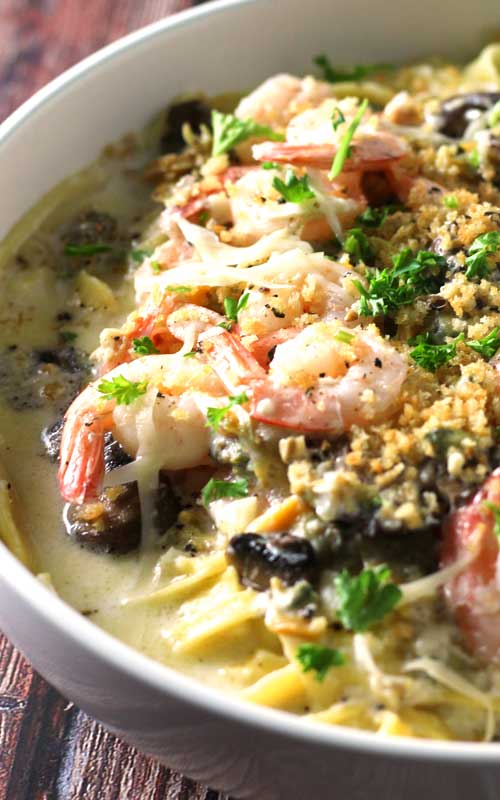 We decided to try a homemade pasta with this, not saying you have to, but if you ever find you have the extra time it's really not that hard to do. With a stand mixer and the pasta attachment we got for Christmas it went pretty smooth with instructions from the award-winning chef and known master of pasta, Scott Conant.
His video was super helpful and it was something I've been wanting to try for a long time. So I was really excited to make one of my favorite dishes from scratch. But don't worry you can use your pasta of choice, I like a slightly thicker noodle with this like Fettuccine, but use what you love.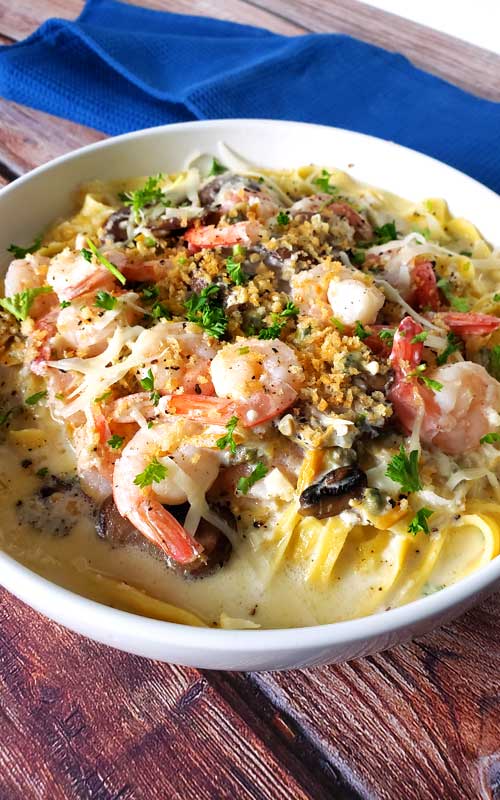 What can you serve with this Seafood Alfredo Fettuccine – Italian Tutto Mare?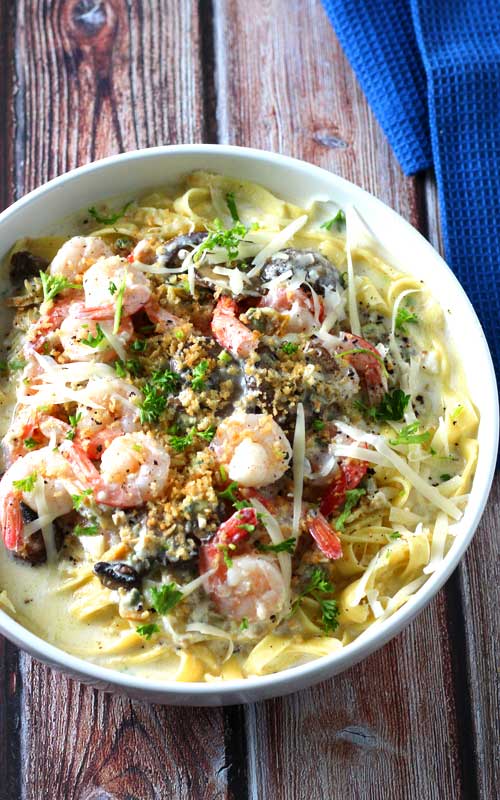 Some tips:
Any mix of seafood will work here, other great options would be scallops, lobster, calamari or even salmon.
Salt the pasta water really well, as they say like the ocean.
Try to time the pasta to be al dente (firm to the bite) when everything else is done. So it doesn't dry out, leave a little pasta water in the bottom of the pot and cover. When the sauce is ready finish off the pasta in the sauce.
Pasta bowls work great for this because you can have more extra creamy sauce.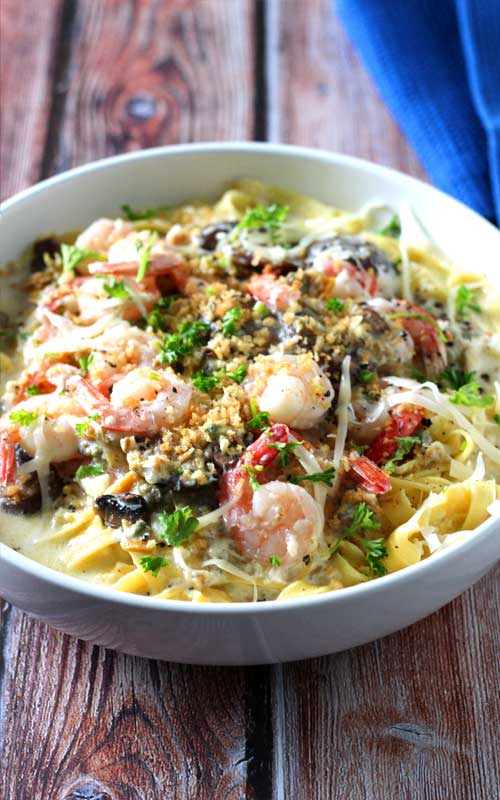 Don't forget to follow along, so you don't miss out! Did you know you can get a notification on your phone now as soon something is published? People are loving this so much, more than the emails clogging up your inbox. If you happened to not accept the notification box earlier…now is a good time to click the small bell in the corner and get signed up!
FOLLOW Sparkles of Yum ON FACEBOOK | PINTEREST | INSTAGRAM | TWITTER FOR ALL OF THE LATEST CONTENT, RECIPES AND UPDATES.
Feel free to join the Sparkles of Yum Recipe Swap Facebook group! A fun place to find and share all of your favorite recipes.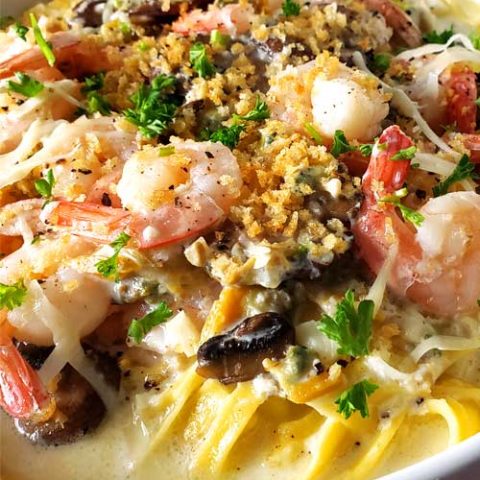 Seafood Alfredo Fettuccine – Italian Tutto Mare
Yield: About 4 servings

Prep Time: 15 minutes

Cook Time: 25 minutes

Total Time: 40 minutes

When shrimp, crab, clams, and mushrooms come together in a luscious creamy, cheesy garlic sauce over fresh pasta, you get this delectable Seafood Alfredo Fettuccine!
Ingredients
12 ounces dry fettuccine pasta
2 tablespoons olive oil
8 oz Mushrooms, (we used baby bella)
2 fat garlic cloves, smashed and minced
3 cups half-and-half
1 1/2 teaspoons butter
1 lb shrimp, peeled and deveined (we used 26/30 shrimp per pound)
10 oz can of whole clams, drained
4 oz can crab meat, drained
salt to taste
4-5 grinds black pepper
1/2 teaspoon thyme
1/2 cup grated Parmesan, plus a little for garnish
1/2 cup Provel Cheese or Provolone cheese
1/8 teaspoon red pepper flakes (optional)
Garnish:
1/4 cup Toasted bread crumbs or Panko (toasted in 2 tablespoons butter for a couple minutes, until lightly brown)
2 tablespoons fresh parsley
Ingredients to make fresh pasta:
3 cups "OO" flour, plus more as needed
1 1/2 teaspoons kosher salt
11 large egg yolks
3 large eggs
2 tablespoons extra-virgin olive oil
Instructions
Cook pasta according to package instructions, drain reserving a little water and cover.
In large skillet, heat two tablespoons olive oil to saute the mushrooms, when those are almost ready add the garlic, being careful not to burn. Remove the mushrooms and set aside.
In the same skillet bring half-and-half to a boil. Cook over medium-high heat, stirring frequently, until reduced by about one-fourth. Stir in shrimp, clams, crab meat, butter, black pepper and red pepper flakes.
Cook, stirring until shrimp is done about 4 minutes. Add mushrooms back in and stir in Parmesan and Provel; remove from heat. Toss with Fettuccine, add toasted bread crumbs and fresh parsley as garnish and serve immediately.

Instructions for fresh pasta:
In a stand mixer fitted with the dough hook, combine the flour and salt on low speed. Add the egg yolks, eggs, and olive oil and continue to mix on low speed. Once the flour is incorporated, increase the speed to medium- low and mix/knead the dough for 5 minutes.
Lightly flour your works surface. Dump the dough onto the surface and continue to knead for a few more minutes. At this point, the dough may look a little dry, which is fine. Wrap the dough well in plastic wrap and let it rest in the refrigerator for at least 1 hour before rolling it. This rest allows the flour to be fully absorbed by the wet ingredients for a smooth, tender dough. (You can make the dough up to 1 day ahead of rolling it; keep it refrigerated.)
Fresh pasta cooks faster (about 1-3 minutes) than dried. So be sure to keep an eye on it.
Notes
Estimated prep and cook times do not account for making your own pasta.
Nutrition Information
Yield 4 Serving Size 1
Amount Per Serving Calories 1852Total Fat 74gSaturated Fat 32gTrans Fat 1gUnsaturated Fat 37gCholesterol 1125mgSodium 3911mgCarbohydrates 175gFiber 8gSugar 13gProtein 115g

Nutrition data was provided and calculated by Nutritionix, and should only be used as a general guideline. This information is provided as a courtesy and there is no guarantee that the information will be completely accurate.

© 2023 Sparkles of Yum. All rights reserved. All images & content are copyright protected. Please do not use my images without prior permission. If you want to share this recipe, please provide a link back to this post for the original recipe.
Sparkles of Yum is a participant in the Amazon Services LLC Associates Program, an affiliate advertising program designed to provide a means for sites to earn advertising fees by advertising and linking to Amazon.com.