This Cajun Apricot Glazed Chicken is so juicy and full of some jazzy Cajun flavor. It's also a little bit sassy, a little bit saucy, a little bit spicy. You get what I'm say'n.
It's like you got these chicken thighs dressed up for a night out on Bourbon Street, and baby they are ready to party. They got that jazzy kick of flavor that puts you in mood for fun, you might need a back up bottle of wine and que up some kind of Louisiana song list for the evening. Just a quick search I found Festival New Orleans – Buckwheat Zydeco – Hot Tamale Baby.
They know how to throw a party. It doesn't have to be Mardi Gras to get in the spirit of New Orleans. There's even people throwing Mardi Gras themed bachelorette parties.
Why not turn an average day into a celebration just because that's what good food is for. We gather around the table to lift each other spirits up and laugh and have good times together.
Well hopefully that's what families are doing. When we take care of each other, we learn from each other. And this teaches us how to care for others and to not be afraid of living and loving.
Some families get too busy with life, making it hard to slow down a minute and enjoy each other's company. And over time they just grow apart or not notice their teenagers aren't communicating normally with others. They're so engulfed in playing games they don't realize they're not learning actual coping skills and social cues.
It's not always the easy thing to do, but sometimes it's necessary to set those boundaries and limits before things get out of control.
Why go there and even bring these sorts of things up on a food blog?
Because, dinner time is a good time to bring everyone together. To check in with how everyone is doing, and not let those teens isolate themselves.
Sometimes you just have to be a parent and not just a friend. Because kids need guidance even though they like to act like they don't. Sharing some Hot Tamale Baby, from Buckwheat Zydeco might get a conversation started maybe about Jazzy Cajun music and probably get a laugh out of them, but that's not all.
Maybe Hip Hop wouldn't exist if it wasn't for Jazz, maybe that's who inspired them. Not really sure, but maybe that's a memory or connection that grows, who knows.
It's like chicken. You can cook it a million different ways, but shared with the ones you love is the best way. And this Apricot Glaze is one of my favorites!
Preparing this Cajun Apricot Glazed Chicken is so easy, you can have it in the oven in 5 minutes, gather some simple ingredients, a jar of Apricot preserves, some Cajun seasoning, some Crystals Hot Sauce if you like a little spicy, Worcestershire sauce, honey and Dijon mustard and a tiny bit of garlic powder. Non-stick spray and a baking dish is all you need.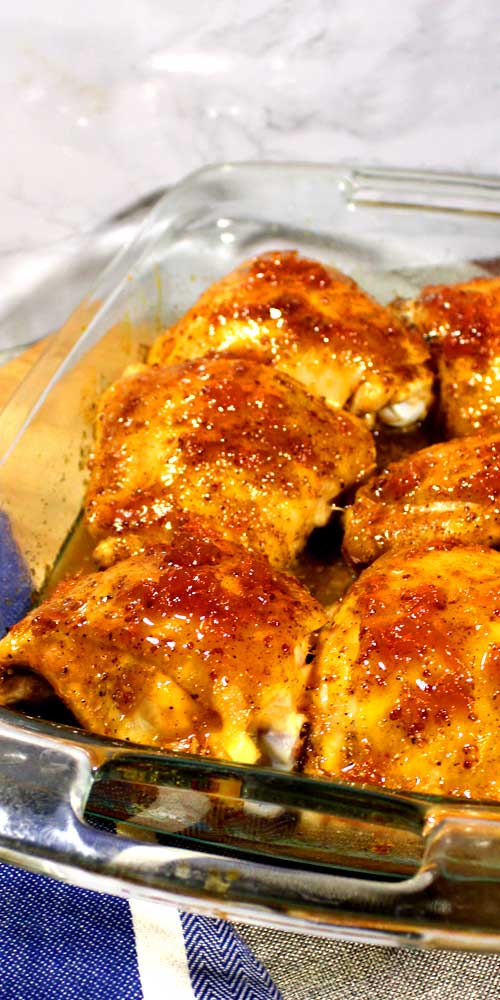 What can you serve with this Cajun Apricot Glazed Chicken?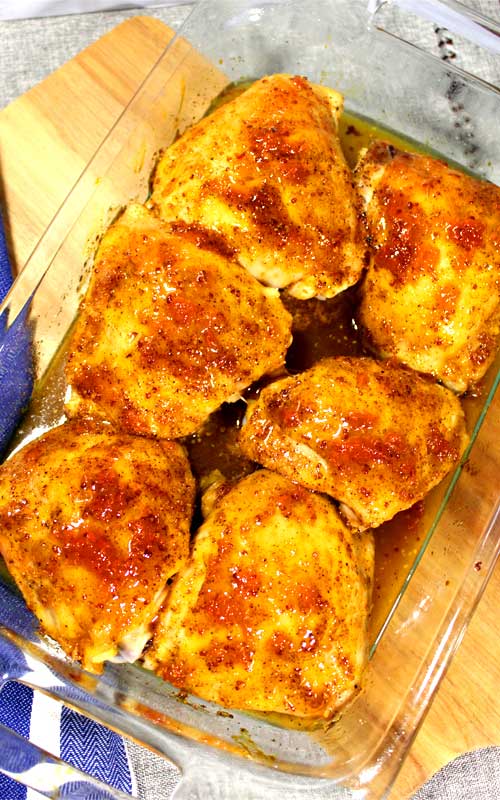 Some tips:
I used thighs for this because that's my favorite I like the dark meat and the bone in, skin on, stays good and juicy, but of course if your favorite is boneless or the breast, feel free to use what you love.
I highly recommend using a meat thermometer so you never have to worry about under cooking or over cooking, it tells you when it's perfectly done saving lots of stress and worry.
For a crispy skin you can sear skin side down in a skillet with a little oil, first for a few minutes before putting in the oven.
How to Handle Chicken Safely food safety steps of USDA.
Don't forget to follow along, so you don't miss out! Did you know you can get a notification on your phone now as soon something is published? People are loving this so much, more than the emails clogging up your inbox. If you happened to not accept the notification box earlier…now is a good time to click the small bell in the corner and get signed up!
FOLLOW Sparkles of Yum ON FACEBOOK | PINTEREST | INSTAGRAM | TWITTER FOR ALL OF THE LATEST CONTENT, RECIPES AND UPDATES.
Feel free to join the Sparkles of Yum Recipe Swap Facebook group! A fun place to find and share all of your favorite recipes.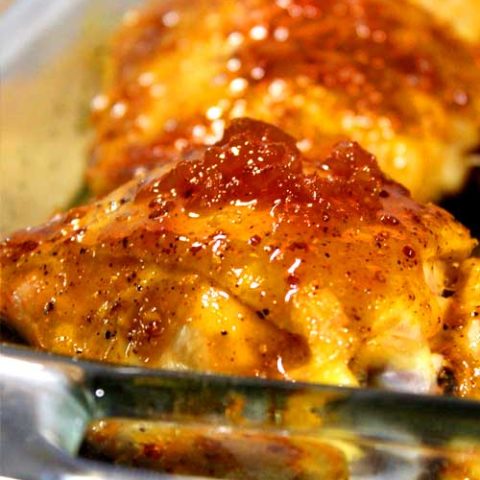 Cajun Apricot Glazed Chicken
Yield: 6 pieces

Prep Time: 5 minutes

Cook Time: 50 minutes

Total Time: 55 minutes

This Cajun Apricot Glazed Chicken is so juicy and full of some jazzy Cajun flavor. It's also a little bit sassy, a little bit saucy, a little bit spicy. You get what I'm say'n.
Ingredients
6 Chicken thighs (I used bone-in)
salt and pepper
1/2 Cup Apricot preserves
1 Tablespoon Cajun seasoning (I used Tony Chachere's Creole Seasoning)
2 Teaspoons Crystals Hot Sauce (optional for desired heat)
1/2 Teaspoon Worcestershire sauce
1/8 Teaspoon granulated garlic or garlic powder
1 Tablespoon Honey
1 Tablespoon Dijon mustard
Instructions
Preheat oven to 375F.
Spray a baking dish with non-stick spray
In a small bowl or measuring cup, combine the preserves, Cajun seasoning, Crystals hot sauce, Worcestershire sauce, garlic, honey and Dijon mustard. Set aside.
Pat chicken dry with paper towels and season chicken thighs with a little salt and pepper.
Place skin side up in shallow baking dish and roast chicken pieces for 35 minutes.
Brush thighs generously with glaze, and roast for an additional 15-20 minutes until internal temperature of 165°F
Nutrition Information
Yield 6 Serving Size 1 thigh
Amount Per Serving Calories 299Total Fat 18gSaturated Fat 5gTrans Fat 0gUnsaturated Fat 13gCholesterol 166mgSodium 932mgCarbohydrates 5gFiber 0gSugar 4gProtein 31g

Nutrition data was provided and calculated by Nutritionix, and should only be used as a general guideline. This information is provided as a courtesy and there is no guarantee that the information will be completely accurate.

© 2023 Sparkles of Yum. All rights reserved. All images & content are copyright protected. Please do not use my images without prior permission. If you want to share this recipe, please provide a link back to this post for the original recipe.
Sparkles of Yum is a participant in the Amazon Services LLC Associates Program, an affiliate advertising program designed to provide a means for sites to earn advertising fees by advertising and linking to Amazon.com.