Bacon Gravy Smothered Pork Chops are just the comfort food we needed right about now! Take an everyday pork chop dinner to a whole other level of yum!
With a garlicky bacon gravy, a little tang from sun dried tomatoes, and fresh thyme. These Bacon Gravy Smothered Pork Chops will make sure you never look at boring chops the same way again.
This recipe is beyond outstanding. Let me tell you some reasons why I love these pork chops:
For one there is nothing better than a bone in pork chop. Did you know bone in pork chops have a lot more flavor and are naturally juicy? Is this a scientifically proven fact? Probably not, but I have always thought that myself.
So I did a little search to see if any professionals felt the same way. And low and behold, my theory has been backed up!
I was taught to trust my gut anyway, so I would have argued that small fact; but according to Chef and James Beard Award-winning author of "Salt, Fat, Acid, Heat," Samin Nosrat explains how make tender pork chops every time. And according to her in this article, bone in is better and of course be sure to look for some nice fat marbling.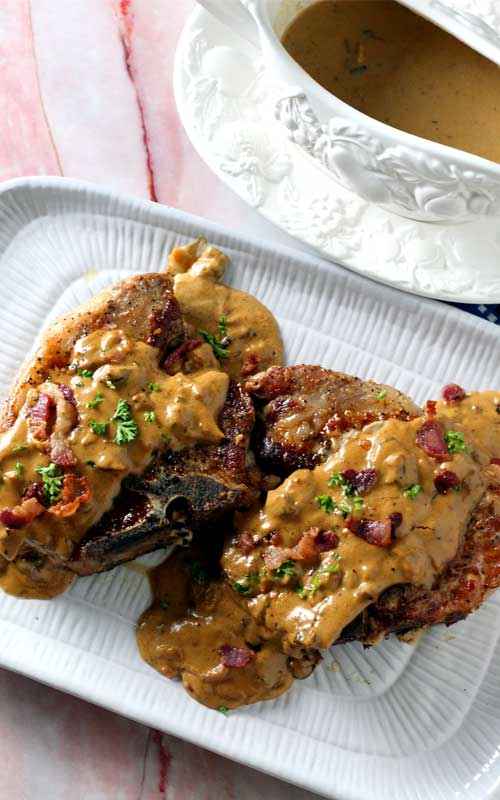 If you have access to a good butcher shop, you'll probably find the prettiest pork chops there. But even if you've got pork chops buried in the freezer for months with a blister of freezer burn, you should make this recipe.
A secret tip to bring some life back in your pork chops that may have been in the freezer too long: just marinade in some good old cola soda for at least 2-4 hours. The acid in the soda will fix them right up. Pretty sure it's happened to everyone at some point and time in life, so "waste not want not", is a good rule to follow.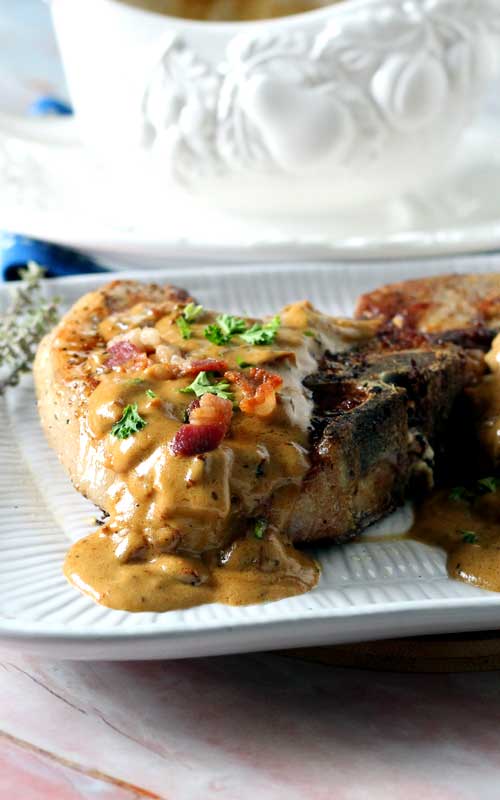 No heavy cream? No problem! How to make your own heavy cream substitute:
You will need 3/4 cup (180ml) of whole milk and 1/3 cup (75g) butter.
If your butter is cold, cut it into small pieces.
Place butter into a small microwave safe container, and microwave on High in 10 second increments, until it is fully melted.
Pour your melted butter into the milk.
Stir well to combine.
You now have a heavy cream substitute that you can use with pretty much any recipe. Just remember though, this will not whip up like heavy whipping cream. But for the purpose of making something like this recipe, it will work perfectly!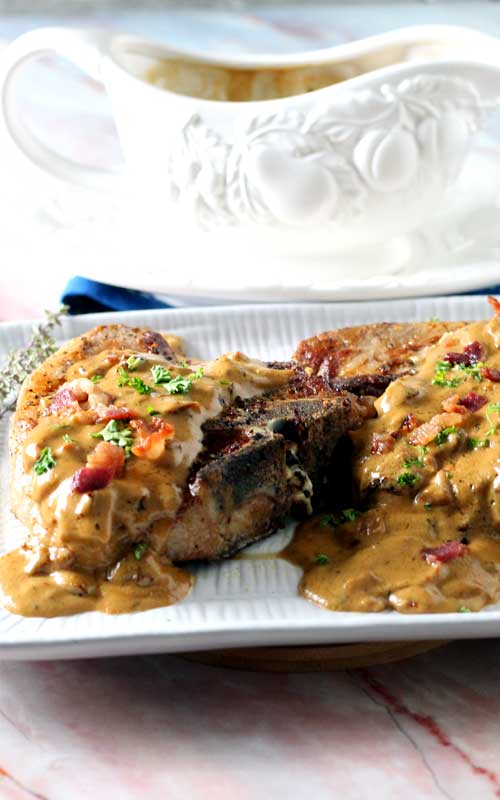 What can you serve with this Bacon Gravy Smothered Pork Chops?
Some tips:
If your using Montreal Seasoning, no need to add extra salt and pepper unless desired.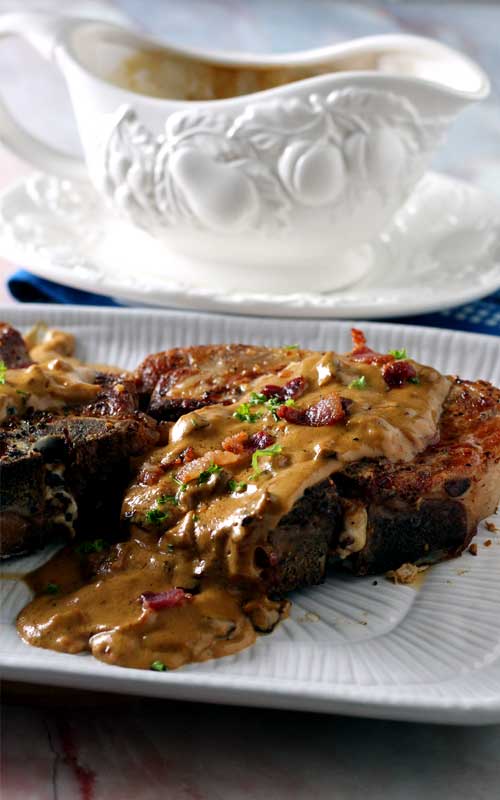 Don't forget to follow along, so you don't miss out! Did you know you can get a notification on your phone now as soon something is published? People are loving this so much, more than the emails clogging up your inbox. If you happened to not accept the notification box earlier…now is a good time to click the small bell in the corner and get signed up!
FOLLOW Sparkles of Yum ON FACEBOOK | PINTEREST | INSTAGRAM | TWITTER FOR ALL OF THE LATEST CONTENT, RECIPES AND UPDATES.
Feel free to join the Sparkles of Yum Recipe Swap Facebook group! A fun place to find and share all of your favorite recipes.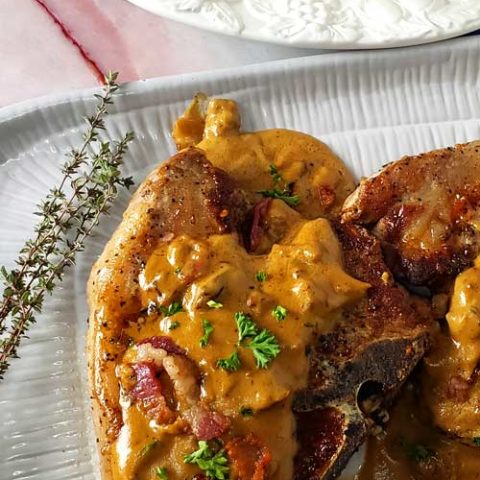 Bacon Gravy Smothered Pork Chops
Yield: 3-4 Chops

Prep Time: 15 minutes

Cook Time: 30 minutes

Total Time: 45 minutes

Bacon Gravy Smothered Pork Chops are just the comfort food we needed right about now! Take an everyday pork chop dinner to a whole other level of yum!
Ingredients
6 strips bacon, chopped to ½-inch pieces
2 lbs Center cut Pork Loin Chops or Porter House Loin Chops (I used 1" thick bone-in 3 or 4 pork chops, depending on size)
1 Teaspoon Montreal Seasoning
4 garlic cloves, minced
6 sprigs of fresh thyme, leaves stripped (or 1 tsp dried thyme)
3 Tablespoons butter
2 Tablespoons sundried tomatoes, chopped, drained
3 Tablespoons all purpose flour
1 cup chicken broth
1/2 cup heavy cream
1 tablespoon fresh chopped parsley for garnish
Instructions
In a large skillet, cook bacon over medium heat until fat is rendered and bacon is cooked. Remove bacon to paper towel lined plate. Reserve bacon drippings in the skillet.
Season pork chops with Montreal Seasoning. Increase heat to medium high and sear pork chops for 5 minutes on each side. Remove pork chops to a plate, cover with foil and set aside. To skillet, add garlic, butter and sundried tomatoes. Reduce heat to medium and cook, stirring frequently until garlic is tender. Sprinkle with thyme. Sprinkle 3 tablespoons flour, and stir the flour in on medium heat until absorbed.
Add chicken broth and raise the heat to medium high to bring mixture to a boil, constantly stirring letting the liquid cook down a few minutes to thicken. Reduce heat to medium Add heavy cream and stir well, gently simmer for 1-2 minutes until mixture thickens slightly. Reduce heat to low, taste to adjust seasoning, If you need to add more salt and pepper.
Return bacon add pork chops to skillet. Simmer on low heat, covered, until the pork chops are cooked through to 145F on a digital instant read thermometer. Sprinkle with chopped parsley for garnish.
Nutrition Information
Yield 4 Serving Size 1
Amount Per Serving Calories 899Total Fat 55gSaturated Fat 24gTrans Fat 1gUnsaturated Fat 24gCholesterol 298mgSodium 751mgCarbohydrates 10gFiber 1gSugar 2gProtein 77g

Nutrition data was provided and calculated by Nutritionix, and should only be used as a general guideline. This information is provided as a courtesy and there is no guarantee that the information will be completely accurate.

© 2023 Sparkles of Yum. All rights reserved. All images & content are copyright protected. Please do not use my images without prior permission. If you want to share this recipe, please provide a link back to this post for the original recipe.
Sparkles of Yum is a participant in the Amazon Services LLC Associates Program, an affiliate advertising program designed to provide a means for sites to earn advertising fees by advertising and linking to Amazon.com.