These Salmon Patties with Wasabi Aioli rock! They taste incredible. You can make them in less than 20 minutes. And they're healthy!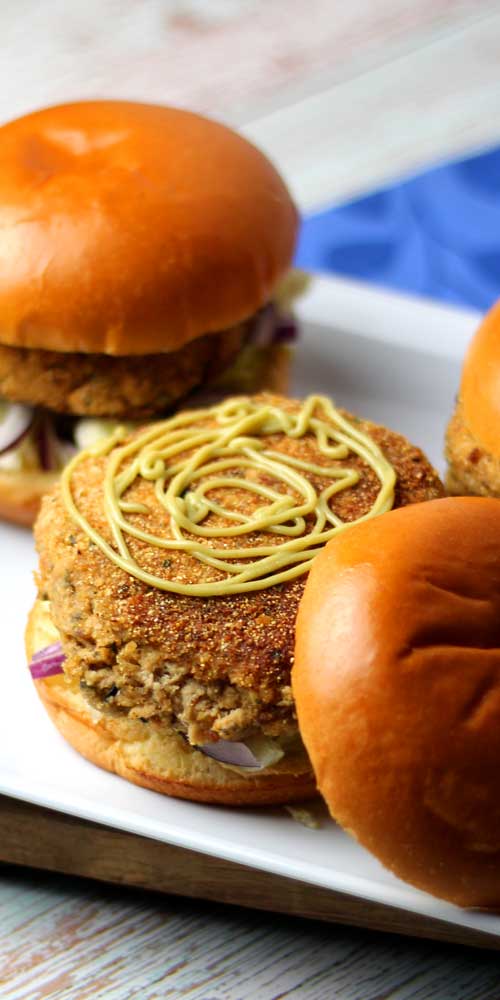 These salmon patties are one of those meals you can throw together in no time. Using only pantry staples and a little time, you can have a meal on the table quickly. To make it better, it's healthier and less expensive than stopping in the drive-thru or ordering in. Toss a quick side salad or one of those pasta veggie mix bags and you've got dinner in no time!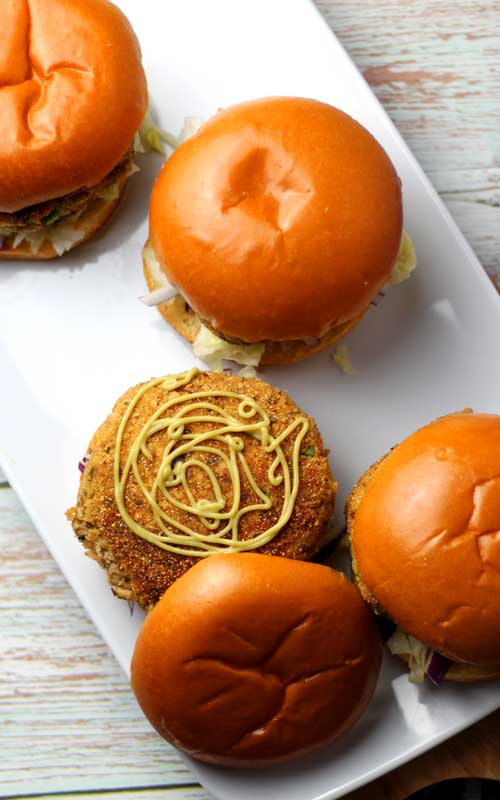 Canned salmon is one of those things that not a lot of people keep on hand…then there's me. I LOVE it! Well, I love salmon in general. The canned stuff helps out when I don't have a meal plan, or the time to thaw anything out. You may be surprised to know that canned salmon costs about the same as tuna! Seriously. Add some to your pantry, and you can mix up those emergency meals anytime.
All of the step-by-step pictures may not be the greatest, because these babies are not so easy to photograph. But believe me when I say, if you love salmon…you WILL fall in love with them.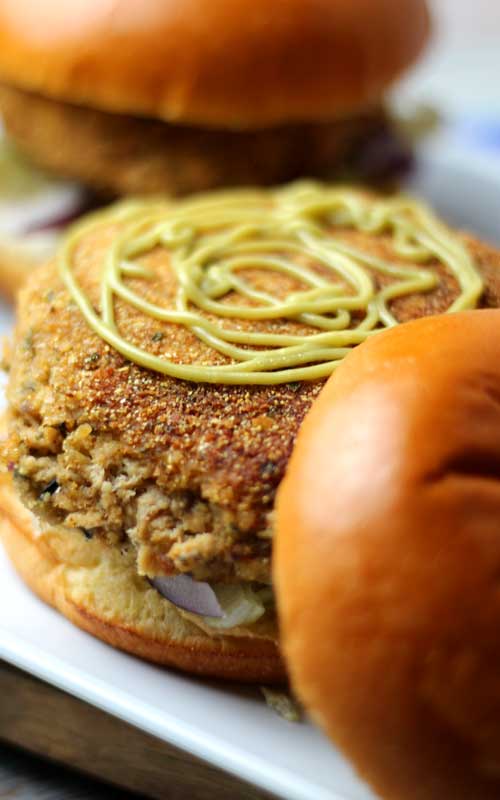 Now…
I almost forgot to say "WELCOME TO SPARKLES OF YUM!"
I know I did not need to yell it, but I am just so happy to finally be working on this site. It is something that I have been meaning to do for quite some time now, but life just had a way of making that not happen. Well life, you are not stopping me anymore!
My goal with this site is to share all the wonderful things that interest me. There is going to be a lot of food. Some DIY, budget ideas, and whatever else comes to mind.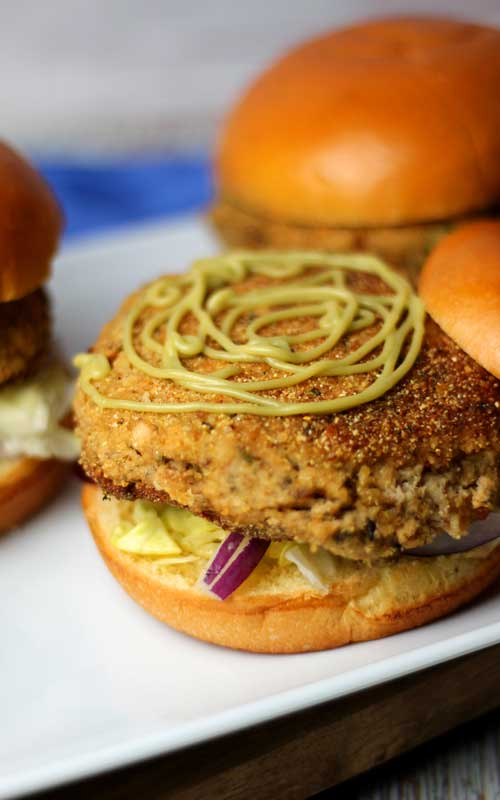 Again, welcome to my little site, I am going to wrap this up before I start to ramble. Now go read the recipe I have here!
Don't forget to follow along, so you don't miss out! Did you know you can get a notification on your phone now as soon something is published? People are loving this so much, more than the emails clogging up your inbox. If you happened to not accept the notification box earlier…now is a good time to click the small bell in the corner and get signed up!
FOLLOW Sparkles of Yum ON FACEBOOK | PINTEREST | INSTAGRAM | TWITTER FOR ALL OF THE LATEST CONTENT, RECIPES AND UPDATES.
Feel free to join the Sparkles of Yum Recipe Swap Facebook group! A fun place to find and share all of your favorite recipes.
Salmon Patties with Wasabi Aioli
These Salmon Patties with Wasabi Aioli rock! They taste incredible. You can make them in less than 20 minutes. And they're healthy!
Ingredients
1 can Salmon (or we've used fresh smoked salmon)
1 egg, lightly beaten
1/2 cup seasoned breadcrumbs (or panko breadcrumbs)
2 tablespoons diced green onions (or chives)
1 tablespoon Cajun spice seasoning (I used Zatarains)
1/4 teaspoon freshly ground pepper
2 tablespoon extra-virgin olive oil
your favorite buns
Wasabi Aioli or favorite toppings
1/4 cup mayo
1 teaspoon Wasabi paste (or less for milder heat) (found in the Asian isle)
Instructions
Mix salmon, egg, 1/2 of the breadcrumbs,seasoning, and pepper in a bowl. Form into 3 or 4 patties.

Put the rest of the bread crumbs on a plate to press the patties in to coat.

Heat oil in a skillet just over medium heat. You can use Canola oil if you prefer, Olive oil normally isn't used for frying, but it works for these because they cook up quick. Olive oil has a low smoke point so you just have to be careful it doesn't get too hot.(I use a tiny drop of water from my finger to listen for a sizzle to know the oil is ready. (Just stand back in case it pops)

Cook the patties until golden brown, about 4 minutes per side. Serve on on your favorite buns with favorite toppings or give the Wasabi Aioli a try. You could also make a Sriracha Aioli if you don't have the Wasabi, just a few drops to taste. The kids would probably prefer ketchup or mayo.

Wasabi Aioli

To make this, just mix together your wasabi and mayonnaise. If you would like to try a Sriracha aioli instead, just swap sriracha for the wasabi.
Nutrition Information
Yield

4 Sandwiches
Serving Size

1 Sandwich
Amount Per Serving
Calories

549
Total Fat

36g
Saturated Fat

6g
Trans Fat

0g
Unsaturated Fat

28g
Cholesterol

118mg
Sodium

1876mg
Carbohydrates

30g
Fiber

2g
Sugar

3g
Protein

25g
© 2023 Sparkles of Yum. All rights reserved. All images & content are copyright protected. Please do not use my images without prior permission. If you want to share this recipe, please provide a link back to this post for the original recipe.
Sparkles of Yum is a participant in the Amazon Services LLC Associates Program, an affiliate advertising program designed to provide a means for sites to earn advertising fees by advertising and linking to Amazon.com.