These Healthy Grilled Mushrooms are so easy to make, and they are beyond tasty. Good luck getting them to the table, they just might disappear before making it that far!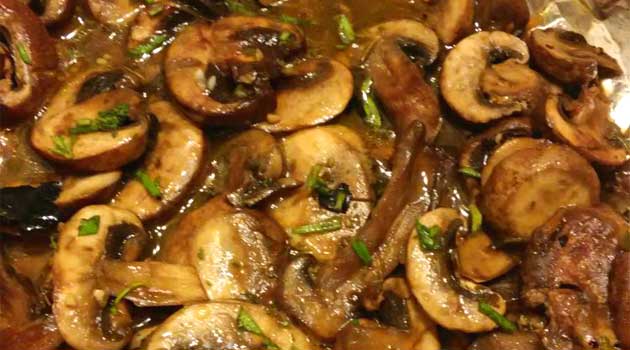 Today I would like to share a recipe for healthy grilled mushrooms. I have made them a few times, and each time they are a hit!
In my house, mushrooms are a favorite. I happen to like them even more when they are on sale.
We found these mushrooms on sale for buy one get one half off, so we just had to buy them.
The thing with fresh mushrooms is that they never last very long, so we had to do something with them quick so they wouldn't go to waste. We didn't need a whole pound of mushrooms for one meal, so we thought, " Let's just get them all cooked, use what we need for dinner, and put the rest in baggies in the freezer.".
These were so good that we ate them all in the next couple weeks. No freezer burned mushrooms in this house!
These are really good as just a side dish every once in a while. But the great thing is that you can pull out a baggie and have them thawed in no time; then they are ready to be added to a stir fry or over a steak, pork chops or burger.. toss in a casserole or even add in with some green beans.
The other great thing is that mushrooms are so good for you, I heard from Ming Tsai on some talk show one day, I think it was Dr. Oz, that mushrooms are really good for boosting your immunity (of course there's been a study just for that!).
Meal planning makes life so much less complicated, but for me it's better to have things on hand because some days turn out different than what you planned. Your dinner plans might have to change on the fly.
Doing some little things like this ahead of time can make your day when it turns crazy around the house.
Mushrooms are an amazing side dish or make a great topping for steaks or burgers, toss in a casserole or pasta dish!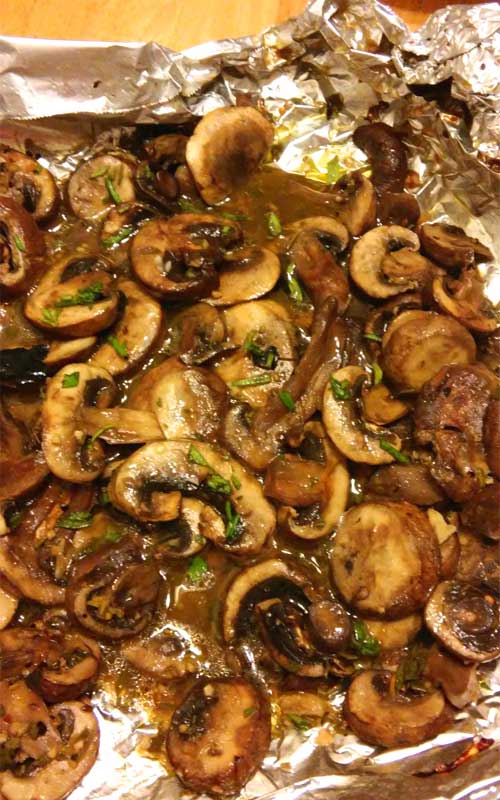 Don't forget to follow along, so you don't miss out! Did you know you can get a notification on your phone now as soon something is published? People are loving this so much, more than the emails clogging up your inbox. If you happened to not accept the notification box earlier…now is a good time to click the small bell in the corner and get signed up!
FOLLOW Sparkles of Yum ON FACEBOOK | PINTEREST | INSTAGRAM | TWITTER FOR ALL OF THE LATEST CONTENT, RECIPES AND UPDATES.
Feel free to join the Sparkles of Yum Recipe Swap Facebook group! A fun place to find and share all of your favorite recipes.
Healthy Grilled Mushrooms
These Healthy Grilled Mushrooms are so easy to make, and they are beyond tasty. Good luck getting them to the table, they just might disappear before making it that far!
Ingredients
16 oz (1 lb) Baby Bella Mushrooms (Crimini, Button, Shiitake or Baby Portabello Mushrooms work too)
1/4 cup olive oil
small handful of parsley
1 tsp salt
1/4 tsp pepper
1-2 garlic cloves
1 Tbsp balsamic vinegar
Instructions
Rinse your mushrooms and pat dry
Dice garlic cloves to minced size
Place the mushrooms in foil (just crinkle up around edges) and drizzle the olive oil and balsamic
Sprinkle salt, pepper, parsley and garlic
Place on the hot grill for about 8-10 minutes, making sure the mushrooms do not burn. The mushrooms are done when they are soft. Remove from the grill. Cover with foil to keep them warm until ready to serve.
Notes
If it's not a good day for grilling, you can roast these in the oven, it may take just take a little longer. Set your oven to 400 for about 20 minutes or until fork tender.
Nutrition Information
Yield

4
Serving Size

4 oz.
Amount Per Serving
Calories

163
Total Fat

14g
Saturated Fat

2g
Trans Fat

0g
Unsaturated Fat

12g
Cholesterol

0mg
Sodium

587mg
Carbohydrates

8g
Fiber

3g
Sugar

4g
Protein

3g
© 2023 Sparkles of Yum. All rights reserved. All images & content are copyright protected. Please do not use my images without prior permission. If you want to share this recipe, please provide a link back to this post for the original recipe.
Sparkles of Yum is a participant in the Amazon Services LLC Associates Program, an affiliate advertising program designed to provide a means for sites to earn advertising fees by advertising and linking to Amazon.com.