Oh my foodie friends, have I got a treat for you! This is a little mash up recipe that I like to call "Pumpkin Nugget Flavor Bombs". Insanely delicious little bites of crunchy on the outside, a soft flaky layer, and then all the pumpkin pie goodness on the inside dipped in caramel sauce.
What!? Yep, not even joking. If you love pumpkin, you need these Pumpkin Nugget Flavor Bombs in your life.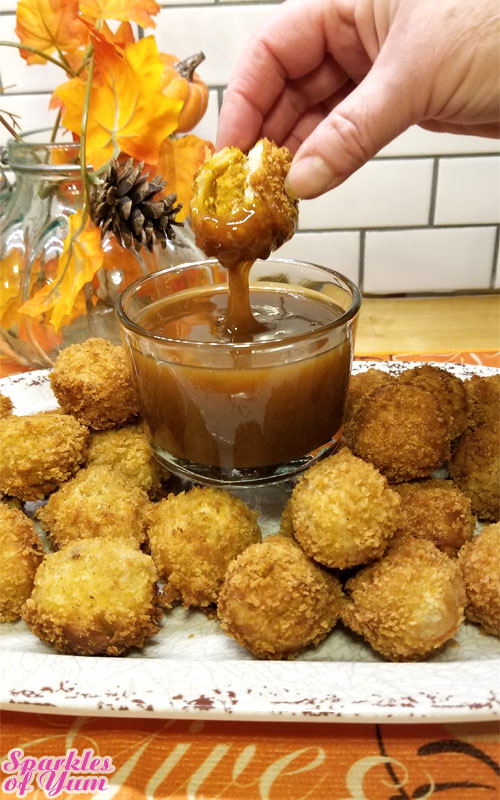 Think the crunch of a tator tot on the out side. The flakiness of a buttermilk biscuit, and then the yummyness of a pumpkin pie! All in one bite, that's our little creation and I'm gonna warn you right now, it's like crack and they can be highly additive!
Another warning… if you share these with friends and family, you will be begged to make them and bring them forever and ever. That's just how it works when you have something this good, you'll know what I mean after one bite.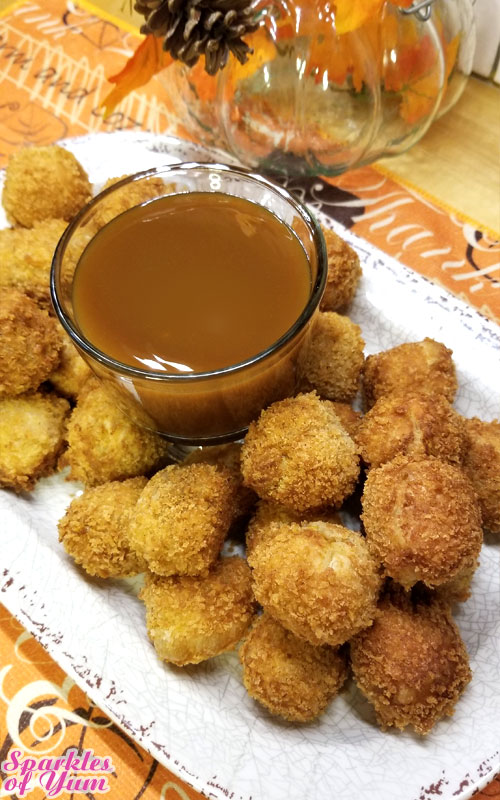 So how did we come up with this, you might ask. Trying to come up with something new to surprise the family for Thanksgiving Day. I like to put one unexpected dish on the table every holiday. Most things on the table must be the same every year, that's tradition. Me, I like to bring something new to the table, maybe as an appetizer or after dinner treat.
On our search we came across a couple things that sounded really good. First, there was these little Pumpkin Pie Bombs at OMG Chocolate. Then there was a Bread Pudding Bite on Pillsbury.
An idea was born. We kinda took the two ideas and made something new. I didn't know they were going to taste this amazing.. one bite and I just yelled HOLY WOW or something like that!! *Wink*
I was shocked at the explosion of flavor AND they get fried up like chicken nuggets.. that's how the name was given Pumpkin Nugget Flavor Bombs!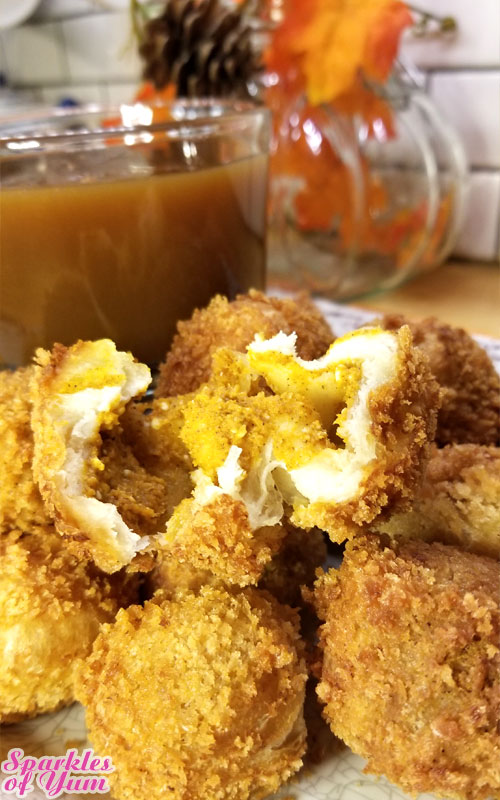 Don't forget to follow along, so you don't miss out! Did you know you can get a notification on your phone now as soon something is published? People are loving this so much, more than the emails clogging up your inbox. If you happened to not accept the notification box earlier…now is a good time to click the small bell in the corner and get signed up!
FOLLOW Sparkles of Yum ON FACEBOOK | PINTEREST | INSTAGRAM | TWITTER FOR ALL OF THE LATEST CONTENT, RECIPES AND UPDATES.
Feel free to join the Sparkles of Yum Recipe Swap Facebook group! A fun place to find and share all of your favorite recipes.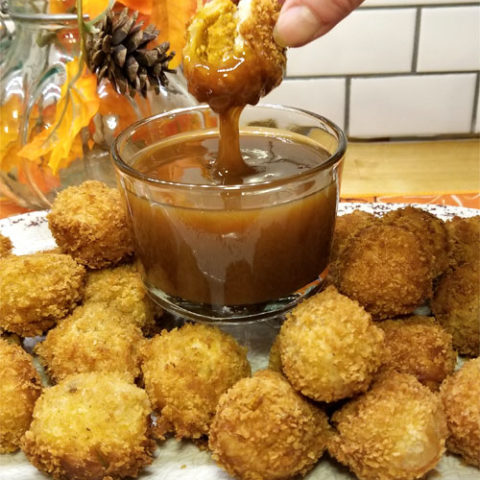 Pumpkin Nugget Flavor Bombs
Insanely delicious little bites of crunchy on the outside, a soft flaky layer, and then all the pumpkin pie goodness on the inside dipped in caramel sauce.
Ingredients
For the pumpkin Filling:
3/4 cup pumpkin puree
2 oz. cream cheese-slightly softened
2 tablespoon packed light-brown sugar
2 tablespoon granulated sugar
1 teaspoon ground cinnamon
1 tablespoon pumpkin pie spice (I use McCormick)
1/2 teaspoon vanilla extract
1/8 teaspoon salt
For the outside:
1 can Buttermilk Flaky Biscuits
2 cups Panko crispy bread crumbs
1 egg
1 cup milk
1/2 cup all-purpose flour
1 teaspoon ground cinnamon
1 teaspoon vanilla
Canola oil
For dipping
1 jar caramel or homemade caramel
Instructions
For the pumpkin pie filling
Stir together cream cheese, brown and white sugar.
Add pumpkin puree to cream cheese mixture along with cinnamon, vanilla and Pumpkin Pie Spice.
Stir well until everything is blended evenly.
Prepare the dough
Separate dough into 8 biscuits. Cut each into quarters; roll each flat.
Fill with 1/2 teaspoon pumpkin mixture and roll into balls and set aside.
Place bread crumbs in shallow dish. In another shallow bowl, beat egg, milk, flour, cinnamon and vanilla with whisk until well blended.
In a deep skillet, heat canola oil to 350°F. Place balls into egg mixture one at a time; coat evenly, then coat each with bread crumbs. Fry 6 or 7 at a time until golden brown on all sides.
Remove from oil to paper towels; cool completely.
Nutrition Information
Yield 32 Serving Size 1 "bomb"
Amount Per Serving Calories 78Total Fat 2gSaturated Fat 1gTrans Fat 0gUnsaturated Fat 1gCholesterol 9mgSodium 110mgCarbohydrates 12gFiber 1gSugar 4gProtein 2g

Nutrition data was provided and calculated by Nutritionix, and should only be used as a general guideline. This information is provided as a courtesy and there is no guarantee that the information will be completely accurate.

If you need a recipe for a really good caramel sauce, you can make the sauce that was part of my Salted Caramel Banana Bread Pudding recipe.
© 2023 Sparkles of Yum. All rights reserved. All images & content are copyright protected. Please do not use my images without prior permission. If you want to share this recipe, please provide a link back to this post for the original recipe.
Sparkles of Yum is a participant in the Amazon Services LLC Associates Program, an affiliate advertising program designed to provide a means for sites to earn advertising fees by advertising and linking to Amazon.com.