A truly delicious little Roasted Tomato Caprese Salad to go with just about anything, something a little different. It only looks like you splurged, when in reality it couldn't be more budget friendly, or easy.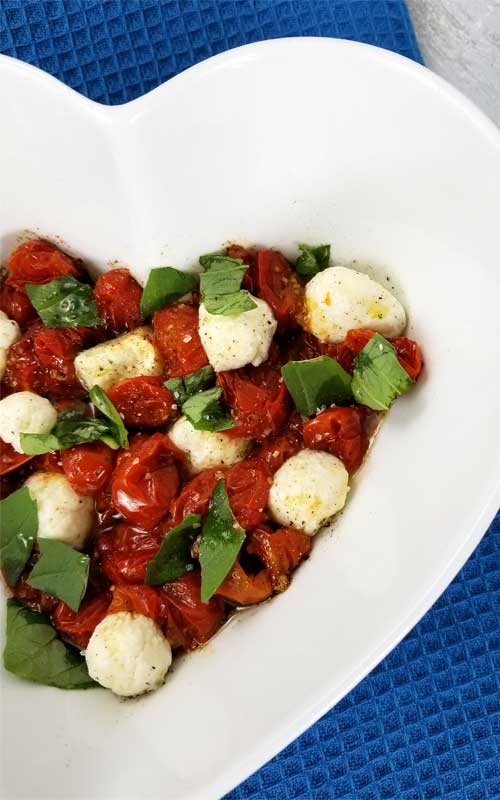 A truly delicious little salad to go with just about anything, something a little different. I can't wait for spring, and am just plain old tired of winter. It's supposed to be almost over, but people in the east are getting hit with thunder snow and 6 days with no power.
While you can't walk outside and pick tomatoes and basil right now, you can still tease your senses and buy them at the store, and add a little summer to your extra long winter. We had this as a side dish last Friday with our amazing Lemon Thyme Salmon and these French Green Beans with Almonds.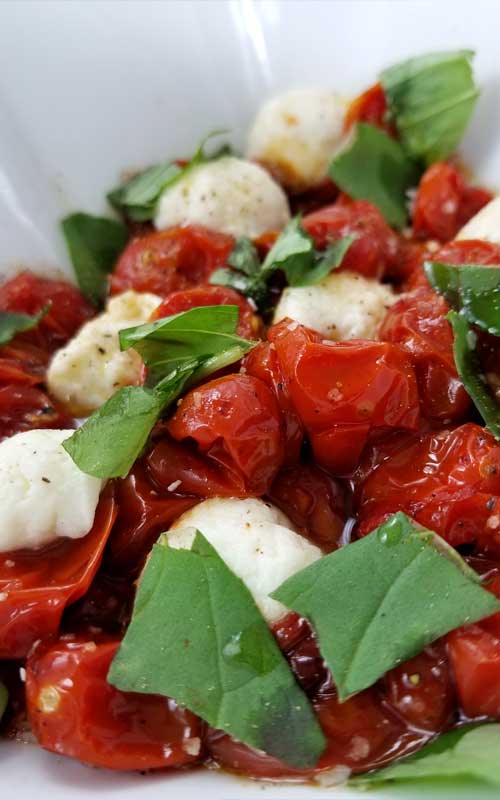 It only sounds like we splurged on this dinner. We had been eating out on Fridays, and decided to take that money and make our own fancy dinner and stay home for our date night. We did come out ahead and we cooked together, so it makes for a really nice evening and you can have as much wine as you want!
You hear of some bloggers making a small fortune, unfortunately I came to that party late, so I'm not one of them. I just can't afford a team of people cranking out recipes or have virtual assistants handling my social media accounts. (Yeah that's a thing) Most of us can only hope to reach that level one day. So if your living on a tight budget I hope you follow along we do our best to share budget friendly recipes that make you feel like your being treated at a fancy restaurant.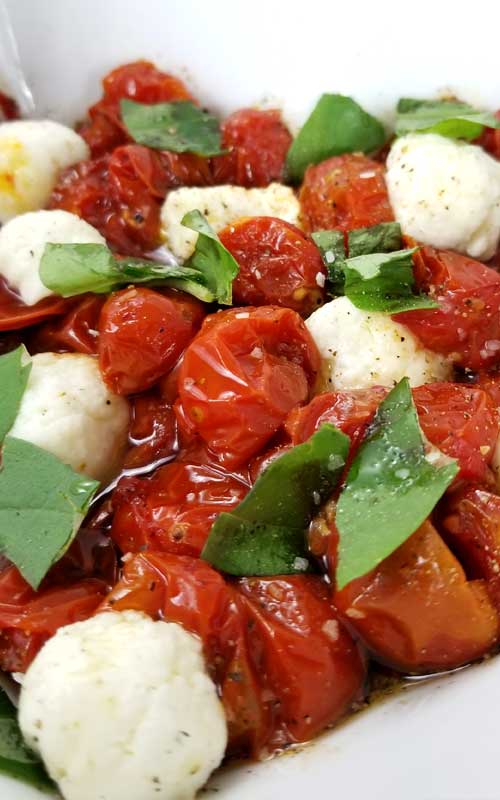 Don't forget to follow along, so you don't miss out! Did you know you can get a notification on your phone now as soon something is published? People are loving this so much, more than the emails clogging up your inbox. If you happened to not accept the notification box earlier…now is a good time to click the small bell in the corner and get signed up!
FOLLOW Sparkles of Yum ON FACEBOOK | PINTEREST | INSTAGRAM | TWITTER FOR ALL OF THE LATEST CONTENT, RECIPES AND UPDATES.
Feel free to join the Sparkles of Yum Recipe Swap Facebook group! A fun place to find and share all of your favorite recipes.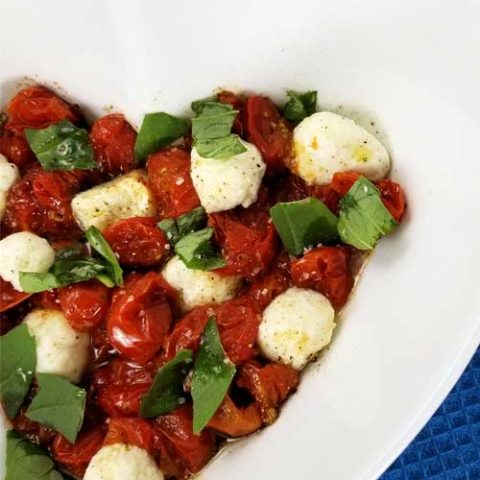 Roasted Tomato Caprese Salad
Yield: 4 servings

Prep Time: 20 minutes

Cook Time: 40 minutes

Total Time: 1 hour

A truly delicious little Roasted Tomato Caprese Salad to go with just about anything, something a little different.
Ingredients
1 pint cherry tomatoes, halved
1/4 cup good olive oil, plus more for drizzling
1 1/2 tablespoons balsamic vinegar
2 large garlic cloves, minced
1 teaspoon sugar
Kosher salt and freshly ground black pepper
8 ounces fresh salted mozzarella
1/4 cup fresh basil leaves, torn
1 teaspoon lemon zest
Instructions
Adjust oven rack to lower-middle position and preheat oven to 375°F. Cover a 9 by 13 baking sheet with parchment paper and spray with cooking spray. Add cherry tomatoes, olive oil, balsamic vinegar, sugar, salt, and pepper; toss to combine.
Transfer to oven and roast until they begin to caramelize, and just starting to char, about 40 minutes, tossing periodically to cook evenly.
Remove from the oven and allow to cool to room temperature. Transfer tomatoes along with any juices to a bowl. Add mozzarella and basil. Gently toss to combine. Season to taste with salt and pepper, add lemon zest, and toss again. Serve immediately, or refrigerate up to an hour before serving.
Nutrition Information
Yield 4 Serving Size 1
Amount Per Serving Calories 166Total Fat 15gSaturated Fat 3gTrans Fat 0gUnsaturated Fat 12gCholesterol 6mgSodium 124mgCarbohydrates 6gFiber 1gSugar 4gProtein 2g

Nutrition data was provided and calculated by Nutritionix, and should only be used as a general guideline. This information is provided as a courtesy and there is no guarantee that the information will be completely accurate.

© 2023 Sparkles of Yum. All rights reserved. All images & content are copyright protected. Please do not use my images without prior permission. If you want to share this recipe, please provide a link back to this post for the original recipe.
Sparkles of Yum is a participant in the Amazon Services LLC Associates Program, an affiliate advertising program designed to provide a means for sites to earn advertising fees by advertising and linking to Amazon.com.