Not only was this One Pan Lemon Thyme Salmon with French Green Beans and Almonds beyond easy, it was divine! It tasted even better than I expected; bursting with flavor; and with minimal clean-up.
Not to mention how incredibly healthy salmon is for you, it's a nutritional powerhouse! Packed with healthy omega-3 fats, protein, vitamin D, B-vitamins, and antioxidants. Besides it just makes you feel good, even the next day after eating salmon I feel like I have more energy for some reason.
I would eat it more often if I could afford to, unfortunately the good salmon is expensive. So when you do decide to splurge on it, you don't want to overcook it or have it turn out dry and tasteless. I've found this method cooks everything perfectly, of course depending on the size of your salmon, you might need to check on it. You are wanting it flaky and juicy, just cooked to perfection.
There's little milky fat pockets that begin to rise to the top, that's the healthy stuff, we buy in the omega-3 oil capsules, my Doctor tells me to take one a day for a healthy heart, because we don't eat this healthy everyday. Even the green beans are healthier than I ever thought, they're packed full of fiber and considered some of the best high-antioxidant foods.
So depending on how you like your green beans, if you like them a little on the crisp side you can toss them on the sheet pan and cook this as a one pan dinner. If you like them a little more tender, you can use my recipe for French Green Beans with Almonds here. Also known as Green Beans Almondine, or Amandine, I guess what you call them depends on where your from. I understand they were originally called Amandine and us Americans started calling them Almondine, so whatever you want to call them as long as they're yummy!
For this Salmon we bought it fresh and brought it home and prepared it the same day. If your using frozen, I would thaw it out in the fridge You just can't be too safe when it comes to fish. Sometimes we drive across town to get fresh fish and we'll bring a cooler bag and put ice packs in it or buy a small bag of ice to make sure it stays at peak freshness. You don't want your fish to begin to smell fishy, that's not good, and is actually a sign that it has gone bad; make sure it stays nice and cold. Just like we did when we bought the salmon to use with this Salmon with Sweet Chili Glaze that we had grilled over the summer.
The seasoning used in this recipe lets the Salmon be the star, but gives you the brightness of the lemon and herbs with a touch of honey and garlic. Enjoy with a glass white wine, and we had a roasted tomato caprese salad on the side. I'll get that posted up as soon as I can get to it and link it here. Be sure to follow along it was a wonderful side dish, and this dinner inspired lots of conversation and a fun Friday evening for us. I hope if you make this you have a night to remember. Let me know how it goes for you right in the comments section!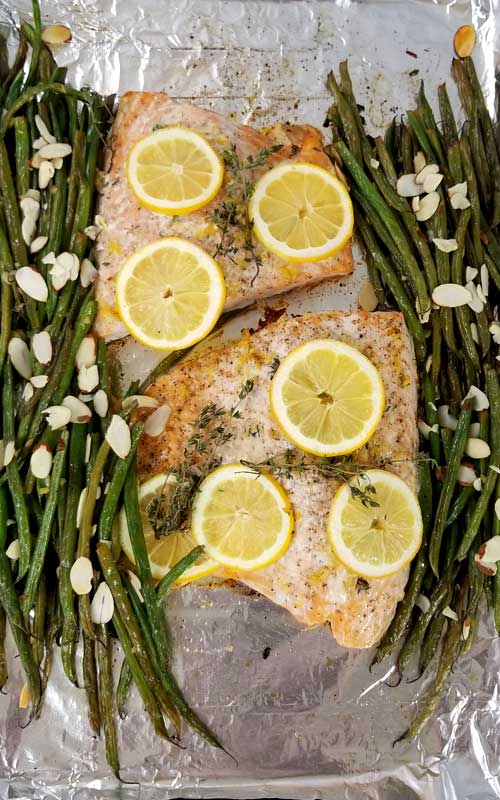 Don't forget to follow along, so you don't miss out! Did you know you can get a notification on your phone now as soon something is published? People are loving this so much, more than the emails clogging up your inbox. If you happened to not accept the notification box earlier…now is a good time to click the small bell in the corner and get signed up!
FOLLOW Sparkles of Yum ON FACEBOOK | PINTEREST | INSTAGRAM | TWITTER FOR ALL OF THE LATEST CONTENT, RECIPES AND UPDATES.
Feel free to join the Sparkles of Yum Recipe Swap Facebook group! A fun place to find and share all of your favorite recipes.
Lemon Thyme Salmon
Yield: 2-4 servings

Prep Time: 15 minutes

Cook Time: 20 minutes

Total Time: 35 minutes

Not only was this One Pan Lemon Thyme Salmon with French Green Beans and Almonds beyond easy, it was divine! It tasted even better than I expected; bursting with flavor; and with minimal clean-up.
Ingredients
2 lbs Salmon
2 Tablespoons honey
1 Teaspoon lemon zest
3 cloves garlic (minced)
2 Teaspoons fresh thyme
1/4 cup lemon juice
lemon for garnish
coarse sea salt and fresh cracked pepper (we used smoked sea salt)
One recipe for French Green Beans with Almonds (See notes)
Instructions
Preheat the oven to 350 degrees F and line baking sheet with foil or parchment paper.
In a small bowl, mix together honey, garlic, thyme, and lemon juice.
Brush the mixture all over the salmon and sprinkle sea salt and pepper all over the top. Arrange lemon slices over the top.
Bake salmon for 20 minutes or until salmon is slightly opaque in the middle and flakes easily. Thicker salmon may take a few minutes longer, thinner may be done sooner. These were over an inch in the thickest point and was ready right at 20 minutes. You can stick a fork in under the lemon to see if it's flaky for a good test. The color should be pinkish and slightly toasted on the edges.
Notes
For crisper green beans, just dress the green beans on the pan with the salmon.



For softer green beans, prepare as the green bean recipe says, then add them to the salmon prior to placing salmon into oven.
Nutrition Information
Yield 4 Serving Size 1
Amount Per Serving Calories 518Total Fat 28gSaturated Fat 5gTrans Fat 0gUnsaturated Fat 20gCholesterol 143mgSodium 290mgCarbohydrates 13gFiber 1gSugar 10gProtein 51g

Nutrition data was provided and calculated by Nutritionix, and should only be used as a general guideline. This information is provided as a courtesy and there is no guarantee that the information will be completely accurate.

© 2023 Sparkles of Yum. All rights reserved. All images & content are copyright protected. Please do not use my images without prior permission. If you want to share this recipe, please provide a link back to this post for the original recipe.
Sparkles of Yum is a participant in the Amazon Services LLC Associates Program, an affiliate advertising program designed to provide a means for sites to earn advertising fees by advertising and linking to Amazon.com.