Low carb and low calorie, you can't go wrong with this nutrient packed Cheesy Avocado and Kale Spaghetti Squash. It turned out so good and it was so simple, I think you'll love it too!
So excited we have a new Fresh Thyme store in town, so of course we had to check it out. Wow it was an experience. There is so many healthy choices there, we were just amazed. I had no idea that there is even stations for making your own cashew butter or whatever other kind of nut butter you can think of.
There is at least two full aisles of bulk items, wild rice or coconut flour; whatever your little heart desires I think you can find there. A Paradise for anyone with food allergies! The veggies look so fresh and they're all displayed so beautifully. It's really eye candy for any foodie.
Had a hard time deciding where to start, but the price of these spaghetti squash was too good to pass up. I didn't even pick up the biggest one. This spaghetti squash one was small compared to the others, but I was thinking of one for a side dish for two. Something a little different from the normal.
There's not much flavor in spaghetti squash so it can take on whatever flavors you are in the mood for. So why not just keep it healthy? It's already good for you by itself. So we just powered up the nutrients by adding some blanched kale, a little avocado, and a bit of freshly shaved or grated Parmesan Reggiano cheese.
Low carb and low calorie you can't go wrong with this nutrient packed spaghetti squash! It turned out so good and it was so simple, I think you'll love it too!

Don't get me wrong we eat a fair amount of pasta around our house too, like this Chicken with Herb Roasted Tomatoes Over Ravioli. But we try to have a balance through the week. Eat some super healthy meals, that way we can splurge sometimes, right?
Don't forget to follow along, so you don't miss out! Did you know you can get a notification on your phone now as soon something is published? People are loving this so much, more than the emails clogging up your inbox. If you happened to not accept the notification box earlier…now is a good time to click the small bell in the corner and get signed up!
FOLLOW Sparkles of Yum ON FACEBOOK | PINTEREST | INSTAGRAM | TWITTER FOR ALL OF THE LATEST CONTENT, RECIPES AND UPDATES.
Feel free to join the Sparkles of Yum Recipe Swap Facebook group! A fun place to find and share all of your favorite recipes.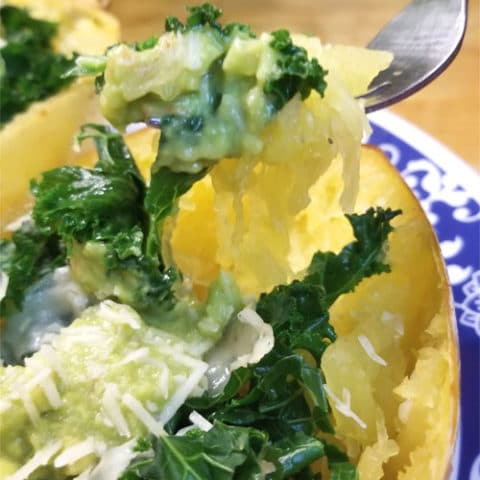 Cheesy Avocado and Kale Spaghetti Squash
Yield: 2 Large servings

Prep Time: 15 minutes

Cook Time: 50 minutes

Total Time: 1 hour 5 minutes

Low carb and low calorie. You can't go wrong with this nutrient packed Spaghetti Squash. It turned out so good and it was so simple, I think you'll love it too!
Ingredients
1 Medium Spaghetti Squash
2 tablespoons olive oil
2 ounces Parmesan Reggiano cheese (shaved or grated)
1 tablespoon granulated garlic
1 avocado, smashed
3 leaves of kale (torn & blanched)
salt and pepper to taste
Instructions
Preheat oven to 400 degrees. Cut the squash from stem to end and remove all the seeds and loose stringy bits from the center. Rub all the flesh with olive oil and season with salt, pepper and garlic.
Place flesh side down on parchment paper lined sheet pan and roast until tender, 45-50 minutes. Use a fork to scrape out "spaghetti."
While that's roasting bring a pot of water to a boil to blanch the kale, just put it in boiling water until it shines. Remove and submerge in ice cold water.
If you have a wedge of fresh Parmesan Reggiano cheese, shave with a potato peeler or use grated Parmesan.
Top each side with a couple tablespoons of smashed avocado, add a little more grated Parmesan. Enjoy!
Nutrition Information
Yield 2 Serving Size 1
Amount Per Serving Calories 656Total Fat 43gSaturated Fat 11gTrans Fat 0gUnsaturated Fat 28gCholesterol 38mgSodium 892mgCarbohydrates 58gFiber 18gSugar 15gProtein 21g

Nutrition data was provided and calculated by Nutritionix, and should only be used as a general guideline. This information is provided as a courtesy and there is no guarantee that the information will be completely accurate.

© 2023 Sparkles of Yum. All rights reserved. All images & content are copyright protected. Please do not use my images without prior permission. If you want to share this recipe, please provide a link back to this post for the original recipe.
Sparkles of Yum is a participant in the Amazon Services LLC Associates Program, an affiliate advertising program designed to provide a means for sites to earn advertising fees by advertising and linking to Amazon.com.