These Pretzel Mummy Dogs are so cute and fun to make, everyone will love them! Part of their charm is in their imperfections!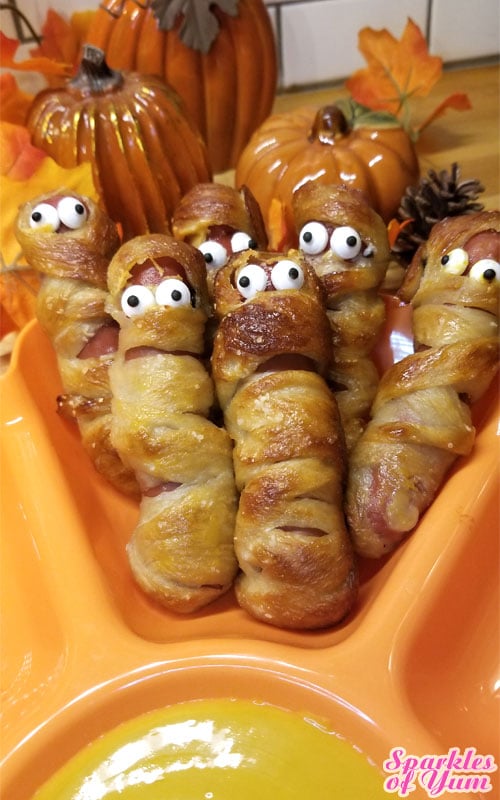 Halloween Time!! Don't you just love it? I think it's becoming the most fun holiday to get ready for. It's more about fun than having to worry about buying the right presents and making your whole house perfect for company. I think half the fun is in the getting ready part. Planning a party or just a little get together. Or maybe we just love dressing up and getting the kids involved in all the fun.
Did you know you can make home made pretzels from store bought Pizza Dough? Well you can, and it's really easy! No really if you can boil water you can make these Pretzel Mummy Dogs! It's pizza dough in a can like biscuits, only pizza dough. You can find it right next to the canned biscuits at your local store.
This will go much quicker if you have a helper in the kitchen. This way one can wrap the hotdogs, while the other dips them in the boiling water. It goes really quick because they only need to stay in the water a few seconds each, when they pop up to the top they come right back out.
The candy eyeballs are sold in the cake decorating section of your store, if you can't find them here's an way to make other eyeballs with Mozzarella cheese and black olives from Spend with Pennies.
If you need an adult party drink to go with the festivities I have a Hocus Pocus Aperal Fizz or maybe you'd rather serve up some Autumn Hard Apple Cider Sangria. Whatever you have at your Halloween party, I hope most of all; you have fun!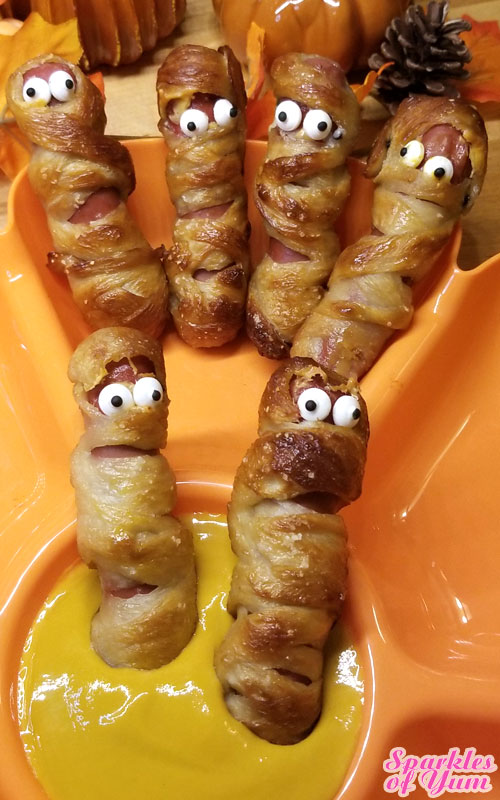 Don't forget to follow along, so you don't miss out! Did you know you can get a notification on your phone now as soon something is published? People are loving this so much, more than the emails clogging up your inbox. If you happened to not accept the notification box earlier…now is a good time to click the small bell in the corner and get signed up!
FOLLOW Sparkles of Yum ON FACEBOOK | PINTEREST | INSTAGRAM | TWITTER FOR ALL OF THE LATEST CONTENT, RECIPES AND UPDATES.
Feel free to join the Sparkles of Yum Recipe Swap Facebook group! A fun place to find and share all of your favorite recipes.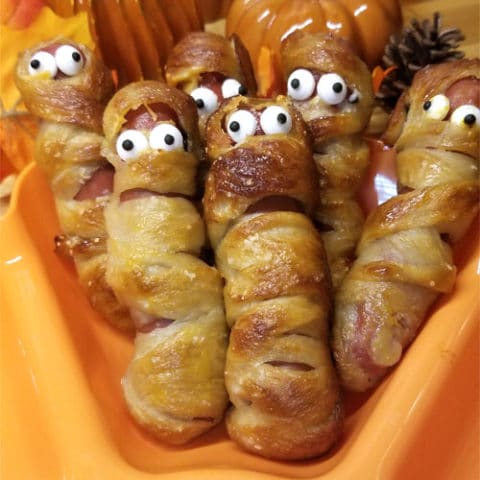 Pretzel Mummy Dogs
So cute and fun to make, everyone will love them! Part of their charm is in their imperfections!
Ingredients
2 cans pizza dough
2 packs hotdogs
1 pack candy eyeballs
2/3 cup baking soda
1 egg (for brushing)
1 1/2 tablespoon Kosher salt
1 slice American cheese
Instructions
Line 2 baking sheets with parchment paper and unroll dough. Let set on the counter for about 30 minutes, just to let it poof up a bit and get to room temperature.
In the meantime Preheat oven to 425 and fill a large pot with 4 quarts water and bring to a rolling boil.
While that's getting ready you can slice the dough with a pizza cutter into strips. We made ours about 3/4 inch strips they don't all have to be the same, just roughly. Start at one end wrapping the hotdog leaving a little gap for the eyeballs later, when you get to the bottom wrap back up.
Now when your ready to dip into the boiling water, add the baking soda slowly a little at a time, it does bubble up, I used an 8 quart pot with 4 quarts water and added the baking soda a couple tablespoons at a time till you get 2/3 cup in. Now you're ready to dip the wrapped hotdogs in 2 or 3 at a time till they float to the top, it only takes 10 -15 seconds for each one. Have a spider or large slotted spoon ready to remove them back to the parchment paper baking sheet, let drain a minute then move to the second baking sheet and brush with egg wash and sprinkle lightly with Kosher salt.
Place in oven for 12-13 minutes and remove, now your ready to place the eyes on, that's the tricky part. We used a tiny piece of American cheese and tried to tuck a little under the dough to get them to stick on. They're a little stubborn just like some kids, you might have to talk to them to get them to listen. I've also seen dots of mustard or ketchup used for eyeballs if you need something else to use.
© 2023 Sparkles of Yum. All rights reserved. All images & content are copyright protected. Please do not use my images without prior permission. If you want to share this recipe, please provide a link back to this post for the original recipe.
Sparkles of Yum is a participant in the Amazon Services LLC Associates Program, an affiliate advertising program designed to provide a means for sites to earn advertising fees by advertising and linking to Amazon.com.