This Italian Meatloaf tastes amazing! If you love meatballs you are going to love this. It's so juicy and packed full of flavor!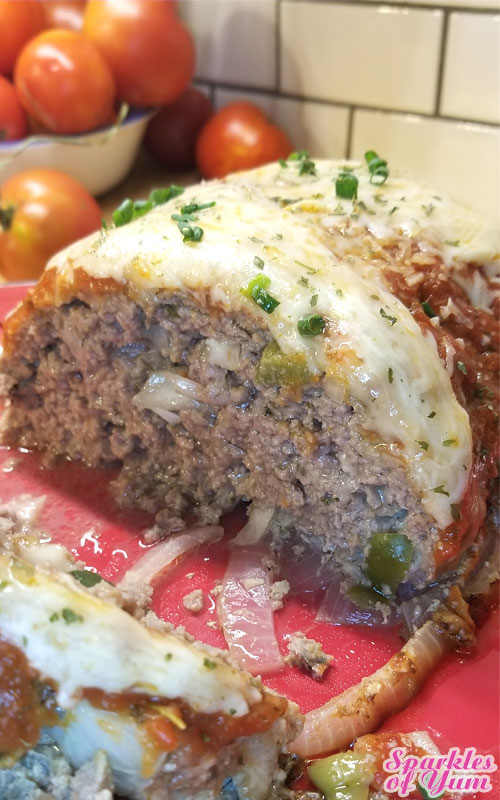 Family favorite, I personally don't know anyone who doesn't love a good meatloaf! It's one of those meals I can't wait for fall to make, it's the perfect comfort food.
I know I grew up eating meatloaf, my mom would tear up pieces of bread for filler. I remember when I first got married, I would call her up (back when people had to dial phones) to ask how she made this or that. Of course she didn't have recipes written down half the time. She would say, "I just know what it's suppose to look like." After a few fails I finally began to understand what she meant, but she thought it was funny when I'd have a big crack down the middle or burnt the bottom of my early meatloafs.
In a 2007 poll by Good Housekeeping, meatloaf was the seventh-favorite dish of Americans. During the Great Depression, cooking meatloaf was a way to stretch the food budget for families by using an inexpensive type of meat.
A 1906 grinder from the Enterprise Manufacturing Co. of Philadelphia could process 1 ½ pounds of meat per minute, all for $1.75. This, and the fact that beef was increasingly accessible due to advances in refrigeration and a thriving meat packing industry in Chicago, propelled meatloaf onto every housewife's radar. In addition to bread and crackers, quick-cooking oats, tapioca, breakfast cereal were a way to stretch the meal and feed more mouths, back in those days they had large families.
So after cooking many years without using recipes, and now wanting to blog about my cooking, I'm having to measure more than I have in a long time. I do this so that I can try to help new cooks understand, it's not as intimidating as it looks.
And I've come up with a sure fire way to not let the bottom burn! As you can see in the picture below, I just put some sliced onions on the bottom for extra flavor and a little security blanket.
This is actually the first time I've made an Italian meatloaf, saw this one on Pinterest, it's been shared 232 thousand times. So it must be good. I did change it up a bit though. I didn't have Italian sausage, and I always use more eggs than just one to hold mine together. I always remember that earth quake meat loaf from my younger years. Haha!
Here's a couple side dish ideas that would be good Oven Roasted Asparagus or Spinach and Artichoke Scalloped Potatoes.
For all of you meatball lovers, I now give you the recipe for my Italian Meatloaf. So juicy and loaded with the flavors you have come to love.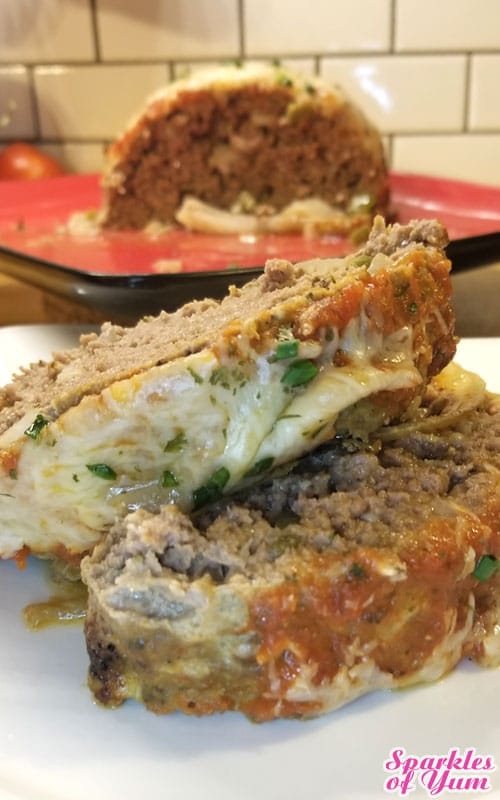 Don't forget to follow along, so you don't miss out! Did you know you can get a notification on your phone now as soon something is published? People are loving this so much, more than the emails clogging up your inbox. If you happened to not accept the notification box earlier…now is a good time to click the small bell in the corner and get signed up!
FOLLOW Sparkles of Yum ON FACEBOOK | PINTEREST | INSTAGRAM | TWITTER FOR ALL OF THE LATEST CONTENT, RECIPES AND UPDATES.
Feel free to join the Sparkles of Yum Recipe Swap Facebook group! A fun place to find and share all of your favorite recipes.
Italian Meatloaf
Yield: 6 Servings

Prep Time: 20 minutes

Cook Time: 1 hour

Total Time: 1 hour 20 minutes

This Italian Meatloaf tastes amazing! If you love meatballs you are going to love this. It's so juicy and packed full of flavor!
Ingredients
2 1/2 lbs hamburger (85% lean)
2 medium onions (1 sliced 1 diced)
1 small bell pepper (diced)
3/4 cups Italian bread crumbs
3 eggs
1 teaspoon Worcestershire sauce
2 tablespoons Italian Seasoning
1 teaspoon granulated garlic
1 teaspoon onion powder
1/4 cup Parmesan
1 cup Italian blend shredded cheese (1/4 cup in the meat)
1 cup marinara sauce
1 tablespoon fresh chives (for topping-optional)
1 teaspoon salt
1/2 teaspoon ground pepper
Instructions
In a large bowl add hamburger, eggs, all seasonings, Worcestershire sauce, diced onion and bell pepper, 1/4 cup Italian blend cheese, and bread crumbs. Just get in there with clean hands and mix it all up, turning from the outsides of the bowl to the middle a few times to get everything mixed in pretty evenly, you don't want to over-mix. Then press the meat down in the bowl to tighten it up a bit and shape to a loaf and place on sliced onions in a sprayed baking dish. Lightly press all around to make sure it's smooth.
Place in preheated oven at 400 degrees and bake lightly tented with foil for 50 minutes. While that's in the oven warm marinara sauce on the stove top and let simmer. Remove meatloaf and spoon marinara over the top add Parmesan and shredded Italian blend cheese and chives, return to the oven for 10 minutes or until cheese is just melted.
Nutrition Information
Yield 6 Serving Size 1
Amount Per Serving Calories 687Total Fat 34gSaturated Fat 14gTrans Fat 0gUnsaturated Fat 16gCholesterol 218mgSodium 1652mgCarbohydrates 55gFiber 3gSugar 5gProtein 41g

Nutrition data was provided and calculated by Nutritionix, and should only be used as a general guideline. This information is provided as a courtesy and there is no guarantee that the information will be completely accurate.

© 2023 Sparkles of Yum. All rights reserved. All images & content are copyright protected. Please do not use my images without prior permission. If you want to share this recipe, please provide a link back to this post for the original recipe.
Sparkles of Yum is a participant in the Amazon Services LLC Associates Program, an affiliate advertising program designed to provide a means for sites to earn advertising fees by advertising and linking to Amazon.com.