With this easy no fuss method, we'll definitely be putting these Baked Sweet Potato Halves into our meal plan more often.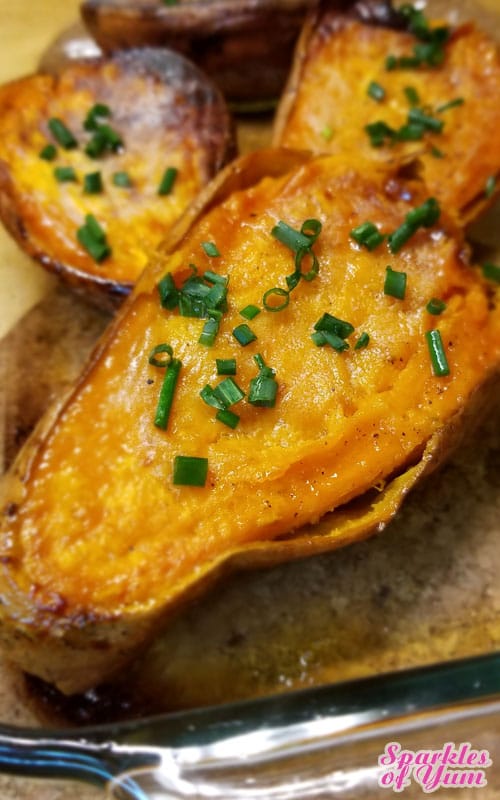 This is so much better than just tossing a whole sweet potato in the oven and waiting what seems like forever for them to be done. I don't know why I never thought of doing it like this before.
I love sweet potatoes, but don't make them a lot, mostly just Thanksgiving, because they take so long to cook. Sweet potato casserole is must at our house for Thanksgiving, but these are so good for you I'd like to serve them more often.
Now with this easy no fuss method, we'll definitely be putting sweet potatoes into our meal plan more often.
The health benefits of this underappreciated tuber are more than just the beta-carotene we know about. That only begins to tell the story of how healthy they are for you. Antioxidants, anti-inflammatory nutrients, and blood sugar-regulating nutrients.
I like doing a little research when I do a blog post to learn more about food and nutrition. I found it on a site call The Worlds Healthiest Foods. This site tells the history of the sweet potato and the difference between a sweet potato and a yam (they come from different parts of the world). I always thought they were the same thing and people just called them different names, but nope yams can grow much larger.
Multiple studies have shown better absorption of the beta-carotene from sweet potatoes when fat-containing foods are consumed along with the sweet potatoes. (It doesn't take much fat for this better absorption to take place—only 3-5 grams.)
Well they do say you should learn something new everyday!
As far as ideas on what to serve along with these baked sweet potato halves, we had my Italian meatloaf. And now that I think about it this Cajun marinated BBQ chicken would probably go well with these too.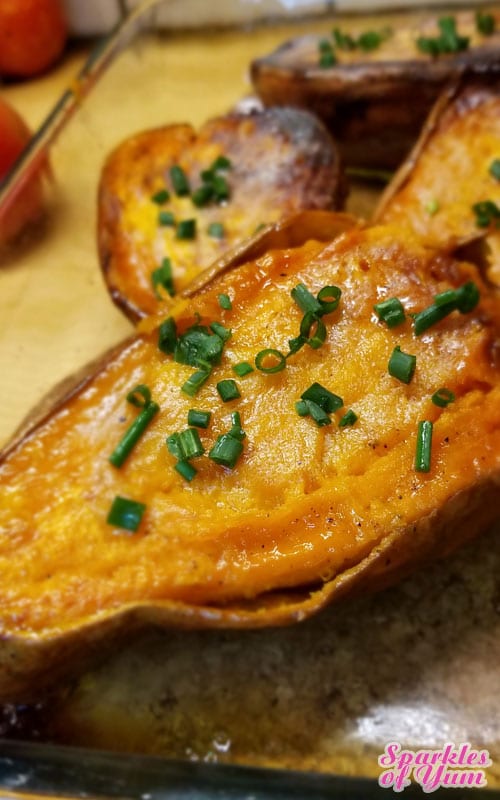 Don't forget to follow along, so you don't miss out! Did you know you can get a notification on your phone now as soon something is published? People are loving this so much, more than the emails clogging up your inbox. If you happened to not accept the notification box earlier…now is a good time to click the small bell in the corner and get signed up!
FOLLOW Sparkles of Yum ON FACEBOOK | PINTEREST | INSTAGRAM | TWITTER FOR ALL OF THE LATEST CONTENT, RECIPES AND UPDATES.
Feel free to join the Sparkles of Yum Recipe Swap Facebook group! A fun place to find and share all of your favorite recipes.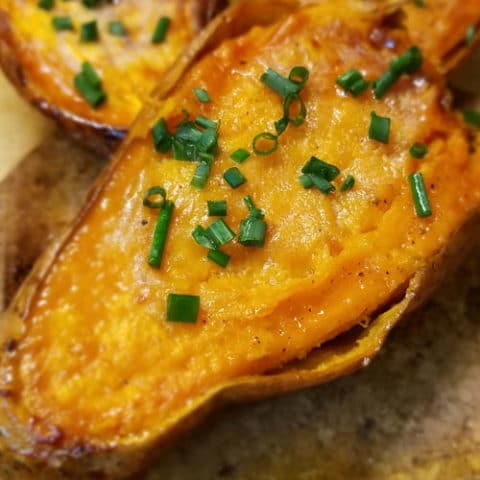 Baked Sweet Potato Halves
Prep Time: 5 minutes

Cook Time: 30 minutes

Total Time: 35 minutes

With this easy no fuss method, we'll definitely be putting sweet potatoes into our meal plan more often.
Ingredients
Sweet potatoes
Olive oil
Salt and pepper
Butter
Chives
Instructions
Preheat oven to 400 degrees. Just cut potatoes in half and rub with a couple tablespoons of olive oil sprinkle a little salt and pepper and place face down in a baking dish or sheet pan with parchment paper.
Bake for 25 - 30 minutes You can tell when they're done by sticking a tooth pick in it should be tender all the way through or give it a squeeze, should feel soft. Add a little butter and sprinkle with fresh chives.
© 2023 Sparkles of Yum. All rights reserved. All images & content are copyright protected. Please do not use my images without prior permission. If you want to share this recipe, please provide a link back to this post for the original recipe.
Sparkles of Yum is a participant in the Amazon Services LLC Associates Program, an affiliate advertising program designed to provide a means for sites to earn advertising fees by advertising and linking to Amazon.com.