Beat the heat with this Pina Colada Whip. The ultimate frozen tropical cocktail. Coconut, pineapple, and rum create a tasty drink that is great all summer long.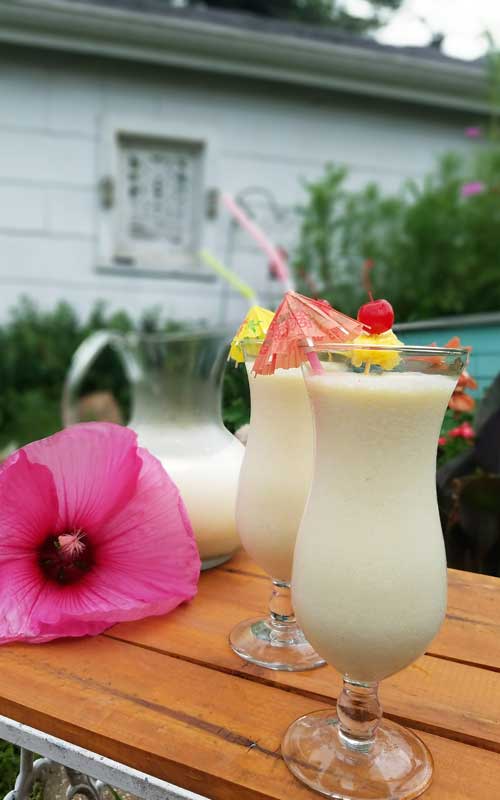 It is so hot outside… Today I looked out my window andthe thermometer in my sun porch said 102 degrees! That's enough to give you an instant hot flash, even if you are in an air conditioned kitchen.
What on Earth did people do before air conditioners? I was thinking about those who lived in the days of the wild wild west, they didn't have the luxuries we have today. We could put our panties in the fridge like Marilyn Monroe in the movie "The Seven Year Itch". However that wouldn't help the neighborhoods around here that were without power for about 4 or 5 days!
All of this led me on a mission…What's the best way to instantly cool down I could think of? A nice frosty Pina Colada of course! It's like a mini vacation away from the weather. We aren't anywhere near Hawaii, but we could imagine we were!
It was the perfect evening in our backyard. I had dinner in the crockpot already, so no worries there, or about anything when your enjoying an ice cold drink.
It's funny how that works. Sometimes it's nice to do something special at home, you don't have to worry about impressing anyone, or having everything perfect for company; just make it a picnic in your own back yard.
We called it Tipsy Tuesday and thanked Kathy Lee and Hoda because when we killed off our pitcher of Pina Coladas we popped open a bottle of wine with dinner.
Not a normal Tuesday for sure, but it sure did take our mind off of this crazy weather we're having in St. Louis. We not only get the heat we get the humidity as well.
Now what made this Pina Colada Whip so good and almost could be considered healthy in some sense of the healthy spectrum. Let me share how we did it, I think you'll love it as much as we did!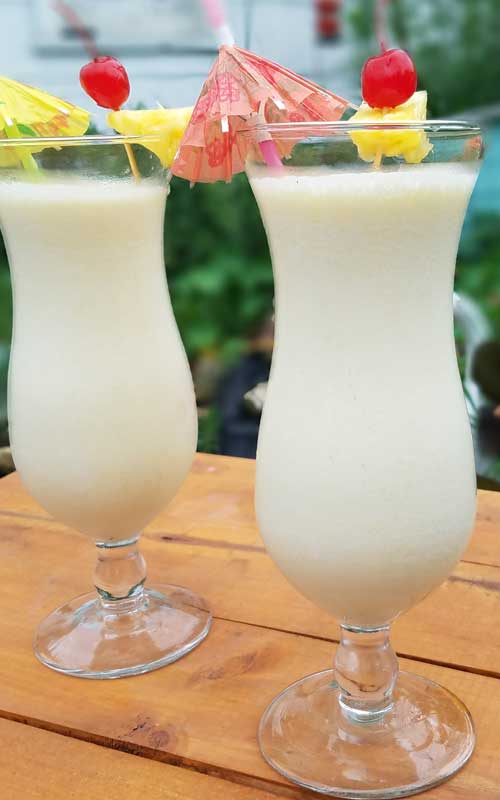 Don't forget to follow along, so you don't miss out! Did you know you can get a notification on your phone now as soon something is published? People are loving this so much, more than the emails clogging up your inbox. If you happened to not accept the notification box earlier…now is a good time to click the small bell in the corner and get signed up!
FOLLOW Sparkles of Yum ON FACEBOOK | PINTEREST | INSTAGRAM | TWITTER FOR ALL OF THE LATEST CONTENT, RECIPES AND UPDATES.
Feel free to join the Sparkles of Yum Recipe Swap Facebook group! A fun place to find and share all of your favorite recipes.
Pina Colada Whip
Beat the heat with this Pina Colada Whip. The ultimate frozen tropical cocktail. Coconut, pineapple, and rum create a tasty drink that is great all summer long.
Ingredients
1 Fresh Cold Pineapple (2-3 cans, drained)
1 Icy Cold can of Coconut Milk
3 Heaping tablespoons of whipped cream
2 cups of ice cubes
6 to 12 ounces of Coconut Rum (depending if you want single or double shots)
Maraschino Cherries for garnish
Instructions
It's important to make sure everything is chilled a few hours before hand.
Start by cutting the rind off the pineapple and cutting into chunk size. Put pineapple in the blender (Setting aside a couple pieces for garnish). Pulse until smooth.
Add the can of coconut milk, 3 tablespoons of whipped cream, and rum to the pineapple. Mix everything together.
Add your ice cubes, pulse until smoothie consistency.
Garnish glasses with pineapple and maraschino cherries. Enjoy!
Nutrition Information
Yield

6
Serving Size

1
Amount Per Serving
Calories

752
Total Fat

14g
Saturated Fat

13g
Trans Fat

0g
Unsaturated Fat

1g
Cholesterol

1mg
Sodium

17mg
Carbohydrates

69g
Fiber

0g
Sugar

66g
Protein

2g
© 2023 Sparkles of Yum. All rights reserved. All images & content are copyright protected. Please do not use my images without prior permission. If you want to share this recipe, please provide a link back to this post for the original recipe.
Sparkles of Yum is a participant in the Amazon Services LLC Associates Program, an affiliate advertising program designed to provide a means for sites to earn advertising fees by advertising and linking to Amazon.com.