Introducing, Philly Cheesesteak Lasagna! A complete gathering of comfort foods – all in one dish. A hardy scrumptious family dinner with not much fuss, and something a little outside the normal lasagna (which I also love).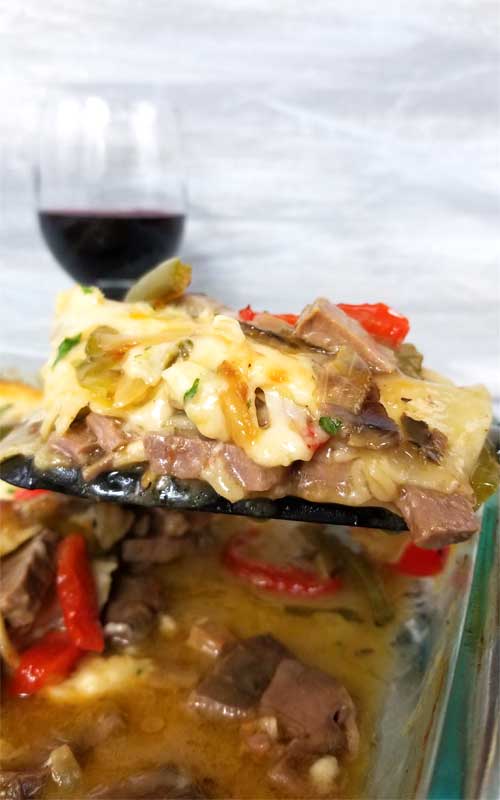 A good use for some leftover roast, I made these Slow Cooker Philly Cheesesteak Subs, but I think this would work with just about any kind of beef you have on hand as long as it's good and tender.
A traditional Philly would use ribeye, but that's so expensive. If I'm buying ribeye we're having steaks on the grill, rare, that's just how we roll around here. I think even Steak-umms have gotten too pricey, but if there's a good sale, you could go that route if you want.
Hamburger would be good, it's good enough for traditional lasagna, so why wouldn't it work here too?
We've been seeing buy one get one free sales on roasts this year, so I've been taking advantage of those as you can see with our Mississippi Pot Roast with Gravy and this Fancy Yankee Pot Roast. I tend to plan my meals around what's on sale and I like to get the larger size so I can get more than one meal out of a nice hunk of meat.
So we try to brainstorm a little and think what else can we turn this into before we go to the store so we know what else to pick up. So kinda like the old saying "Kill two birds with one stone".
Some easy tips for meal planning I've tried making a habit of over the years, doesn't alway work out on busy days, but it is helpful to have a plan A and a well stocked pantry if you need a plan B. Helps keep us out of the fast food lane.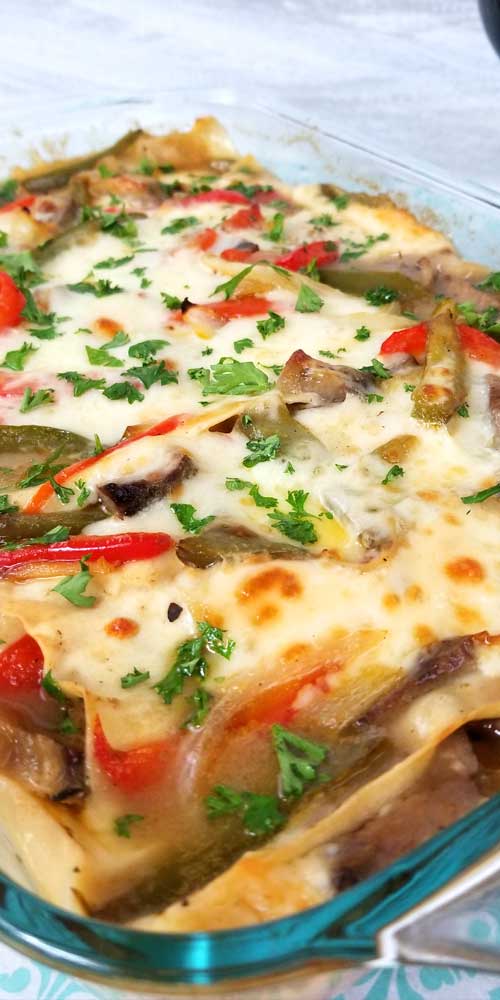 Now this might seem like more of a winter dish and we're almost halfway through April, we'll our weather doesn't watch the same calendar we do. We get a couple teaser days of spring, or maybe even summer since it was 85 yesterday.
Doesn't matter because they're calling for a high of 42 on Sunday. Yayy, come to St. Louis if you get bored of your weather and make sure you bring a jacket, a winter coat and shorts and flip flops because you just might need all of them; even if your only here for two days!
This actually comes together pretty quick and you can use more or less peppers and onions; however you like, this is how we did it and I like to season each step.
Like I said I used a leftover slow cooked roast, sliced and cut into bite size pieces, but if you want to slice a flank steak thin and cook it up with the peppers and onions that would work just as well, you might need a little extra oil in the pan, or try it with hamburger.
Either way I'm sure would be delicious!
Don't forget to follow along, so you don't miss out! Did you know you can get a notification on your phone now as soon something is published? People are loving this so much, more than the emails clogging up your inbox. If you happened to not accept the notification box earlier…now is a good time to click the small bell in the corner and get signed up!
FOLLOW Sparkles of Yum ON FACEBOOK | PINTEREST | INSTAGRAM | TWITTER FOR ALL OF THE LATEST CONTENT, RECIPES AND UPDATES.
Feel free to join the Sparkles of Yum Recipe Swap Facebook group! A fun place to find and share all of your favorite recipes.
Philly Cheesesteak Lasagna
Yield: 6-8 servings

Prep Time: 25 minutes

Cook Time: 55 minutes

Inactive Time: 15 minutes

Total Time: 1 hour 35 minutes

A complete gathering of comfort foods - all in one dish. A hardy scrumptious family dinner with not much fuss, and something a little outside the normal lasagna (which I also love).
Ingredients
2 lb finely sliced beef (about 4 cups)
1 cup green bell peppers, sliced into strips
1 cup red bell peppers, sliced into strips
1 onion, sliced into sliced into strips
2 tablespoons olive oil
salt and pepper to taste
1 teaspoon granulated garlic
2 tablespoons butter
2 tablespoons flour
2 cups beef broth
4 cups provolone (cubed, sliced or shredded)
1 pack oven ready lasagna noodles (we used Barrella Flat oven ready)
2 tablespoons fresh parsley for garnish (optional)
Instructions
Preheat oven to 350 degrees F
In a large skillet, add 2 tablespoons olive oil and combine onions, and bell peppers, season with a little salt and pepper and saute until just tender.
Add 2 tablespoon butter to the skillet when that is melted 2 tablespoons flour and stir quickly, slowly add 2 cups beef broth, garlic and a little salt and pepper, place your cooked beef in the sauce and turn down to low
Spray a 9x13-inch baking dish with non-stick spray.
Using a large spoon or a ladle, spoon some of the broth on the bottom of the baking dish, add a layer of oven ready lasagna noodles, top with some of meat, broth, onions, peppers and cheese and repeat layers topping with a good layer of cheese. (This should give you about 3 layers)
Cover baking dish with aluminum foil. (I spray a little non-stick spray on the foil so it doesn't stick to the cheese)
Bake in the preheated oven until bubbling, about 40 minutes. Uncover and continue baking about 15 minutes until cheese is a little toasted. Garnish with fresh parsley. Let stand for 15 minutes before cutting and serving.
Nutrition Information
Yield 8 Serving Size 1
Amount Per Serving Calories 639Total Fat 45gSaturated Fat 22gTrans Fat 0gUnsaturated Fat 19gCholesterol 149mgSodium 893mgCarbohydrates 9gFiber 1gSugar 2gProtein 48g

Nutrition data was provided and calculated by Nutritionix, and should only be used as a general guideline. This information is provided as a courtesy and there is no guarantee that the information will be completely accurate.

© 2023 Sparkles of Yum. All rights reserved. All images & content are copyright protected. Please do not use my images without prior permission. If you want to share this recipe, please provide a link back to this post for the original recipe.
Sparkles of Yum is a participant in the Amazon Services LLC Associates Program, an affiliate advertising program designed to provide a means for sites to earn advertising fees by advertising and linking to Amazon.com.