Flavorful pan roasted squash, zucchini, and red bell peppers come together on a bed of linguine, with a simple ricotta and parm cream sauce makes this Pan Roasted Chicken Vegetables and Pasta a winner winner chicken dinner.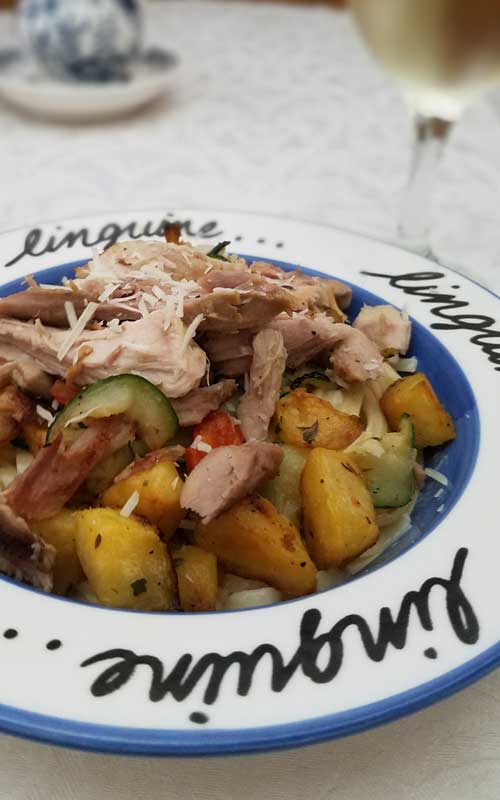 This is the perfect dish to use your leftover rotisserie chicken, we happened to have some leftover smoked chicken for this. One thing we do at our house is to get 10 lbs of chicken when it's on sale, and smoke it all at once. When it's done, we remove the meat from the bones, and then separate it for freezing this equals lots of easy dinners.
The last time we did this, we managed to get a few bags of chicken leg quarters for 28 cents a pound. That was NOT a typo. It was a whole 28 cents a pound. There was no way we were not going to stop and get 20 pounds to make up all at once!
We smoke meat at our house so much that we are now on our second smoker. The first one had to be fed wood chips and charcoal about every 30 minutes. It was almost a full-time job on it's own. The newer one we bought over a year ago. It's electric and takes way less babysitting. The thing with both of them though is that the flavors are just amazing, even after freezing.
You see how popular applewood smoked bacon is. Well with your own smoker you can make it at home, as much as you want. Freeze it, and enjoy it whenever you want! Let's not even get me going on the pastrami, ribs, brisket, and everything else that we have made in it.
And before you can ask… no, I'm not getting paid to say how much I love our smoker, it's just really that good. I've got some recipes coming up with a pork roast we found on sale to share soon too.
If you still need proof that a smoker is really all that, here is even more proof. One of the most popular new restaurants in town has a lot of smoked meats on the menu and their parking lot is packed all the time.
Then you have the rise of all the BBQ joints everywhere you look. I have a funny feeling smoking is going to be a pretty big deal pretty soon.
Now back to our regularly scheduled recipe.
If you do not have a smoker or any leftover rotisserie chicken, that's OK. You can prepare some chicken your favorite way, use fish, shrimp, or pull a Meatless Monday and skip the meat. It would still come out more than delicious.
And the icing on the cake… all you need is one pot, one skillet, one cutting board, your plates, and utensils. Now THAT is an easy clean up perfectly matched to a quick dinner!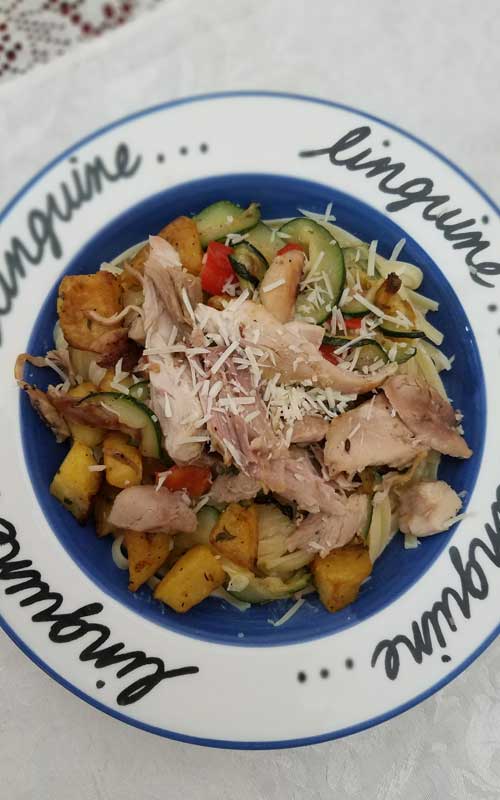 Don't forget to follow along, so you don't miss out! Did you know you can get a notification on your phone now as soon something is published? People are loving this so much, more than the emails clogging up your inbox. If you happened to not accept the notification box earlier…now is a good time to click the small bell in the corner and get signed up!
FOLLOW Sparkles of Yum ON FACEBOOK | PINTEREST | INSTAGRAM | TWITTER FOR ALL OF THE LATEST CONTENT, RECIPES AND UPDATES.
Feel free to join the Sparkles of Yum Recipe Swap Facebook group! A fun place to find and share all of your favorite recipes.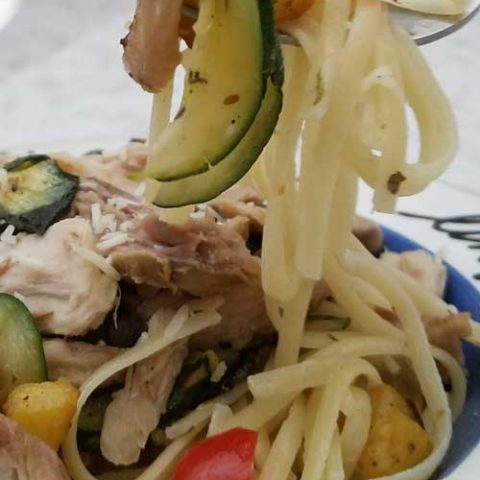 Pan Roasted Chicken Vegetables and Pasta
Yield: About 8 Servings

Prep Time: 15 minutes

Cook Time: 35 minutes

Total Time: 50 minutes

Flavorful pan roasted squash, zucchini, and red bell peppers come together on a bed of linguine, with a simple ricotta and parm cream sauce makes this a winner winner chicken dinner.
Ingredients
2 cups cooked chicken
1 acorn squash (skinned and chopped into roughly 1 inch squares)
1 small zucchini (thinly sliced)
1 small red bell pepper (diced)
4 tablespoons olive oil
3 garlic cloves, minced
1 tablespoons parsley
1/2 teaspoon thyme
1/2 teaspoon oregano
12 teaspoon fresh cracked black pepper
salt to taste
1 small box linguine
For the sauce:
1/2 cup good quality ricotta
1/2 cup heavy whipping cream
1/4 cup white wine
1/4 cup Shredded Parmesan, ( I used Parmesan, Romano and Asiago from Kraft)
Instructions
Start by roasting the squash in the skillet with olive oil, when that starts to brown add the garlic, zucchini and bell peppers, sprinkle in your parsley, thyme and oregano; salt and pepper.
While those are getting tender get the water on to boil for pasta, just follow box directions for that and drain when al dente, saving a bit of water, return pasta to covered pot.
Transfer vegetables to a plate; heat the chicken in the same skillet transfer that to plate and deglaze pan with the 1/4 cup wine keeping the small bits. Add the ricotta and cream in that same skillet, over medium heat; stir to combine, turn heat down and add the Parmesan.
To serve: put pasta on plate, top with desired amount of sauce. Add vegetables, then chicken, and finish off with additional cheese.
Notes
If you want this extra saucy, just double up.. I was cooking for 2 and had leftovers
Nutrition Information
Yield 8 Serving Size 1
Amount Per Serving Calories 281Total Fat 19gSaturated Fat 7gTrans Fat 0gUnsaturated Fat 11gCholesterol 55mgSodium 162mgCarbohydrates 14gFiber 3gSugar 2gProtein 13g

Nutrition data was provided and calculated by Nutritionix, and should only be used as a general guideline. This information is provided as a courtesy and there is no guarantee that the information will be completely accurate.

© 2023 Sparkles of Yum. All rights reserved. All images & content are copyright protected. Please do not use my images without prior permission. If you want to share this recipe, please provide a link back to this post for the original recipe.
Sparkles of Yum is a participant in the Amazon Services LLC Associates Program, an affiliate advertising program designed to provide a means for sites to earn advertising fees by advertising and linking to Amazon.com.